Report from Tuesday, March 1, 2022
10 miles, nine hours, 5 grand of elevation gain, and two world-class ski descents later, we were back to Highway 210 right as the sun had dipped below the horizon. The three of us were tired, but you wouldn't have been able to tell from the mega smiles plastered across each one of our faces.
Around 9 am, Juan, Conley, and I started from Little Cottonwood's White Pine trailhead with the goal of linking up two major ski descents into two different canyons. Skies were clear, there was no wind, and it was sunny—the avalanche danger on NW-NE facing slopes, where we'd be skiing that day, was rated as 'Low' while everything on the lower half of the compass rose was rated as 'moderate' due to wet avalanche problems.
We happily hiked to Red Pine Gultch, up and over into Maybird Gulch, and then up to the top of the Maybird/Hogum Divide. The whole way up we shot the shit, bantering about a wide array of topics like global politics, digital currency, Atlantis, and skiing.
Three hours felt like no time at all. At the top of our first descent of the day, we dropped into Hogum Fork via a 1,000-foot northwest-facing shot dubbed Hogum 200. It was the first time I had ever laid eyes into Hogum Fork and what I saw was something in between Lord of the Rings and the Andes; huge granite walls, massifs of epic proportions, and thousand foot chutes, faces, and bowls were everywhere. I immediately liked Hogum.
Hogum 200 skied like a dream. Juan went first and seeing him come out the bottom at 50 mph hollering had me knowing that my turns were about to be real good.
I cut into the line Juan rode and arced long, fast, relaxing turns down the chute in the most confidence-aspiring powder you could ask for. We saw zero signs of instability within the snowpack. My day was already made before lunchtime.
We breaked and ate lunch at a flat spot in Hogum before heading towards the Hypodermic Needle, which we would climb up in order to reach our next line.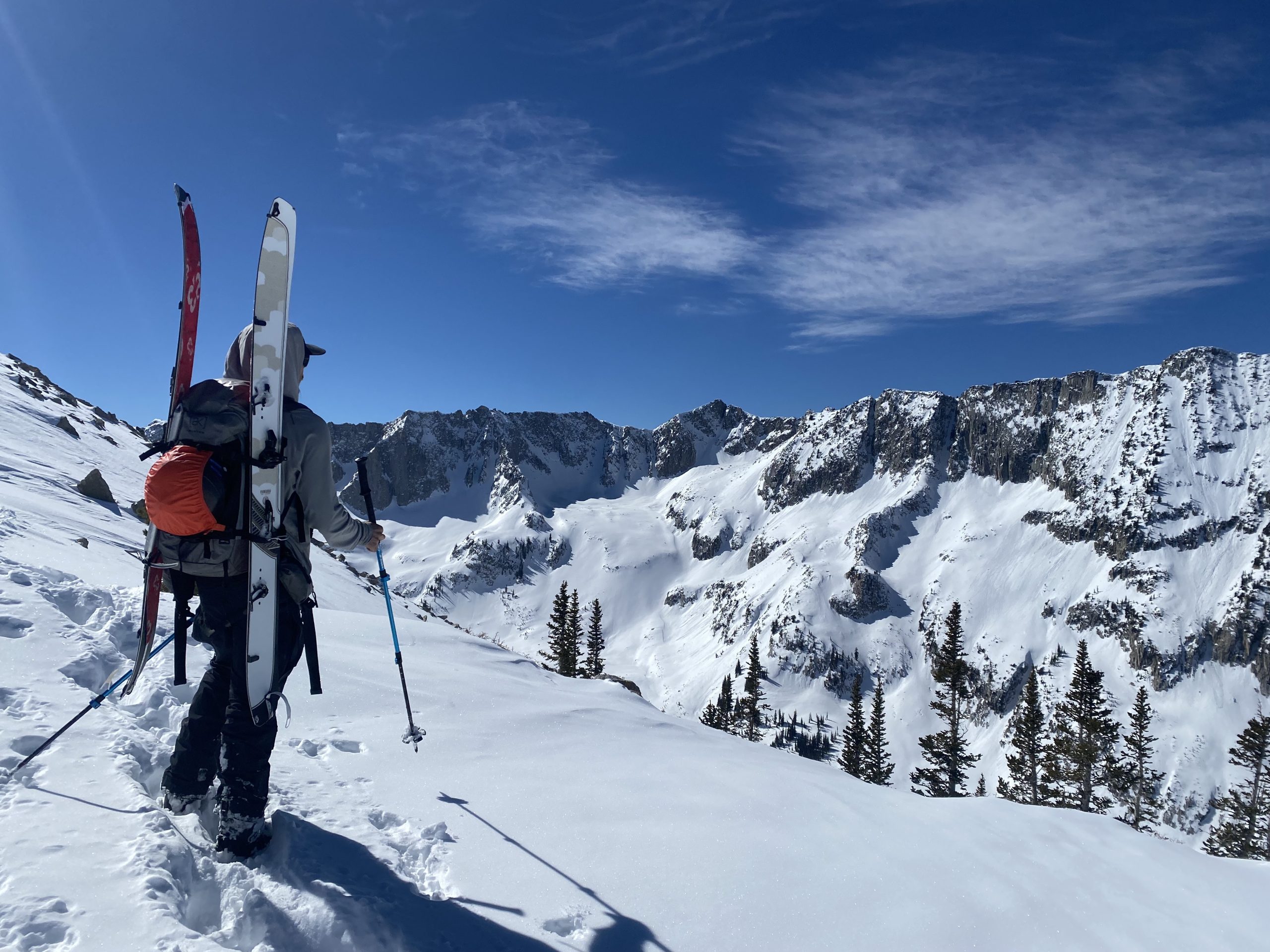 The Hypodermic Needle was horrible.
We toured up a tall apron of re-frozen avalanche debris before booting up the couloir proper.
The snow in the couloir was crusty on the surface but made you sink as you stepped into it—it took us hours to wallow and swim up the damn thing.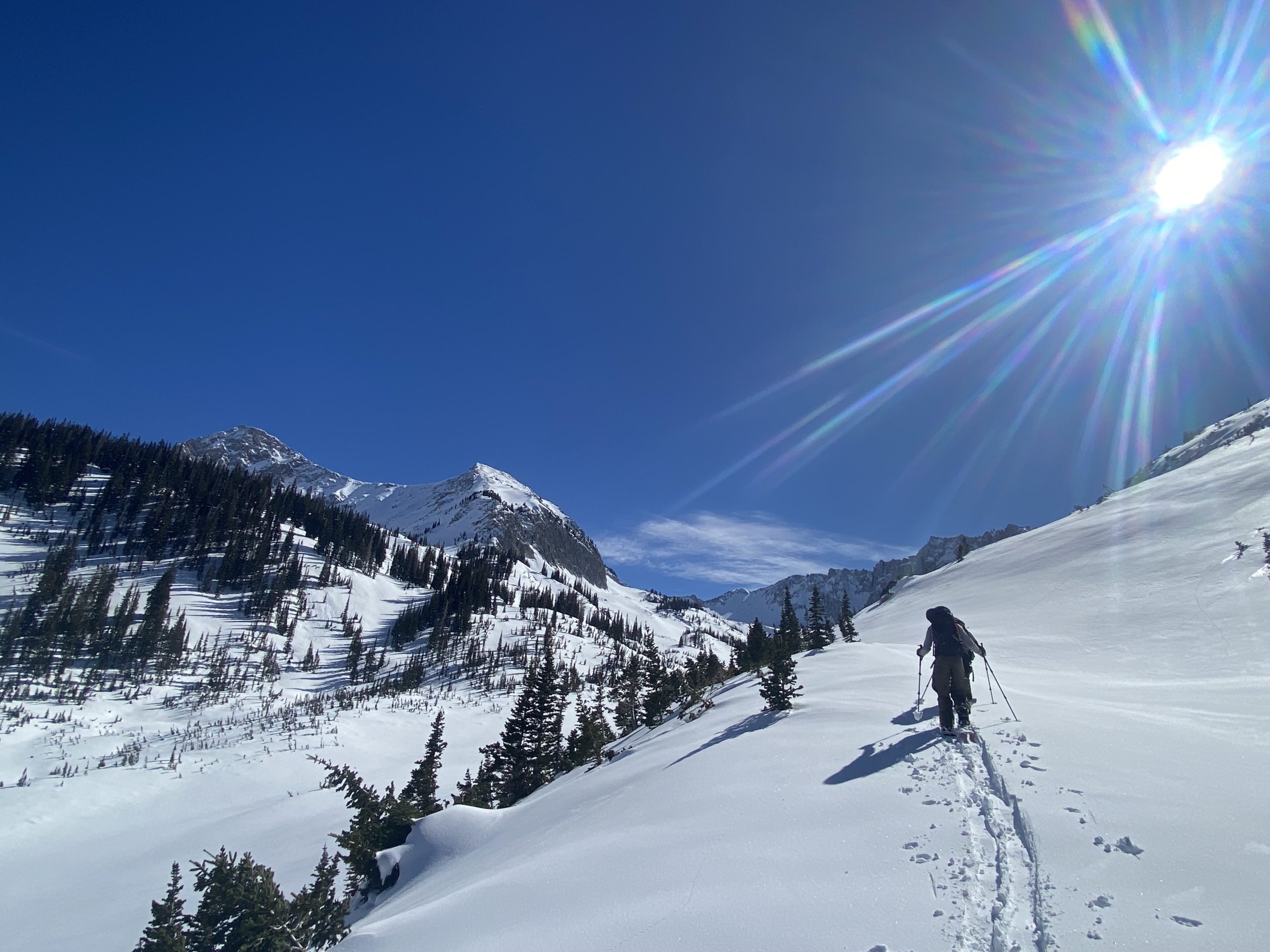 Slog is an understatement for what booting up the Hypo was like.
About halfway up Hypo, there was a rock bulge with firm snow above and below it that required a few committing moves. It was more terrifying than expected.
Juan led, and after he mantled over it he yelled back below to Conley and I exclaiming:
"Yeah, that was definitely the most heady thing I've done in a while…Whew!"
I know Juan well enough by now that when he says something is heady—it's heady.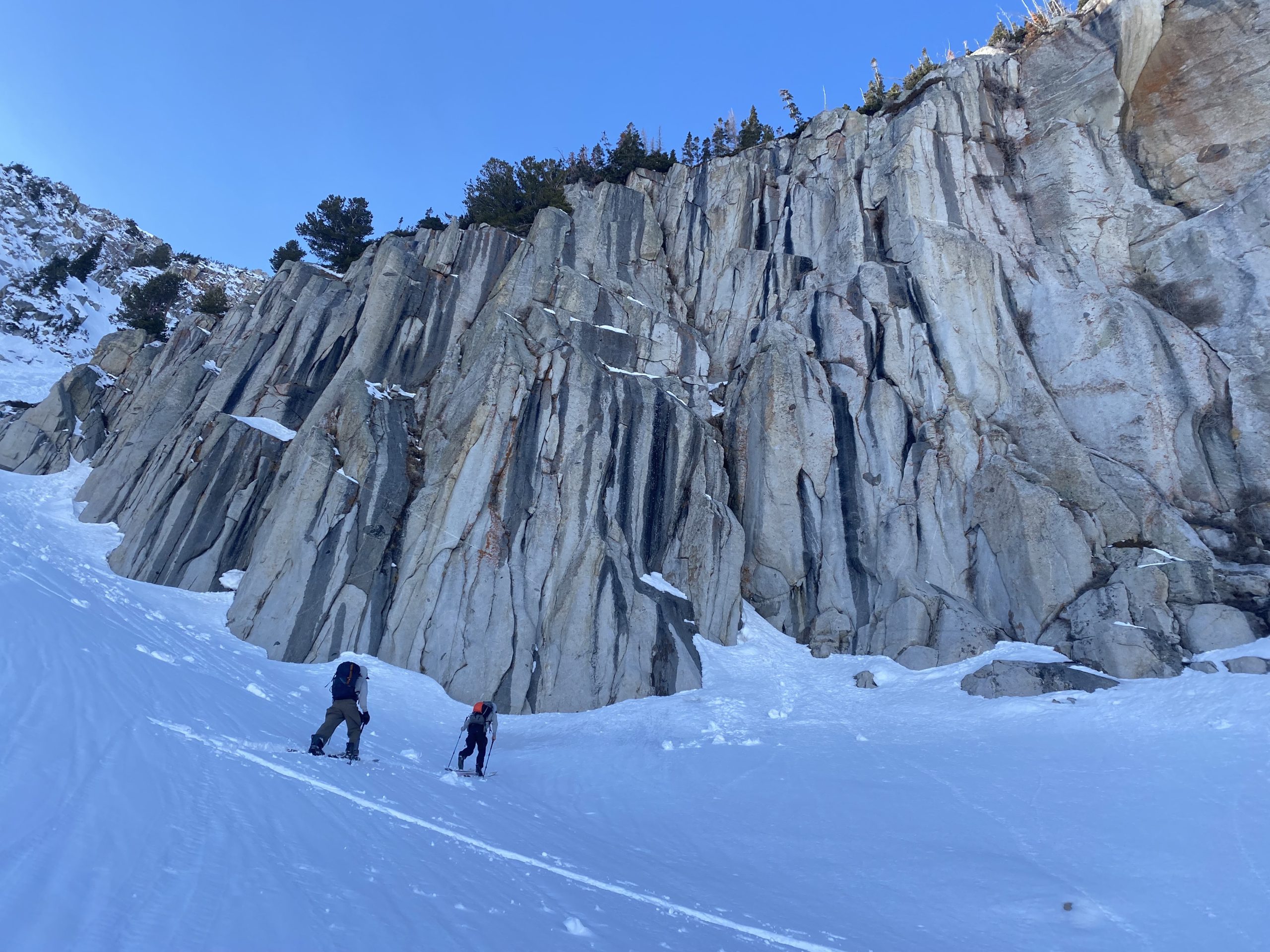 I was up next. I booted up towards the rock bulge, inspecting where and how to place my ice ax, hands, and crampons in order to climb up over and past this thing. I channeled my inner Mark-André and dug my ax into the ice above the bulge.
Committing myself fully now, I put all the weight on my crampon that I had dug into the rock next to me and pressed up and over the bulge, my bare right hand on a rock above me and my left hand gripping the ice ax.
Putting a crampon on rock just feels so wrong.
Balancing on rock with my crampons, I dug my ax into the ice a little higher than where it was previously and pulled myself up. The adrenaline woke me right up after hours of slogging in the sun and gave me all the energy I needed to defeat this crux. I made it past it.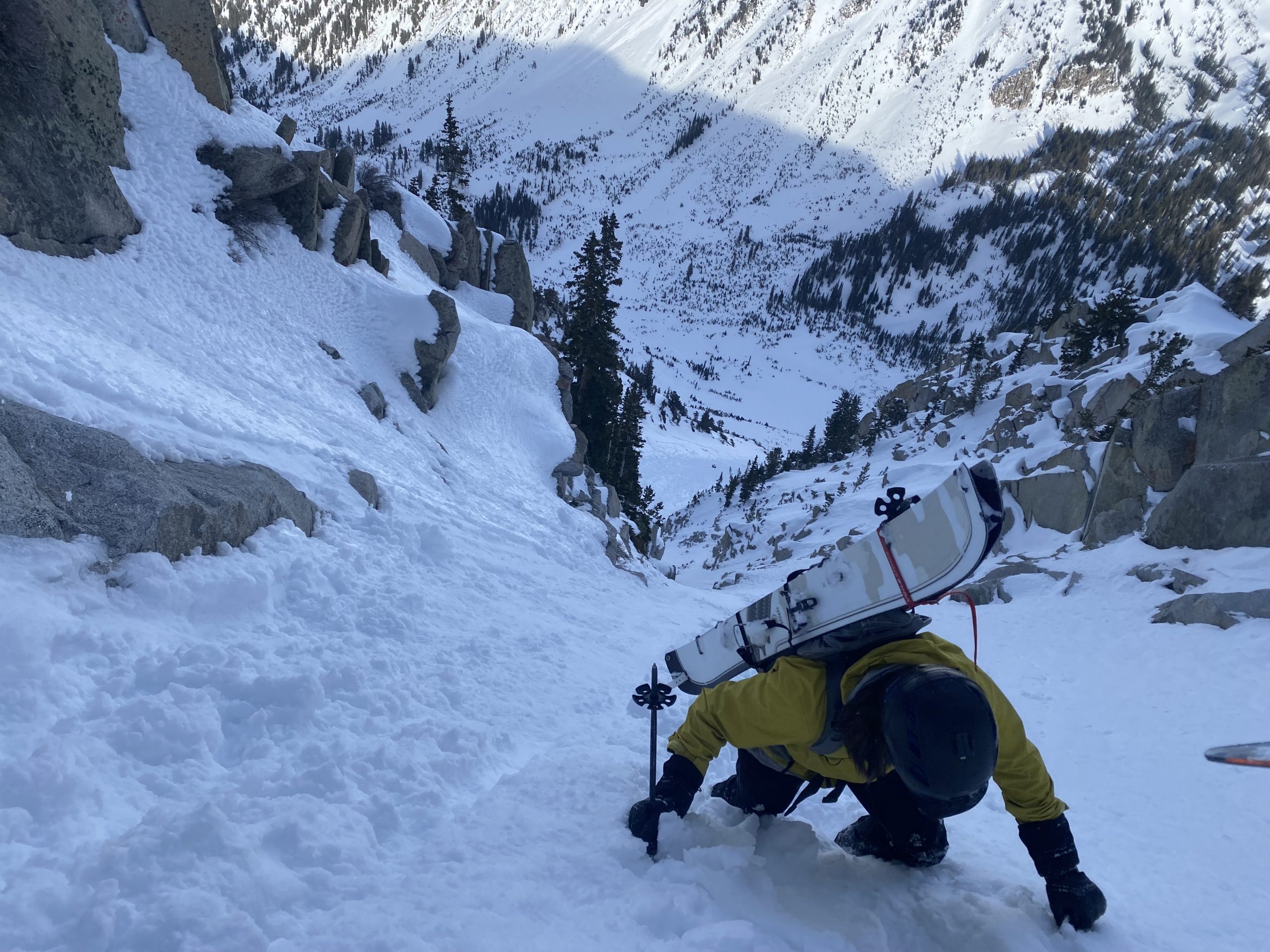 Conley followed next and made it past the crux gracefully. That technical dance was now over.
I was proud of all of us. We continued our waist-deep drudgery to the top of the Needle. Finally, by about five o'clock, we made it to the top and walked the short distance over to the top of the Coalpit Headwall.
The Coalpit Headwall is king. It's a nearly 5,000-foot-run of sheer bliss down to the highway below. With the sun creeping ever-so-slightly more towards the horizon, we wasted no time at all and dropped into the Utah classic.
The first 3,500 feet or so skied incredibly. Blower powder—untracked, down a steep chute into a massive face below. Juan went first, followed by Conley, both of whom charged it hard. I went last and enjoyed what felt like never-ending pow turns.
I could just relax, turn my mind off, and let my skis do all the work. It felt like I was making turns in powder for at least 10 minutes non-stop. My legs were screaming.
After the chute and the face, we skied another playful series of bowls down fresh pow until we came to the dreaded gully.
That gully…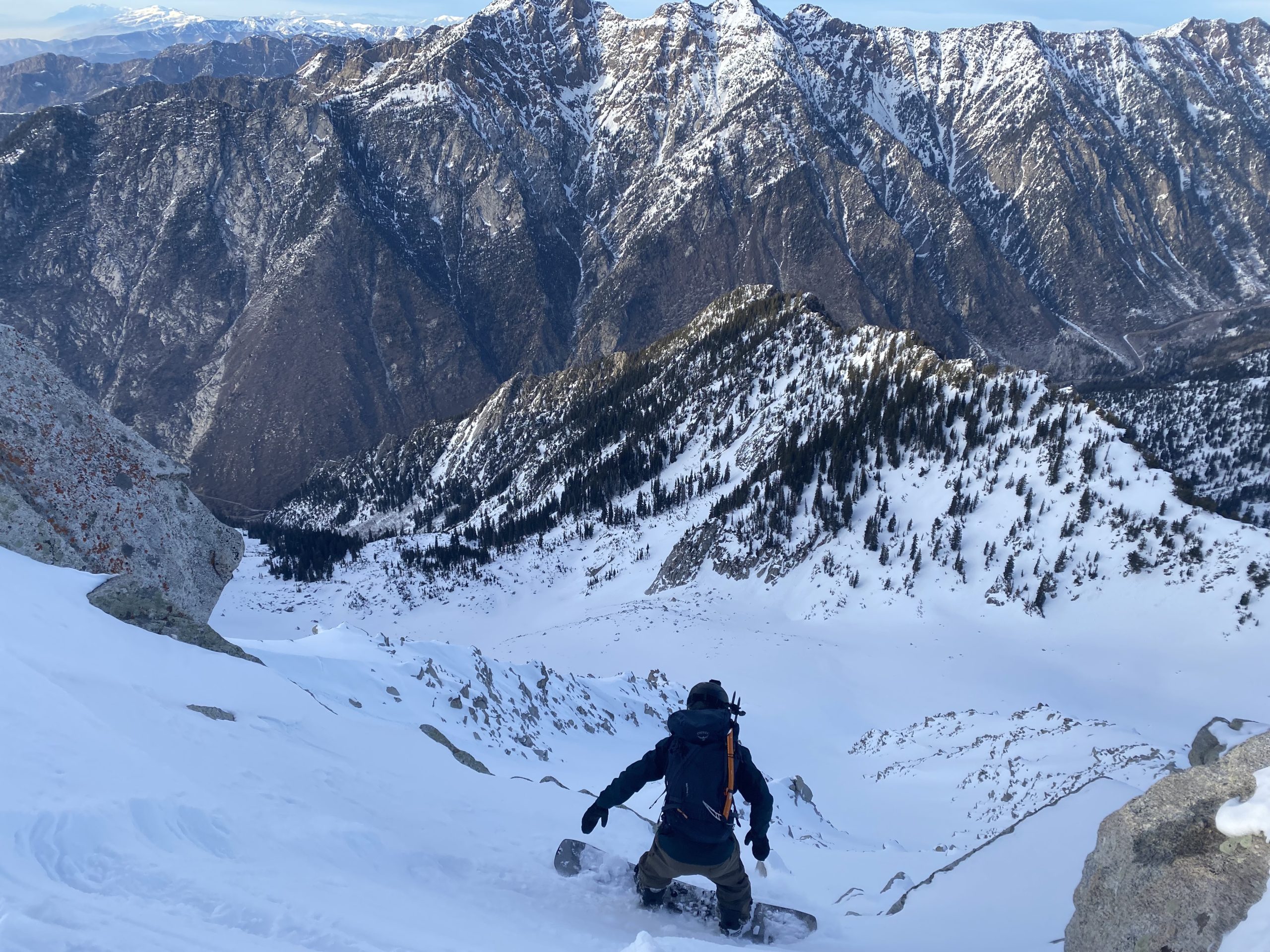 The remaining 1,500′-2,000′ of skiing down to the highway below was straight survival skiing. There's no other way to put it. We weren't in any direct danger, but the snow was thin and sharky and wet and heavy—the opposite of confidence-inspiring.
We meandered down the gully for a while, often sliding on our asses over rocks and ice waterfalls and fighting our way through thickets of bush so we could get back to our girlfriends in time for supper. It was heinous but it was fun.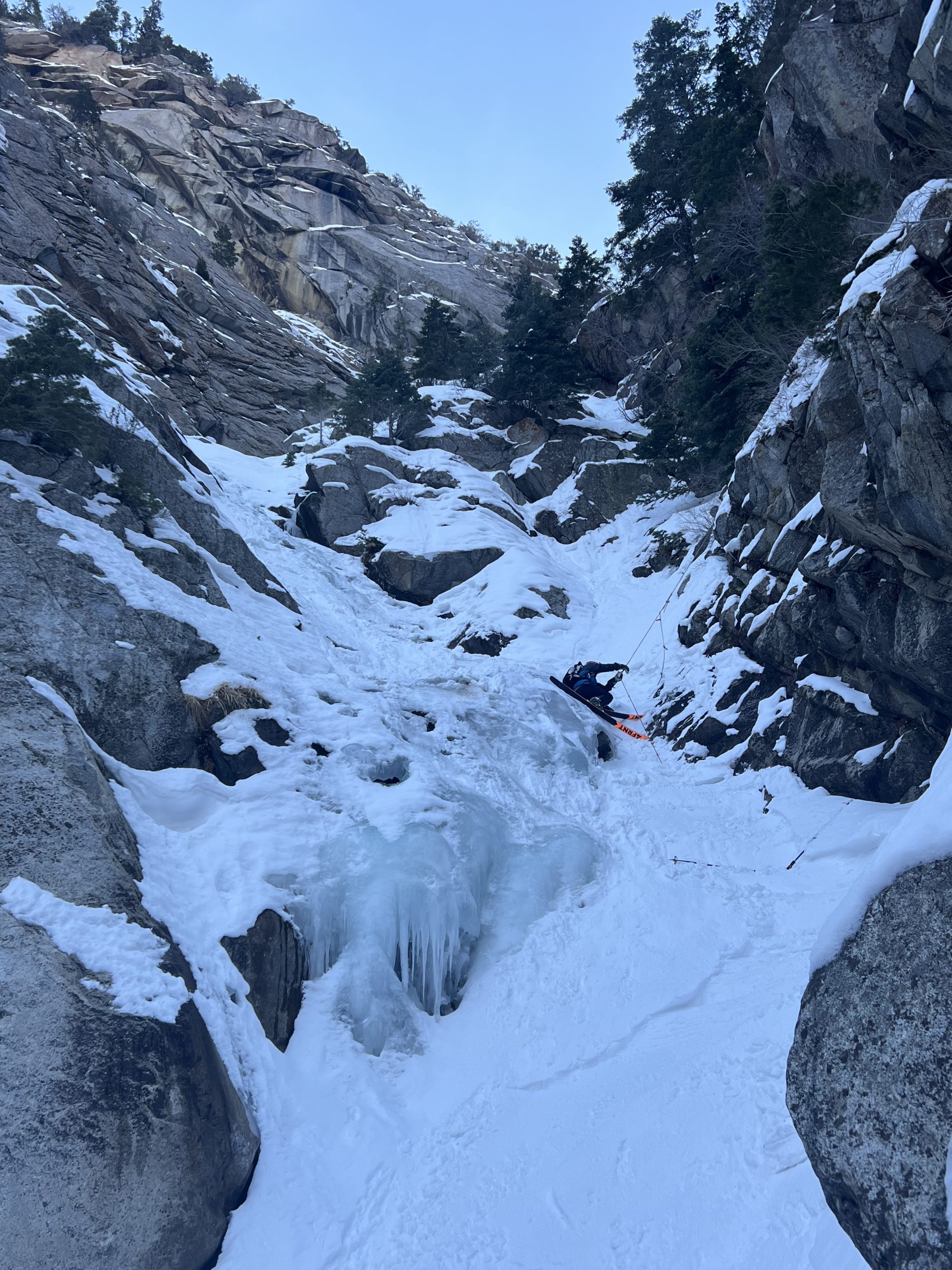 Right as it was getting dark, we crossed the river via a snowed-over log bridge and made it to the highway, where we stuck our thumbs out to hitchhike back to our cars.
The adventure never ends.
Juan and Conley flagged down a friendly duo in a hatchback who scooped me up right away and took me to my car so I could come back and pick them up. I threw my skis and pack into the rear of their car and started driving up the dark highway with them.
"Where the hell did you just come down from??" they asked.
Avalanche Forecast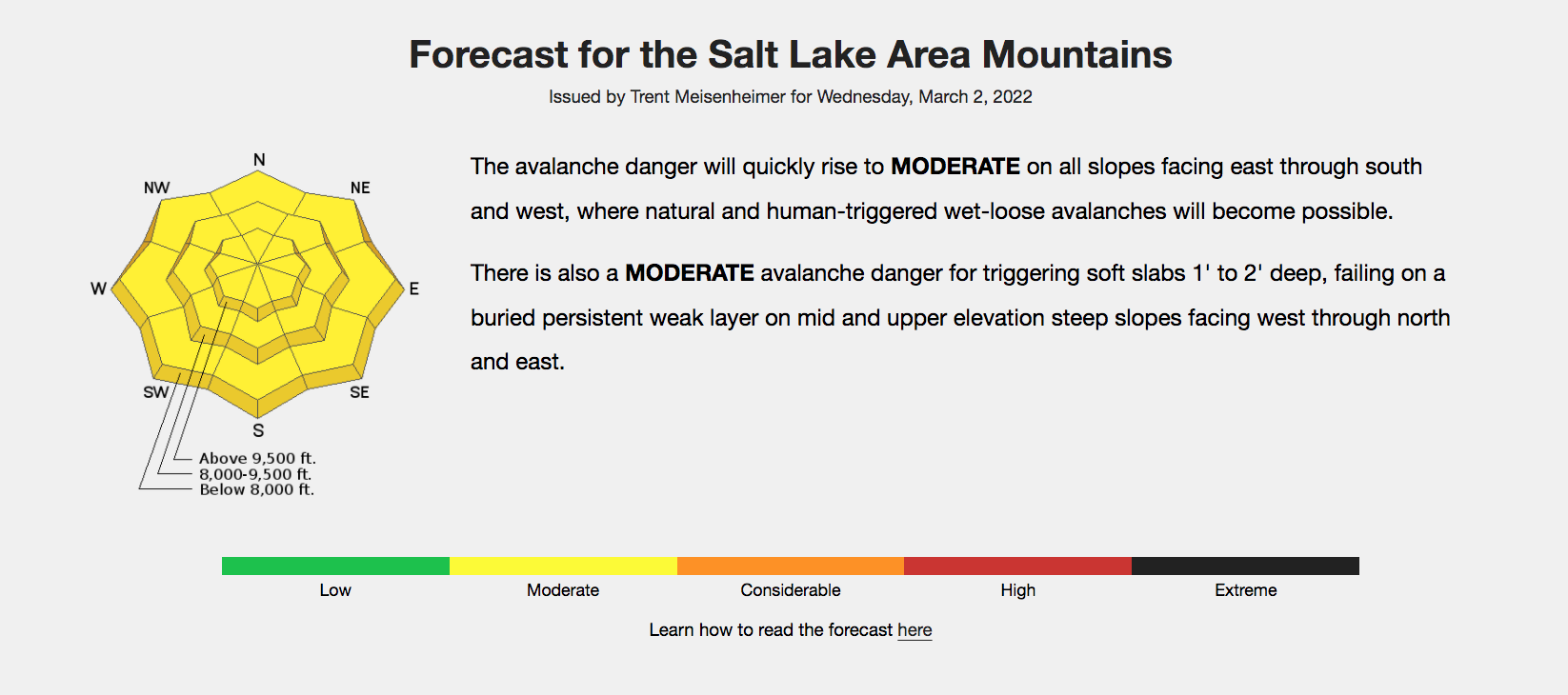 Weather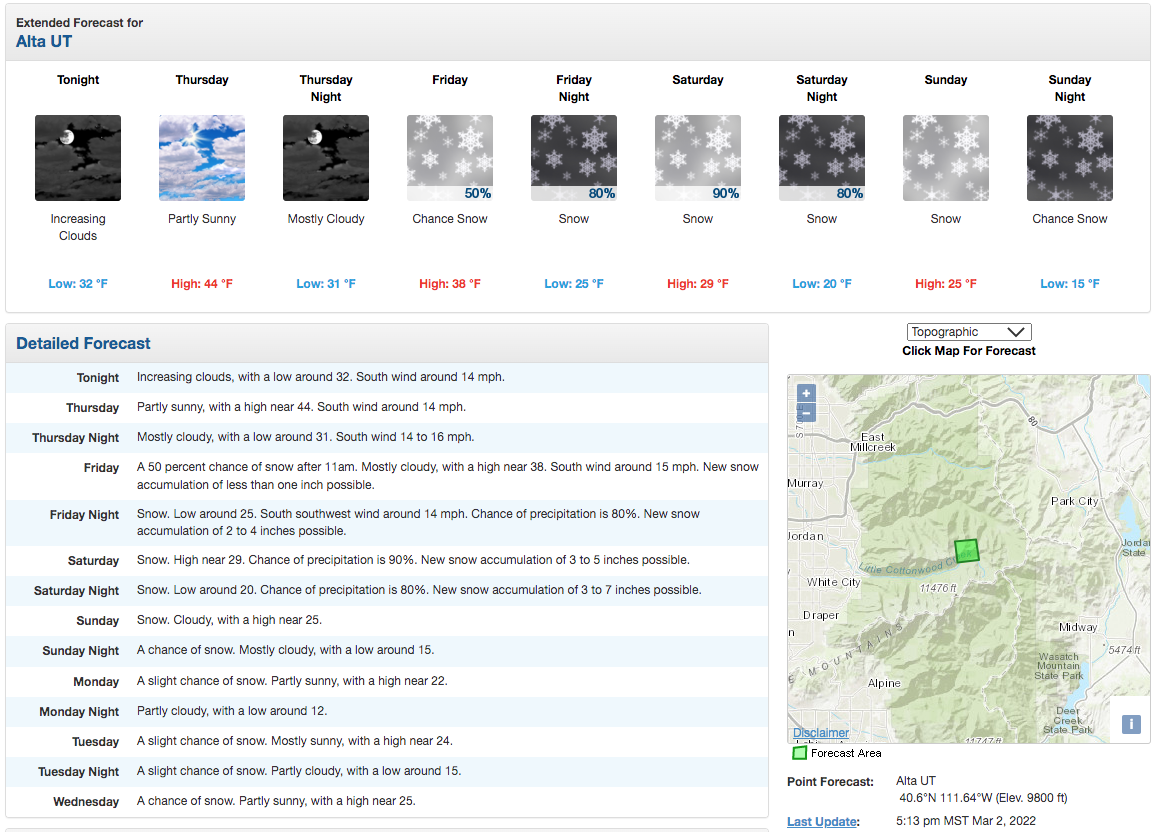 Photos in Chronological Order