Washington state, nestled at the tip of the Pacific Northwest, is home to five active volcanoes. Mount Baker and Glacier Peak hold court in the Northern half of the state. Mount Rainier, Mount St. Helens, and Mount Adams form a triangle of volcanoes in the South. Four out of the five peaks stand at over 10,000ft. While many people aim to climb and ski each of them at some point in their career, late last month, two Washington climbers became the first team to climb and ski all 5 volcanoes in just 5 days. 
Washington is a dream for alpinists and skiers, offering a playground of mountains to climb, hike, and ski in. Many people aim to summit the tallest peak, Mt. Rainier, as a pinnacle climbing objective or as a training peak for climbs in the Himalayas. Mount St. Helens is a popular climb as it is less technical than the other volcanoes and is a summit well suited for ski touring. Baker is renowned by skiers to have one of the largest snowpacks in the United States; backcountry skiing is so prominent in Mt. Baker's surrounding area that there is a skin track unofficially named Seattle's skin track because so many people travel on this route. Glacier Peak is nestled deep in the Glacier Peak Wilderness. Accessing the base of the mountain takes a minimum of 10 miles of hiking. Mt. Adams is Mt. Rainier's shorter sister but is still the second-highest volcano in the state.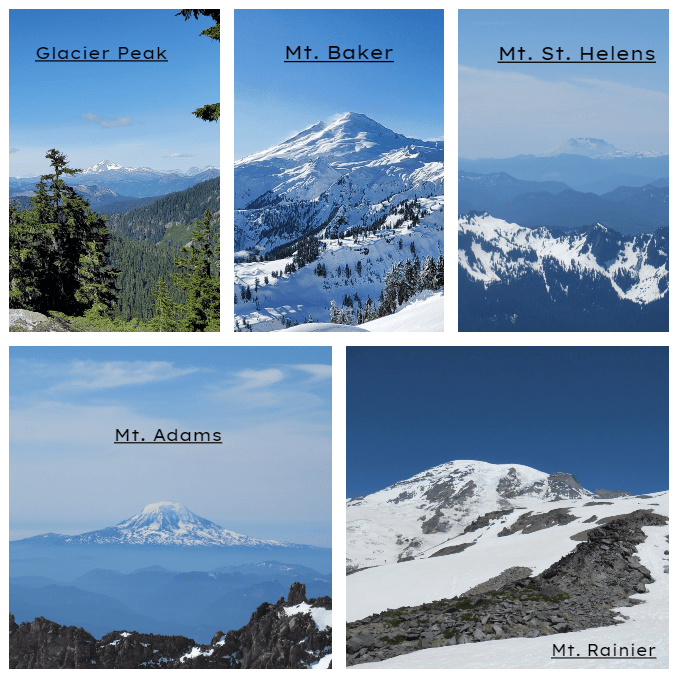 According to The Seattle Times, Trevor Kostanich and Scott Rinckenberger completed their summit and ski descent of all five Washington volcanoes on June 28, 2021, at 9:30 PM. They began their epic adventure five days earlier at 1 AM on June 24 on Mount Rainier. After Rainier, they climbed Mount St. Helens, Mount Adams, and Mount Baker, saving Glacier Peak for last. Many of these mountains generally take 2-4 days to climb, with Glacier Peak being the longest as it involves a strenuous journey even to start climbing.
Kostanich and Rinckenberger used their skis to aid them in gaining faster descents of the peaks, but as it is summer, a mix of hiking and skiing was required. Their athletic feat is impressive, as well as their logistics. They carefully planned their trip to incorporate time to travel to each peak and ensure late alpine starts as they climbed during a record-breaking heatwave in the Pacific Northwest. The two Seattle-based climbers took turns driving and sleeping in between climbs. The pair is the first to complete this "5 in 5" accomplishment. Only two other teams (including the first attempt by this team) have ever attempted this feat. Kostanich and Rinckenberger are both active members of the Seattle mountaineering and skiing community. In 2017, Kostanich went on another adventure from Snoqualmie Pass to Canada on skis in just 34 days. Rinckenberger is a professional photographer and storyteller based in Seattle, Washington.
"One looks for climaxes for epiphanies at times like these, but a dusky, mosquito infested gravel parking lot was an inadequate venue in which to absorb the depth of experiences that we had just shared. The realization, as always, came quickly. The end was meaningless, the act was everything. The belief, the teamwork, the movement in synchronization with the mountains and the weather, the opportunity to engage in a truly and deeply immersive challenge, and to realize that we are capable of so much more than we know. I am still digesting, but I know for sure that we were truly happy in those mountains."

– Scott Rinckenberger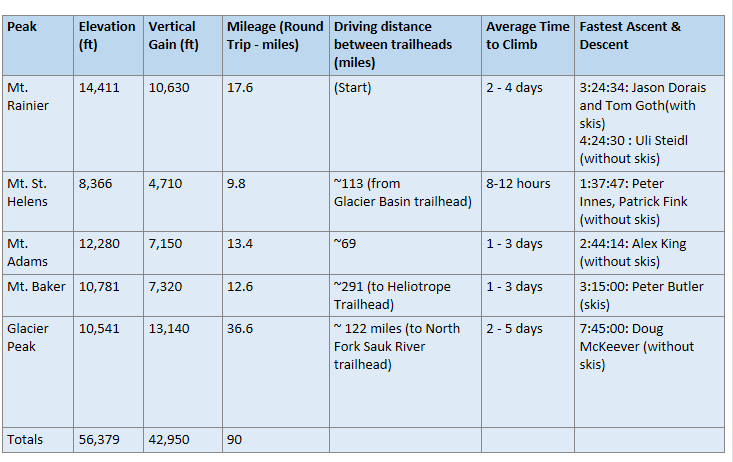 Go check out their Instagram pages for some more epic photos and stories:
References: