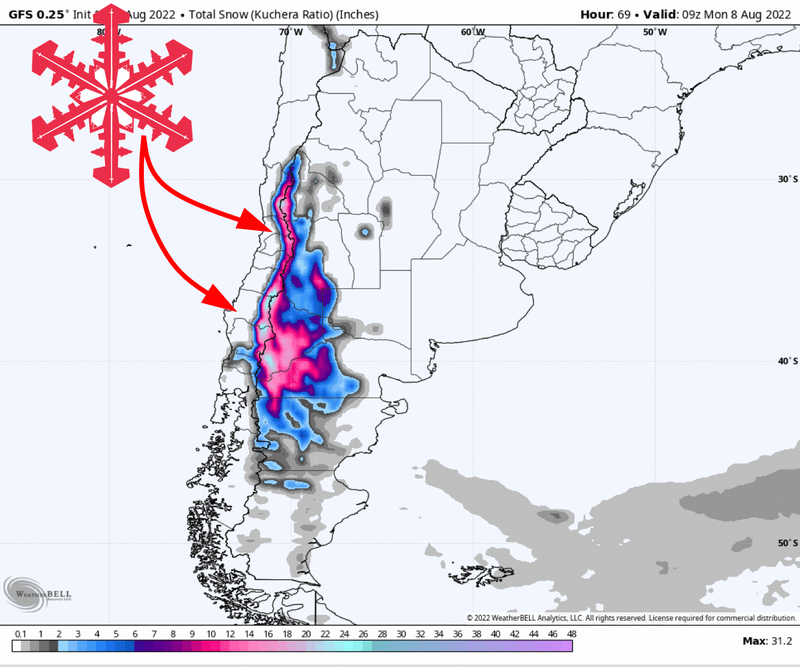 Forecast by SnowBrains Meteorologist Nathan Tarino
Last Updated 7PM MST August 5th, 2022
Forecast Summary
A strong storm system will push onshore into Chile this weekend. Accumulating snowfall will arrive Friday evening to Chile's southernmost resorts and through the day Saturday at the resorts surrounding Santiago.
Saturday will offer powder turns at the southern resorts (Pucon, Corralco, Nevados de Chillan), and Sunday will be the better ski day across each of the Chilean ski areas. The best skiing will be found on Sunday at Nevados de Chillan and the Valle Nevado areas, though you really can't go wrong if you're skiing Chile this Sunday.
The next period of active weather for the Chilean Andes looks to begin around mid-month. A storm cycle with a couple of troughs appears probable between August 14-17th, each bringing a shot at deep powder turns.
Short Term
Heavy snowfall will begin above 5000′ (~1500 meters) Friday evening across the southern parts of Chile. Resorts in this part of the Andes will feature some nice soft turns through the day Saturday – this includes Corralco, Pucon, and Nevado de Chillan.
Snowfall will spread north toward the resorts surrounding Santiago by Saturday afternoon, and Portillo and Valle Nevado should both offer a few inches (2-5″) of snow by the last lift on Saturday afternoon.
Snow will continue, heaviest Saturday night, into Sunday across the Chilean Andes. By the time snowfall tapers off on Sunday evening, expect the following totals:
Nevados de Chillan – 14-24″ 
Valle Nevado / El Colorado / La Parva – 10-18″ 
Ski Portillo – 7-11″ 
Pucon* – 4-8″ 
*I believe Pucon is temporarily closed and not spinning lifts for the time being.
Later This Month
After this weekend, a stretch of drier weather will prevail into mid-August. Fortunately, chances for snow will return by sometime around the 15th. Ensembles suggest large scale troughing will develop across Chile by then: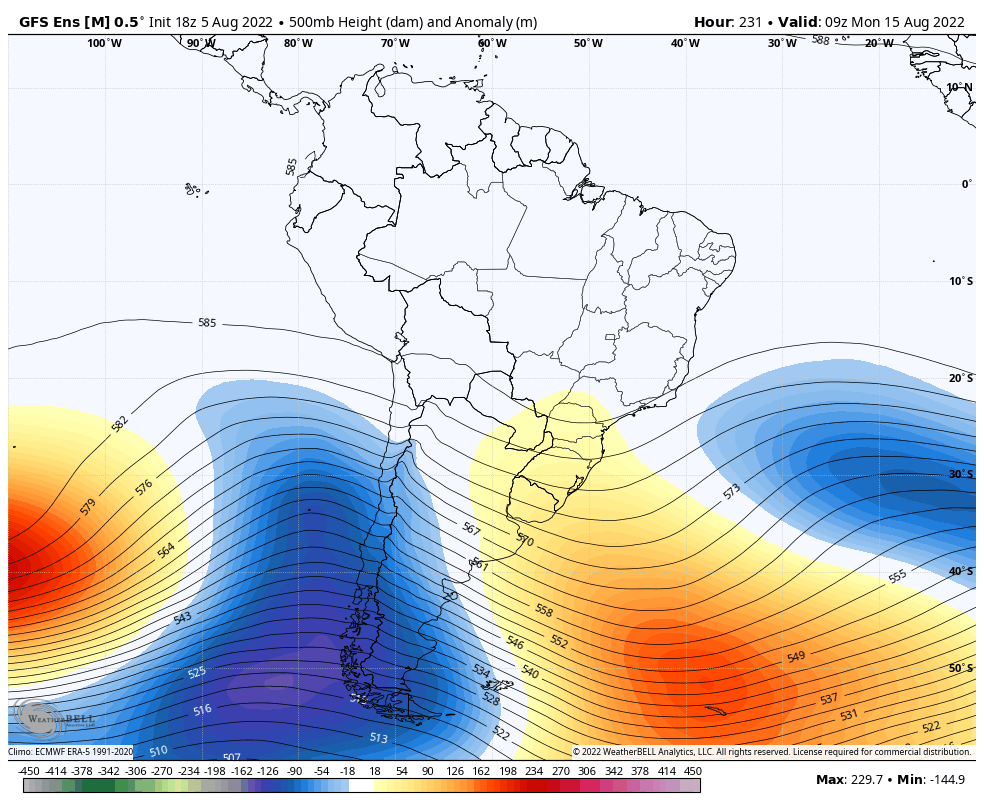 This will bring another shot at a significant dump for each of the resorts I've mentioned in this forecast. We're still 10 days out from this, so modeled forecasts are anywhere between another couple feet of snow in the high elevations and a few inches for the southernmost resorts. Uncertainty remains high, but keep an eye on the 14th-17th for the next episode in Chilean powder skiing.
Happy snorkeling to anyone taking advantage of this storm!