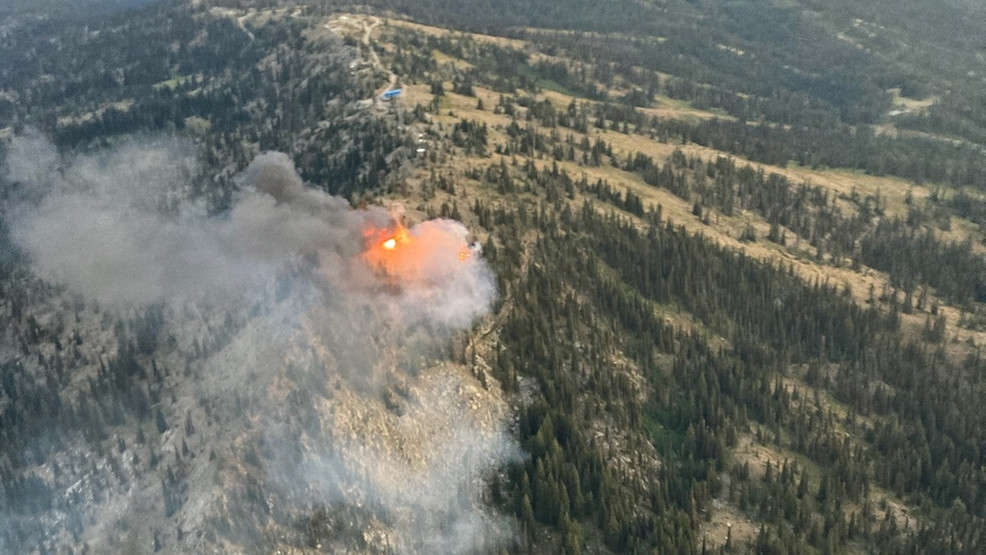 Sparked by lightning during a thunderstorm Wednesday evening, Sept. 7, the Rainbow Fire has grown to 15 acres near the perimeter of Brundage Mountain near McCall, Idaho. MSN News reports that the fire is burning in the Hidden Valley area and the Hidden Valley cliffs to the north of Brundage Mountain's main front side runs. At this time no structures are in danger.
Smokejumpers with the Forest Service were aerially dropped onto the fire before dark last night and began attacking it. The fire burned actively until 2 a.m. on Thursday, Sept. 8, according to MSN.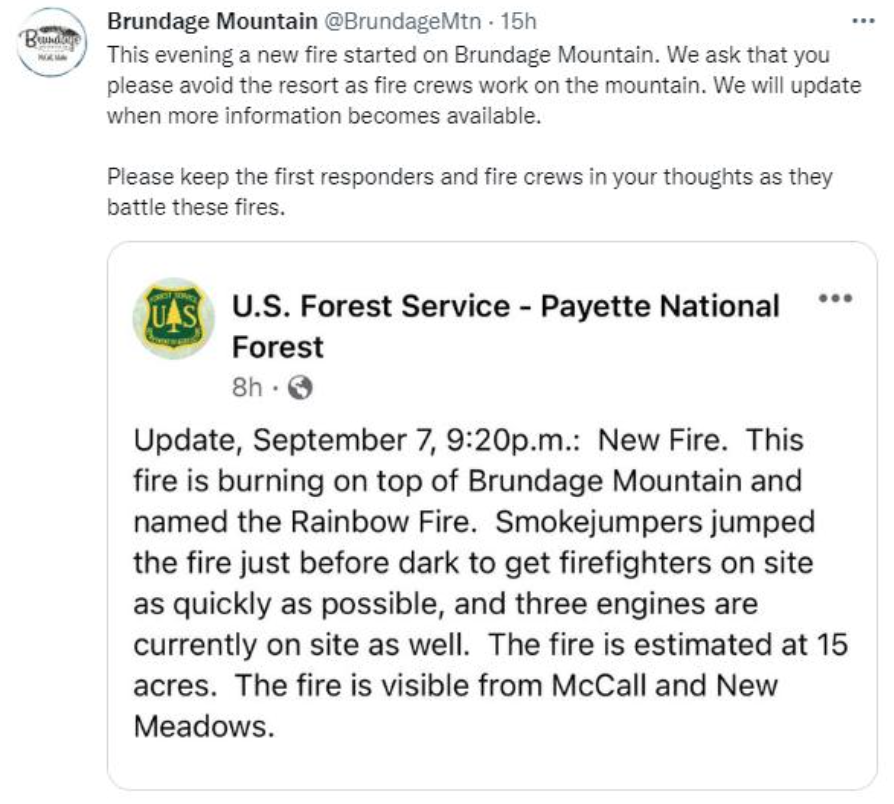 Today several crews are attacking the wildfire from the sky and the ground as two helicopters and four fire engines arrived at the scene along with Smokejumpers and wildlands firefighting crews. A fire camp has been set up in Brundage's lower Centennial parking lot and the public has been asked to avoid the area so fire crews can have efficient access to the fire.
Brundage shared in a press release on its website at 7 pm last night (9/8/22): 
Brundage Mountain Praises Heroic Efforts on Rainbow Fire

The five-acre Rainbow Fire, burning on Brundage Mountain, saw no significant growth this afternoon, thanks to the valiant efforts of fire crews from multiple agencies.

The Rainbow Fire was sparked by lightning during a thunderstorm event on the evening of Wednesday, September 7 and is burning in the Hidden Valley area, to the north of Brundage Mountain's main front side runs. No structures are in danger.

The Forest Service dropped smokejumpers on the fire before dark last night to begin initial attack alongside several engine crews. Firefighters from SITPA (Southern Idaho Timber Protective Association) and the BLM (Bureau of Land Management) also aided in the initial attack efforts overnight.

Today, multiple crews attacked the fire from the ground and air. Four engines were on the scene along with Forest Service Smokejumpers and Hotshot crews. Scoopers spent the entire morning dipping into Payette Lake and dumping water on the flames, with the help of helicopter and retardant drops.

"The firefighting efforts over the past 24 hours have been remarkable," says Brundage Mountain General Manager, Ken Rider. "The weather was wild but the response has been extremely effective. We want to sincerely thank all the firefighters for their tireless efforts."

While there was no fire growth today, firefighting efforts continue and crews will remain on site to secure fire lines, watch for growth and work toward containment of the fire.
We will share updates as this situation evolves and we pray for the best for Brundage Mountain.