Everybody loves a family vacation. At least the kids do. If it is a ski vacation, then everyone is sure to have fun. What could be better than skiing with your entire family?
What might not make it fun this season is the cost. It has been well-documented that rising prices and inflation have been persistent throughout the last few years. Now it seems to be getting under control, but overall, prices are on average 13% higher than they were two years ago. 
How much will your family ski vacation cost this year?
The team at the Denver Gazette crunched the numbers to see what it would cost for a family of four from Chicago to go for a week of skiing in Colorado for the 2023/24 season. The hypothetical scenario involves two adults and two children, ages 14 and 10. The plan is to visit the family-friendly town of Breckenridge and they will arrive on Sunday, January 14, and leave on Saturday, January 20. This will allow for mid-week skiing to avoid some crowds.
The first item to analyze is transportation to Colorado. Fortunately, flights between Chicago and Denver are plentiful and relatively cheap. United Airlines has $230 flights in economy class. Each person will have a bag fee of $35 each way as well, which brings the total cost to $1,200.
Once landing in Denver, the family will need transportation to Breckenridge. They could take a shuttle at $75 per person each way which would come to $600. However, for convenience, the family decided to rent an AWD vehicle for $750. They will probably spend another $150 on gas, bringing the total cost up to $900.
After arriving in Breckenridge, the family will need lift tickets. Thankfully they purchased these early with Vail Resorts' 'Epic Day' offering which offers adult tickets for $93/day and kids under 12 at $49/day. This would bring the total cost of lift tickets for our fictitious family to $1,640 for five days of skiing.
Assuming no one has their own gear, renting equipment is a necessity. Again, for convenience, the family decides to rent directly from Breckenridge Resort. Booking early secured them a cost of $75 per day for adults and $50 per day for children. The total cost comes to $1,375 just for the rentals.
For lodging, the family can find a relatively affordable suite with ski-in-ski-out access. All included it comes to $479/night or $2,874 for the entire week.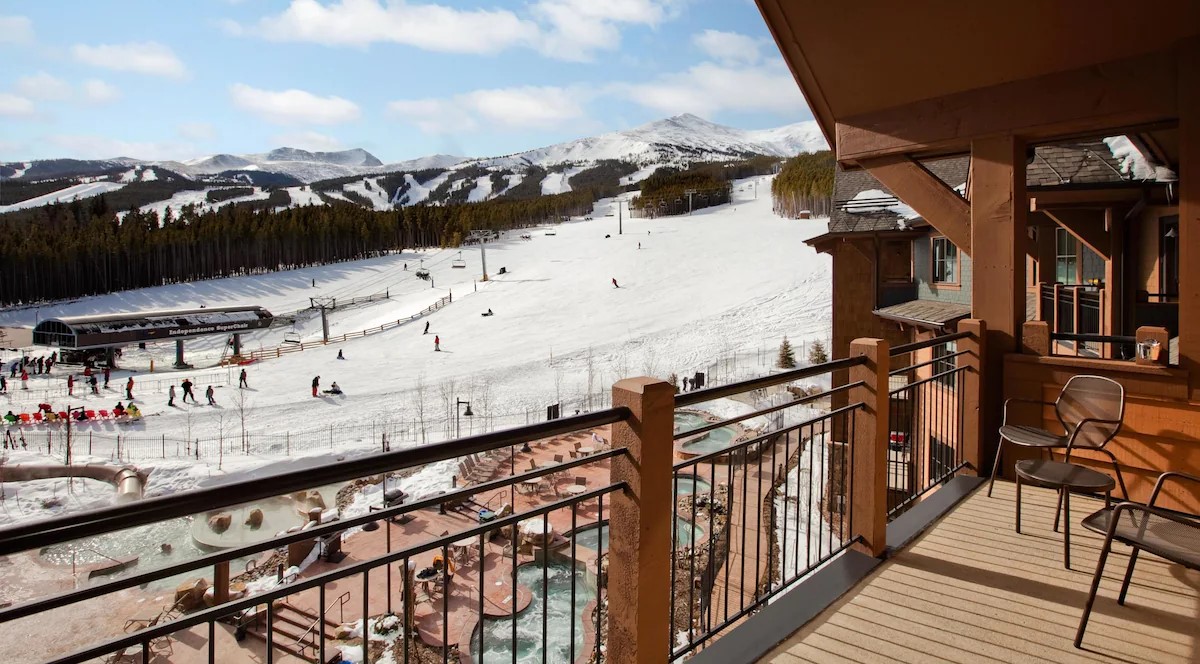 The parents and the oldest child are good skiers, but the 10-year-old will need lessons. Opting for just three days of lessons for them will run $975.
Accounting for and including food costs on a vacation is always up for debate because you have to eat no matter what. However, it is common to eat out more when on vacation, so it should be considered. This family plans to eat breakfast and lunch in their hotel room but go out to eat every night. Restaurant meals are assumed at $20 per adult and $15 per kid. With a 20% tip, this would cost $84 a night or $504 for six nights.
There are always miscellaneous expenses on a trip such as snacks, clothing, or other amenities and activities. Throw in another $500 to cover this and they should be good.
What does it all add up to?
As you can see, the costs add up pretty quickly and the total is nearly $10,000. Here is how it breaks down.
Airfare: $1,200
Rental car: $900
Lift tickets: $1,640
Rentals: $1,375
Lodging: $2,874
Lessons: $975
Dining: $504
Miscellaneous: $500
Total: $9,968
Some people might not even realize their trip is going to cost this much. Once crunching the numbers, it might make some families reconsider.
How could they save money?
Although the family did plan ahead and found good deals on flights, lodging, and lift tickets, there are some things they could do to save even more.
Driving to Breckenridge from Chicago is 1,080 miles and Google Maps estimates it would take 16-17 hours. This would be a brutal road trip, but it would save the cost of airfare and a rental car. Additional expenses would be probably $500 for gas, not to mention wear and tear on the family vehicle. Total savings would be $1,600 ($1,200 + $900 – $500). A night in a hotel might be needed as well if the trip can't be done in one day.
If the family plans on skiing every year plus a couple of days at home in the Midwest, then owning their gear would save them $1,375 by not having to rent. They could even buy used skis as the kids are growing to save money.
Since the family will have their own vehicle, ski-in-ski-out access isn't absolutely necessary. They could opt for lodging 10-15 minutes away. Assuming this saves at least $100 a night, then this would bring another $600 in savings.
Opting to skip the lessons for the youngest child and teach them yourself would eliminate the $975 cost for lessons.
Finally, instead of eating out all six nights, the family could make a home-cooked meal for three of those nights. This may only save a couple of hundred dollars as they would still have to buy groceries to cook on the other nights.
All added up the savings could be $4,750, bringing the total cost of the trip down by 48% to $5,218.
As you can see, it all depends on what you want your trip to look like. Let us know if you plan on taking a family ski trip this year and what you anticipate it will cost you.