As reported back in January 2016, Mount Rose ski resort is on the market. Would you by the resort?
Let's look what's going on here:
Murray Blaney, with the resort marketing, says: "Fritz Buser who owned the majority of the resort since 1971 has loved running this and he has loved owning it but it's time to sell it". Fritz Buser was born in the small farming village of Hemmiken in the northern part of Switzerland on April 29, 1921. He grew up with the daily hardships, surviving by milking cows and harvesting apples and potatoes.
From these experiences his entrepreneurial spirit was ignited; at an early age he sought to break away from his humble beginnings (Mount Rose history) Buser, now 95, was traveling around the country in the 1950s and 1960s promoting Henke ski boots when he met the founders of Mt. Rose and became an investor in the operation, eventually becoming the majority shareholder in 1971, a stake he's held ever since.
Did you know, that ..
Mount Rose is the highest mountain in Washoe County, within the Carson Range of Nevada, United States
It's an extinct volcano, last erupted 15,000 years ago.
Mount Rose Ski Tahoe resort is not on Mount Rose, it's on Slide Mountain, which is nearby.
Due to the high elevation, most of the precipitation that falls on the mountain is snow! Yay!
The Chutes offer one of the steepest terrains in Lake Tahoe with pitches of 40-55 degrees!
The Mount Rose Highway, connecting Reno with Lake Tahoe, nicknamed the "Highway to the Sky"!
Mount Rose Weather Observatory – one of America's first high-altitude meteorological observatories, established on June 29, 1905.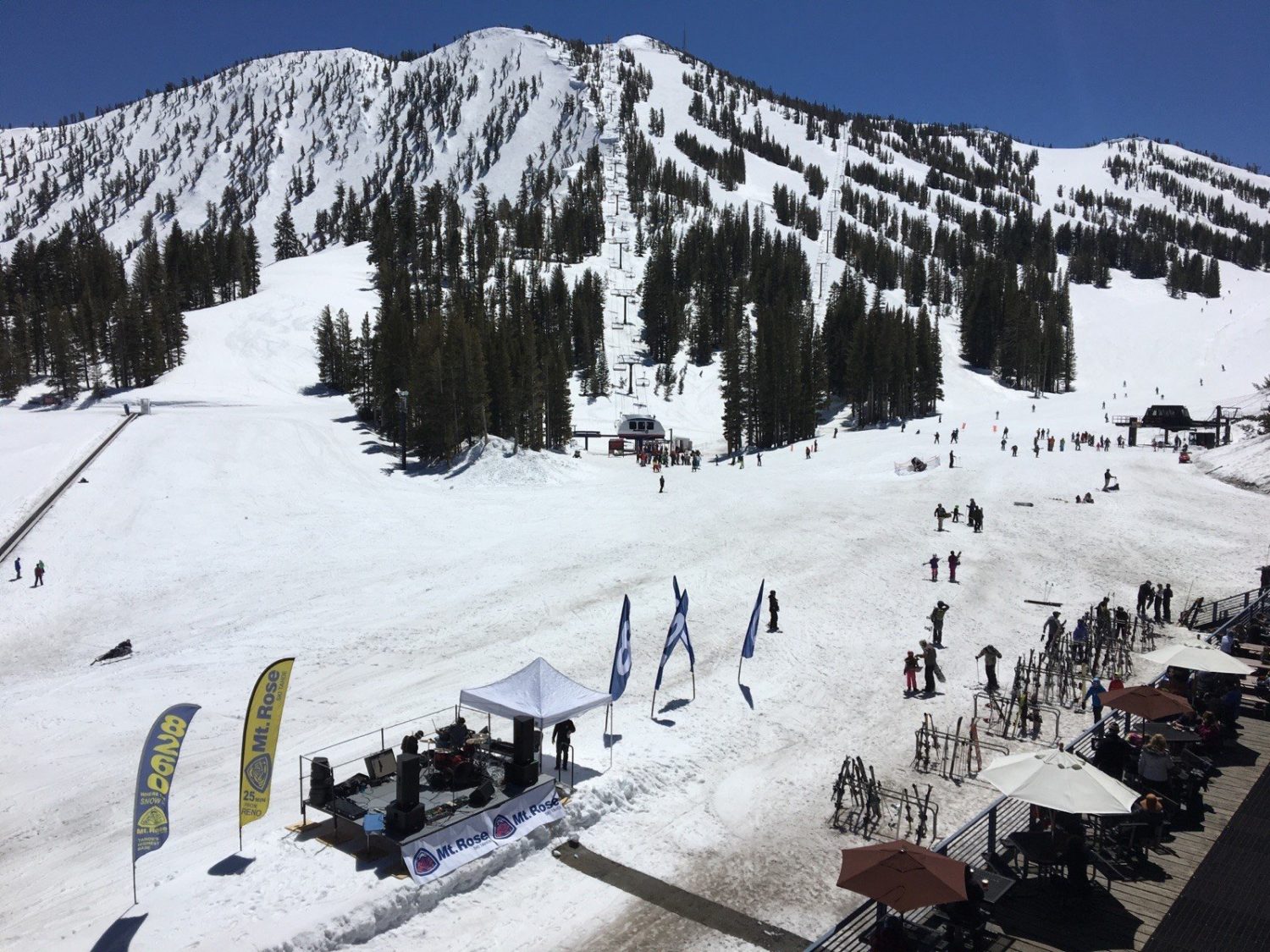 So, who will buy the resort? As for the asking price, no one's even speculating on that.  According to the resort, "We are just getting started with the process of putting it up for sale. We'll see who's offering what for it and see what they see in the future here before anything is decided."
Could it be Squaw Valley/Alpine Meadows or Vail corporation, who just bought Whistler? Would it be good for the resort? Will it get more modern lodges and new ski lifts? Or will its lift ticket price rise from $104 (one of the lowest around Lake Tahoe) to ~$170-180?
The crowdfunding campaign to finance ski resort has been started by a group of volunteers called  OneReno group this August. The idea of the group is to keep the resort locally owned (Reno/Tahoe), operated the way it is used to be, being small and quiet, affordable for locals.
There were the other attempts to crowdfund ski resorts – Bear Valley CA, Red Mountain BC . But will they eventually succeed? There are a lot of questions rising: even with enough funding, who will manage the resort with so many investors? How can they be sure the money will go to the resorts' operation, not for purchasing luxury condos  or other expenditures, not related to skiing, as it was in the case of Jay Peak?
We reached out to OneReno and got an exclusive interview with Govind Davis and Ben Gaul for Snowbrains.
Snowbrains: Why did you decide to found a crowdfunding group?
OneReno: After talking to people in the community we saw clearly that people love the Mt Rose ski resort and felt a very personal connection.   We wanted to find a way to tie that passion to the future of the mountain. We also understood that the scale of investment needed would require participants from many levels of the community, which would be hard to bring together without publicly communicating the project.
Snowbrains: How many members does the group have?
OneReno: If you're asking how many people have invested in the project, we aren't to that point yet. We've connected socially with more than 80,000 people on Facebook.
Snowbrains: Are you in talks with Mount Rose Ski Resort officials or other management officials?
OneReno: We had early conversations with the Mt Rose Ski resort and felt they would not take us seriously until we demonstrated that this approach could have legs. We are also talking with other organizations such as USFS and groups with ski resort operations experience to assure that we are covering our bases.
Snowbrains: Do you have any investors so far?
OneReno: We have many, many people wanting to invest.   We aren't engaging specific investors yet since we want to create a model that protects the interests of the large and small participants.
Snowbrains: How could the community help?
OneReno: We really want to get more feedback and ideas on how we can bring together commercial and community interests to set the future of this unique local treasure.   In particular people with financial expertise and resort operations. Of course we also hope everyone will continue to voice support and participate once we open up the project for investment.
 Snowbrains: One of the Mount Rose Ski resort owner's concerns is the potential buyer's ski resort operations experience. Have you ever owned a ski resort?
OneReno: Our current team does not have this ski resort experience.   We've had several discussions with potential groups that can bring this expertise and understand that it will be required to establish any credible offer. We are also very much focused on assuring that this project would lead to continuity for existing staff at the resort, who look to be running things quite well.
Are you interested in knowing more about the campaign? Would you like to be part of it? This is your chance!
Are you buying Mount Rose? 😉