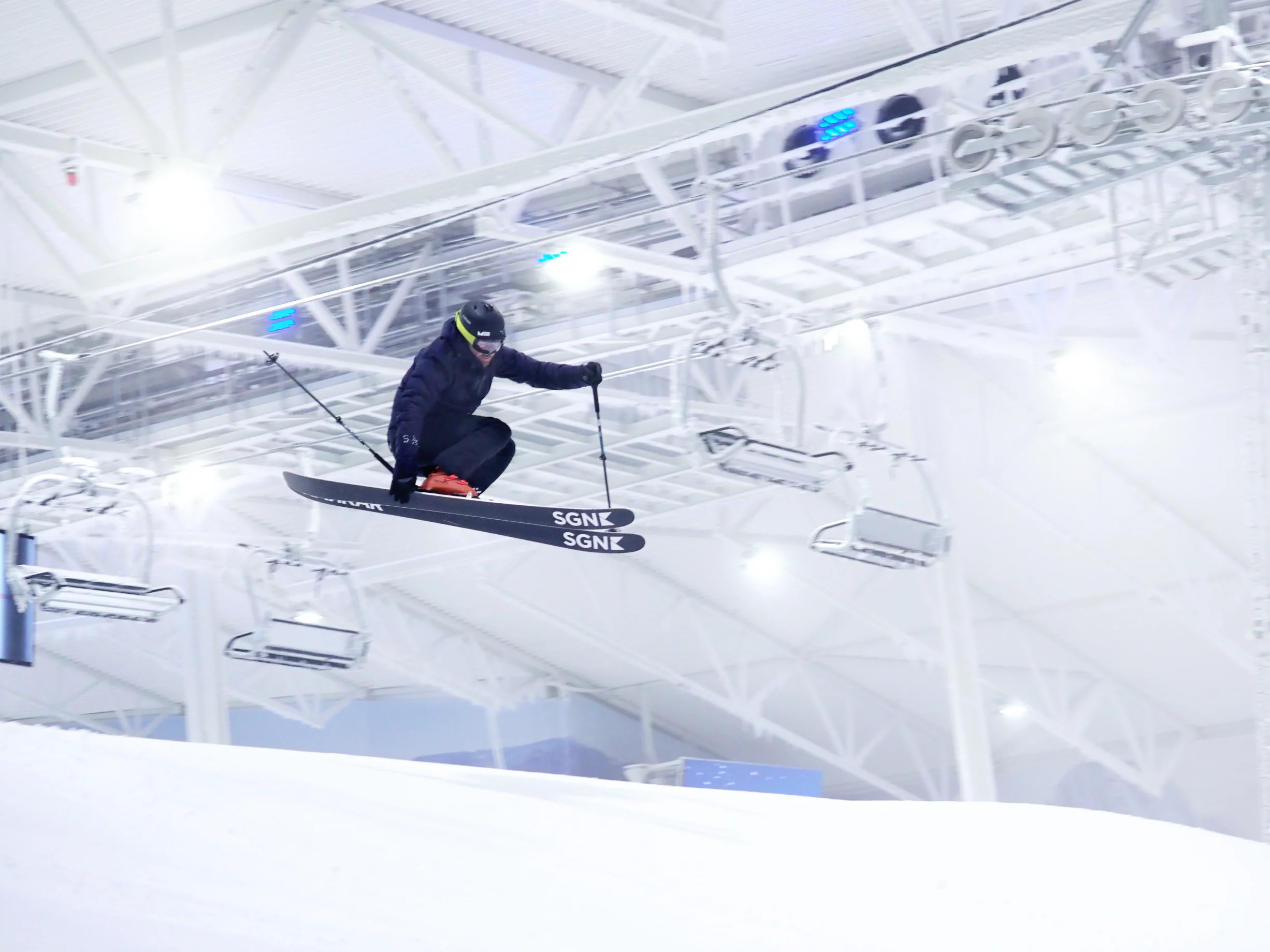 For most of us in the northern hemisphere, the skiing season is coming to a close. Palisades Tahoe, CA, closed for the season on the 4th, leaving just two resorts open in North America. There still are plenty of places to ski this summer, however, and a unique way to get some laps in the off-season is actually indoors.
A brief history of indoor skiing
The origins of indoor skiing date back nearly 100 years ago. The first indoor ski slope opened in 1927 in Berlin, Germany, using artificial snow. As advanced refrigeration was not yet available, slopes relied on a mixture of mica, sawdust, and soda crystals to create 'snow'. These slopes saw some popularity but grew out of favor due to quickly deteriorating 'snow' quality.
Indoor ski areas began to improve in the '80s and '90s with the introduction of refrigerated facilities. However, they still relied on artificial snow. Only in 1994 did the first modern indoor ski center open in Britain, using snowmaking and refrigeration to make real snow available year-round. Since then, nearly 150 indoor ski slopes have been built worldwide, including some in boiling-hot cities like Dubai, UAE, and Bekasi, Indonesia.
This article will explore the world's seven largest indoor skiing facilities around the world by total snow area.
7. Alpincenter Hamburg-Wittenburg, Germany
Tied for 7th on this list, Alpincenter Hamburg-Wittenburg has 30,000 square meters (around 7.5 acres) of skiable terrain. The area has two lifts that serve 0.4 miles of trails, and features a 184 foot vertical, allowing for a variety in gradient. The ski area opened in 2006 and is the most northern-situated ski area in Germany.
7. SnowWorld Rucphen-Breda, Netherlands
SnowWorld Rucphen-Breda in the Netherlands is the oldest indoor ski area on this list. Originally opening in 1995 as the first indoor ski area in the Netherlands, it only had one run served by two carpets. In 2011, the area was renovated and re-opened in January 2012 with a much larger footprint. They now feature 30,000 square meters (7.5 acres) of indoor snow with three main runs and seven surface lifts. The area also has a special go-kart track on ice for those that want to challenge their driving skills.
5. SnowWorld Landgraaf, Netherlands
The largest indoor ski area in the Netherlands, SnowWorld Landgraaf opened in 2002 and has 35,000 square meters (8.6 acres) of skiable terrain. The center used to hold the title of the largest indoor ski resort, but with the construction of larger facilities in China it now rests in 5th place. It has five ski slopes of various difficulties including an FIS-certified race course, as well as the Netherland's only 6-person chair and a total of seven surface lifts. The facility also has a climbing area and an alpine coaster during the summer.
4. SNØ, Norway
SNØ opened in January 2020 and features 36,000 square meters (almost 9 acres) of indoor skiing. The resort has 0.6 miles of slopes, complete with a jump park and race course. The runs are served by a quad chair and a platter. The facility also has a unique cross country slope that hangs up to 65 feet above the ground. The resort is one of the newest indoor parks in Europe and focuses on being eco-friendly and becoming energy independent in the future.
3. Chengdu Snow World, China
The newest facility on the list, Chengdu Snow World opened in September 2020. Coming in just shy of 2nd place, the facility has 55,000 square meters (13.6 acres) of indoor snow. The area has a 230 foot vertical and features wide slopes with a terrain park. In addition, the park has sledding and tubing as other attractions for visitors. The facility, built by Sunac, is also paired with a waterpark and a theme park located in the same mall.
2. Guangzhou Snow World, China
Guangzhou Snow World opened in June 2019 and has 56,000 square meters (13.8 acres) of snow, making it the second largest indoor ski area in the world. It has 5 runs of varying steepness that are served by just one double chair. The facility also has a nearby waterpark and numerous five star hotels. The facility was built by Sunac, and it is one of seven indoor ski resorts operated by them in China.
1. Harbin Wanda Indoor Ski Resort, China
Opening in July 2017, Harbin Wanda Indoor Ski Resort is currently the largest indoor ski area in the world. It features over 80,000 square meters (nearly 20 acres) of indoor snow with almost two miles of slopes. Two lifts serve the six runs at the resort, which includes one of the longest indoor ski runs in the world. The main run is 1,640 feet long and 200 feet wide, or as large as the total size of #7 on this list.
Honorable Mentions
An honorable mention goes out to Big Snow American Dream in New Jersey, USA. Although it didn't make the list, Big Snow is the first and only indoor ski area in North America. The area opened in 2019 and features 3 runs and a terrain park.
Another honorable mention goes out to Alpincenter Bottrop in Germany, which has the longest indoor ski slope in the world. The run has a length of 2,100 feet (640 meters) and a maximum gradient of 24%.
The first indoor black diamond run opened in 2005 at Ski Dubai in the UAE. Located in the massive Mall of the Emirates, Ski Dubai also has a colony of penguins and plenty of other winter activities.
Another new indoor ski area, Wintastar Shanghai, is planned to open later this year in China. With a snow area of 45,000 square meters (11 acres), this new area should move into fourth place on this list, just ahead of SNØ. There's a bright future for indoor skiing, and hopefully these massive facilities can make skiing more accessible around the world.