Dive bars can mean a lot of different things nowadays. The ski town dive bar seems to be a bit of a dying breed, and people get defensive about their favorite bars, what's happened to them, and the future that they see for them. 
Wikipedia describes a dive bar as, "an un-glamorous, eclectic, old-style drinking establishment with non-expensive drinks." Nowadays, that is actually hard to come by in the era of online working ski towns, gentrification, and exploding prices all over the globe. 
So, this list might not be exactly what you think of when you think of "dive bars," but they are all relatively unglamorous bars where you can find a cold beer or cocktail at a decent price. But remember, ski town dive bars aren't exactly what they used to be. 
7. Sherwood Ice Bar at Alpine Meadows, CA
Starting off the list is not exactly a dive bar, but it happens to be one of my favorite places to grab a drink on the mountain. It's located at the bottom of the Sherwood lift at Alpine Meadows, and it's just a little shack where you can grab a beer.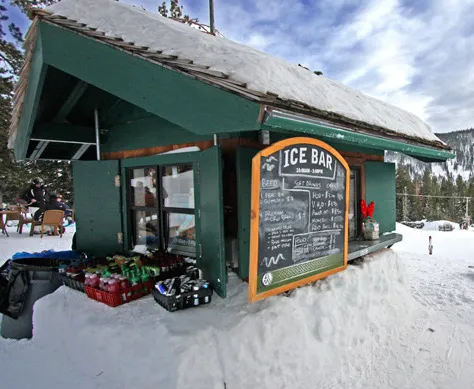 It's not the cheapest, but it is lowkey compared to the rest of Palisades. It's simple and usually not packed with sprawling lawn chairs and great vibes. It's the perfect place to chill and slam a couple of beers on a mellow spring Wednesday.
6. Rafters at Red Mountain Resort, BC
To me, Rafters meets all the requirements of being a dive bar. It's definitely old style with its own corky personality and the same old regulars who have been coming in every day since the 70s.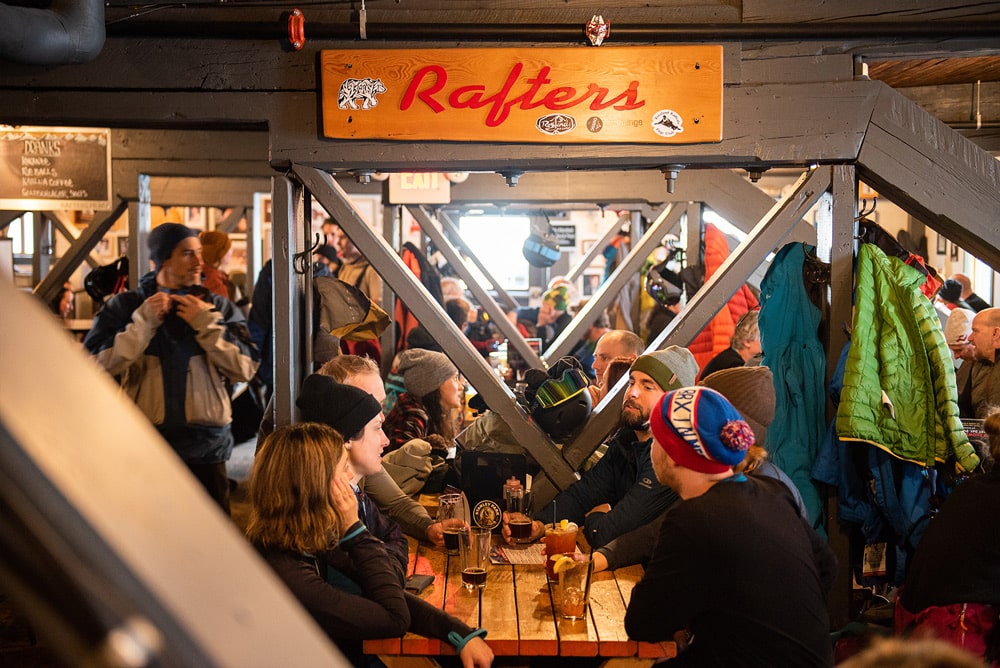 You'll find some Canadian classics like the Caesar, which is the Canadian version of a bloody mary with vodka, spices, and clamato juice. I highly recommend stopping in at this bar if you find yourself skiing at Red or passing through Rossland. 
5. The Slot at Palisades, CA
The Slot is a cult classic in the Palisades scene, and it is definitely still a dive bar. It's one of the closest buildings when you come down to the bottom of KT-22, making it a hotspot for all the hardcore Palisades skiers where you will find everyone in their ski boots and cheap PBRs.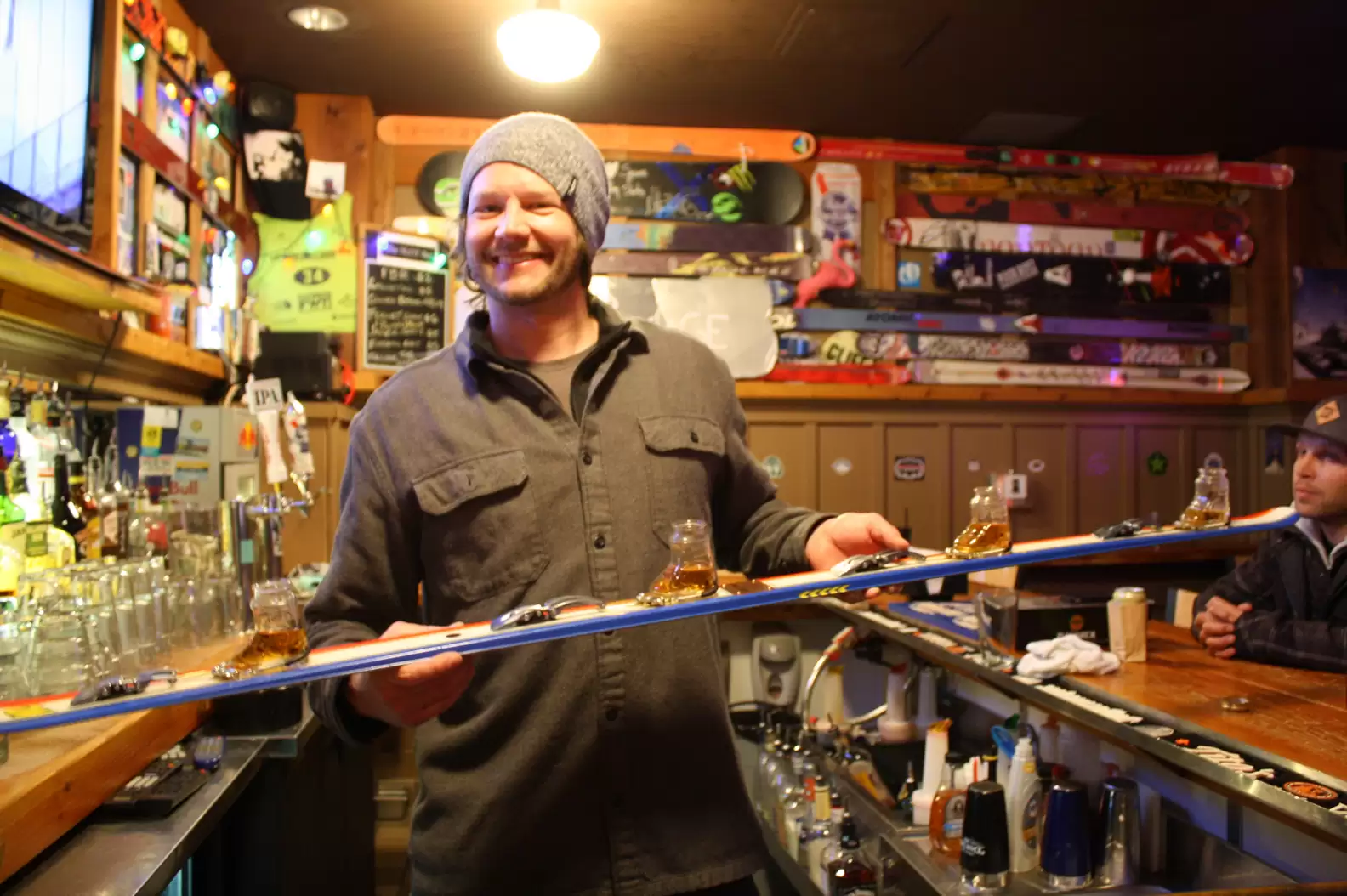 They've always got classic ski movies playing on the TV, and the walls and ceilings are covered in ski memorabilia. Another great thing about the Slot is the famous bell. Whenever it's rung, it means someone has bought shots for the whole bar. 
4. Chalet du Soleil, Pila, Italy
Pila Ski Resort is located in the Italian Alps in the famous Aosta Valley under the shadow of Mt. Blanc. It's an easygoing mountain with a variety of terrain, and it boasts one of the best apres ski environments. 
The Chalet du Soleil is a ski-in ski-out bar where you can grab a cheap pint and some good food to warm you up. They have a small stage outside for live music and DJ sets. It seems to be the spot where the liftees go after work to slam a couple of beers or Aperol spritz. 
3. Hennu Stall, Zermatt, Switzerland
Hennu Stall is another classic apres ski dive bar in the Alps at Zermatt with live music almost every day. Their motto is simple; it's "der place to be." It's a lively atmosphere, and reviews say it's the best apres ski scene in Europe, which is quite the claim. They offer cheap beer, cocktails, classic ski comfort food, desserts, and more, perfect after a long day on the slopes.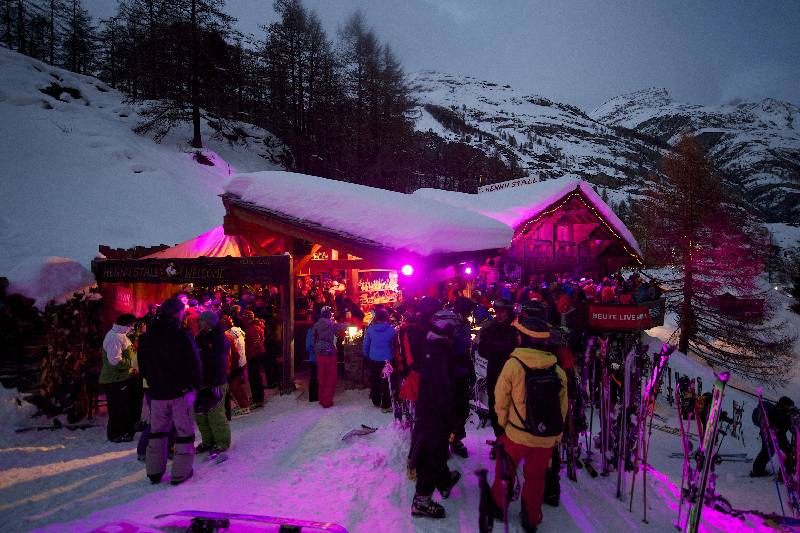 2. Grampa Grunts, Jay Peak, VT
Grampa Grunts is a historic ski lodge that has been operating since 1969 at Jay Peak in Vermont. It's a small lodge that can accommodate around 60 people at a time, and the BYOB bar is located in the basement with a pool table and a waxing and sharpening station.
Reviews range from saying it's like traveling back in time to a 70s-style ski lodge, and what it lacks in fanciness it makes up for in friendliness. Just about everything you want in a dive bar.
1. The Last Dollar Saloon, Telluride, CO
The Last Dollar Saloon radiates ski town vibes in an old-time western saloon in Telluride, CO. Locals affectionately refer to it as "The Buck," and you can still find a frosty pint for three dollars. With almost 40 years in the business, they know how to treat their locals and visitors alike.
It's the perfect place to dive into Telluride's ski scene, experience a bit of the nightlife, and maybe meet an old cowboy or two. The hours are 3 PM to late, so you're sure to run across some of the most vibrant characters in town.
Dive bar discussions can get heated, especially with territorial skiers. These establishments might not meet your perfect idea of 'dive bars', so let us know in the comments your personal favorite ski dive bars around the world.