[Sponsored by Sun Valley Resort]
Located within the Wood River Valley of Idaho, Sun Valley Resort is a pillar destination for on-snow recreation. Since 1936, generations of adventure enthusiasts have flocked to its famous slopes, growing a ski heritage unlike any other.
But Sun Valley tradition doesn't end at piste's edge.
The resort village, as well as historic Sun Valley Lodge, is equally well-known to offer attractions both comfortable and luxurious befitting the entire family. So kick back, relax, and be sure to enjoy these seven off-piste delights of Sun Valley Resort.
Konditorei Bakery & Café
Konditorei notoriously raises the bar of excellence for every occasion—especially each day's most important meal.
Crafted to reflect classic Austrian style, the thematic bakery and café occupies a position of prominence along the Sun Valley Village promenade. Known for its picturesque clock-tower entrance and eaves, Konditorei offers a venue of indoor, outdoor seating perfectly suited to its casual-meets-fine dining menu.
The bakery is also something of a local phenomenon, producing both sweet, as well as savory, delicacies as colorfully inventive as they are down-right delicious. Author's tip here: do not miss a Konditorei cinnamon roll. These rounded, richly-slathered numbers are so well-known that the bakery will actually prep large orders over ice for long distance shipping.
Pairing perfectly with the above baked goods is a meticulous espresso bar which prides itself as a leader in all things related to the coffee bean. It's been said that café aficionados take extra care for equipment when gauging a coffee house's quality, and in this, the Konditorei shines. The bar, machinery, and amenities whirr with pristine efficiency to produce steaming creations as ascetic to look upon as invigorating to imbibe.
Konditorei Bakery and Café operates 7:00 am through 5:00 pm daily with tiered serving hours to suit breakfast and lunch services.
Mark this unforgettable Sun Valley Resort dining experience as a 'perennial must.'
Swimming & Fitness Center
Naturally, non-winter months spring to mind when contemplating a relaxing afternoon swim. Yet, the luxury found at poolside knows no seasonal restriction at Sun Valley Resort.
As Idaho's, and the nation's premier relaxation destination, Sun Valley offers several aquatic options.
Both the Lodge and Inn pools present similar swimming space located beside the village's two accommodation sites. And, according to Sun Valley representatives, Lodge and Inn pools are doubly convenient to guest as each waits "adjacent to well-appointed fitness centers."
The nearby Olympic Pool, by comparison, is the much larger outdoor lap pool next to the resort's tennis courts. This lovely 'swimmery' also has a wonderful Jacuzzi, but both are open only during the summer months.
Sun Valley's winter pools run 55-feet in diameter, with a depth of 10-feet. Each is heated to heartwarming perfection and the glass panels surrounding the pool areas offer cozy privacy, as well as well a much appreciated defilade from the area's occasional breeze.
Overhead rise photo-worthy vistas of Bald Mountain with a backdrop of color-strewn South Central Idaho skies, while poolside niceties include a delightful cocktail café as well as a spacious, marble locker room and shower.
Daily pool hours typically, span all-day and into the evening.  
The Fitness Centers, on the other hand, situated beside next to the Lodge and Inn Pools, never close. Both of the gyms feature equipment for cardio, yoga, and lifting.
Shopping
"It's a scene straight from a snow globe," said one Costa Rican of Sun Valley Village. The young man is a first-time arrival to Sun Valley where he joins the resort's winter staff. "I've never seen anything like it," he said.
A meticulously cared for square overlooked by Bald Mountain, Sun Valley Village is indeed a Euro-influenced picture of alpine delight. Shops, dining, lodging, and natural beauty all blend harmoniously to form a single colorful micro-climate of pleasurable relaxation.
Village lanes are little more than a short stroll, but their memories last a lifetime. Restaurants offer cozy atmospheres and lively spectating. Light music plays, and white light lines the roofs. Thermal water heats the brickwork underfoot, meaning little-to-no snow to shovel—and no ice. And bird feeding, when seasonable, is a favorite among children.
Take a walk; enjoy a browse. Seldom is there found shopping quite like that of Sun Valley Village.
Village Station
The latest dining option in the Sun Valley Village stands upon the attractive promise of casual bites for the day's happiest hour.
Reminiscent of classic train stop culture, and perfect for guests of all ages, the Village Station revisits Sun Valley Resort's earliest history as a magnetic destination along the lines of Union Pacific Railroad. The restaurant's invigorating vibe caters particularly well to the "road-weary traveler" (or those in need of a breather from so much skiing!) and opens from 11:30 am until 9 pm, daily.
A speakeasy spot well-suited to Sun Valley Resort, the Village Station rolls out a red carpet of both classic and craft cocktails to tandem an eclectic retinue of tap-poured and micro-brewed barley-pop beverages. And there are domestic beers by the bucket load—literally. Matching these is a menú deemed by the clever minds behind Sun Valley's kitchen to be, "a crowd-pleasing menu of classic American favorites." As if this wasn't enough, the venue flourishes under the flashing lights of four big screens.
The thrilling lore of the West's old iron horse steams again at the Village Station, Sun Valley Resort.
Opera House and Cinema
The pageantry of the Sun Valley Opera House first appeared in 1937, shortly after the construction of the iconic Sun Valley Lodge. Intended from the start to be a top-tier theater, the charming Opera House hosts over three-hundred seats. And, in keeping with the times, all original audio/video equipment–including screen–have been replaced with state-of-the-art technology that boosts the nightly showings of premier films.
The house also doubles as an attractive site for specialty events, offering "ultra-resolution" Sony Digital Cinema 4K projection, and blow-your-hair-back 3D imagery.
"Our intention is to offer Sun Valley guests a fully immersive theater experience," said Sun Valley promotions.
Finally, to sweeten the already mouth-watering cinema excursion, Opera House offers a signature serving of butter-coated popcorn, a sugar rush candy selection, and a full range of adult to kiddo beverages.
So sit back, let the lights go dim. A classic is about to begin…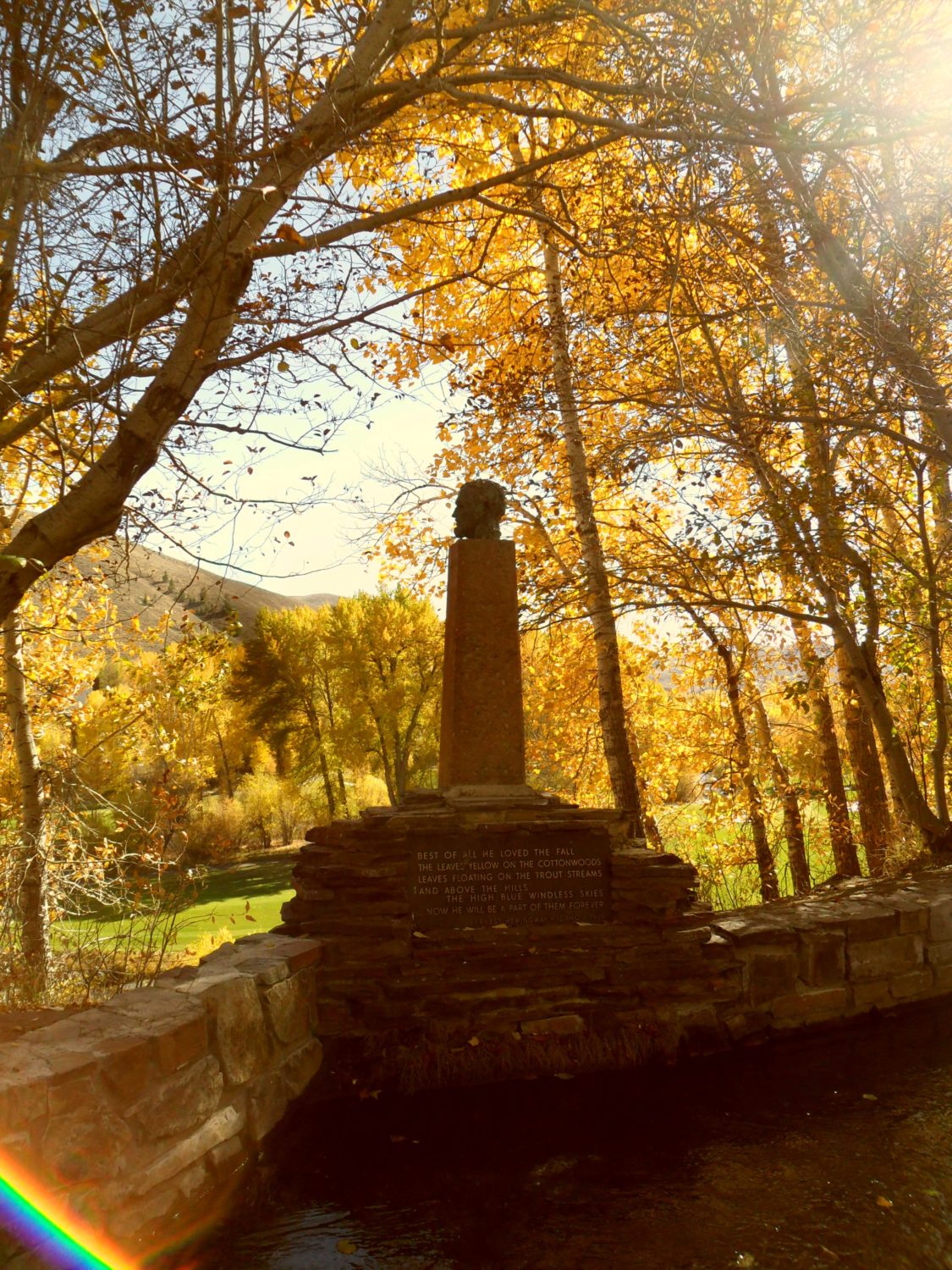 Hemingway Memorial & Marker
Asking to timeline Sun Valley roots and reputation is a question akin to chickens or eggs. Did they come because it was famed, or was it famous because they came?
One thing's for sure; the resort is synonymous with excellence.
A testament to this is the memorial that sits serenely along the road to Trail Creek Cabin. There, beside gently flowing water stands a bust of the literary icon, Ernest Hemingway. Renowned for his larger-than-life appetites, Hemingway found Sun Valley life exceptionally pleasant and passed much time there, including the twilight years leading to his–and later his son's – eternal rest within the grounds of Ketchum Cemetery.
Today that connection in arts and in passion still thrives under the eaves of Cottonwood trees where the public may visit freely in shaded remembrance of a man and his great works.
Author's tip: the Hemingway Memorial is particularly striking over autumn; months when Wood River color and crisp Sawtooth breeze accentuate the words marked upon the stone.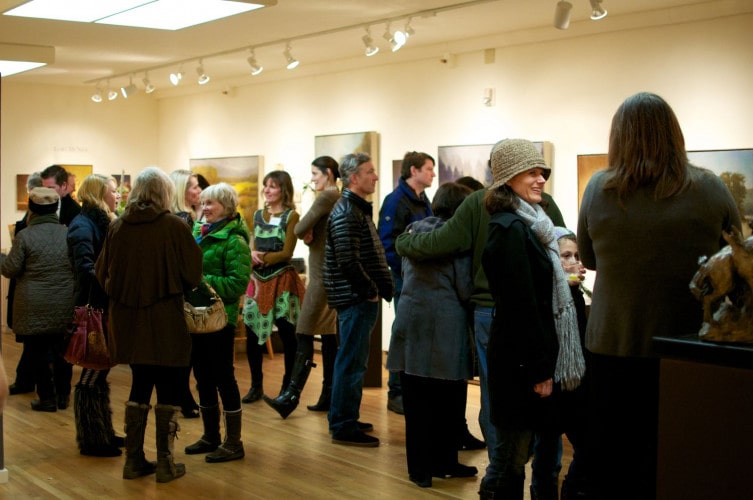 Gallery Exhibits
Resident art aficionados and wine connoisseurs eagerly await these evenings. Galleries throughout Wood River Valley famously open their doors to the public with the temptations of newly exhibited art, wine, treats, and chances to mingle with the artists themselves.
There's even an annual scheduled of 'Gallery Walks,' typically featuring seven exhibition openings, all of which are offered free to the public. Though galleries keep regular hours, the 'Walks' usually take place over evening hours (5pm until 8pm) and showcase artistic treasures from a litany of participating sites including: Lipton Fine Arts, Mountain Images, Saddletree Gallery, David Norton Fine Arts, Silver Creek Realty, Frenchman's Gulch Winery, and many more.
Works portray the talents of nationally-recognized and awarded-winning artists and are rotated regularly to accommodate huge stocks of work waiting in the wings.
And so concludes this welcome to a selection of seven from among the multitude of Sun Valley Resort off-piste activities; where options aplenty await and enjoyment for the whole family is guaranteed.
Winter months at the Wood River's state-leading ski destination mean cold days filled with hot skiing, yet Sun Valley Resort attractions are far from sequestered to the pistes of Bald and Dollar Mountains.
Gather the family, plan the trip and rest assured, whichever the group's area(s) of interest Idaho's top-tier ski-meets-sun recreation destination, Sun Valley Resort waits with just what the doctor ordered for a holiday as exhilarating as restful, and rewarding.