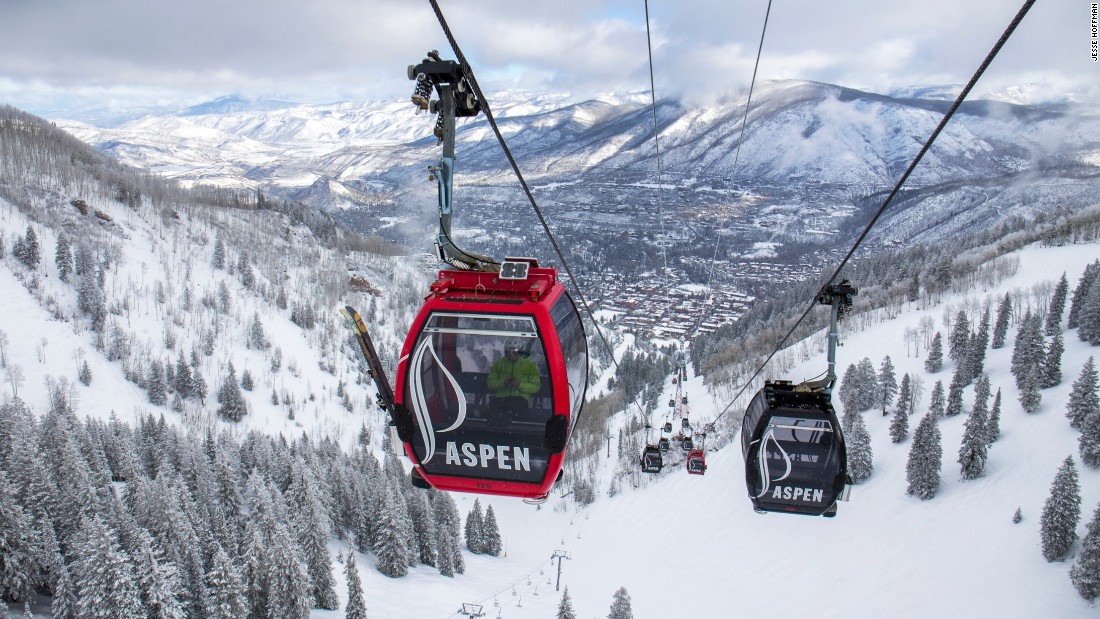 Aspen Skiing Co. has announced changes for this season and a new line of ski passes purposed to "spread people out and enable capacity controls," according to the corporation's CEO, Mike Kaplan, who talked with the Aspen Times in a phone interview Thursday. The world-famous ski resort is attempting to avoid having to use a reservation system this season, which would be a logistical nightmare.
On Thursday, Skico announced a brand new weekday pass for Roaring Fork Valley residents only, a seven-day pass for locals, and a $320 increase from last season on the chamber-discounted Premier Pass, according to the Aspen Times. Skico will enact social-distancing protocols at all of its ski resorts this winter and will try to balance the number of visitations per day. They are really trying not to have to use a reservation system this season.
Both the chamber-discount and non-chamber prices will go through Nov. 13 before increasing in different amounts. All passes are refundable before Nov. 20.
The new Valley Weekday Pass is for Monday through Friday and is $899 for chamber members currently, and then $999 after Nov. 13. For Roaring Fork Valley residents who are not connected to a chamber of commerce, the Weekday Pass is $999 and will go to $1,049 in November, the Aspen Times reports.
NEW: @AspenSnowmass announces new locals' weekday pass, price increase for locals' season pass as well as safety guidelines for coming season. #skiing #aspen #snowmass https://t.co/issKAZqUZk via @DavidKrause pic.twitter.com/AFonBCGHSb

— Aspen Times (@TheAspenTimes) September 24, 2020
Skico is also introducing a Valley 7-Pack Pass good for seven days during the season that starts at $399 before increasing to $449 after Nov. 13. It can be used for any day of the week, minus the blackout dates.
Both of the new valley passes have blackouts from Dec. 26 to Jan. 2 and Feb. 13 and 14 and valley residents will be required to show a local ID. 
The Premier Pass this season will include the Ikon Base Pass again. 
Skico will be offering teachers and some frontline workers who worked during the start of the pandemic a free 7-Pack Pass, according to the Aspen Times. 
Credits of as much as $250 for this season will be given to season pass holders whose ski seasons were cut short last season when Colorado Gov. Jared Polis ordered all ski areas to close on March 15 because of COVID-19. People who purchased a 2019-20 Premier Pass without the chamber discount will receive the $250 credit. There are other refunds available which can be learned about here.
A Letter From Mike Kaplan, CEO of Aspen Skico.
Is it me, or are the trees changing color before our very eyes this fall? That's how life feels these days: one moment time seems to be standing still, then it suddenly flashes by. Thankfully, the Aspen trees always get it right, and they're signaling to us that winter is around the corner.
While uncertainty remains about exactly what will be required to operate ski areas this season, we've developed plans and protocols that should enable us to get open and stay open safely. Sounds fundamental, but don't forget we were closed by state order last March, just as we entered the heart of our spring season.

Everywhere I go, people ask what's happening this season. Because in these uncertain times, skiing feels more vital than ever. Soft snow under our skis, powder-coated trees, fresh corduroy and time in the mountains with friends and family — I get fired up just thinking about it.
You've probably heard other resorts' winter plans, including who they are prioritizing for access and how they will manage capacity. Aspen Snowmass is taking a different approach. We've always been for those who are passionate about being here: locals and visitors, international and domestic guests, skiers and snowboarders. There is enough divisiveness in the world right now.

We have worked thoughtfully to come up with a pass and ticketing strategy that attempts to maximize fun for everyone — our local community, our Aspen Snowmass passholders, our day ticket guests, and our Ikon and Mountain Collective passholders — while allowing for effective social distancing and volume management. For those who were here twenty years ago, you'll remember our mythical marketing campaign UNCROWDED BY DESIGN. It was a slogan ahead of its time, now relevant in a whole new context.

COVID-19 is a social disease, and a close-knit community like ours has to tackle it together. Fortunately, we have the room to do it, given our extensive acreage spread across four mountains and multiple access points. Generally, this winter will be quieter than it's been in years, likely down at least 20 percent, with the reduction in international visitation, group events and corporate travel.

That means most days will feel slow, save holidays and weekends, with more business coming from regional markets. The need to abide by social distancing best practices will require reduced lift and restaurant capacity. Therefore, we are strongly encouraging advance purchase of all our tickets and services. These shifts have also forced a reimagining of our pass product mix. The goal is to incentivize everyone to play an active part in capacity management so we can keep the season alive through April. We are not prioritizing passholders, nor are we prioritizing day ticket purchasers. We are prioritizing safety.

Our passes and pricing this season are designed to spread people out and enable capacity controls should the pandemic require them. An unlimited Premier Pass is a great anytime-access pass, but it's problematic in a COVID-19 constrained world. So, it's going to be more expensive than in years past, and if infection rates rise, requiring our community to increase social distancing, we will implement a reservation system and reduce the number of people on the hill per day.

To encourage as many of us as possible to take advantage of our quieter periods, we have a new weekday pass for Roaring Fork Valley residents, which is a great value but will also be subject to a reservation system if infection rates rise and health officials request that we reduce capacity further. Finally, also for residents, we have a new Valley 7-Pack that's an evolution of the Classic Pass. Hopefully, you get the theme: avoid peak days and you'll save money and, critically, help ensure a full ski season.

It has been inspiring to see our Valley come together over the last six months, and we owe a huge debt to our essential workers who keep our community going. We're providing a complimentary Valley 7-Pack to all Roaring Fork Valley teachers. In addition, working with local hospitals and grocery stores, we will be providing the same to select employees who were on the frontlines throughout the pandemic.

The health and safety of our community, employees and guests is our ultimate goal. Everyone must understand that we each have a role to play in staying open and safe. From pre-arrival, to transportation and parking, to rental, retail, dining and ski school, we have designed new operating plans to speed up the process, keep guests on the hill, maximize distancing and spread things out. As those detailed plans are fleshed out with our local officials and the state, we will share them on our website and all communication channels.

This will definitely be a year of learning, of accelerating improvements such as touchless transaction technology, and even transformation. Thank you for joining this effort and showing the world that our mountain town remains resolute in living our values, and embracing a spirit of compassion and unity.

See you (from a distance) on the hill,

– Mike