"Among cities in beer-crazy Oregon, Bend now has the most craft breweries per capita. Some locals have started calling this 'Beer City USA.' More breweries are opening soon." – Seattle Times
Bend, Oregon now has 22 breweries (up from 17 in 2013), one great ski resort (Mt. Bachelor), & a population of 80,000.  That's a brewery for every 3,636 humans in Bend.  Bend has the highest micro-brewery per capita in the nation and the title of 'Beer City USA.'  This makes Bend an extremely attractive place to visit for all of us snow/beer freaks out there.  It doesn't hurt that Mt. Bachelor averages 463" of snow each winter, either…
Bachelor has already gotten 247″ of snowfall this winter putting them at 5th most snowfall in North America this season.
Bend is a special place for outdoor enthusiasts as its location on the edge of the mountains and the desert allows for world class:  skiing, snowboarding, kayaking, whitewater rafting, hunting, hiking, rock climbing, mountaineering, spelunking, mountain biking, road biking, fishing, running, and long distance running.  
Not only are there a lot of breweries in Bend, but the Breweries in Bend are highly recognized on an international scale including 4 "World's Best Beers" in 2015.
BEND'S BEER ACCOLADES:
– 13 Deschutes Brewery Beers Awarded at World Beer Awards in Europe in October, 2015:
 World's Best Beer Rankings:
Deschutes Not the Stoic = World's Best Strong Dark Beer
Deschutes River Ale = World's Best Golden Pale Ale
Deschutes Obsidian Stout = World's Best Stout & Porter
Deschutes Dopple Dinkle Bock = World's Best Strong Wheat Beer
Deschutes The Abyss = The Americas Best Imperial Stout
Deschutes Mirror Mirror = The Americas Best Dark Barley Wine
Deschutes Black Butte Porter = U.S.A's Best Porter
Deschutes Fresh Squeezed IPA = U.S.A – IPA – Gold Medal
Deschutes Chainbreaker WIPA = U.S.A – Strong Wheat Beer – Gold Medal
Deschutes Twilight Summe Ale = U.S.A – Seasonal Pale Ale – Gold Medal
Deschutes Zarabanda = U.S.A's Best Herb & Spice Flavoured Beer
Deschutes Cinder Cone Red = U.S.A – Amber Pale Ale – Bronze Medal
Deschutes Dissodent = U.S.A – Oud Bruin – Bronze Medal
– Most Breweries per Capita in the USA (22 Breweries, 80,000 humans)
– #7 Beer City in the USA according to CNN
– Deschutes Brewery = Currently the 8th Largest Micro-Brewery in the USA, 13th Largest Overall Brewery in the USA

– Bend has a trail specifically designed to take you to each Brewery in town:  the Ale Trail
– They Even Brew Beer for Dogs in Bend…  Dawg Grogg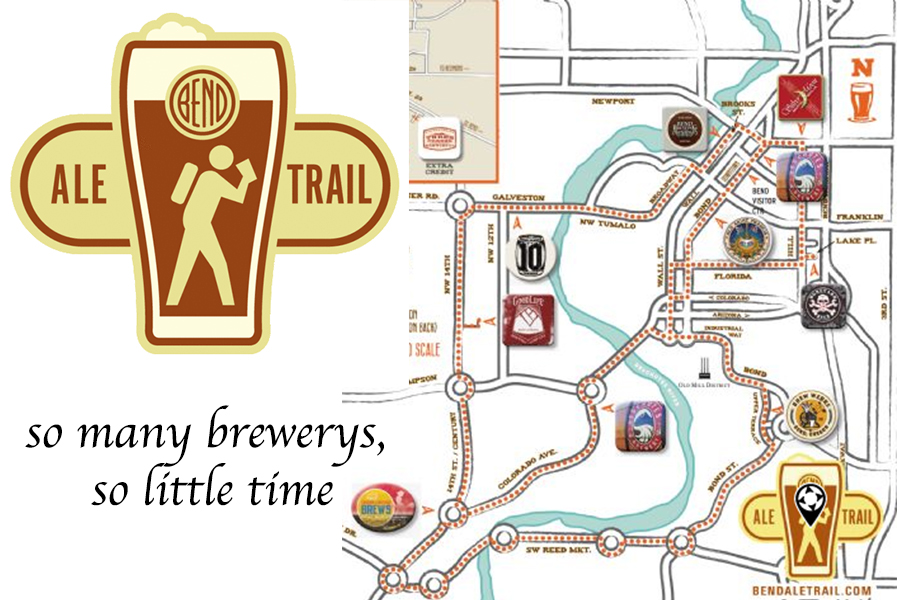 LIST OF BEND, OREGON'S 22 BREWERIES:
Deschutes
BBC
Silver Moon
McMenamins
10 Barrel
Boneyard
Below Grade
GoodLife
Apothecary
Crux
Shade Tree
Rat Hole
Worthy
Oblivion
Bridge 99
Platypus
RiverBend
North Rim
Monkless
Craft
Fresh Tracks
Kobold Brewing