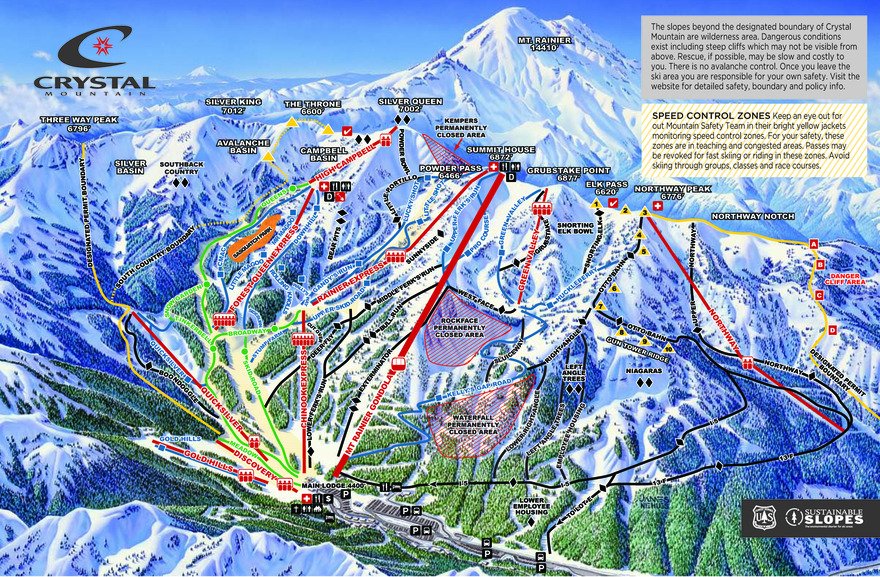 Crystal Mountain, WA has now closed its Mt. Rainier Gondola due to Coronavirus.
Snowbird, UT & Jackson Hole, WY have closed their trams due to Coronavirus.
Here is a list of ski resorts that have closed due to Coronavirus:
Crystal Mountain Press Release:
UPDATE 3/13/20
Crystal Mountain continues to be open for skiing and snowboarding and we're excited about the snow that is falling as we head into the weekend. We welcome our guests to join us in the mountains as we all continue to navigate our way through these trying times. At the same time, we're taking extra measures now and through the weekend to mitigate COVID-19 risks. Please be sure to read through and understand the impacts and plan ahead to make the most of your visit to the mountain. All lifts except the Mt. Rainier Gondola will be operating, weather permitting. Outside of lift operations, the following adjustments have been made to services and operations for the weekend:
All lodges and indoor restaurants and seating will be closed. Access to restrooms will be available in the day lodge, Campbell Basin Lodge and below the Summit House.

Fireside Cantina will be open for food service in addition to outdoor BBQ and grab-and-go food options. Due to limited services we strongly encourage guests to bring their food and find a spot on the mountain or back at their vehicles to eat. Outdoor seating will be limited.

The rental shop will be closed. Demo skis and snowboards (must have your own boots) will be available at the outdoor Brand X Demo location only.

The indoor Kids Club facility will be closed however we will continue to offer lessons on snow.
Beginner lesson packages will not be available.

Capacity will be limited on all shuttles to allow for proper social distancing so please be patient.
Night Skiing has been canceled and is done for the season.
While we had considered limiting vehicle access to Crystal Mountain in order to help keep overall attendance managed, we have determined not to do so. We have instead focused on limiting access to areas prone to crowding so that more of our skiers and riders can enjoy the mountain. We believe in the goodness of our guests and their commitment to the greater good as we work through this challenging period together. Let's work together to act responsibly so we can continue to enjoy the sport we love while protecting those around us.
You should know that local, state and national health officials are advising that people at higher risk of severe illness should stay home and away from larger groups of people if possible. Those at higher risk include people over 60 years of age, with underlying health conditions, with weakened immune systems, or who are pregnant. If you fit these categories, now is probably not the time to visit – there will be many more powders days in our future.
Crystal Mountain is staunchly committed to all appropriate precautions. We will keep you posted as we learn more and will make necessary adjustments as needed. In the meantime we look forward to seeing you in the mountains and thank you for your commitment to a fun and safe weekend.