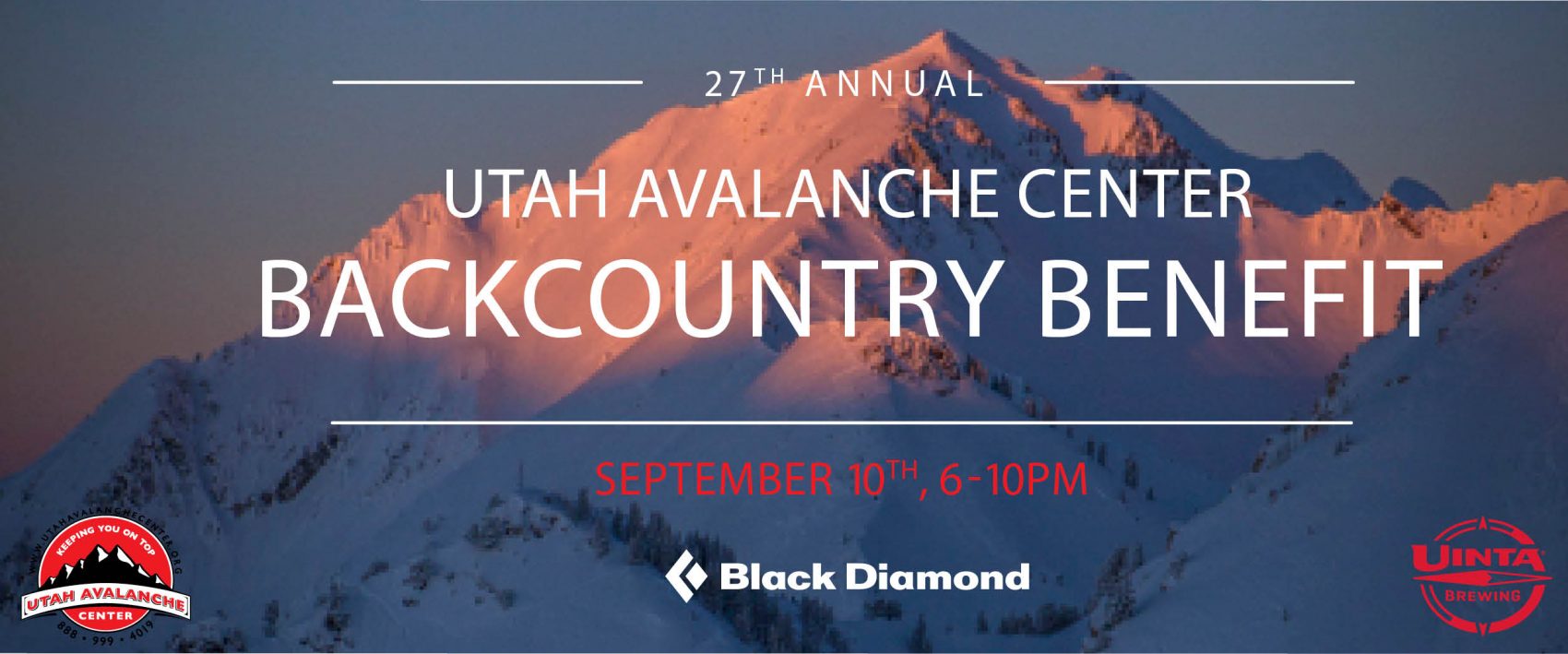 Do you hear that? That silent churning in your gut, that gradual shift in your attitude as the leaves die prettily and the temperatures drop?
That's winter you're hearing. It's creeping up on you.
Within the span of less than two surprisingly short months, snow will soon be falling and you'll be in the backcountry again. You know this. We know this. And the Utah Avalanche Center knows this, which is why they are hosting their 27th annual Backcountry Benefit on September 10 to kick off winter and raise some funds for another epic winter in the Wasatch. Click here for more details: http://2020uacparty.givesmart.com/.
What is the UAC Backcountry Benefit?
The Utah Avalanche Center's biggest fundraiser of the year is the 27th Annual Backcountry Benefit on Thursday, September 10. While the UAC is busy planning their fall avalanche awareness, education, and fundraising events, they're hosting this party via livestream to provide speakers, video, and entertainment for you and your guests.
"The party we all love has been forced to make some changes due to COVID-19. We can't have our normal 1,000+ person party this year, but that doesn't mean we still can't come together as a community and celebrate the coming winter. How can we do this? We are asking you, the amazing members of the backcountry community, to help us host the party." — UAC
The UAC will livestream speakers, videos, entertainment, and other content from 6-10 PM. They will have an emcee, feature presentations, guest speakers, highlight great silent auctions items donated to support the UAC, have an opportunity drawing, show backcountry videos,  music, and more. All proceeds from the event help provide avalanche forecasting, education, and awareness in Utah.
What You Get
With your Party Pack tickets, you will receive:
Access to the Backcountry Benefit livestream event
Access to the limited edition Beer from Uinta Brewing in a custom UAC can
UAC logoed can cooler for each of your party guests
Special host gifts from the UAC and Black Diamond. Headlamps, shovels, and packs. See the Party Pack ticket descriptions for details of the host gifts.
Discounts for food at local restaurants
Backcountry Benefit Toolkit including everything you and your guests need for silent auction bidding, opportunity drawing ticket purchase, and hosting a great party
The 27th Annual Backcountry Benefit is the UAC's largest annual fundraiser accounting for over 12% of their annual revenue. Thanks to the amazing support from Black Diamond, over 95% of the money raised goes directly to avalanche forecasting, education, and awareness. This year they will be having a COVID-19 friends party where they will livestream content from 6 – 10 PM on September 10. They are asking the backcountry community to host smaller parties for us and then tune into the livestream from their party. Party packs are on sale until 11 PM on September 3. You can get your party pack and more details of the event at http://2020uacparty.givesmart.com/.
"We want you to know that no matter what the pandemic and the coming season throws at us, we will be here for you. Together we can save lives through avalanche forecasting, education, and awareness. You can be part of the team by getting educated and helping us spread the word about UAC programs and services." — UAC