Report from June 6th, 2019
Brought to you by Scott Sports
Skis Used:  Scott Super Guide 105 & Scott Scrapper 105
Yesterday morning, we awoke to high winds and building clouds in Mammoth Lakes, CA.
Our plan was 13,000′ Mt Dana to the Dana Couloir to the Dana Plateau then down the Power House Chutes.
The weather decided to fight us every step of the way…
As we walked up Mt. Dana from Tioga Pass the wind increased, the clouds increased, and we ended up in a socked in cloud with very little visibility.
We decided to "put ourselves in a position to be lucky" and "not turn around until we are turned around."
We summited at about 11:30am, put on our skis and bam! the skies cleared, sunshine hit us in the faces, and we could see.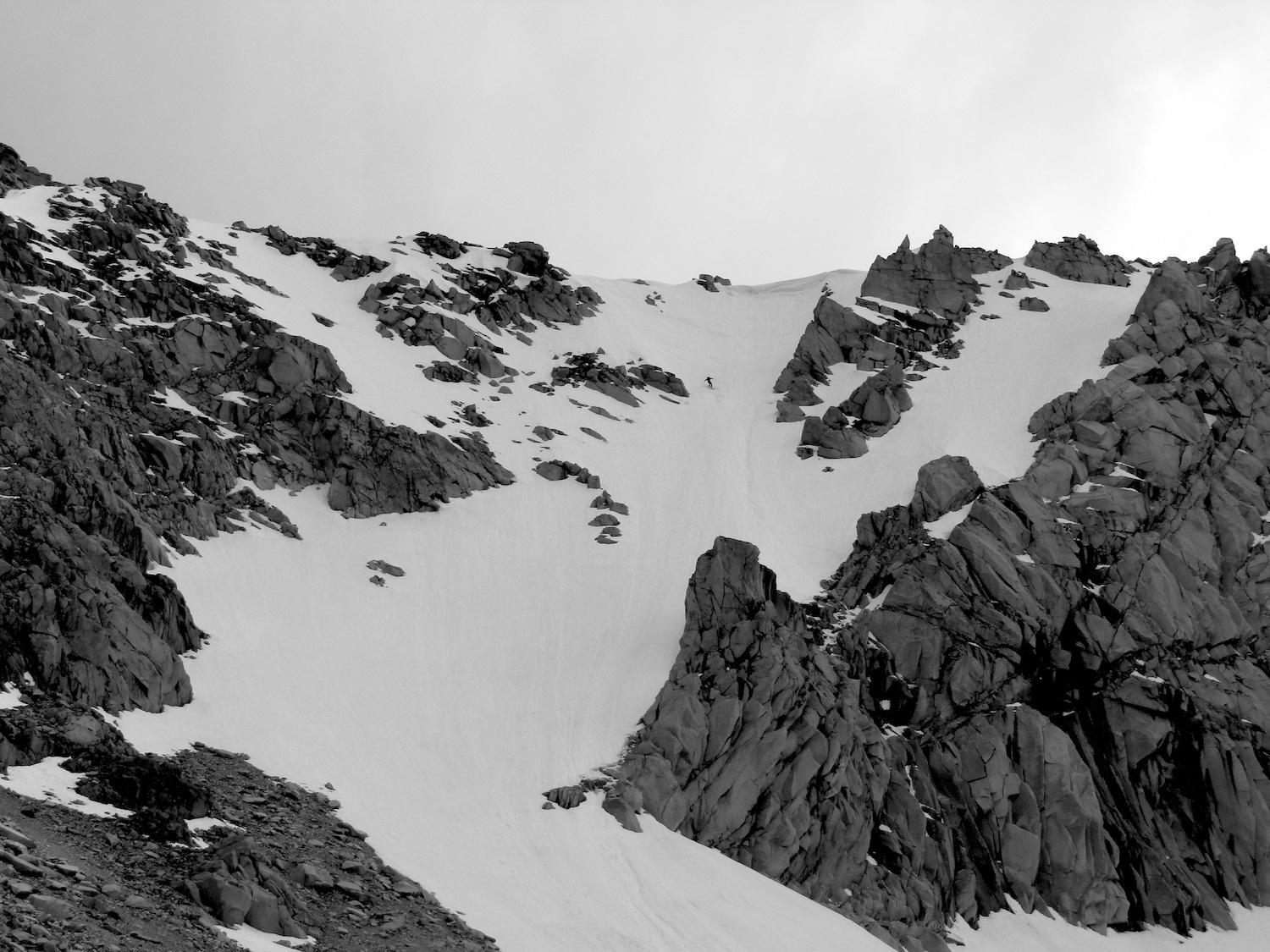 We zipped down the upper slopes of Mt. Dana to the entrance of the Dana Couloir in good light, which is key because there is a big, scary edge on the skiers left.
At the top of the Dana Couloir, we were concerned with the couloir being icy due to the cloud cover and high winds.
I told Tall Carl I would make a few turns then stop and communicate.
Instead, I made one turn, realized it was money, and ripped turns and hooted my head off all the way to the bottom.
The snow was absolutely perfect.
1″ deep corn that skied great, skied fast, and didn't sluff.
After a little celebration for the great snow, we scooted down Glacier Canyon, the clouds rolled back in the hail began to fall and we traversed onto the Dana Plateau.
After crossing the Plateau to the Power House Chutes, we were tired and happy.
We skied the eastern Power House Chute (we skied the western one on Wednesday) and it was steep and consequential.
The snow was a bit soft and slushy, but it didn't sluff badly and it skied great.
This eastern chute definitely has a bit more 'no fall zone' than its western counterpart.
After the chutes, we slid across the flats to the lower gully and it had great, newly exposed to the sun corn.
We splashed fun turns to the end of the snow tongue then walked the casual 15-minutes back to the car.
What an amazing tour this was!
4 fun runs, 8-miles, topped out at 13000′, and 5500-vertical-feet of skiing!
NOTE:  The cornices on Solstice Couloir and Unknown Chute on Mt. Dana still appear to be too big to mess with.
If you're interested in skiing the California Backcountry, please contact Alpenglow Expeditions for a guide and all the local knowledge.
RECENT EASTERN SIERRA REPORT:
June 5th: Eastern Sierra, CA Backcountry Report: Power House Chutes | Tioga Pass, CA
June 4th: Eastern Sierra, CA Backcountry Report: 12,500′ North Couloir of Mt. Emerson
June 2nd: Eastern Sierra, CA Backcountry Report: The Third Pillar Chute | Tioga Pass, CA
June 1st: Eastern Sierra, CA Backcountry Report: 1″ of Snow in 20-Minutes at 12,300′ in Zebra Chute
PHOTOS: