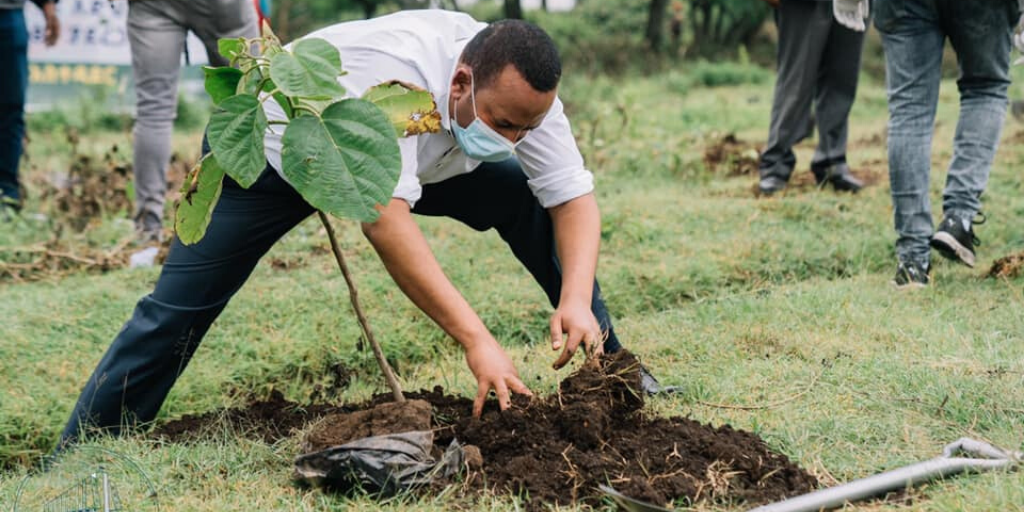 Ethiopia is taking ambitious strides to combat climate change by planting five billion trees this year, an initiative started by the prime minister Abiy Ahmed. The first step in a larger plan to build a green climate-resistant economy, the end goal is to plant 20 billion seedlings by 2024. The project, named the Green Legacy, strives to combat environmental degradation while building resilience and creating a green-focused society.
Upon the launch of the Green Legacy campaign, Ahmed encouraged the entire country to participate by planting 200 million seedlings in 1000 sites across Ethiopia in a single day-July 29, 2019. Largely surpassing the original goal, efforts from local government, schools, and public institutions, among many, made such an impressive feat possible.
One of the main motivations for the initiative was the major issue the nation has been facing with deforestation. As a result of an evergrowing population and the continuous demands for food, materials, and land, 97% of the native forests have been lost. According to the United Nations' Food and Agriculture Agency, Ethiopia lost 2.6 million hectares of forest between 1990 and 2015. Without immediate action and dedication to fighting this pattern, the degradation will continue to worsen.
With plans underway at the onset of the pandemic, the country faces financial hurdles, as the endeavor is estimated to cost over $117 million. However, as a collective effort, nations including Norway, Sweden, and the United Nations Development Program have been providing support. This project will not only support Ethiopia in its efforts towards addressing forest issues, but it will also create sustainable local jobs.
Last year, a total of 4 billion tree seedlings were planted, 84% of which have survived. These results not only motivate continuous action but prove positive changes and results are possible. A campaign with ambitious and sustainably focused goals that also provide local jobs truly exemplifies action steps towards climate change.