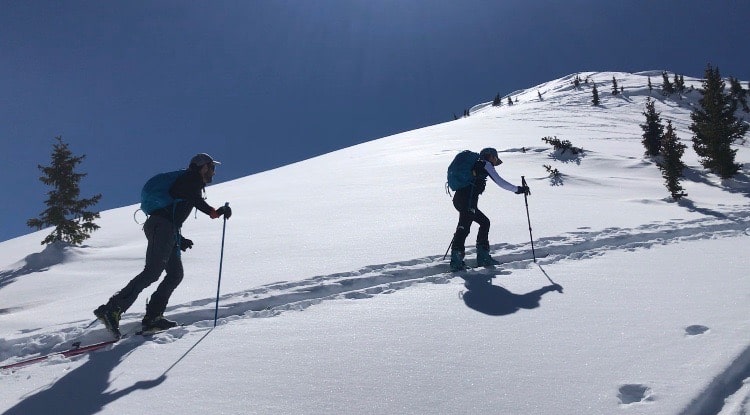 Black Diamond (BD) announced they are voluntarily replacing their Ascension Climbing Skins that were manufactured between January and March 2021 due to defects in the glue. According to BD's press release the defect was related to "…a particular batch manufactured during the noted timeline does not meet Black Diamond product standards due to glue-to-plush bond issue causing accelerated glue failure during use." In exchange for your old skins, BD says you can choose between a new pair of Ascensions or substitute with a pair of BD's Glidelite Mohair Mix Climbing Skins.
To verify the production date of your Ascension Skins, check the glue side of the skin near the tail. There is a 4-digit code stamped into the black aluminum hardware. This 4-digit code can then be crossmatched with those Date Codes listed in the figure below. If they match, be sure to send in a warranty claim with your choice of replacement skins.
BD's voluntary replacement made me consider my own skins (K2 Sidestash synthetics from years ago) and how I should take proper care of them after the abuse and lousy storage places I subjected them to. Here are a few tips, tricks, hacks, and workarounds I found that might help you extend the life of your skins. Cheers!
Essential Keys
Prevention first, and always preferably to damage control.
The dryer the skin, the better chances of your success.
Ideas for the GLUE-side
Dry and clean glue is functioning glue.
Gently wipe or clean away any debris. Easier said than done.
If it's cold and your skin isn't sticking, try to warm the glue, typically by tucking them inside your jacket and close to your body heat.
If you have a total glue failure on the trail. You might try zip ties, duct tape, or voile ski straps to bind it together. At least you might get you back to the hut.
Recommendations for the PLUSH-side
Dry, waxed plush works best. Just like waxed ski bases do.
A variety of waxing options are available from iron-on, spray, or hand-applied.
Crayoning (back and forth meticulously covering the hairs) can be a short-term fix for a lap or two.
If the skins are clumping with snow, then leave them on the skis. Moving in a tip-to-tail direction, use a plastic scraper to remove any obvious snow and also any excess moisture from the plush side. The drier the better.
Dry out damp skins in the sun at breaks, if possible.
Drying Tips
Don't leave skins on your skis overnight. It ruins both the glue and your ski bases.
Use extreme caution with exposure to direct heat sources for drying, including UV light. The glue can become damaged if it gets too hot or dries out too much, potentially ruining the glue. Drying at room temperature is recommended.
Daily Storage
Adhere skins glue-to-glue and keep away from direct heat sources.
Long-Term Storage
Avoid heat, particularly in hot summer garages where the heat would act to degrade the glue. Consider a cooler location like an indoor closet.
There is some contention over whether a perforated plastic mesh should be used for long-term storage because of the belief that it allows air to dry out the glue. This argument suggests applying the glue side to a non-perforated plastic piece to keep the air out. (Would love to hear the readers' opinions on this?)
Repair Frayed Edges
Neatly trip areas with nail clippers or other scissors.
Use a lighter to carefully seal the new edges without burning the adhesive layer.
Remove Excess Wax from Plush-side
Use layers of brown paper bags stacked over the skin and then gently iron until the wax melts and is absorbed by the bags.
Cleaning Glue and The Nightmare of Reapplication
Refer to manufacturer's recommendations. This can be an easy process that requires a bit of mild detergent and water. Or it could also be much more complicated including reapplication of the glue.  (A nightmare for those uninitiated novices.)
When misfortune strikes, it comes "that time," or all else fails, you just might find yourself back in the market for a new pair. Then again, after taking a second look at my old K2 skins, I think I hear someone knocking.