Brought to you by Mammoth Lakes Tourism
Welcome to the Golden State's highest lift-accessed peak, a breathtaking destination with an international rep as big as its name, yet Mammoth Lakes remains among California's best-kept secrets.
Any season, whatever your interest, Mammoth Lakes town, as well as Mammoth Mountain, add 'adventure' to everything they offer, especially when it comes to uniquely tailored recreation and relaxation.
For generations, the explorer-at-heart has revered the Mammoth region as a refuge from the every day, an inviting locale offering year-round attractions stretching in more directions than a head could spin. But don't take our word for it; head to Mammoth Lakes town or Mammoth Mountain and discover for yourself that it's no small adventure.
Hiking
A trail becomes an unforgettable journey when it passes through Mammoth Lakes country. The Sierra Nevada is a year-round adventure hiking hotspot, renowned for craggy peaks, wildflowers, secret waterways, and lush, forested hideaways. The area is home to more trails than the imagination could roam, almost. And there's no telling what inspiration or wonder might be discovered around that next bend.
Our recommendation: make tracks for Lower Rock Creek for the sort of trek that's chill in more ways than just temperature.
Biking
Flow trail and single track could very well be the biggest thing to happen to recreation destinations since PTO. And around Mammoth Lakes town as well as Mammoth Mountain, there waits a system of trails that transform a day on a bike into a passage through pure excitement. Want to see the knuckles go white? Mammoth's up to the challenge. Looking to lose the cares while cruising the loop? Yep, this place has got that too. Either which way you peddle, the Mammoth region injects the thrill that rejuvenates mind, body, and spirit.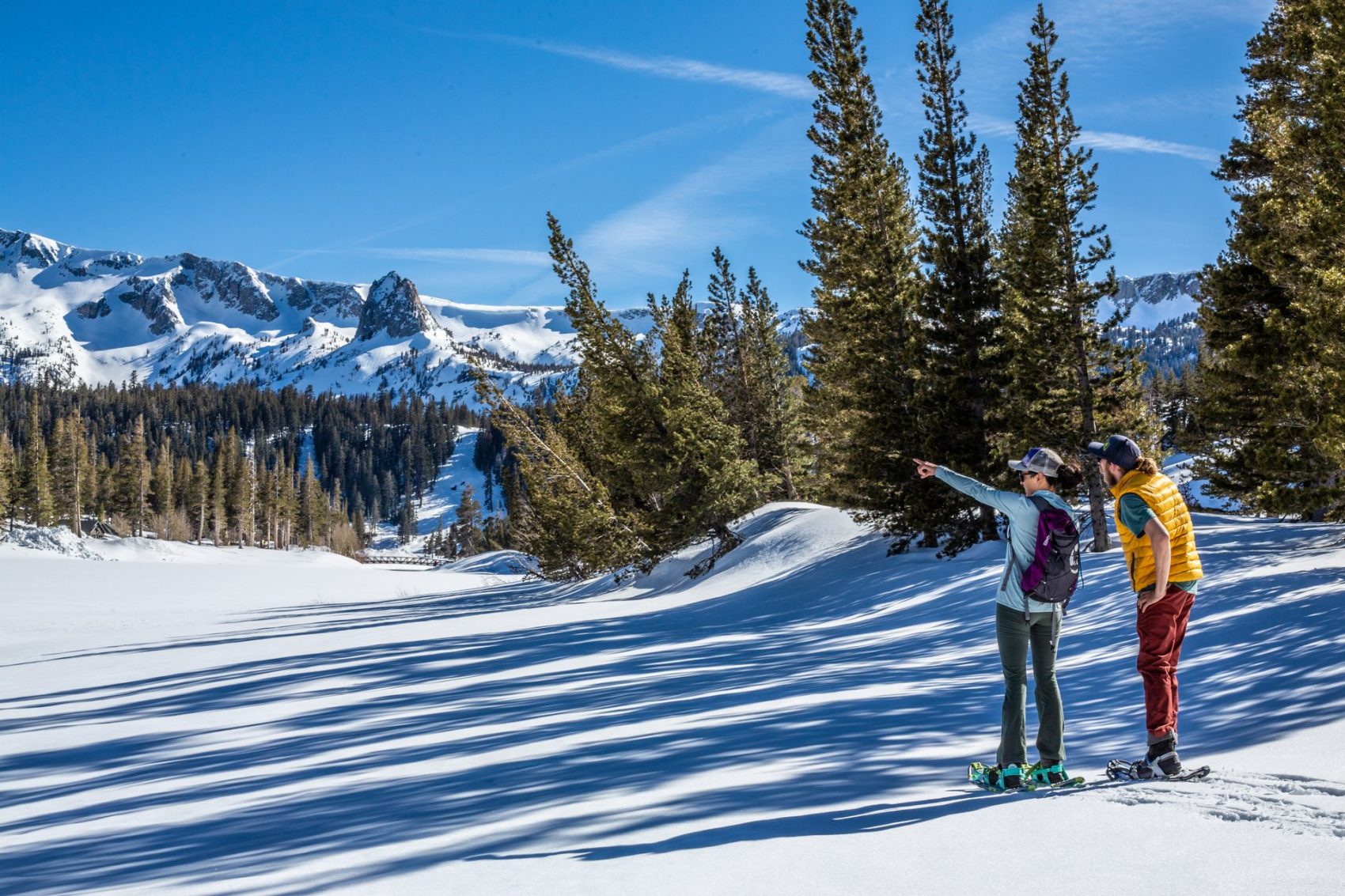 Snowshoeing
The Sierra Nevada is beckoning, so we may as well step forward. And if you're taking that step while wearing a snowshoe at Mammoth Mountain, chances are you'll never look at a frozen landscape in the same way again. Mammoth Lakes takes winter-dom wandering to a whole new level by offering forays into a wild, crystalline country that for all intents and purposes is yours and yours alone.
Our advice; pop into the yurt that is Tamarack Cross-Country Ski Center. There you'll benefit from up-to-date wisdom on all the adventures that nestle a mere step of a snowshoe away.
Waterplay
OK, the geography here is famed for receiving no small amount of snowfall, and its ski mountain draws riders and skiers from all over the world, but rest assured the waters of Lakes Mary, George, Horseshoe, and Mamie–among others–will not be out-shined. Be it boating, kayaking, paddleboarding, or soakin' up the rays, this hideaway in the Sierra is a water-lover's adventure playground—be it cold season or hot.
Snowmobiling
Hop aboard a tread-footed 'hog' and head into the wild with an experienced guide. Over the course of a 90-minute ride, High Sierra adventurers looking to ride off the beaten track will encounter sheltered forests, expansive meadows, and unique views on Mammoth Mountain itself. It's snowmobiling that's gnarly even when it's mellow, and it's waiting just for you.
Skiing
It is winter, so it's about time we got to the topic of snow sport.
To all skiers or snowboarders: congratulations, you have located your thrilling, mesmerizing, all-time paradise. Mammoth Mountain hosts over 3,500 ski-able acres and 3,100 ft of vert. There are 25 lifts. Snowpack averages 200+ inches. And the season typically lasts from early November thru the end of May (there was even a ten-month season back in '94.)
Yes, Mammoth Mountain is famous, and for good reasons, one of the biggest being its people. Scores of lifties, mountain hosts, mechanics, patrollers, and retailers are (and have been) working tirelessly to ensure responsibility as well as safety to best make this winter no small adventure. And they've been doing it just for you.
So what's the best way to acknowledge their effort while safeguarding the forests and mountains you love? The answer is easy:  keep it safe so that Mammoth Mountain can keep it open. That's why the Mountain has invested over $1-million in COVID-related enhancements–to add every possible degree of safety to your adventure of a lifetime.
An irreplaceable element to the culture at Mammoth is its community focus upon sustainability, especially in this period of global uncertainty. That emphasis upon sustainability is a responsibility which Mammoth Lakes takes seriously because it affects everything from evening accommodation to retail to transport.
The Mammoth Lakes community knows that success on the subject of safety requires a partnership between guests, government, healthcare, and the community.
This famed destination believes in going the extra step for each and every guest. And that incredible effort ensures that an experience at Mammoth Lake town or Mammoth Mountain is no small adventure. That ethos is central to what makes this area so unique. It's also why a visit to Mammoth Lakes is truly a trip to 'Go BIG!'