Developers paid $430,000 at a foreclosure auction on Friday to secure the rights to the former Granite Gorge Ski Area, NH, property with the intent to reopen it for recreation. The new owners also inherited $53,000 in unpaid real estate taxes. The ski area closed at the start of the pandemic in March 2020 and hasn't reopened since reports the Sentinel Source.
The winning bidder was Bryan Granger, senior vice president of Keene-based wholesale grocery company C&S Wholesale Grocers, representing the Granite Gorge Partnership, LLC. The local group has a "shared desire of returning winter and summer activities to Granite Gorge in a safe and inclusive manner," reports the Sentinel.
"Plans are now being developed for lift repair, snowmaking, grooming, and various other facility upgrades, with the goal of returning winter and summer operations as soon as reasonably possible."

– Official statement
When the property, including a lodge, a bar and grill, and a rental center, was listed in 2019, it was valued at $544,000, albeit with $13,000 of unpaid taxes owed on the site.
The now previous owners bought the business — the former Pinnacle Mountain — in 1999. Pinnacle Mountain opened in 1959 and closed in the late 1970s.
The area reopened as Granite Gorge in 2003 with more than twelve trails and offered lessons and youth programs.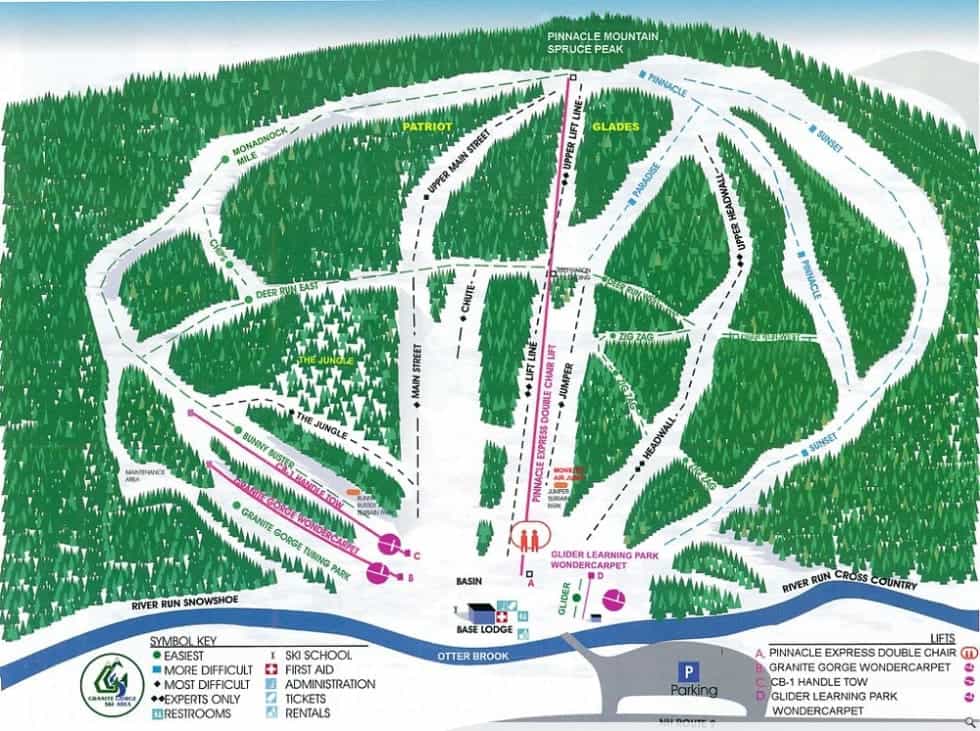 According to Wikipedia, Granite Gorge is a small downhill ski resort in southwest New Hampshire, United States. It is located on Pinnacle Mountain in Roxbury, 5 miles (8 km) east of downtown Keene on New Hampshire Route 9. The resort is the reincarnation of the former Pinnacle Peak Ski Area, which operated from 1959 to 1977.
The 50-acre (20 ha) site includes 14 kilometers of cross-country trails. It has a 390-foot (120 m) vertical drop, one chairlift (the Pinnacle Express double chairlift), one rope tow, and one magic carpet. The ski area has snowmaking.
Terrain parks include the signature VW bus and the Bag Jump. The resort offers Cosmic Tubing with glow lighting and a DJ on Saturday nights.