Blue skies and powder abounded as Grand Targhee celebrated it's 45th season Friday by opening 100% of the mountain.
With 97″ of snow so far this season, the forecasted temps of zero degrees did not deter skiers, and the line for first chair started growing in the wee hours. Thankfully, a Teton inversion saved every one's delicate early season toes and fingers and it turned out to be pleasantly in the teens-20's with blazing blue skies.
With so much terrain open, a long, boisterous early morning line – filled with camp stove breakfasts and french press coffee – gave way to empty lift lines and slopes, once the opening bell rang.
An early season freeze/ thaw cycle in the Tetons made for a fairly supportive base with 4-6″ of fresh to top it off. A scant few rocks were tagged and coverage overall was great.
Quasi-fresh powder remained easy to find all day long…
Mary's Nipple remained closed and a small bit avi debris can be seen in the distance near the shadow/tree line in the photo below: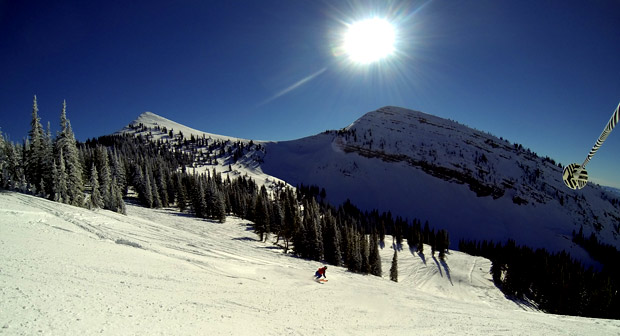 High pressure will remain in the Tetons for the next several days, but the temperatures will stay cold enough to keep Targhee's snow intact until the next storm cycle hits.
Photo Tour: