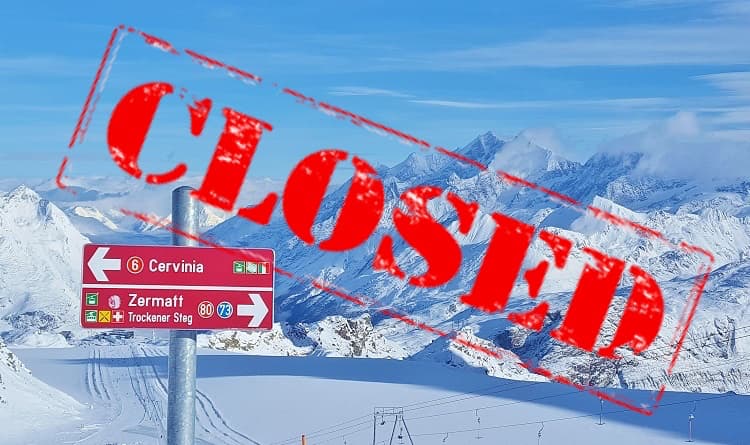 Just as ski resorts in Italy were finally about to open, the Italian government abruptly postponed opening day yet again when a coronavirus variant was detected in a large portion of recent positive cases.
Resorts were preparing to open on Monday or later this week and had put in immense amounts of time and effort, as well as a financial outlay.
Health Minister Roberto Speranza has forbidden amateur skiing until at least March 5, effectively killing the ski season. Recent analyses of virus samples show that a variant first found in Britain is affecting 17.8% of recently infected people in Italy.
Flavio Roda, president of the Italian Winter Sports Federation, was disappointed with the last-minute announcement.
"The ski stations have invested a lot to prepare the slopes, hire personnel, get organized with hoteliers. A lot of money was invested and yet again our world is heavily penalized."

– Flavio Roda
Italy, along with the majority of Europe, went into lockdown and shut their ski resorts in November to help slow the spread of covid-19. The 7th and then the 18th of January were pinpointed as the day resorts could reopen.
The ski resorts' closure was first extended at the regional authorities' request, who requested more time to meet coronavirus regulations.
"At the present time, due to the recent epidemiological trend at international level that has not facilitated the taking of the necessary decisions, it is believed that the conditions do not exist to allow initiatives and actions to allow the opening of the facilities on January 7."

– regional authorities
Crowding, especially inside gondolas, in lift-lines, and during après ski, was highlighted as a 'medium-risk' factor by the government's scientific-technical committee.
Italy has had 2,729,223 confirmed covid-19 cases and 93,835 deaths with covid.