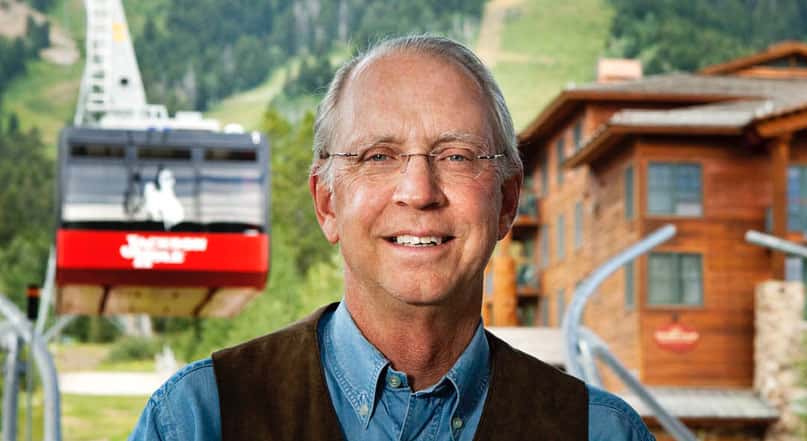 Effective Immediately Jackson Hole Mountain Resort Powers on Wind

Iconic Wyoming Ski Area Moves to 100% Renewable Electricity

"As a recognized ski industry leader, Jackson Hole's unique position as a sought-after, global, big mountain resort destination, coupled with immediate proximity to North America's most celebrated National Parks, makes JHMR a fitting candidate for incorporating Green Power."
Jay Kemmerer, the owner of Jackson Hole Mountain Resort, WY, is listed as a donor to Colorado's Republican candidate Lauren Boebert, reports the Colorado Sun. Boebert, whose husband works in the fossil fuel industry, is known for her stance against current climate change legislation.
Jackson Hole Mountain Resort is included in a list of the top 20 contributors to Boebert's campaign, having donated $8,700. Kemmerer has donated $262,500 to various candidates in this 2022 election cycle.
The ski industry has been moving away from fossil fuels and towards more sustainable forms of energy and environmentally friendly operations for years to prevent climate change. Jackson Hole Mountain Resort has been a leader in this movement committing to 100% wind energy in September 2022.
Protect Our Winters is an organization that was founded to help fight climate change in the ski and snowboard industry and more.
Protect Our Winters (POW) was founded in 2007 by snowboarding pioneer Jeremy Jones. The group has spoken about how the winter tourism industry supports more than 900,000 jobs and creates $66 billion in economic revenue. Temperatures have risen about 1.8 degrees Fahrenheit since the 19th century, and oceans are rising at a rate that could be catastrophic by the end of the current century. Protect Our Winters is working towards saving an incredible industry that we all love, so awareness needs to be raised, and preventive measures must be taken to protect the environment.
On its website, Jackson Hole Mountain Resort states it "is a values-led, family-owned, iconic mountain destination with the purpose of enriching the lives of its guests and employees. With an enduring commitment to the surrounding landscape, wildlife, and authentic community character, Jackson Hole Mountain Resort strives to live by its values by reducing environmental impact and, in doing so, runs its buildings, lifts, and snowmaking on wind energy."
In the past, Jackson Hole Mountain Resort has attempted to distance itself from its owner's political affiliations. 14 months ago, Kemmerer hosted a fundraiser attended by Republicans Jim Jordan, Marjorie Taylor Greene, and former Trump White House Chief of Staff Mark Meadows, leading to Patagonia withdrawing its products from the resort's stores.
 Lauren Boebert Wiki:
Lauren Opal Boebert (born December 19, 1986) is an American politician, businesswoman, and gun rights activist.[2] A member of the Republican Party, she serves as the U.S. representative for Colorado's 3rd congressional district. From 2013 to 2022, she owned Shooters Grill, a restaurant in Rifle, Colorado, where staff members were encouraged to openly carry firearms.

Boebert is known for her gun rights advocacy, in particular after a confrontation with Beto O'Rourke over the policy on semi-automatic rifles. She launched a campaign for Colorado's 3rd congressional district in the 2020 election. Boebert unexpectedly defeated incumbent representative Scott Tipton in the primary election, after which she beat the Democratic nominee, former state representative Diane Mitsch Bush, in the general election. In Congress, Boebert associated herself with the conservative Republican Study Committee, the right-wing Freedom Caucus, of which she became the communications chair in January 2022, and the pro-gun Second Amendment Caucus. She has declared her candidacy for reelection in 2022 and is the current Republican nominee for the Republican-leaning seat.

Boebert is often described as a far-right ally of former president Donald Trump, although she rejects this label.[3] Boebert supports Trump's false claims that the 2020 election was stolen from him and voted to overturn its results during the Electoral College vote count. Boebert opposes mask and vaccine mandates and posted misinformation related to face masks and COVID-19 vaccines. She has supported the QAnon conspiracy theory, and some academic and journalistic sources have investigated her ties to far-right extremism.[4][5][6][7] She opposes transitioning to green energy, abortion, sex education, sex-reassignment surgeries for minors, and non-heterosexual marriage. She advocates for an isolationist foreign policy (but supports closer ties with Israel for religious reasons) and wants to minimize immigration to the United States. A self-described born-again Christian, Boebert has said that she is "tired of this separation of church and state junk" and argued for greater church power and influence in government decision-making. – Wikipedia