Coming off one of the longest ski seasons in North America, California's Eastern Sierra is ready to do it again. With winter on the horizon, June Mountain, Mammoth Mountain's approachable laid back sister resort is set to open Saturday, December 21. Just in time for families to hit the slopes over winter break, as always, at June Mountain kids 12 and under ski for free – every day, all year round.
Additionally, for off-hill fun, the town of June Lakes is undergoing a revitalization with several new restaurant openings. Visitors can cap off their day on the slopes with a beer at the classic June Lake Brewing and walk over to the new The Lift for a stellar meal.
Located in the heart of the Eastern Sierra, approximately 20 minutes from Mammoth Mountain and the town of Mammoth Lakes, June Mountain is IKON's best-kept secret. Offering 1,500 acres of diverse terrain June is known to be less busy than other resorts with shorter lift lines and plenty of post-storm powder to ride. For those looking to escape the crowds and explore another mountain scene, June Mountain is a hidden gem.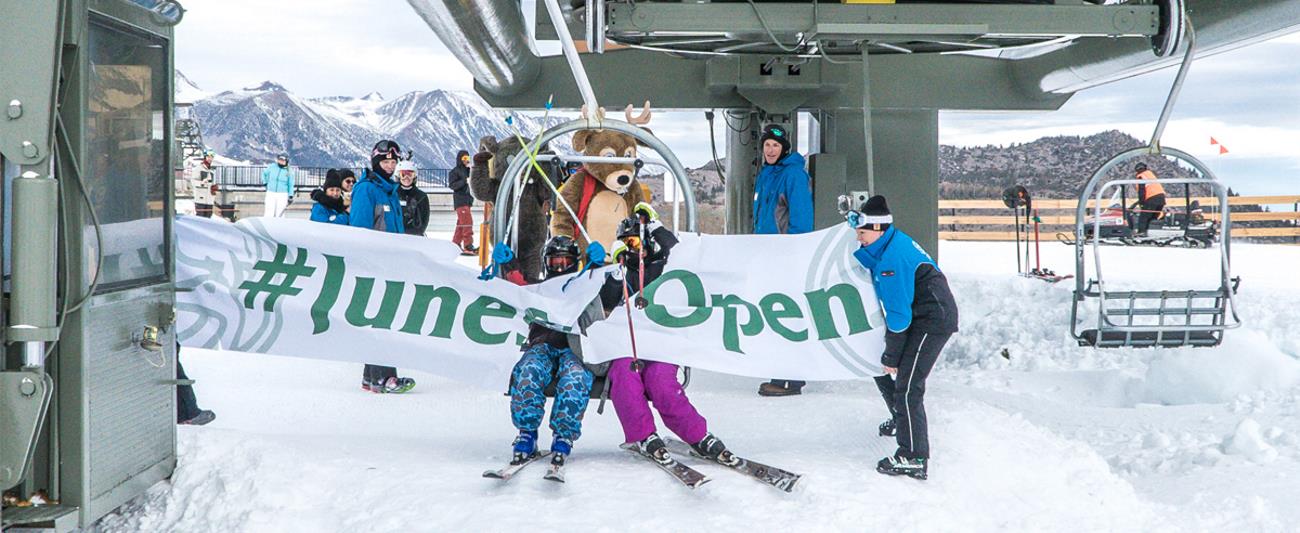 California's Best Kept Secret?
Teach your kids to ski for FREE: All day, every day. All children 12 and under ski/ride for FREE at June Mountain. With its easy-going atmosphere and shorter lift lines, June Mountain is perfect for the entire family to enjoy a Sierra ski day.
Endless/Uncrowded Terrain: June Mountain has 1,500 acres of uncrowded slopes, including both  beginner-friendly and advanced terrain
Breathtaking views of the surrounding lakes and peaks: When visiting June Lakes, visitors are greeted with what is said to be one of the most majestic views in the United States. The steep horseshoe-shaped canyon overlooking the resort is known to be the Alps of California. As soon as you're whisked up to the higher elevations via a chairlift, the landscape becomes even more spectacular.
June also has a few new spots in town to check out this season:
The Lift: June's new coffee house, restaurant, and wine bar. Serving organic gourmet coffees, artisan teas,  breakfast sandwiches, grab-and-go burritos and fresh baked goods in the morning. In the evening tapas style, homemade healthy bites and a great selection of craft beers and fine wine take over.
T-bar Social Club: Open daily as soon as the resort closes, at 4 pm, The T Bar is your spot for quality libations, good food, and a rotating mix of live music, film premieres, inspirational mic nights, board games and more.
For more information, please visit June Mountain or June Lake Loop.