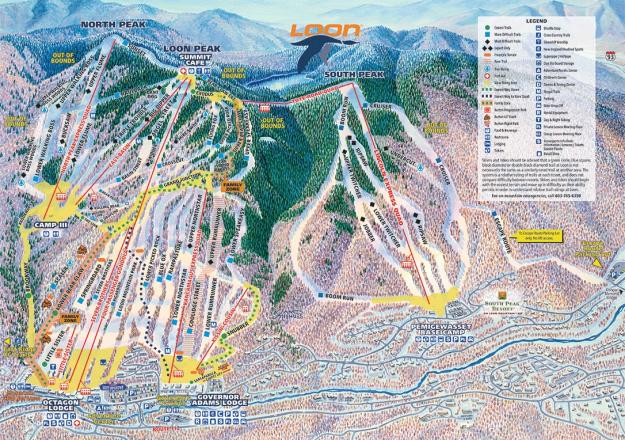 Loon Mountain, NH has now closed its Gondola due to Coronavirus.
Snowbird, UT & Jackson Hole, WY have closed their trams due to Coronavirus.
Crystal Mountain, WA has closed its gondola due to Coronavirus.
Here is a list of ski resorts that have closed due to Coronavirus:
Loon Mountain Press Release:
Update March 13, 2020
Dear Loon Community,
We are amidst turbulent times, and the COVID-19 situation continues to evolve. I want to assure you that Loon is focused on the safety and health of our guests and team members.
We are closely monitoring updates and guidelines set forth by the Centers for Disease Control and Prevention and World Health Organization, as well as those from our local health authorities.
Loon will continue to be open for skiing and riding, as we are committed to providing a great mountain experience. Our team has been acting to reduce the likelihood of transmission resort-wide by increasing the frequency of cleaning in common areas, adding sanitation stations and continuing to educate other team members on best hygiene practices. In addition to these, new precautionary measures will be added starting Saturday, March 14:
To reduce confined close-contact situations, the Gondola will be closed until further notice. Seven Brothers Triple and East Basin Double will operate daily for access to the summit of Loon Peak.
Singles lines will be removed at all lifts. Loon team members will not ask guests to join other groups on a chairlift.
Kinderbear and PK Boo lessons, Daycare and all lesson programs for ages 7 & under have been suspended to help reduce situations that require close-contact and extended time indoors.
Seasonal Programs: Scouts and Development Team groups with participants ages 7 & under have been suspended.
Removing of some seats and tables from Octagon and Governor Adams lodges to increase social distancing
I urge you to act as well.
Follow the recommendations of health authorities to help keep yourself and others healthy—stay home if you are sick, show symptoms, or have been potentially exposed to someone with COVID-19. If your hometown, school and/or workplace, have been closed or quarantined due to presumptive cases of COVID-19, follow the guidance of local health authorities and stay home.
We must all act responsibly to reduce the likelihood of transmission and keep Loon enjoyable for all. The love of the outdoors is what brings us all to Loon and the beautiful White Mountains. I hope you can get out and enjoy it.
All the best,
Jay
As this situation evolves, check this page for updates.
Cancellation Policy
Due to the evolving nature of this situation, we realize you may be uneasy about traveling. If so, we have made changes to our cancellation policy.
Lift tickets bought at Loonmtn.com, valid March 14 or after, can receive a Loon gift card for the value of the ticket paid.
Lesson programs for ages 7 & under, reserved for March 14 or after, can receive a Loon gift card.
Scouts, 20-Pack and 10-Pack holders can receive a pro-rated gift card.
Should you or your family become impacted by COVID-19, please contact us and we will work with you on an individual basis.
Email: Info@LoonMtn.com  |  Call: 800.229.5666