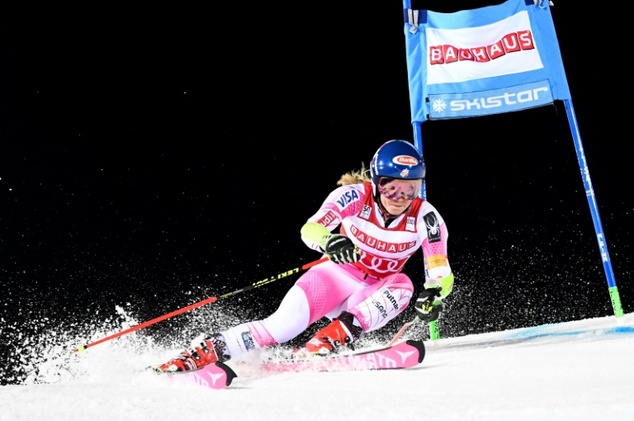 Mikaela Shiffrin finished her preparations for next month's world championships by winning Stockholm's World Cup slalom city event on Tuesday. Shiffrin's victory saw her consolidate her lead atop the overall World Cup standings and has now amassed 1,203 points, with Lara Gut second on 1,023.
City event slaloms are like a slug-fest on snow as racers punch through the gates. But as any good fighter knows, opening a match with a fist bump is a sign of respect, even when you're the reigning champion, writes US Ski and Snowboard.
"Before the second run, we did a little fist bump, like 'yeah, come on," said the undisputed five-time World Slalom Champion Mikaela Shiffrin (Avon, Colo.), who punched her way to FIS Ski World Cup victory no. 14 this season after knocking out Germany's Christina Geiger in Tuesday night's city event big final in Stockholm, Sweden. "It was a different feeling at this race. Just a little bit more focus, but I enjoyed it. And it was nice to share with Anna and (Chris)Tina."
Coming off her World Championships slalom victory Saturday in Åre, Sweden, Shiffrin was still battling a nasty chest cold that almost KO'd her.
"It was a push tonight. I don't think I could have done better if I was healthy," she said. "My skiing was good, and I was attacking and doing everything that I could do for this evening, and it worked out just fine. So sickness, or no sickness, I'm really happy about that."
While she maintained her focus on the city event slalom, a record sixth World Cup slalom title was on the card as the main event, which she would secure if she led the slalom standings by more than 200 points at the end of the night over the challenger from Slovakia – Petra Vlhova.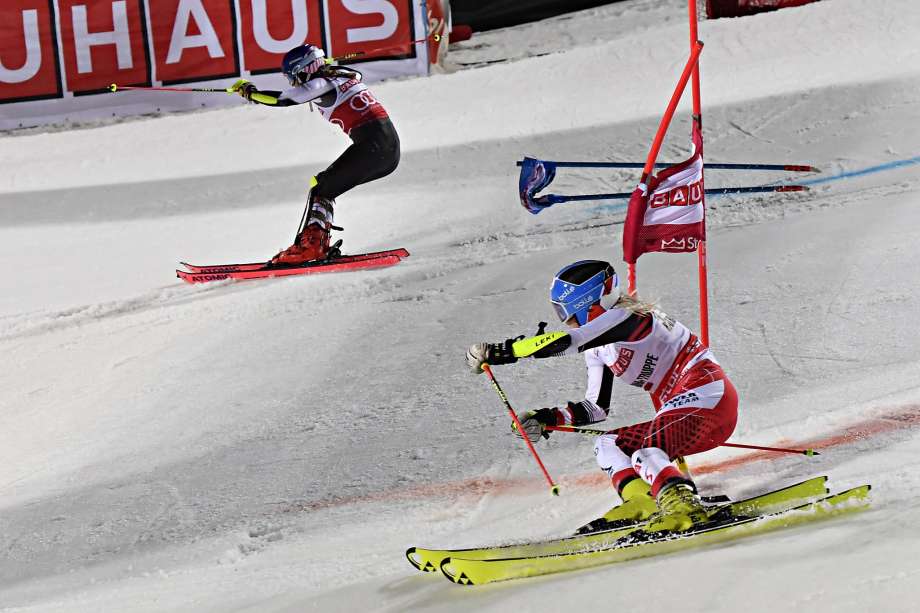 In the opening round of 16, Shiffrin's beat Norway's Ragnhild Mowinckel to advance to the round of eight, where she defeated Austria's Katharina Truppe. But it was Geiger who delivered the knockout punch – defeating Vlhova in the round of eight and set Shiffrin up to secure the World Cup slalom title by night's end. But, Geiger wasn't done swinging yet. She continued her impressive skiing by defeating Sweden's Frida Hansdotter to advance to the finals against Shiffrin, who defeated Sweden's Anna Swenn-Larsson to set up an all-Sweden battle for third.
After the fist bump, it was game on as Shiffrin took the first run by the smallest of margins – 0.01-seconds!
"It was really, really close," Shiffrin said of her 1/2 final match up with Swenn-Larsson, as well as her big final match up with Geiger. "I was training a bit yesterday at the same time as her (Anna Swenn-Larsson)…and watching her doing this blocking style and I thought 'whoa, she's really, really good at it.' I think she's faster than what she was able to show in the race tonight."
In the second run, with the World Cup slalom title on the line, Shiffrin took the victory by 0.27-seconds and matched the World Cup season win record of 14 victories held by Austria's Vreni Schneider. Swenn-Larsson defeated Hansdotter for third.
Shiffrin has wrapped up her sixth slalom Crystal Globe as she now leads Vlhova by 203 points with only two races remaining. Shiffrin also leads the overall World Cup standings by more than 700 points over Vlhova, as well as the giant slalom and super-G standings.
Up next, the women's World Cup circuit with a pair of downhills and an alpine combined event Saturday and Sunday.