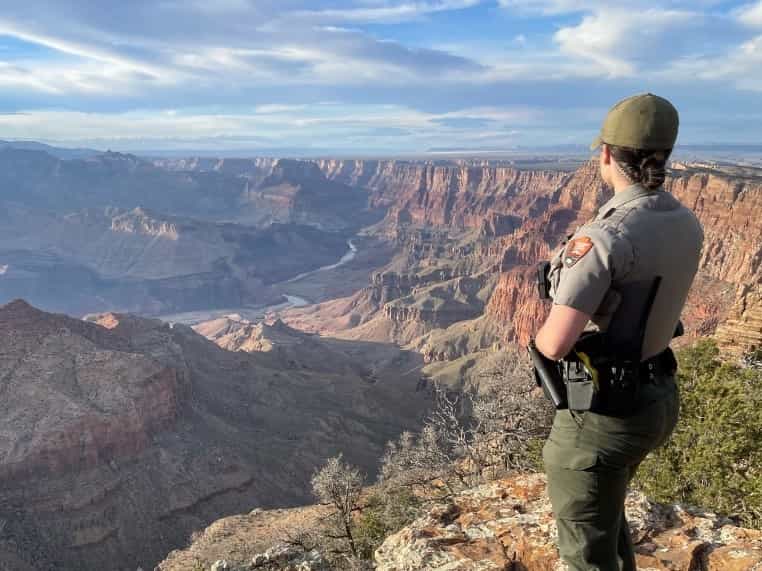 The National Park Service (NPS) has announced a seven-year initiative to focus efforts on hiring more women in law enforcement positions across the country. The NPS will be joining hundreds of law enforcement agencies in committing to increasing female representation in our law enforcement workforce by signing onto the 30×30 pledge, an initiative to advance the representation and experiences of women in police agencies across the United States.
Last week, the Department of the Interior released a report from the Law Enforcement Task Force recommending improvements to bureau law enforcement organizations. In the report, the Task Force recommends agencies implement programs and initiatives to recruit and retain a diverse workforce. Women currently only represent 16% of the entire NPS law enforcement workforce. With this pledge, the NPS is committing to almost doubling the number of female law enforcement officers.
"Protecting the nation's most precious resources, history and communities is a large undertaking that requires a skilled and diverse workforce. The most skilled workforce is one that has people from all walks of life, with different skills and different ideas. It is essential that we continue to grow a team that reflects the nation and communities we serve."

– NPS Director Chuck Sams
NPS has made strides to increase diversity in its law enforcement ranks. In 2021, the NPS piloted a hiring program for the law enforcement park ranger workforce designed to reduce barriers to entry, increase applicant diversity, and address key staffing concerns at parks throughout the agency. After two successful years of centralized hiring, the NPS is adapting its recruitment practices to permanently implement the strategy. These changes have already increased the diversity of our applicant pool and have resulted in increased diversity in NPS recruit classes. Of the 100 new law enforcement rangers hired in fiscal year 2023, approximately 20% were female and 25% were non-white. While there is still significant work to do, this represents a positive trend toward meeting NPS objectives.
"I am excited about the opportunity to join our police colleagues across the country in committing to bring more women into policing. In my 32-year career with the National Park Service, I have worked with, hired and support many dedicated, skilled and professional female officers. However, we have not effectively increased female representation in this work force. This commitment to actively create a culture to support the success of diverse officers coupled with the organizational changes we are implementing to reduce barriers to employment will provide the framework to change that. I am incredibly proud of our current workforce and welcome more women into NPS law enforcement."

– Jennifer Flynn, NPS Associate Director of Visitor and Resource Protection which includes overseeing the NPS's three law enforcement programs
How to apply
You can apply today to join the ranks of USPP officers at USAJOBS, and catch a USPP recruitment event near you. Follow the United States Park Police on Facebook to find out when recruiters will be in your area.
Apply on USAJOBS to be a law enforcement park ranger at parks across the country.