Portugal's National Health Commission has banned surfing at Nazaré after tens of thousands of spectators flocked to the beach to watch what is being referred to as 'The Swell of the Century'.
The ban, effective immediately and indefinitely, was a difficult decision for officials who had to put public health and safety over the economic benefit of tourism in the area.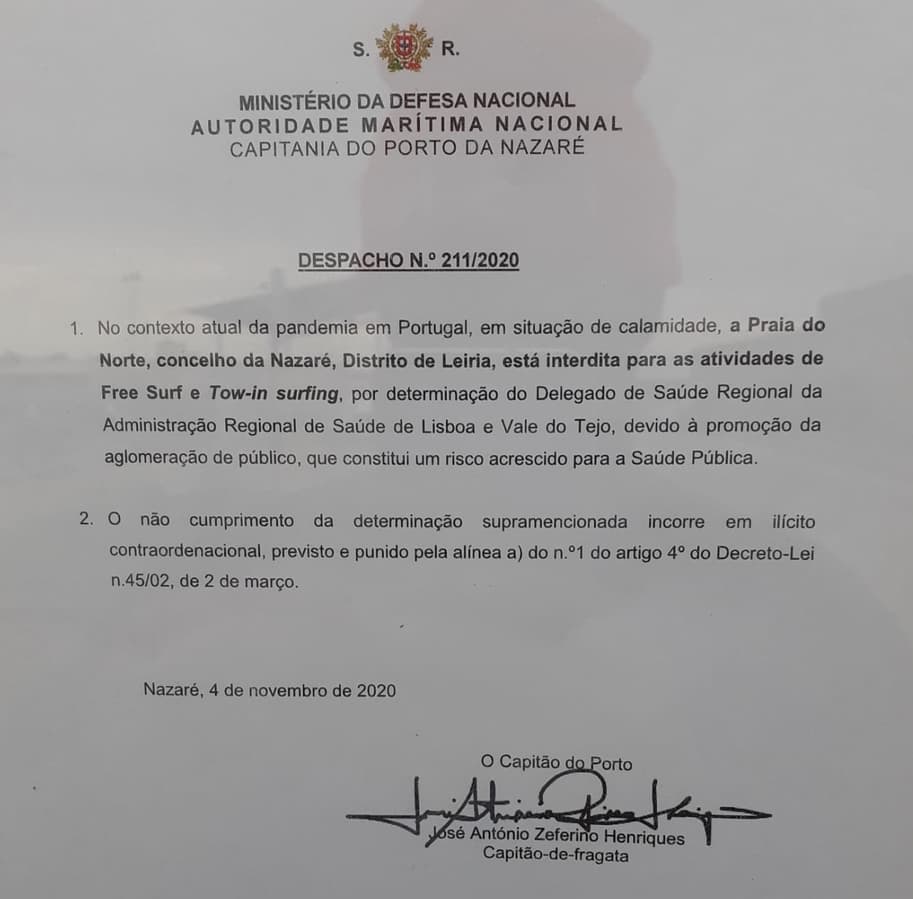 A notice (above) posted in the area reads:
"In the current context of the pandemic in Portugal, as determined by the regional health delegate and the regional health administration, Free Surf and Tow-in surfing are banned at Praia do Norte, due to the promotion of the public agglomeration, which constitutes an increased risk for the public health.

Failure to comply with this determination incurs in a criminal offense punished by law."
Portugal has seen 156,940 coronavirus cases and 2,694 deaths.
Nazaré is a very popular surfing destination because of the very high breaking waves that form due to the presence of the underwater Nazaré Canyon. The canyon increases and converges the incoming ocean swell which, in conjunction with the local water current, dramatically enlarges wave heights.
Due to the height of the waves, numerous surfing records have been set at Nazaré. In November 2011, surfer Garrett McNamara, who resided in Hawaii at that time, surfed a then record-breaking giant wave 78 ft from trough to crest, at Praia do Norte, Nazaré. On November 8, 2017, Brazilian surfer Rodrigo Koxa broke the previous record by surfing a big wave of 80 ft; for this feat, he won the Quiksilver XXL Biggest Wave prize and entered the Guinness World Record for the biggest wave ever surfed.
There has been a marked increase in visitors to popular viewing points for surfing competitions, such as the lighthouse at the Fort of São Miguel Arcanjo, which has seen numbers increase from 80,000 visitors in 2015 to 174,000 in 2017.