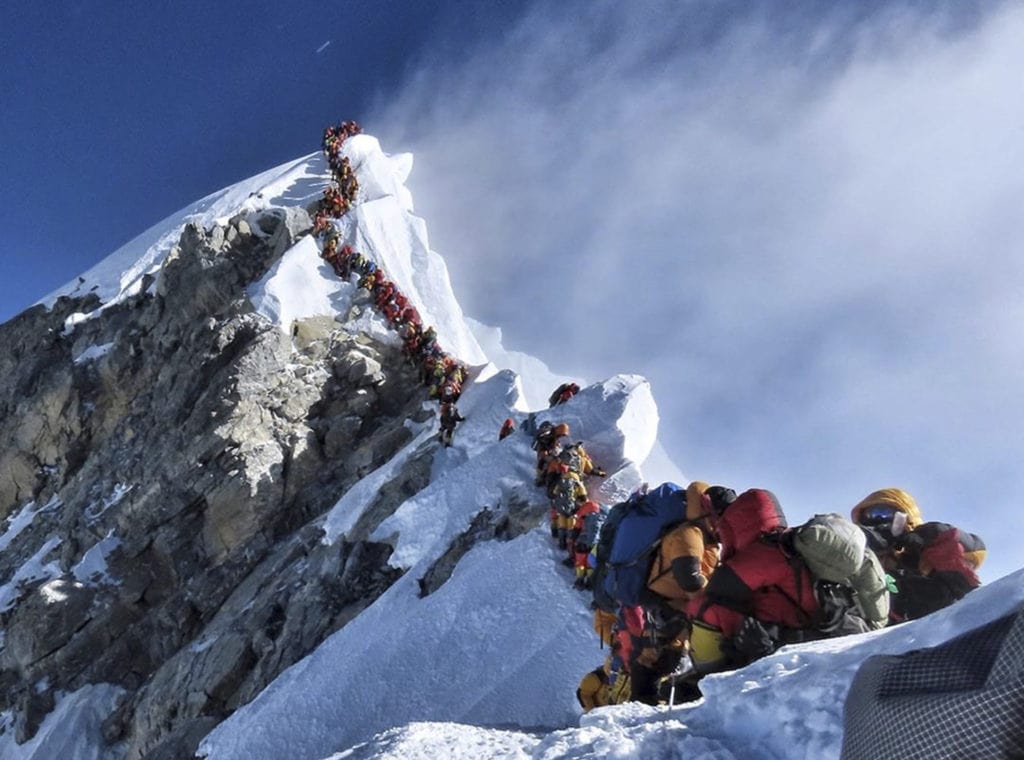 Tougher rules being implemented by Nepal are making trekking companies responsible for retrieving the bodies of climbers who die while climbing Mount Everest, reports The Times.
It is estimated there are at least 100 bodies on Everest right now. Recent warmer weather has been causing the snow and ice to melt at a quicker rate, revealing bodies that have lain there for years.
The move by Nepal, which includes tougher rules and regulations for climbers too, is in a bid to prevent the loss of life during the climbing season, and also to help clean up the slopes of the world's highest mountain. 11 climbers perished last season.
To prevent 'unprepared, wealthy tourists' attempting to climb Everest, climbers will be required to submit their full medical history along with proof of their climbing experience. They must have already conquered a summit of 6,500 meters or higher before attempting the 8,848m (29,028ft) peak. Part of last year's overcrowding problems was caused by climbers who lacked basic skills.
Last year Nepal issued 381 Everest permits, at a cost of $11,500 each. The benefit to their tourism industry is huge, so rather than reduce the number of climbers, they'd prefer to ensure that those climbers issued permits are fully prepared. Trekking companies will be responsible for ensuring their clients (and staff) are experienced and prepared enough to climb Everest and survive the extreme exposure of the 'death zone' above 8,000m.
As we reported back in August:
Climbers wanting to take on Mount Everest will be required to have already scaled 6,500-meters (21,325 feet) peaks, undergone proper training, possess a certificate of good health and have insurance that would cover rescue costs if required under new proposals by a government panel seeking to improve safety on the world's highest peak.
However, some trekking companies claim they will not be able to afford the $100,000 costs of recovering bodies and are asking the government to reconsider, suggesting that compulsory insurance for climbers that would cover body recovery and repatriation be implemented.
Nepal and China have begun removing bodies, trash, and tons of human excrement from the mountain, although this cleanup costs thousands.
"It [recovering bodies] is a part of the rescue and recovery of climbers they take to the mountain. Expedition companies must be responsible for everything about their clients," Dandu Raj Ghimire, director-general of Nepal's Department of Tourism, said.