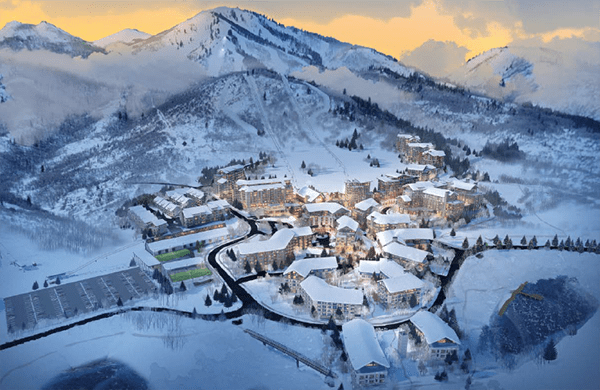 Work has already begun on a new billion-dollar ski resort adjacent to Deer Valley Resort in Utah. Extell Development Company (EDC) has already started building the roads that will lead to the Mayflower Mountain Resort and Village, west of US Highway 40 above the Mayflower exit near Jordanelle Reservoir.
EDC announced two years ago that they had purchased 2,300-acres of land next to Deer Valley Resort for master-planned development of ski resort and base area village.
"We're starting on the infrastructure — putting in roads and clearing the ground for putting in roads," Gary Barnett, founder and chairman of the company said. "We've cleared the ski routes to some extent."
The masterplan includes three village hotels, one of which will include a convention center and another will be a five-star hotel. The convention center, slated to be built first, will include 100 subsidized rooms with discount rates for active duty and retired military personnel and their families.
"The average soldier doesn't get paid that much, and this will enable them to have a chance to vacation at a ski resort," said Barnett.
Groundbreaking for that part of the project is scheduled to begin next spring with the convention center and ski lifts potentially being ready as early as the 2021 ski season. Everything for the resort will be brand new and state-of-the-art, Barnett assured.
Exact ski terrain hasn't yet been worked out, but it is expected to be around two-thirds of the terrain at Deer Valley with several lifts that rise about 1,000 feet.
"We're actually in the midst of studying exactly what kind of skiing we can provide, and I think will determine that the next several months," Barnett said.
Deer Valley is for skiers only and it hasn't been determined yet whether snowboarders will be allowed at the new resort, he said. Skiers at Mayflower Mountain Resort could also ski over to Deer Valley, so long as the passes are accepted, he said.
EDC also hopes to be actively involved in Utah's bid for another Winter Olympics in 2030 or 2034. 
"We love the idea, and we'd love to be involved in it," he said. "Anything we do would have to be coordinated with Deer Valley and the state of Utah, but we certainly love the idea of playing a very active role. We hope we get it in 2030."