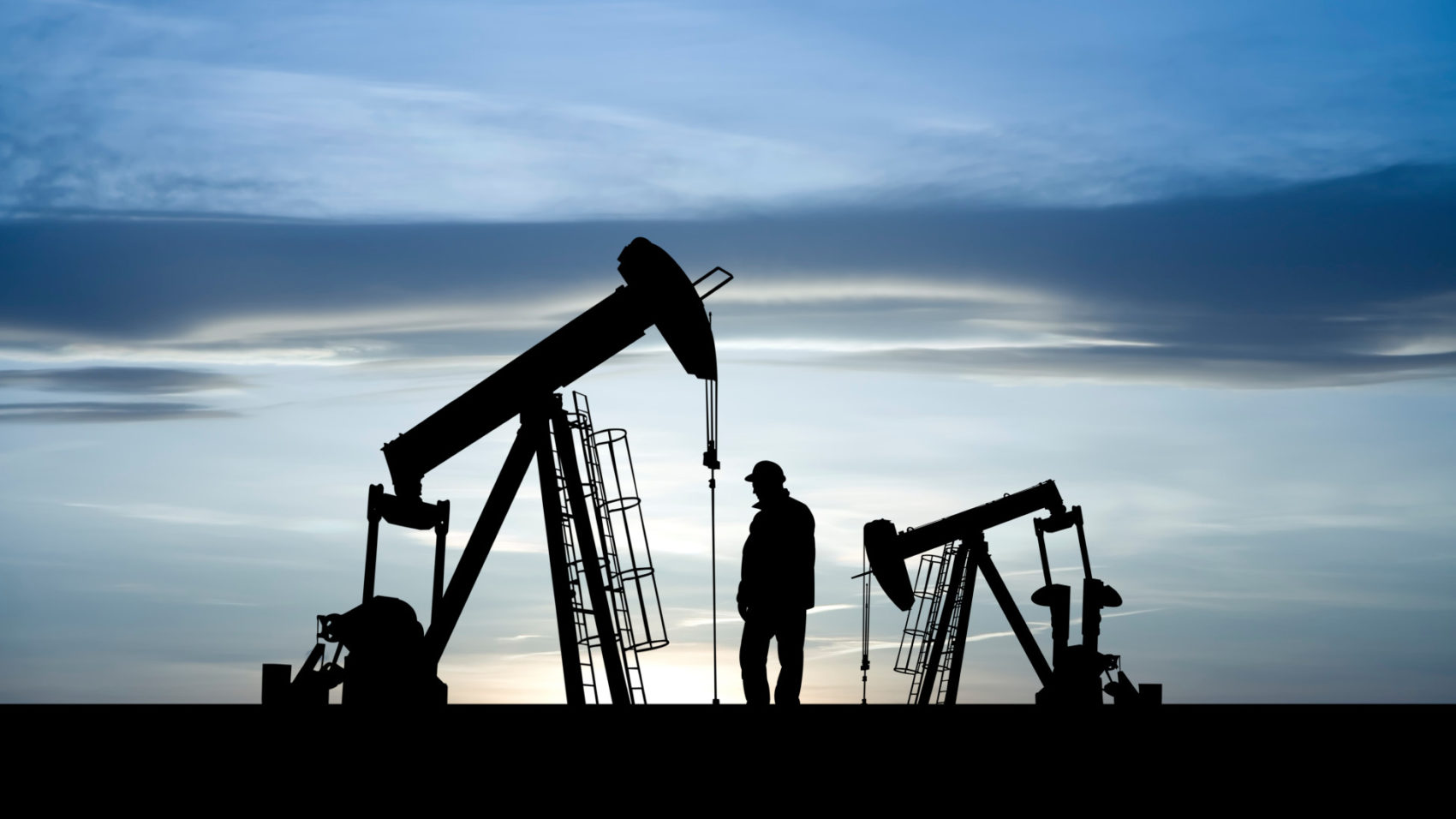 "Almost by definition, crude oil has never fallen more than 100%, which is what happened today," said Dave Ernsberger, global head of pricing and market insight at S&P Global Platts.
Of all the recent financial market crashes as a result of COVID-19 related shutdowns, none caught as many off guard as did the crash of the U.S. oil market today on April 20, 2020.
It crashed nearly 300%. That's the most the price of oil has fallen in recorded history. The S&P 500 also fell 51.40 points to 2,823.16. The Dow Jones Industrial Average lost 592.05 points, or 2.4%, to 23,650.44, and the Nasdaq dropped 89.41, or 1%, to 8,560.73, according to the Associated Press.
Some oil barrel prices, like those in West Texas, are minus $37 a barrel. 
"The price on the futures contract for West Texas crude that is due to expire Tuesday fell into negative territory — minus $37.63 a barrel. The reason: with the pandemic bringing the economy to a standstill, there is so much unused oil sloshing around that American energy companies have run out of room to store it. And if there's no place to put the oil, no one wants a crude contract that is about to come due."  — Bloomberg Green
The price on the futures contract due a month later thus settled at $20.43 per barrel, Bloomberg Green reports.  Since the start of the year, oil prices have plunged after the impacts of the coronavirus and a breakdown in the original OPEC+ agreement. With no end in sight to economic lockdown on the foreseeable horizon and with producers around the world continuing to pump, a fire-sale among traders who don't have access to storage has begun.
The price of oil currently sits in the negatives and is the lowest recorded price since oil prices started being recorded in 1946. 
U.S. oil industry facts provided by eia.gov:
The United States is one of the largest crude oil producers
About 100 countries produce crude oil. The United States was the top crude oil producer in 2018 and 2019. U.S. oil refineries obtain crude oil produced in the United States and in other countries. Different types of companies supply crude oil to the world market.
Where U.S. crude oil is produced
Crude oil is produced in 32 U.S. states and in U.S. coastal waters. In 2019, about 69% of total U.S. crude oil production came from five states.
The top five crude oil-producing states and their percentage shares of total U.S. crude oil production in 2019 were:
Texas: 41%
North Dakota: 11%
New Mexico: 8%
Oklahoma: 5%
Colorado: 4%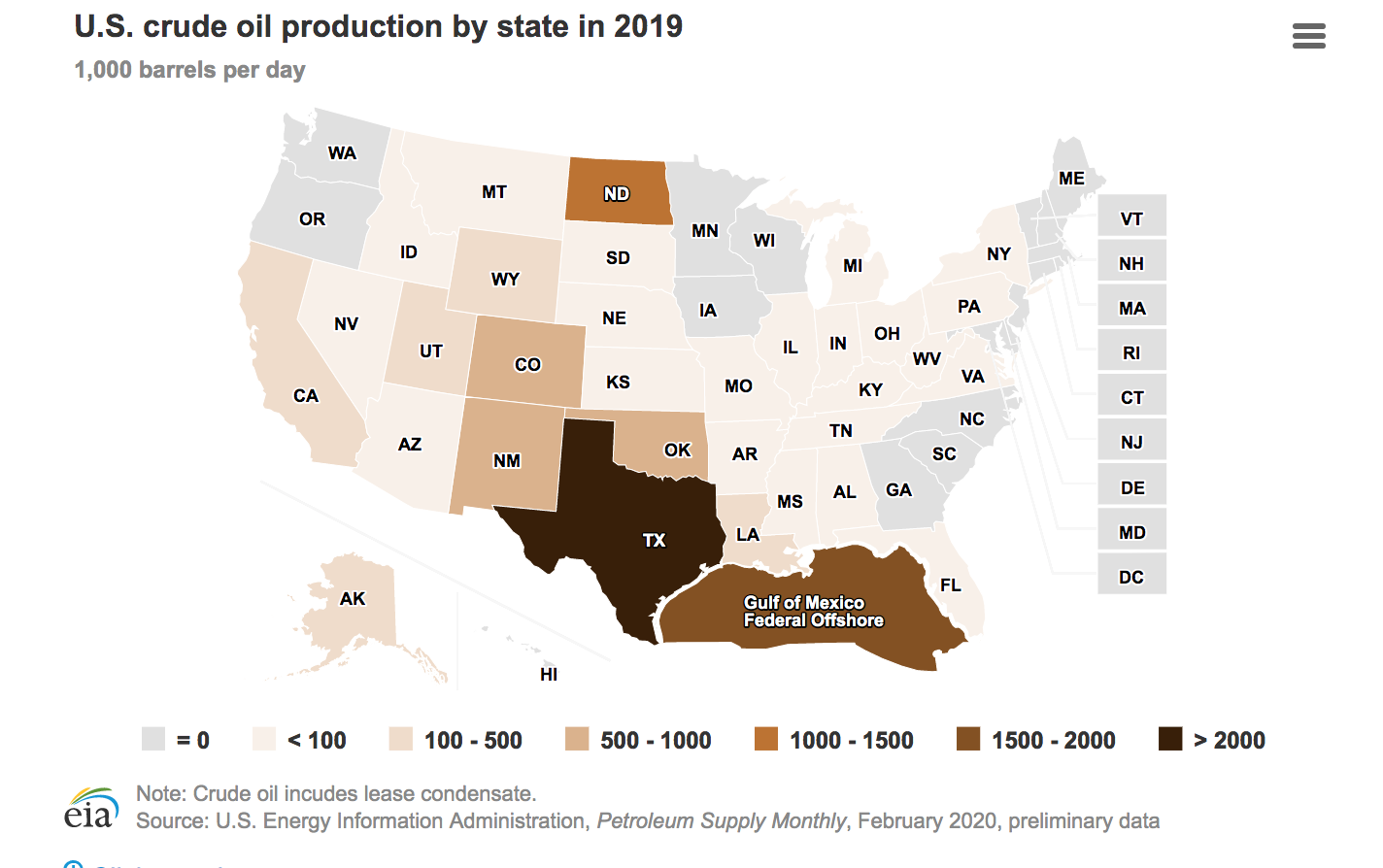 In 2019, about 15% of U.S. crude oil was produced from wells located offshore in the federally administered waters of the Gulf of Mexico.
Although total U.S. crude oil production generally declined between 1985 and 2008, annual production increased nearly every year from 2009 through 2019, reaching the highest amount on record in 2019. More cost-effective drilling technology helped to boost production, especially in Texas, North Dakota, Oklahoma, New Mexico, and Colorado.
Many countries produce crude oil
About 100 countries produce crude oil. However, in 2019, five countries accounted for about half of the world's total crude oil production.
The top five crude oil producers and their percentage shares of world crude oil production in 2019 were:
United States: 15%
Russia: 13%
Saudi Arabia: 12%
Iraq: 6%
Canada: 5%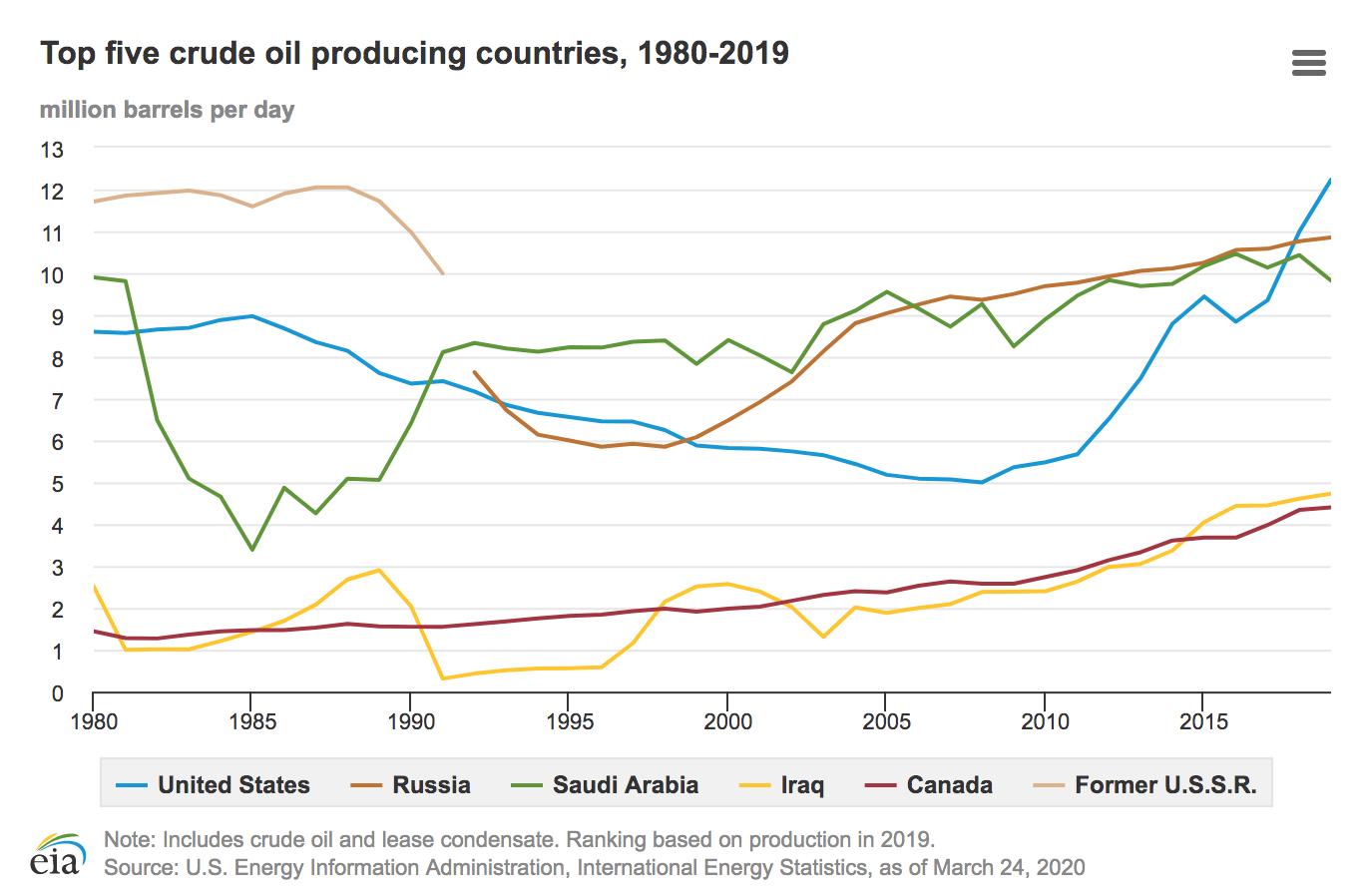 Different types of oil companies supply crude oil
The world oil market is complex. Governments and private companies play various roles in moving crude oil from producers to consumers.
In the United States, companies produce crude oil on private and public land and offshore waters. Most of these companies are independent producers, and they usually operate only in the United States. The other companies, often referred to as major oil companies, may have hundreds or thousands of employees and operate in many countries. Examples of major U.S. oil companies are Chevron and ExxonMobil.
Three types of companies supply crude oil to the global oil market. Each type of company has different operational strategies and production-related goals.
International oil companies
International oil companies (IOCs), which include ExxonMobil, BP, and Royal Dutch Shell, are entirely investor-owned and are primarily interested in increasing value for their shareholders. As a result, IOCs tend to make investment decisions based on economic factors. IOCs typically move quickly to develop and produce the oil resources available to them and sell their output in the global market. Although these producers must follow the laws of the countries in which they produce oil, all of their decisions are ultimately made in the interest of the company and its shareholders, not in the interest of a government.
National oil companies
National oil companies (NOCs) operate as extensions of a government or a government agency, and they include companies such as Saudi Aramco (Saudi Arabia), Pemex (Mexico), the China National Petroleum Corporation (CNPC), and Petroleos de Venezuela S.A. (PdVSA). NOCs financially support government programs and sometimes provide strategic support. NOCs often provide fuels to their domestic consumers at a lower price than the fuels they provide to the international market. They do not always have the incentive, means, or intention to develop their reserves at the same pace as investor-owned international oil companies. Because of the diverse objectives of their supporting governments, NOCs pursue goals that are not necessarily market-oriented. The goals of NOCs often include employing citizens, furthering a government's domestic or foreign policies, generating long-term revenue to pay for government programs, and supplying inexpensive domestic energy. All NOCs that belong to members of the Organization of the Petroleum Exporting Countries (OPEC) fall into this category.
NOCs with strategic and operational autonomy
The NOCs in this category function as corporate entities and do not operate as extensions of their countries' governments. This category includes Petrobras (Brazil) and Statoil (Norway). These companies often balance profit-oriented concerns and the objectives of their countries with the development of their corporate strategies. Although these companies are driven by commercial concerns, they may also take into account their nations' goals when making investment or other strategic decisions.
OPEC members and Persian Gulf countries have a large share of world oil supplies
The Organization of the Petroleum Exporting Countries (OPEC) is a group that includes some of the world's most oil-rich countries. Together, the OPEC members at the beginning of 2019 held about 72% of the world's total proved crude oil reserves, and the OPEC members in 2019 accounted for about 39% of total world crude oil production. Each OPEC country has at least one NOC, but most also allow IOCs to operate within their borders. In 2019, the seven countries in the Persian Gulf produced about 31% of total world crude oil, and they held about 48% of world proved crude oil reserves.
Did you know?
OPEC and Persian Gulf countries are not the same.
The Organization of the Petroleum Exporting Countries (OPEC) was organized in 1960 for the purpose of negotiating with oil companies on matters of oil production, prices, and future concession rights. Of the 14 OPEC member countries at the end of 2019, only 5 of them were Persian Gulf countries. The OPEC members in bold in the table below are also in the Persian Gulf.
| OPEC members | Persian Gulf countries |
| --- | --- |
| Congo | Bahrain |
| Algeria | Iran |
| Angola | Iraq |
| Ecuador | Kuwait |
| Equatorial Guinea | Qatar |
| Gabon | Saudi Arabia |
| Iran | United Arab Emirates |
| Iraq | |
| Kuwait | |
| Libya | |
| Nigeria | |
| Saudi Arabia | |
| United Arab Emirates | |
| Venezuela | |
Last updated: March 30, 2020