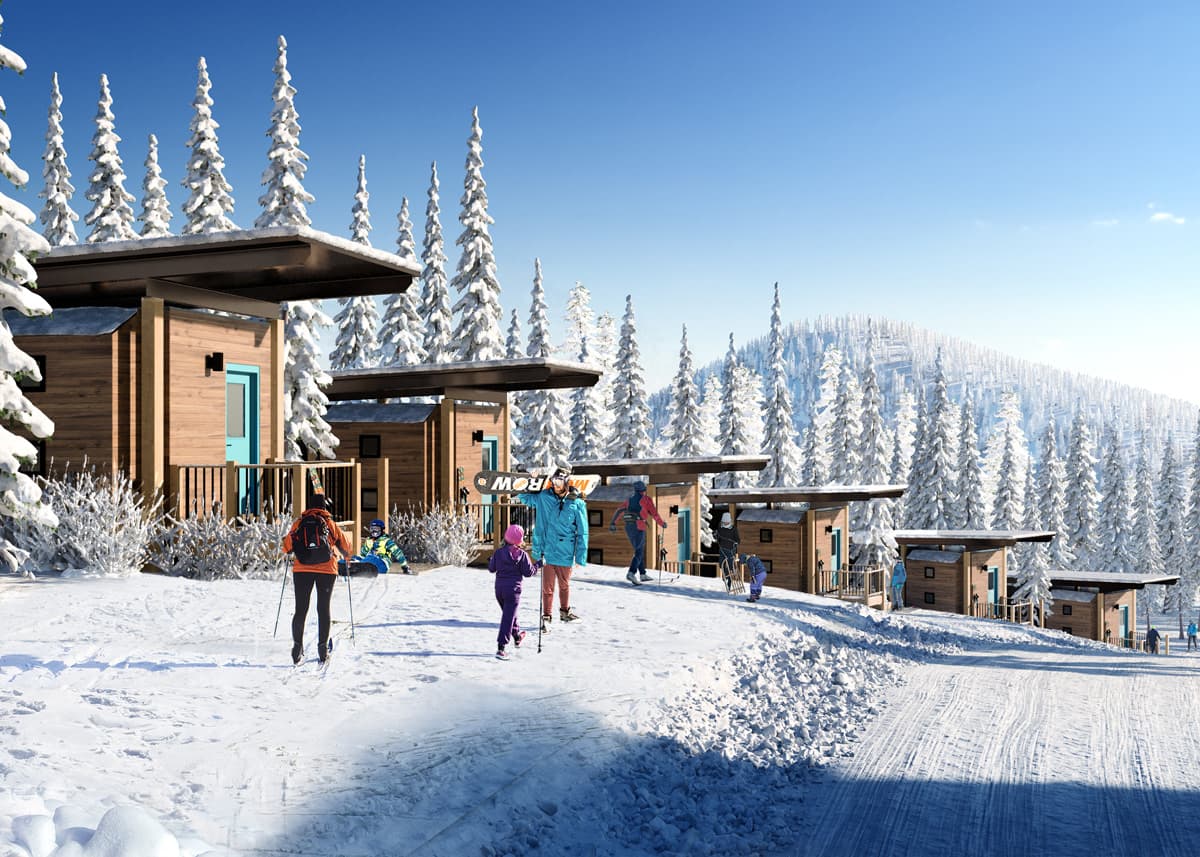 RED Mountain Resort, BC just gave us a closer look at the cool overnight on-mountain cabins they're constructing for this winter. Situated near Paradise Lodge, these six overnight cabins will each provide five guests access to sleep under the stars, surrounded by the beauty of the Kootenays, and give you access to the "Fight the Man. Own the Mountain." Clubhouse situated next to them… oh and fresh pow right out the door too!
Let me paint you a picture… clear night skies with stars you can almost reach out and touch turn to heavy snowfall. The next morning is perfectly silent. Your day begins with fresh tracks out your cabin door on the way down to Paradise Chair. Paradise in Paradise. Life is good.
Welcome to The Constella – A Cabin Collective
The Constella is a collection of six cabins plus clubhouse, perfectly situated in the aptly named Paradise Basin. The goal in building them was to offer unreal, on-mountain, ski-in/ski-out access to RED—and they turned out even better than anticipated: High up the mountain, the clear Kootenay night sky will be up, above, and all around you. The clean, crisp air makes it seem like those sparkling stars are actually within reach and that you've finally found your own private paradise. (Shhh! You kind of have….) Evergreen woods provide shelter from winter winds while the eco-friendly cabins provide a cozy shelter for you and your group to crack a beer and catch up properly.
Imagine making your next mountain getaway truly next level. With the brand-new for 2020 alpine cabin collective, The Constella, you can lose yourself in calm and quiet and fully recharge for a big day on the hill. Booking one of these unique and cozy cabins will make you a star to friends and family alike.
Each cabin sleeps five. Access to the central Clubhouse provides a warm hangout space in the afternoon with a fireplace and, come nighttime, the bar and its options for a light dinner mean you can also skip that usual hour-long conversation about where to eat! Throw in an optional light breakfast the next morning in the Clubhouse to start your day followed by stepping out onto the snow to get first-tracks down to the Paradise Chairlift, and you'll be feeling like alpine royalty.
The Constella is an entirely new way to experience RED that puts you right in the middle of the mountain and truly gets you away from it all—except the good stuff. Booking to the public begins Nov. 1, 2020. Full website and more details expected to go live mid to late September.
RED Mountain Resort in Rossland, British Columbia is a history-rich resort that's been around since December 29th, 1947. It's situated in the Monashee Mountain Range of Canada and originated from the gold rush.
When it comes to ski resorts, it's a hidden gem. The resort is well known for its light, dry powder that all of us skiers and snowboarders are after. They offer up 3,850 acres of skiable terrain that's served by 8 lifts across 4 peaks. The sheer amount of terrain is impressive, but the best part is that it's not crowded like the other resorts.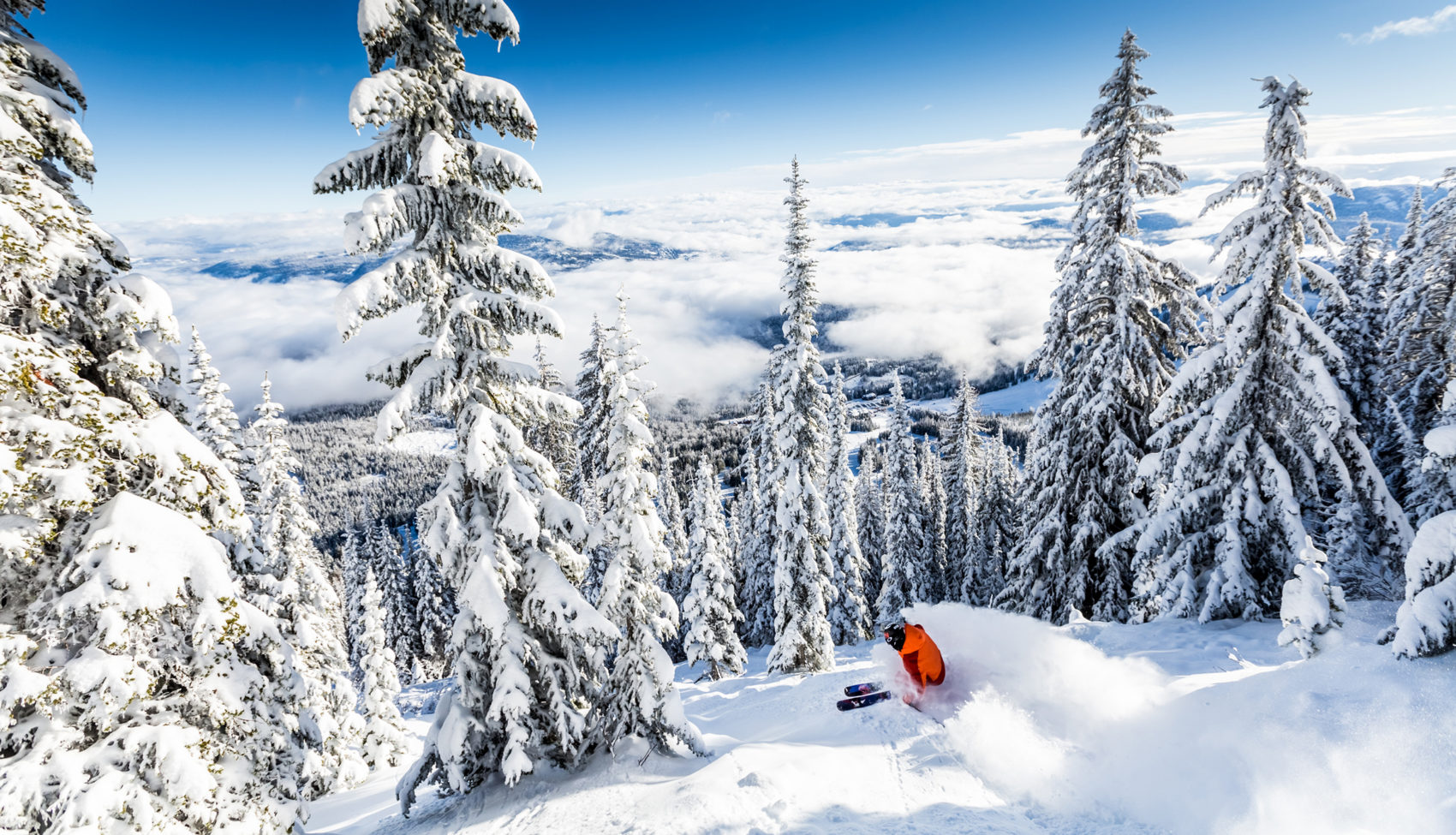 Everyone dreams of a powder day without the crowd. As one of the Top 10 Largest Ski Resorts In North America, RED Mountain Resort offers up some of the most terrain, without the crowds. They are ranked #1 for The Most Acres Per Skier. Take a second to think about that, it's all the snow, without the lift lines or tracked-out conditions. When you've got 3,850 acres of skiable terrain to work with, you're sure to find your own stash of the goods.
RED Mountain Resort By The Numbers:
Vertical Drop: 2,919 ft
Skiable Acres: 3,850 Acres
Number Of Runs: 118
Number Of Lifts: 8
Number Of Peaks: 4
Longest Run: 4.3 Miles
Average Annual Snowfall: 300″
Established: December 26th, 1947
Spice up your ski vacation with 360 degrees of skiing. RED Mountain Resort isn't your typical front-side & back-side ski resort, as they offer up 360 degrees on Granite Mountain (the largest of the 4) and 270 degrees of skiing on Grey Mountain, along with additional access to 2 more peaks. This is big when it comes to powder days, especially when the wind is a factor. With some of the best tree skiing in North America spread all around their 4 peaks, it enables you to find the light, fluffy goods that you're after.