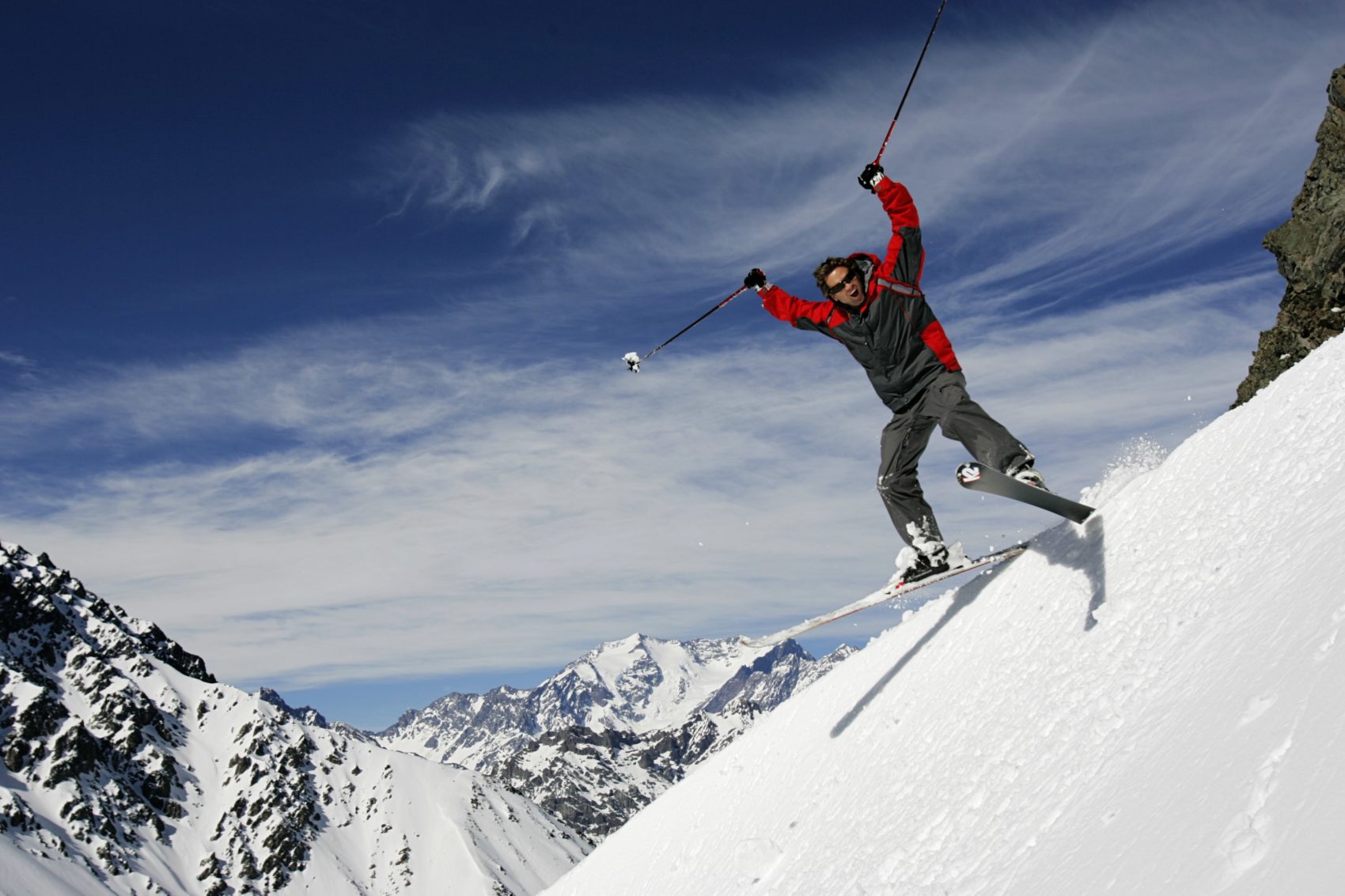 "Whether it was steep, extreme descent or new freestyle, what we were doing was freeskiing, free to ski our own style on our own terms" – Shane McConkey
There are so many words said about Shane.  There is practically no ski or outdoor magazine, which hasn't written about Shane, but when it comes to the legend it seems like it's never enough.
Although I have been skiing at Tahoe for many years, unfortunately I never got a chance to watch Shane skiing at Squaw. My close friend Anton had an opportunity to ski with Shane at Ski with Superstars camp in Portillo, Chile back in 2004:
"Shane was the best ever! He was an amazing skier and a great person! Usually there were three clients per coach. I remember we were skiing with Shane that day. The other two clients got tired and didn't go after lunch and there was just Shane and I skiing in the afternoon. It was a great experience! Even being such an extreme skier, a superstar, Shane didn't seem to get bored, he made me feel that he really liked skiing with me. He was amazing! That was a truly great day!"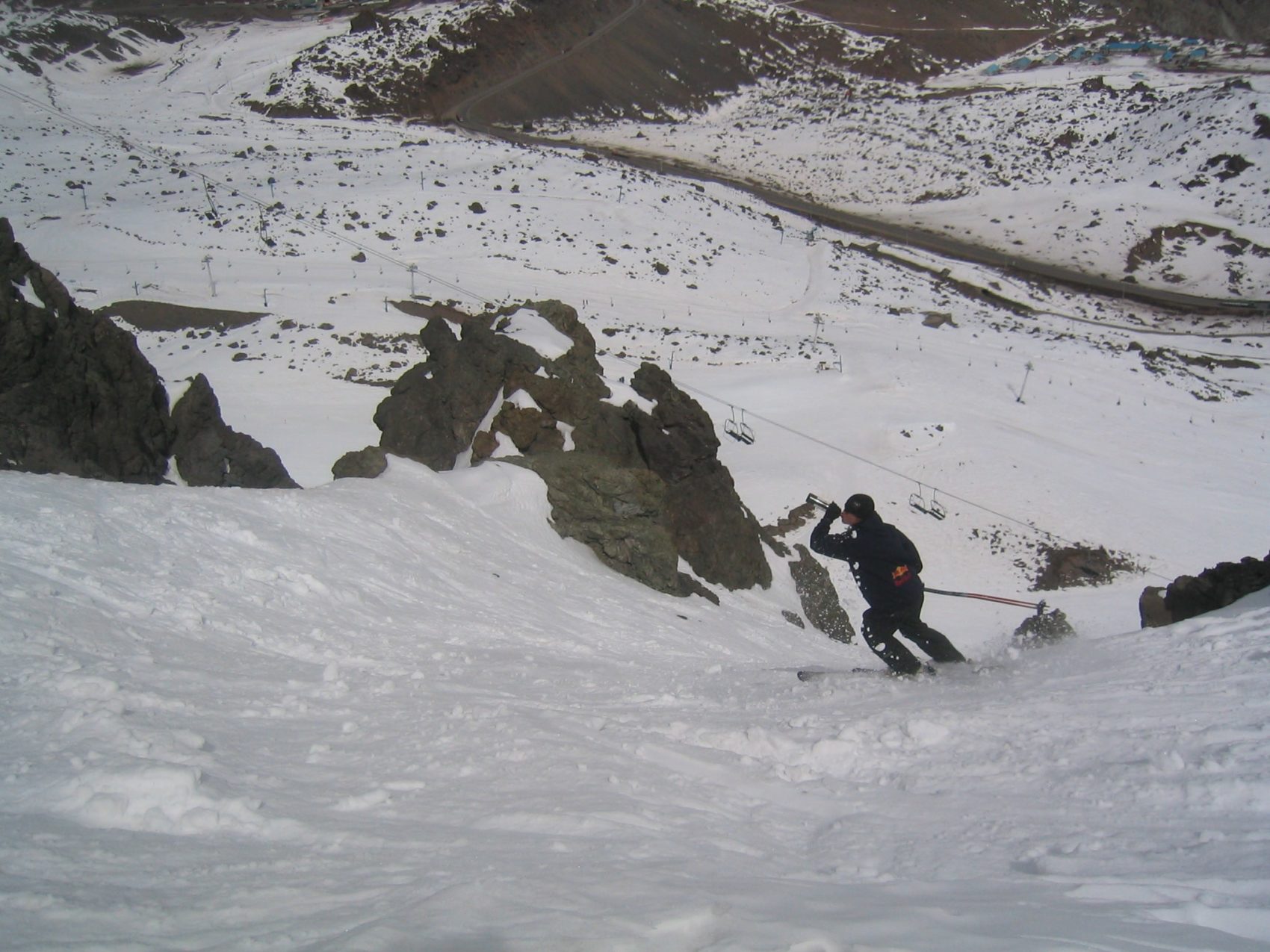 Shane didn't get into the national ski racing team and it was really depressing for him. Eventually he joined the moguls team instead.
"When I was a ski racer, I thought that mogul skiing is for idiots and vice versa. But when I started mogul skiing, it was really cool! And I won mogul a competition in 1993 – that was a really cool experience!" (Shane McConkey, "There is something about McConkey", MSP, 2001)
Rebellious by nature, Shane was constantly questioning the rules like doing the banned backflips while in moguls team.  He was no question a very talented skier. His skiing ability was exceptional – he did a lot of insane couloir skiing, jumping from the cliffs, and even base-jumping with skis. What to an untrained eye looked improvised from the outside, was actually thoroughly calculated and prepared.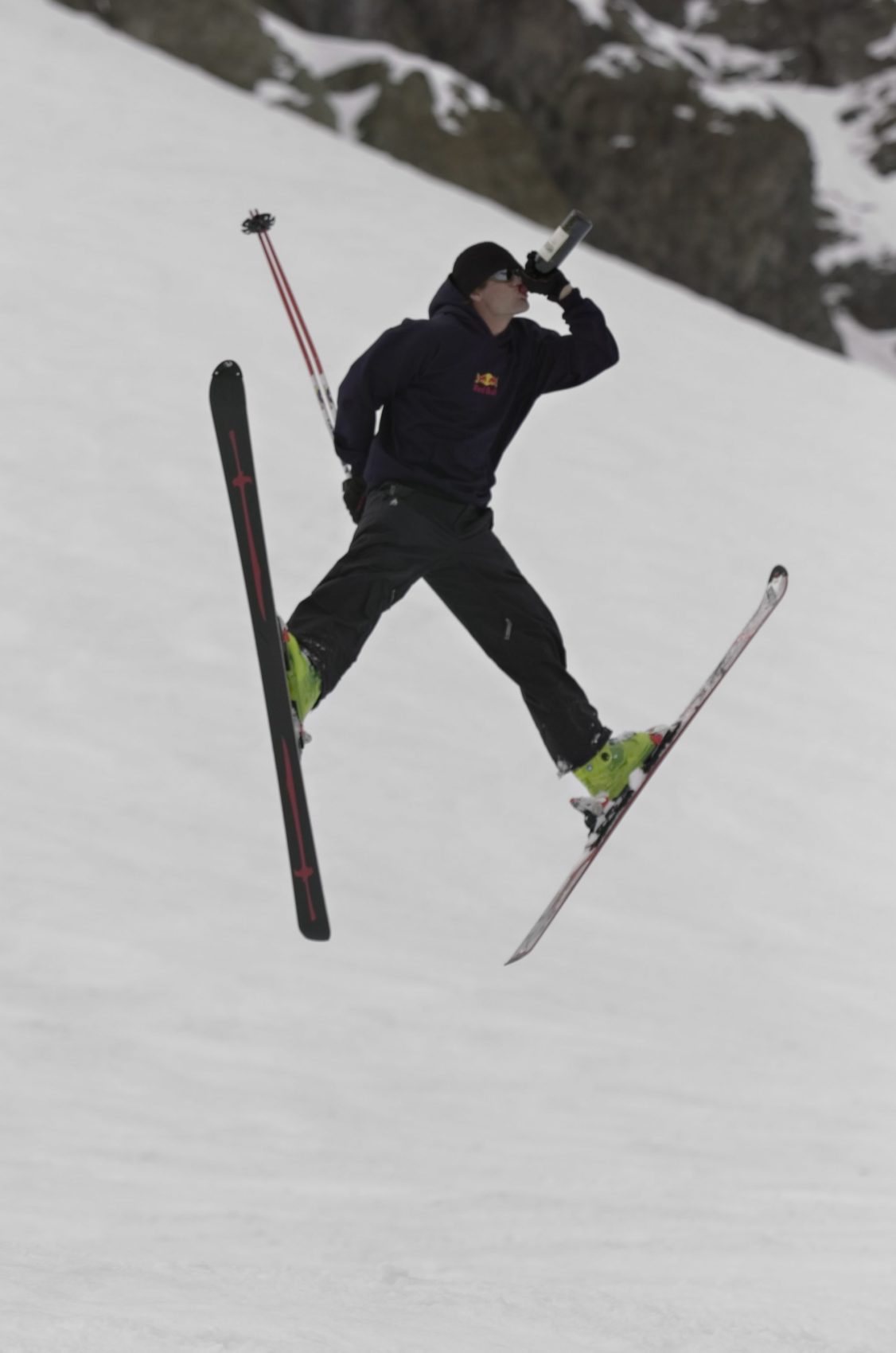 While taking risks every day, he was very passionate about what he was doing and really enjoyed it. Isn't that what matters most in life? Isn't that why we admire those people, for their passion?
Shane McConkey had a big impact on ski culture and ski industry. While water skiing, he was comparing it with skiing in the powder. Then he figured to use the idea of surfing in the snow and brought the fat skis to skiing community. He was the first to invent and use reverse camber skis with reverse sidecut, which help you surf the  POWDER! Now one pair of skis is not enough – you should have powder skis as well!
This is the guide for the new Spatula skis on EVO website site by Shane :
"CONGRATULATIONS!  You have just purchased the most progressive invention in the history of powder skiing since the original fat skis were invented. These skis will change the way you thought you were supposed to ski powder, minimize the effort you put into your skiing, and greatly improve your powder skiing experience.   

The following is meant to give you some idea of what the Spatulas are all about, why they are shaped the way they are and how to ski them.

First of all, in order to clear your mind and attempt to make sense of all this, take most everything you have ever learned about skiing and stick it where the sun don't shine. Or at least in the garage next to your shaped skis. Why? Because:

Side cut is NOT good in powder.
Camber is NOT good in powder.
Carving is NOT necessary in the powder. 

Simply put, if you want to maximize your abilities in soft snow you do not  want to use the same tool as you would on any kind of hard, groomed or compacted snow."

–Mental Floss, A guide to the Volant Spatula, the world's greatest powder ski. By Shane McConkey
But why, being a big mountain powder skier, wasn't he on the cover of the Powder magazine while alive? He invented powder skis, was #1 among top 25 skiers by Powder magazine readers votes for many years!
 "In 2001, Skiing listed McConkey as one of the top skiers in North America and readers voted him into the number-one spot. Powder readers voted him the skier of the year three times."

— Skimag, 2009
I talked to several people who were close to Shane. One of them is  Mike Douglas. He is a legend himself, incredible pro skier, godfather of freeskiing, inventor of twin tips skis, filmmaker and Shane's close friend. If you haven't yet watched his movie Snowman, you should definitely do it.
Claire Weiss: Hi Mike, thank you very much for agreeing to talk about Shane. How did you meet Shane?
MD: I knew him from mogul skiing. He was on Pro team and I was on Amateur team. Then on the freeskiing event we met. He was always funny, goofy, laughing. We were the same age, just started families, had small kids, so we became friends. And kept in touch closely last few years.
CW: You were close friends, but in the competitive sport like skiing it seems quite rare.
MD: Freeskiing wasn't very competitive, especially in 90s. In this sport you don't try to beat others, you try to beat yourself. It was very friendly environment. No battles that time.
CW: What makes Shane different from other skiers?
MD: Shane was definitely a great skier! He was always laughing, funny and even little crazy all the time. I mean usually people can be funny sometimes, but Shane was funny all the time. He never took himself seriously, always joking, making fun of himself. He was special! He was a wonderful person, the person everyone wanted to be around.
CW: From your interview – you said pro skiers are always looking for rush, adrenaline, take more and more risks. Do you think it's a ski industry forcing them to do that?
MD: Not really, I never experienced pressure from my sponsors. It's really in the nature of people, freeskiers, wanting to push the limits which sometimes ends tragically – we lost few great skiers..
CW: Saucer boy – how and why Shane created this character?
MD: It came from one of Alaska trips. When you watch movies, it's always sunny, powder days. But in reality, there are not many such days in Alaska. You're normally just sitting around and waiting for the weather to clear. And everyone gets crazy – pro skiers, film crew get bored. So Shane created a Saucer boy.
CW: Any interesting story you want to share about Shane?
MD: On the trip to South America, at the end of the trip, he puts a used dipper into someone's ski bag before leaving. And normally you won't open the ski bag for quite some time… He was also always trying to challenge someone into eating contest. He was like a 15 year old.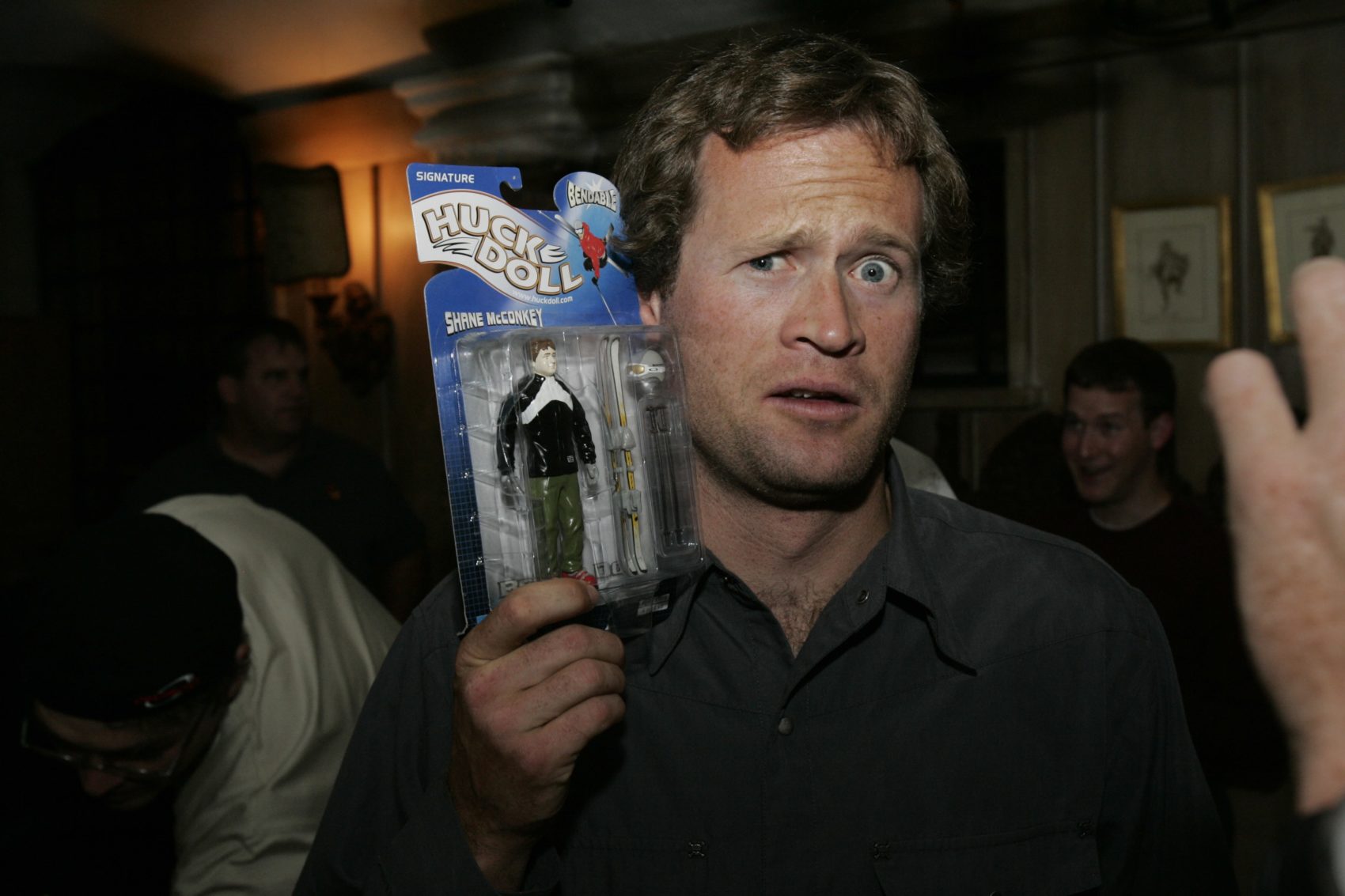 Among Shane's friends, Wendy Fisher, former Olympian, successful extreme skier and mom, probably knew Shane longer and better as they were attending ski schools together starting from age 6-7 years in Squaw Valley Ski Team, then Burke and later Boulder.
Clare Weiss: Wendy, you knew Shane from the very early age – what is your brightest memory of him that time? 
Wendy Fisher: I pretty much crossed paths with Shane from when I was 6 years old until he passed. I didn't realize or think about it until I heard about his death and until I started thinking about his life and my memories of him. I started to realize how our lives paralleled so much and the impact he had on me and how I changed due to his influences. It started with the Squaw Valley Ski Team when we were 6 and 7. We then attended High School at Burke Mountain Academy at the same time. After Burke we both were living in Boulder for a bit. He returned to Tahoe and when I would be on break from the US Ski Team I would return home to Tahoe too. I would head to Squaw to ski and run into him there and follow him around free skiing. After I retired from ski racing, he was the one who convinced me to continue competing in Free skiing contests, after my first one in Crested Butte back in 1996. Then I found myself on MSP film trips with him. We were also coaching at the Superstar camp together in Portillo, Chile. I was inspired by his freedom to be carefree. He would pull off the craziest pranks on people, but no one ever got mad because they weren't the type of pranks that would put the other person down, therefore it was hard to be mad at Shane.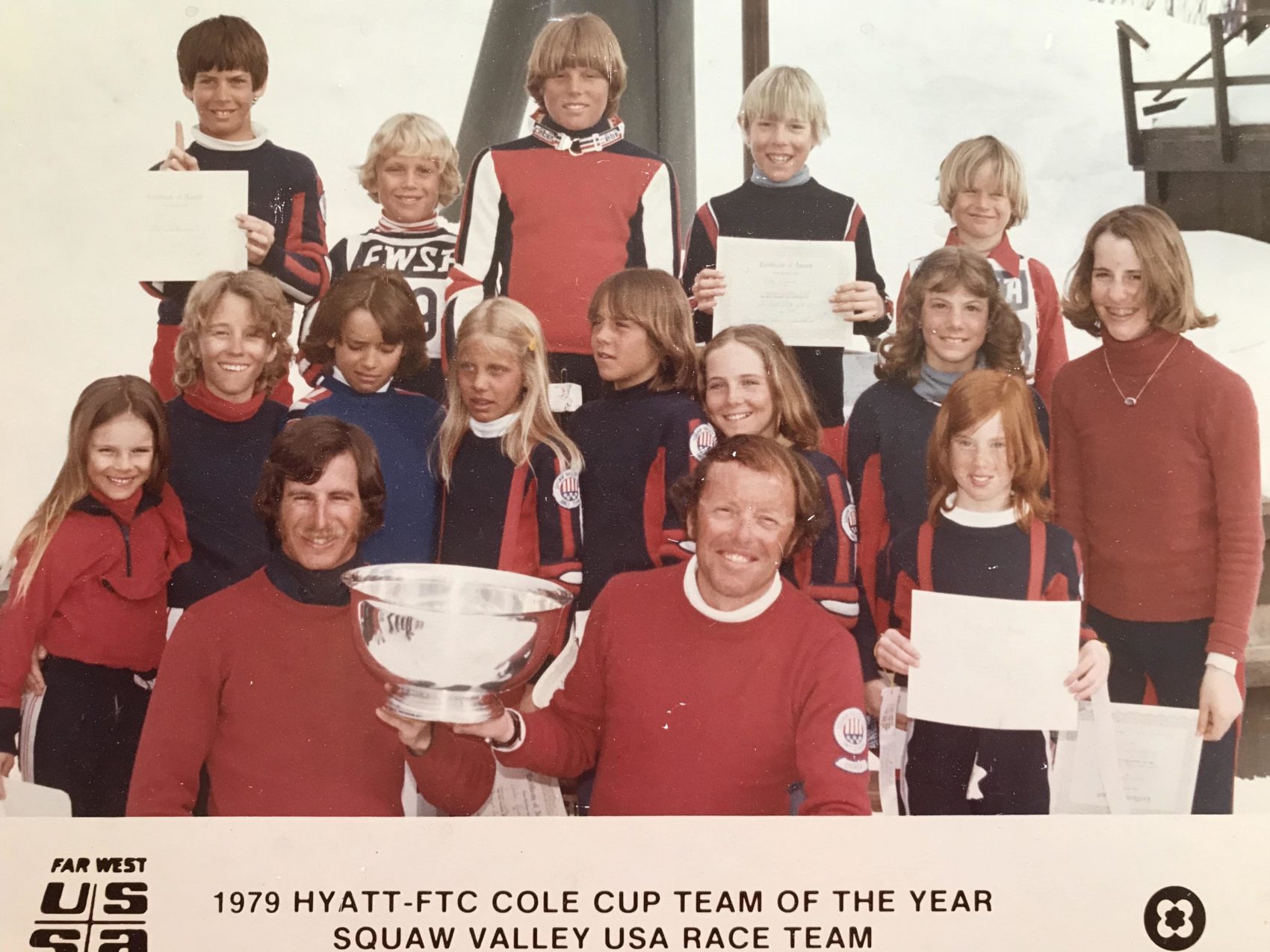 CW: As a mom yourself, what do you think differentiated Shane from other kids of that age?
WF: Shane was silly and rebellious, but with good intentions. He never was rebellious in an aggressive, mean way. He pushed his limits, but not others. Similar to how he pranked people. He also was not afraid of making fun of himself, where most kids make fun of others and put other kids down to make themselves feel better. Shane made it easy to laugh at him, because you were actually laughing with him.
CW: From your perspective, what shaped his personality?
WF: I can't say for sure, and I am sure lots of people have different opinions. I feel because he did not know his dad very well growing up. His dad was known in the ski industry for his skiing antics. Back then Shane's dad, Jim, pushing the boundaries of that era and I am sure that had an impact on Shane. It was a way to feel connected to his dad, since he didn't get to be with him much. Later in life he was able to connect with Jim and they were finally able to develop a father/son relationship.
CW: Shane was a very talented skier. How was it, going skiing with him? Was it hard to keep up with him?
WF: The adventure was trying to keep up. It was fun and amazing to follow someone so spontaneous and fluid. I remember in Switzerland on a MSP film shoot the conditions were not great. There was a lot of tracked up terrain, nothing fresh to shoot. There was a big open run under a lift and I think he came up with the idea of skiing laps on it and trying to estimate how many turns we did each time. Lap after lap we would be on the lift watching each other. It was amazing seeing him ski high speed in choppy terrain, yet his body hardly moved, his body was light as a feather and he just flowed effortlessly down the hill.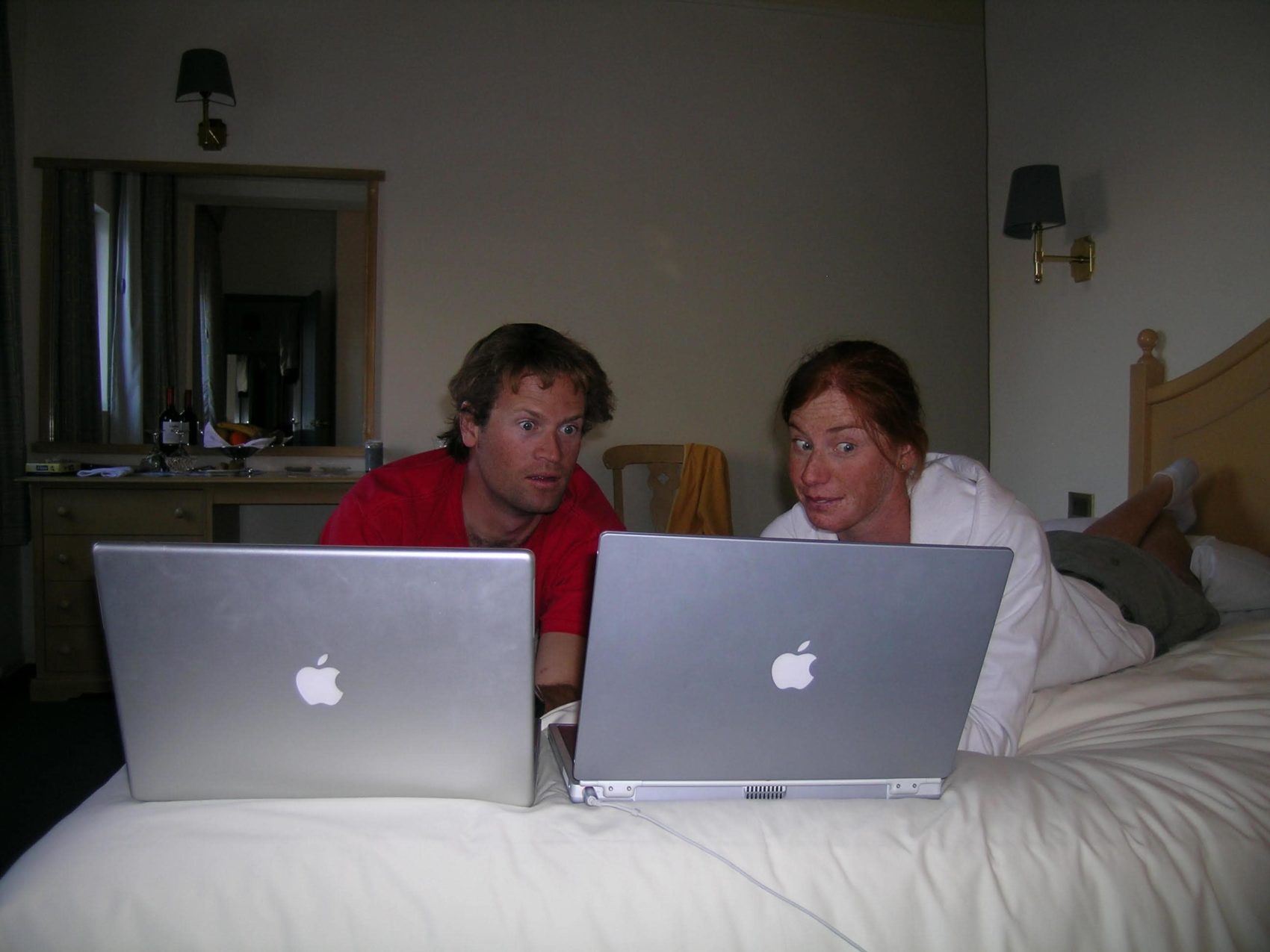 CW: Why did you decide to become extreme skier? Was is somehow Shane's influence or something else?
WF: I was still ski racing and I was hearing about all this goofball things Shane was doing, like joining the PRO Mogul tour, which to a ski racer was crazy. Then I heard he was doing all these other silly things and I would start thinking to myself how great it was that Shane was just winging it and having fun. Then after I quit ski racing in 1996 I ended up in Crested Butte and entered the free skiing contest. I ran into Shane after my 1st run. After watching the guys take very different lines, then the girls, Shane helped me pick out a new line. I crushed it my 2nd run and it was an amazing feeling. Then Shane encouraged me to finish out the season tour and to try to get sponsors again. I won the rest of the competitions that season and was picked up by sponsors. Then the rest was history.
CW: Any interesting moment you'd like to share about Shane?
WF: Shane was very supportive of others. He would encourage everyone, men and women, to improve because it was good for the sport.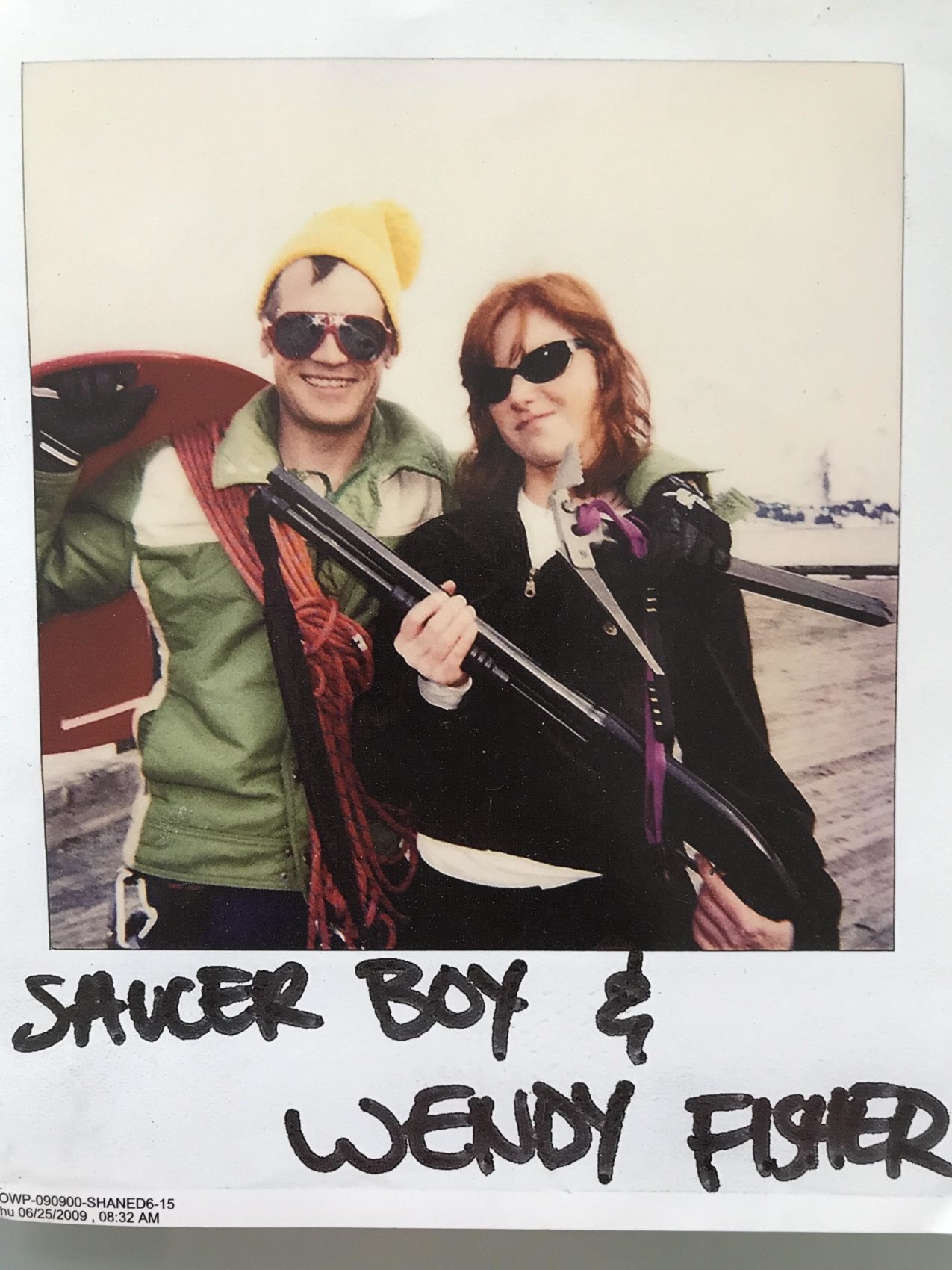 I also talked to the author of one of the first articles about Shane back in 1998, appeared in Powder magazine, Leslie Anthony. He is an award winning author, long-time contributor and editor of Powder magazine, PhD in biology and a great skier himself (skied down the Mexican volcano Orizaba)
"Descending in powder offers an indescribable sensation that clearly speaks to a primitive pleasure center of the brain, for it instantly demands more in a classic addictive cycle"

"Trudging, navigating, and skiing over, through and around boilerplate, sastrugi, crust, slab, crud, and other snow-junk just to get to the good stuff. A way of feeling. A way of thinking. A way of life. A way, period. Tao"

— Leslie Anthony, "White planet: a mad dash through the modern ski culture"
Claire Weiss: Leslie, how and where did you first meet Shane?
Leslie Anthony: I think I probably first met Shane at the SIA ski show in Las Vegas, maybe around 1993 or 94; it would have been a short handshake kind of thing at the POWDER booth, because all pro skiers would come to the keg parties we held every night at the booth during the show. After I moved to California to manage POWDER magazine in 1995, I saw him more often—in the office, at ski shows, competitions, other sponsor or mountain events. He was a guest editor once, I think, so had a few days together in California. I moved back to Toronto in 1997, but flew out to British Columbia in 1998 to interview him for a POWDER mag feature.
CW: What was your first impression about him?
LA: My first impression of Shane wasn't formed in person, it came from photos, films and the descriptions from other people who knew him around Tahoe or who had travelled with him. This is because I was an editor at POWDER. I would see a lot of photo submissions that included shots of Shane so the photo editor, David Reddick, and I spent a lot of time with Shane "at the light table" so to speak. Also, there were many stories I was editing that involved Shane, so I was always getting information about crazy things he had done in the past, the jokes he would play on people on trips, and just how his whole fun-loving, anti-establishment demeanour worked. He was always joking but I saw right away that he was smart and always thinking about things to try, to do, to improve, to invent—the whole side of him that worked on gear was very important but less understood by his many fans.
CW: What differentiates him from other freestyle skiers?
LA: Everything. But his progression from racing —> moguls —> freeskiing —> base-jumping and terminal-line skiing was always about the next horizon. Other freestylers would get good at what freestylers did. Shane was always instantly good at those things and so he would relentlessly look for other things to do around the edges of the milieu—he was interested and fired up by the new and never-been-done.
CW: Any special moment you remember about Shane and would like to share with SnowBrains?
LA: I was riding a chairlift at Squaw Valley once with Shane. He was on a monoboard and had just done a backflip on it in the terrain park. We loaded the chair, then before it was even out of the station we were both looking over at the terrain park where a friend of his was also going through on a monoboard. I said something to Shane and then when I got no answer I turned to him but he wasn't there—he'd been so distracted by the terrain park that he let his monoboard tip drop and it had caught the snow exiting the station and pulled him off the chairlift. I looked back and he was lying face down in the snow laughing. I yelled back "Are you OK?"… He gave me the thumbs-up.
CW: What do you think to why he didn't have legit cover?  I know he was number one by readers votes for a few years.
LA: Because Shane didn't prioritize spending time doing one-turn wonders for photographers. He was far more interested in doing Shane stuff—backflips off cliffs, straightlining rock and ice faces, ball-grab airs, testing out the limits of new gear, skiing the ugliest shit imaginable, high-speed big-mountain descents. Basically for Shane, everything was an experiment, and experiments were fun. But it was hard to generate a beautiful photo from an experiment.
CW: I know you have interviewed many famous pro skiers and snowboarders. Are they people specially wired to take risks? What do you think makes Shane special?
LA: There is risk in everything, and we learn to manage various kinds of risk in a multitude of ways throughout our lives. When people look at these athletes what they see is the activity, what they don't see is all the calculus that goes into managing the risk associated with it. Like a good, serious pro, I think Shane spent as much time on risk management as he did on other aspects. But Shane loved the fun of everything he did, and accepted that managing risk was a means to having that fun, and that you could never obviate all risk. I think what makes Shane special is that he already had people following him as a racer, as a moguls skier, as a freeskier, as a prankster, as a ski-developer… and so every time he shifted to something new they all came along for the ride. He never stayed still and we were all on that train with him. The press and his fans were always wondering: What's McConkey going to do next?
CW: Do you think it might be a ski industry fault that so many great skiers die in accidents trying to make impressive videos for sponsors?
LA: No. The industry doesn't require or demand such things, rather, it finds its way to the people who volunteer to do them for whatever reason. And all those people are capable of drawing a line in the sand for a given activity or flat-out quitting. So it's all on individuals in my opinion.
I believe there is probably no one here, who has not yet seen this great movie McConkey , but if you somehow missed it, it's worth watching!  Shane McConkey was great, he was insanely great!
I think this quote from the movie is the best to characterize Shane.
 "Ok, this–this piece of paper I just found like a couple of months ago. I think I wrote it when I was in 8th grade. I had no idea I even had this anymore, but the teacher asked us to write some sort of essay on what we would do if we only had a month to live, like if we had AIDS or something. So here's what I wrote:
"The first thing that I'd do is find someone who could take me sky-diving, and I'd do that a couple of times. Then I'd go to Europe to some huge mountain where I could go helicopter skiing in waist-high powder. I'd also go cliff-jumping off lots of huge 40-foot cliffs and land in a nice, soft powder. Then somewhere I'd get someone to teach me how to hang-glide and I'd do that for a while. There are probably many other things I'd do but right now I can't think of them, and up to my death I would just keep doing fun things."
And then the teacher writes: "Ok, tell me though, knowing that you don't have AIDS, would you do all those things anyway?" Hehehe!"
— Shane McConkey, 1969-2009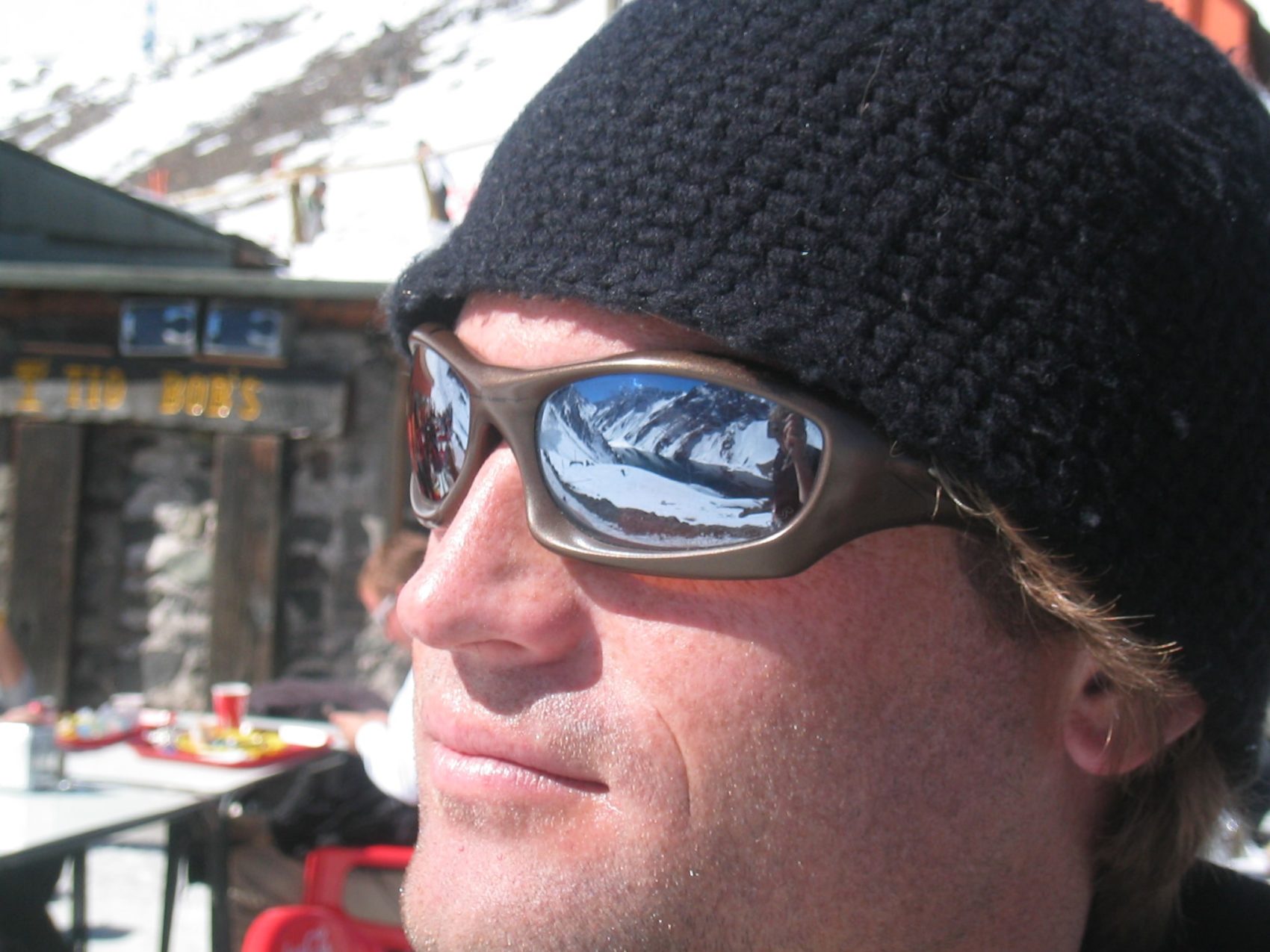 No doubt Shane McConkey was not only the most influential skier, he was the best one. When you read about Shane or watch the movies, do you want to grab your skis and go to mountains? I do. He inspired so many people and they are not just skiers and riders
Are you still in the office?? Get out now or at least buy tickets to somewhere in the Southern Hemisphere and go skiing! Don't wait – it's still winter there 🙂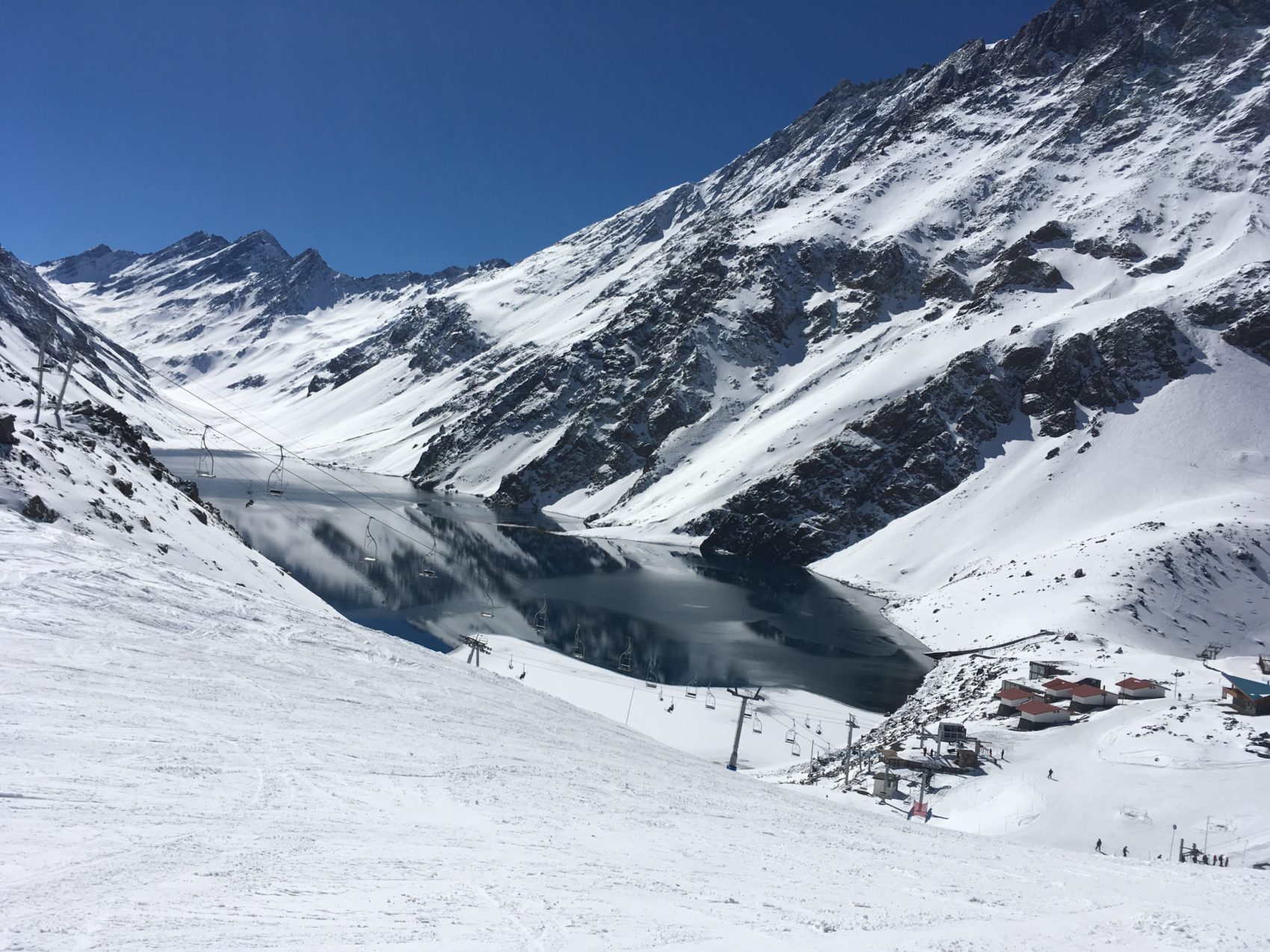 I'd like to thank Mike Douglas, Wendy Fisher, Leslie Anthony and Tomas Zuccareno for sharing their memories and photos of Shane McConkey.