Want to ski California 14ers? Here is a checklist with route descriptions.
Before you start, read a few tips from the pros about steep skiing:
"On truly steep terrain, stand on your uphill ski without leaning into the hill. Put pressure on that ski to begin your turn. Unlike the jumping turns you see in the movies, this type of turn will give you more edge to work with, keep your speed under control, and keep you light on your feet for transitions."
—Glen Plake, steep-skiing pioneer
"Practice good slough-management skills. If you're in the backcountry, climb the line first to get an idea of the snow conditions. Inspect the slope and figure out where the snow you set loose is going to fall—you don't want it to hit you and knock you over."
—Hugo Harrisson, pro skier
"Watch your hand position. If you're reaching too far forward, you'll be off-balance and fall. If you're reaching too far behind your downhill foot, your weight will be centered too far back. Keep your hands right out in front of you."
—Kevin Quinn, Alaskan heli-guide
"The natural reaction of the brain and body on a steep slope is to lean uphill into the slope. But when you lean uphill, you reduce your edge grip and control. Commit your upper body down the fall line and stay over your feet."
—Erik Roner, pro skier
1. White Mt. (14,246') (Class 1 )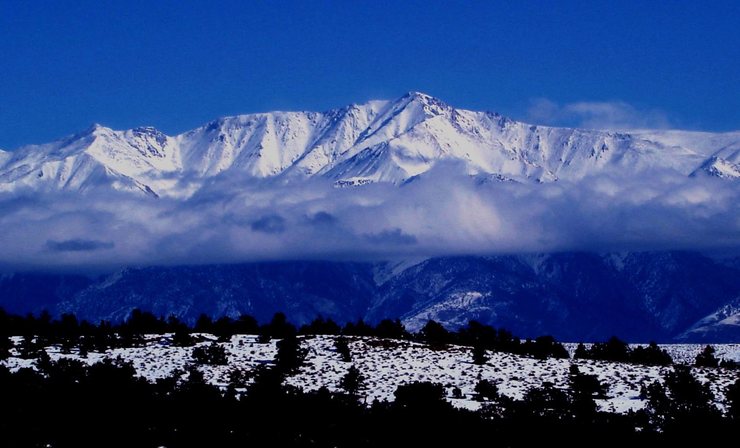 White Mountain peak, located northeast of Bishop on US-395, is the highest peak in the White Mountains of California, the highest peak in Mono County, and the third highest peak in the state after Mount Whitney and Mount Williamson.
This is an "easy" mountain. Here is the description of the trail to the summit.
2. Mt. Langley (14,026') (Class 1+ )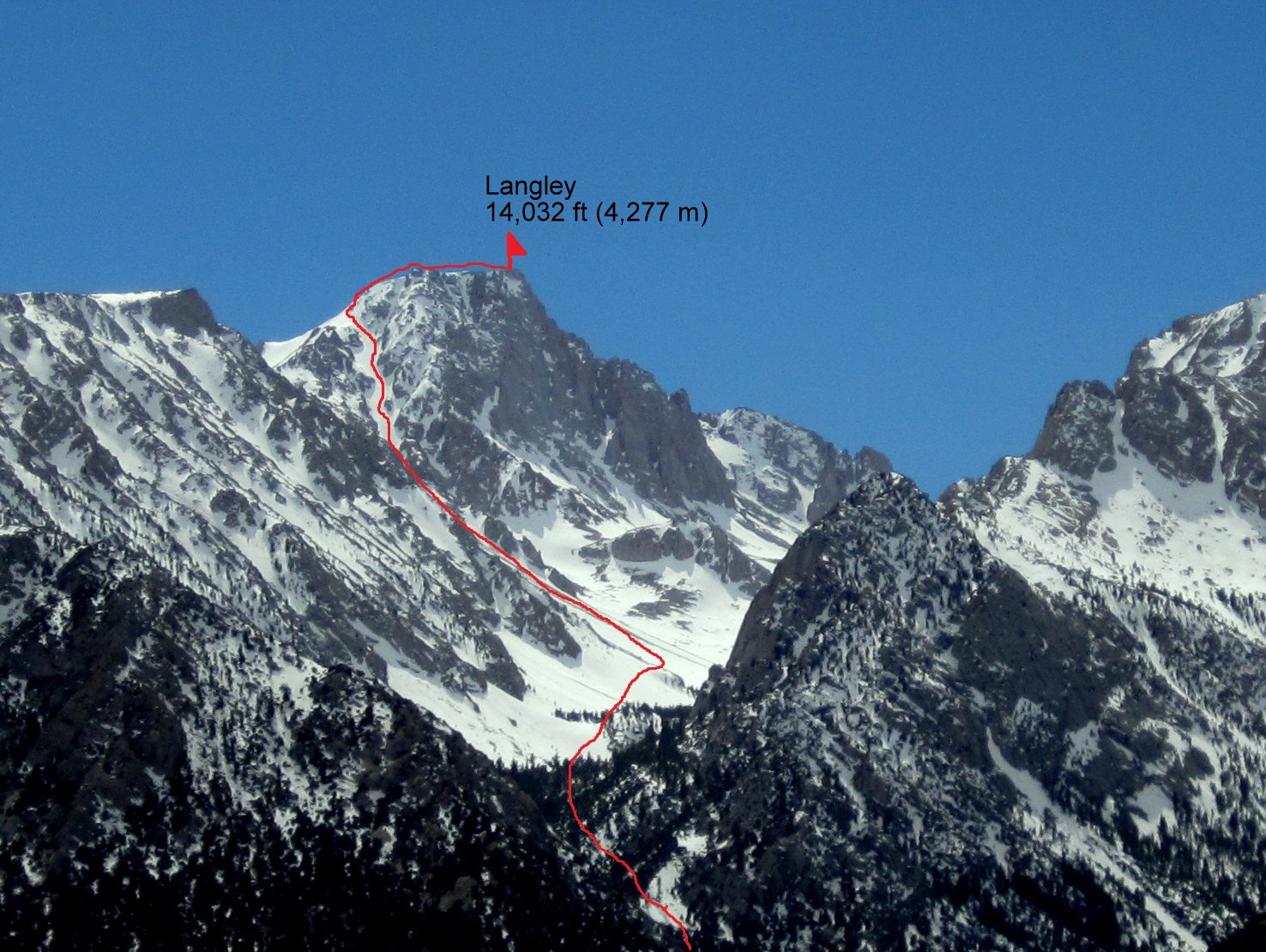 Two features make Langley of interest to the ski mountaineer. First is the broad high-altitude terrain along the peak's flanks, which hold gleaming snowfields well into summer. Both the Tuttle and Diaz Creek drainages offer excellent ski touring possibilities. Second is Langley's North Face and the striking couloir that drops just east of the peak's 14,000′ summit plateau. The Couloir is massive in every respect, easily ranking among the Sierra's biggest skiable lines—from the summit of a fourteener, no less. Such tempting ingredients would seem to make Langley a perfect mountain for backcountry skiers.
North Easter couloir is a great place for backcountry skiing. If you're interested, you can read about it on this blog. And here is the route map information.
3. Mt. Muir (14,012') (Class 2-3 )
Mount Muir is a peak in the Sierra Nevada, 0.95 miles south of Mount Whitney. The peak is named in honor of Scottish-born John Muir, a famous geologist, conservationist, and the founder of the Sierra Club.
This one is difficult to ascend, and it could be even harder to ski down! The East Buttress is considered an "unskiable" area. Just look into this couloir:
4. Mt. Whitney (14,505') (Class 1-3)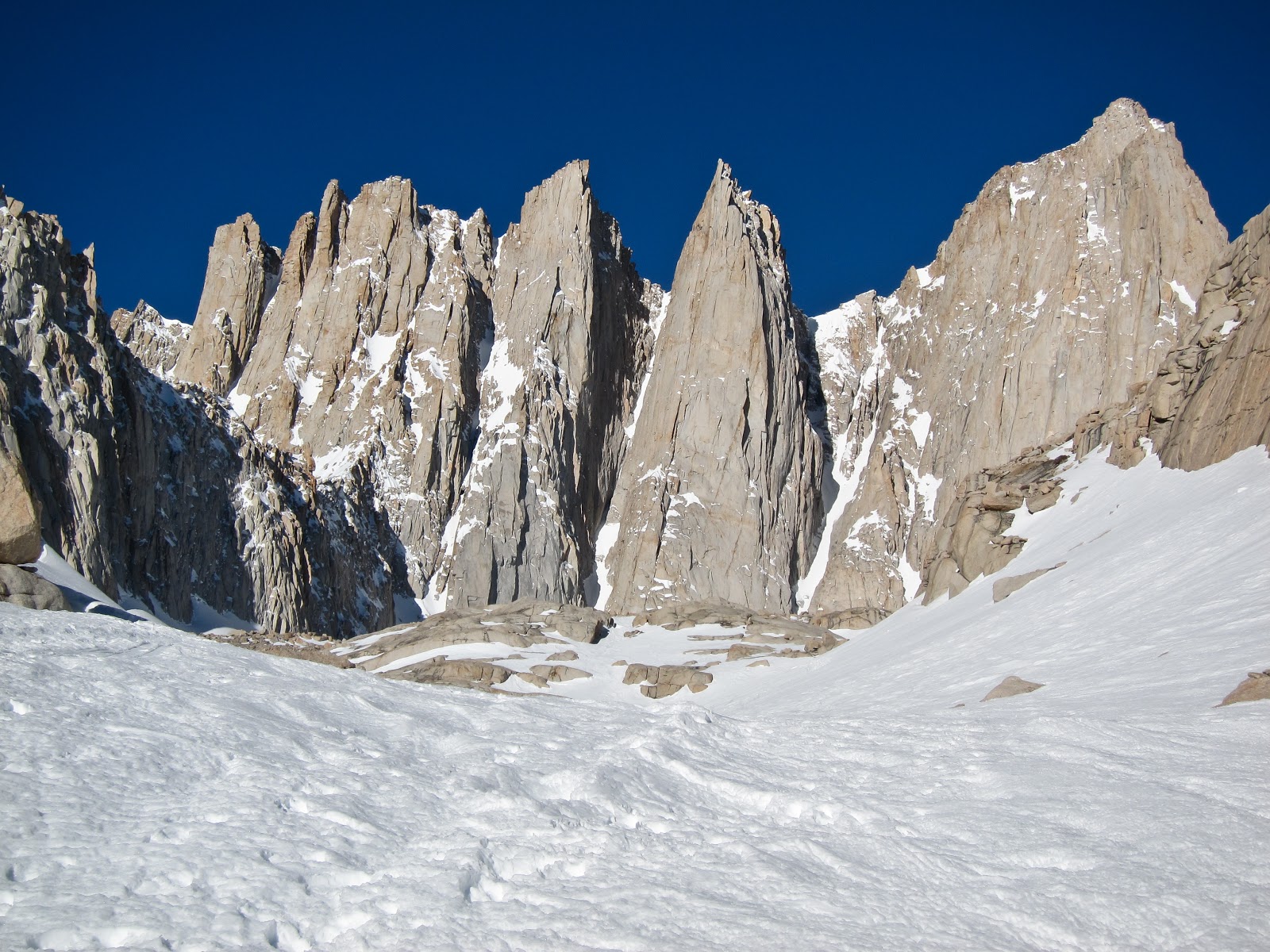 This is the highest mountain in California. There are few routes available; the easiest one is the Mount Whitney trail (class 1). But if you take the Mountaineering route, that would be harder – class 3. Both routes start at Whitney Portal, and you can then need to take the North fork for the Mountaineers route.
Hiking at high altitudes is not an easy walk, not to mention carrying your skis in steep terrain. But if you're ready –  here is a trip report about skiing the North Face of Mount Whitney, which is included in the '50 classic ski descents of North America'.
5. Split Mt. (South Palisade) (14,058') (Class 2+)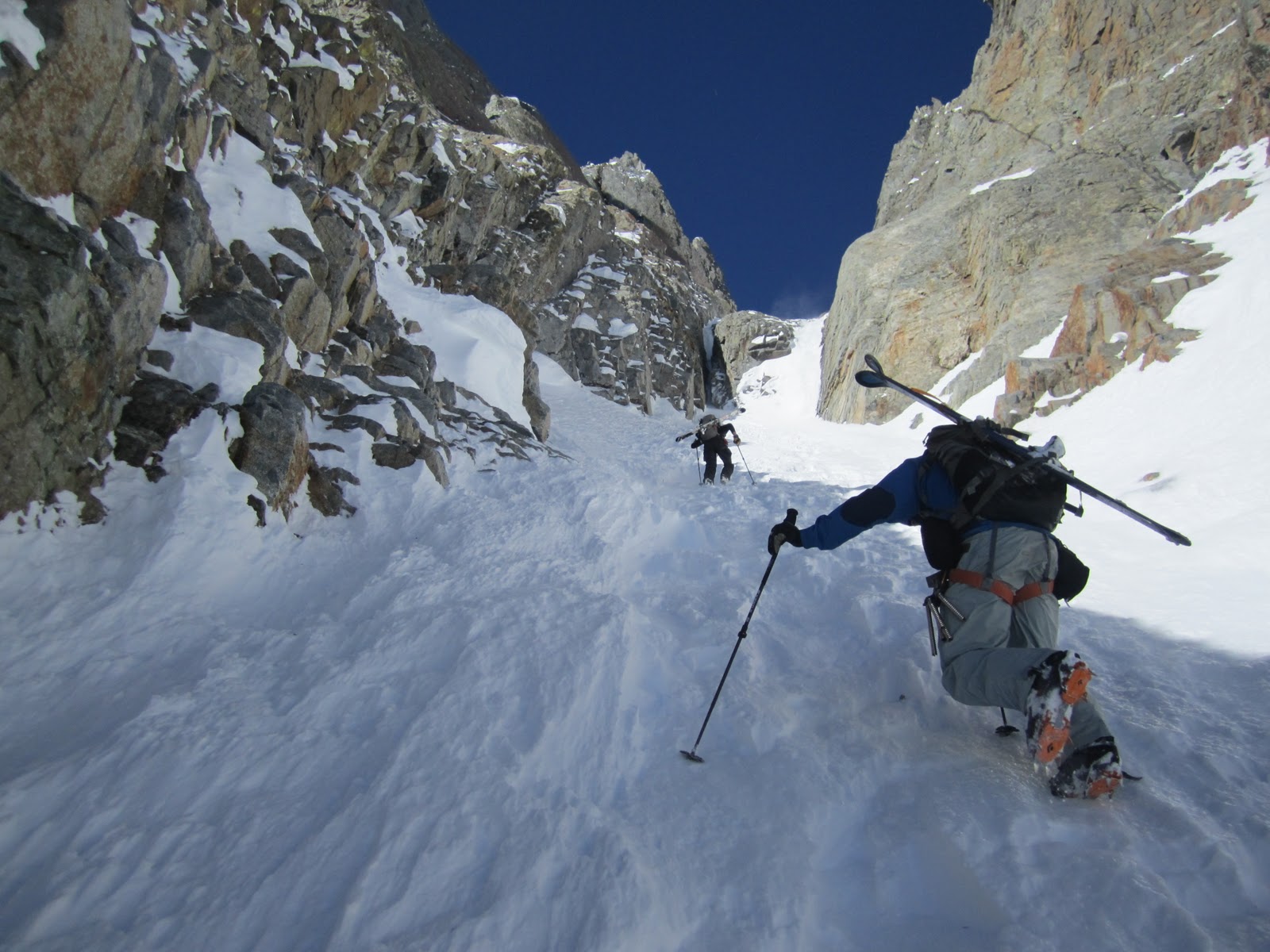 The easiest route is via the class 2 North Slope and Red Lake on the east side. However, there are many other routes to the summit of varying technical difficulties. There are snow/ice routes on the east side in the East Couloir and St. Jean Couloir. There are also extended aretes routes that rival Temple Crag for the longest such climbs in the Sierra. The west side is a jumble of spires, aretes, and gullies that make routes difficult to describe and impossible to follow.
There are plenty of couloirs and chutes  –  you can find the description of ski descent here.
6. Mt. Sill (14153') (Class 2-3 )
Now it gets more serious… Southwest slope and East couloir are the easiest routes up the summit. If you take the Northeast route, there will be a short class 4 section. You can ski down L-Shaped couloir to Elinore Lake. An alternate route is to ski to Glacier Notch and descend to Palisade Glacier.
Watch the video of snowboarding L-Couloir:
7. Mt. Russell (14,088') (Class 2-3, exposed) 
Here are a couple of routes to Mount Russell's summit. Don't forget that you need a permit, and you will be competing with the guys hiking/climbing Mount Whitney.
Mount Russell is not easy to climb. East ridge route is one of the easiest, although it is a class 3 exposed climb. And you probably can't ski from the summit, but you can try to get as high as possible of skiable terrain.
Read the report from Jeremy Benson – it's great, and you'll get the sense of skiing Mt Russell couloirs.
8. Mt. Tyndall (14,018') (Class 2-3) 
Mt. Tyndall sits right off of Shepherd's Pass, next to Mt. Williamson. The mountain was named after the English glaciologist and mountaineer John Tyndall. Most people try to climb both peaks together, as the approach via Shepherd's Pass is one of California's most difficult. However, Mt. Tyndall is an easy mountain to summit from Shepherd's Pass by either the Class 2, Northwest Ridge, or the more direct route straight up from the 2nd lake at Shepherd's Pass (Class 2+).
Ski Mountaineers go because they want to ski great mountains. This is a good distinction to keep in mind if you ever find yourself interested in skiing a fourteen thousand foot peak. Skiing on these big peaks often consists of finding ways to cope with extremely challenging snow—though on rare days, you might just find a great mountain and great skiing.
If you want to ski North rib and Shepherd's pass cirque, look at this report.
9. Mt Williamson (14,375') (Class 2-3)
From Summit post :
The most common way to climb Williamson is via the standard Class 3 West Face route. The climb itself is not overly difficult, but getting to the base of the climb is a different matter altogether. The most common approach involves an 11 mile hike to 12,040' Shepherd Pass, followed by an arduous traverse of the glacially carved Williamson Bowl. The Williamson Bowl area may look fairly flat on your topo, but it has lots of small ups and downs. You have to weave around lakes and climb up and over many large boulder-strewn hills just to get to the base of the route.
If you'd like, you can find more about Mount Williamson; check out here and here.
10. Mt. Shasta (14162') (Class 3, year-round snow/ice)
This is classic 14er skiing. There are plenty of routes of different classes, and the easiest one is Avalanche Gulch. The route starts at Bunny Flats, and you can camp at Helen Lake (~10,400′) before the final climb/ski descent.
If you're not comfortable skiing alone, here are the Shasta guides to help.
11. Middle Palisade (14,040') (Class 3)
Middle Palisade is a peak in the Palisades group, part of California's central Sierra Nevada mountain range. It is the twelfth highest peak in the state. Several routes involving exposed scrambling and/or easy technical rock climbing (class 4) exist on the various flanks of Middle Palisade. In addition, some routes involve travel on the Middle Palisade Glacier. The easiest route involves scrambling (class 3) up a chute in the peak's east face.
If you are going to explore Middle Palisades, here is a trip report with more information. But if you're not comfortable on extreme terrain, you should probably think twice.
12. North Palisade (14,242')
(
Class 4)
North Palisade is the fourth highest mountain in California. None of the routes are easy – the easiest is class 4. The most popular routes are the U-Notch + Clyde variation, a 4/5th class route, and the 4th class route from the West (South).
This is definitely one of the challenging peaks, so be prepared. Climbing this route is difficult but very rewarding – you can then ski down to Paradise glacier. Here you can find a description of route information as well as ski camping.
13. Polemonium Peak (14,080')
(
Class 4)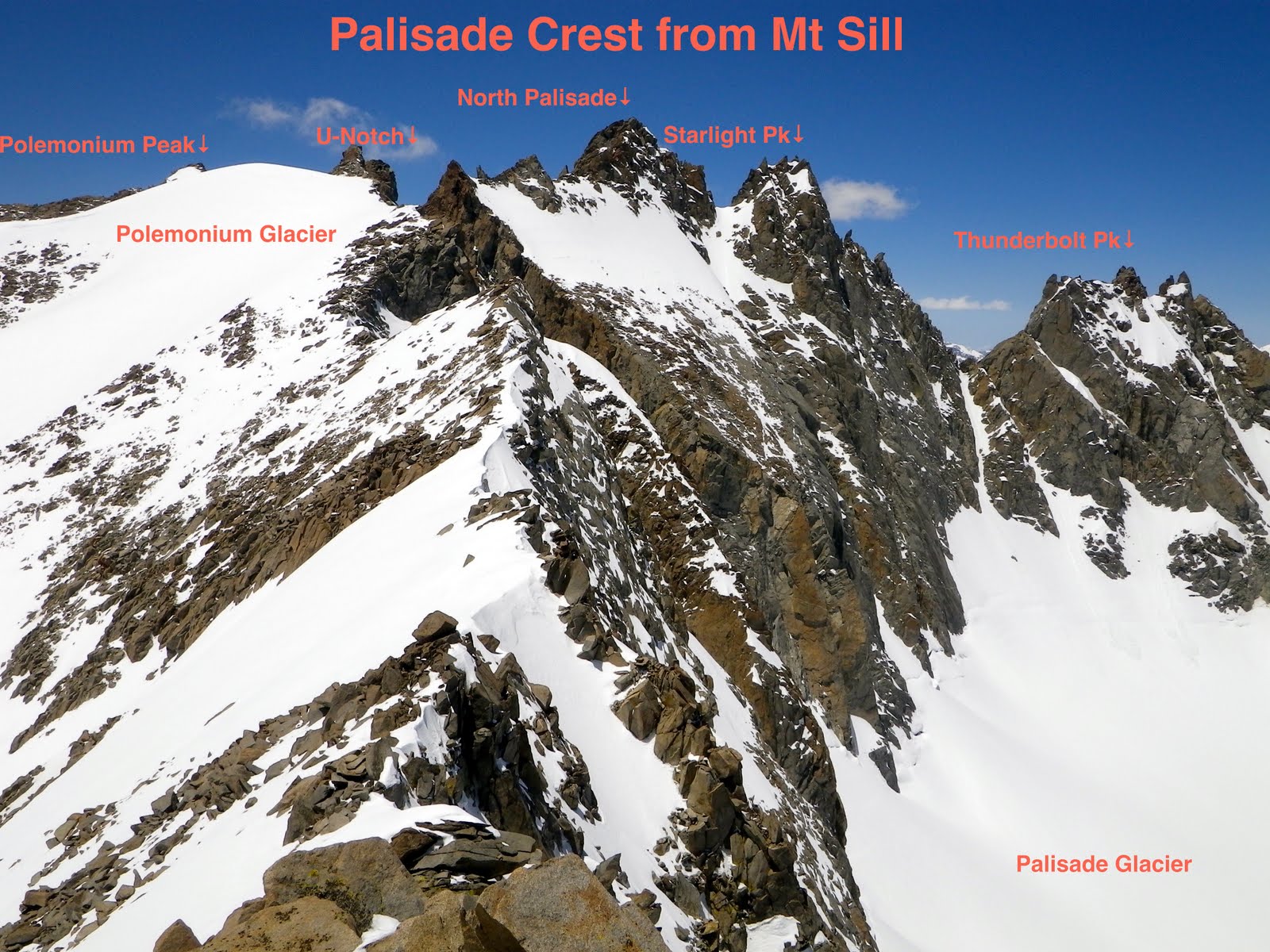 Polemonium is one of the seven 14ers in the Palisades region of the Sierra Nevada. It lies east of and is overshadowed by its more famous neighbor, North Palisade. Its high popularity is due almost entirely to its inclusion in the exclusive California 14er club.
There are a couple of chutes you can ski down from Palisades––U-notch (expert skiers, double black diamond) and V-notch (extreme). You can also ski Polemonium and Palisade glaciers.
14. Starlight Peak (14,200')
(
Class 4-5.6)
15. Thunderbolt Peak
(
Class 3-5.9)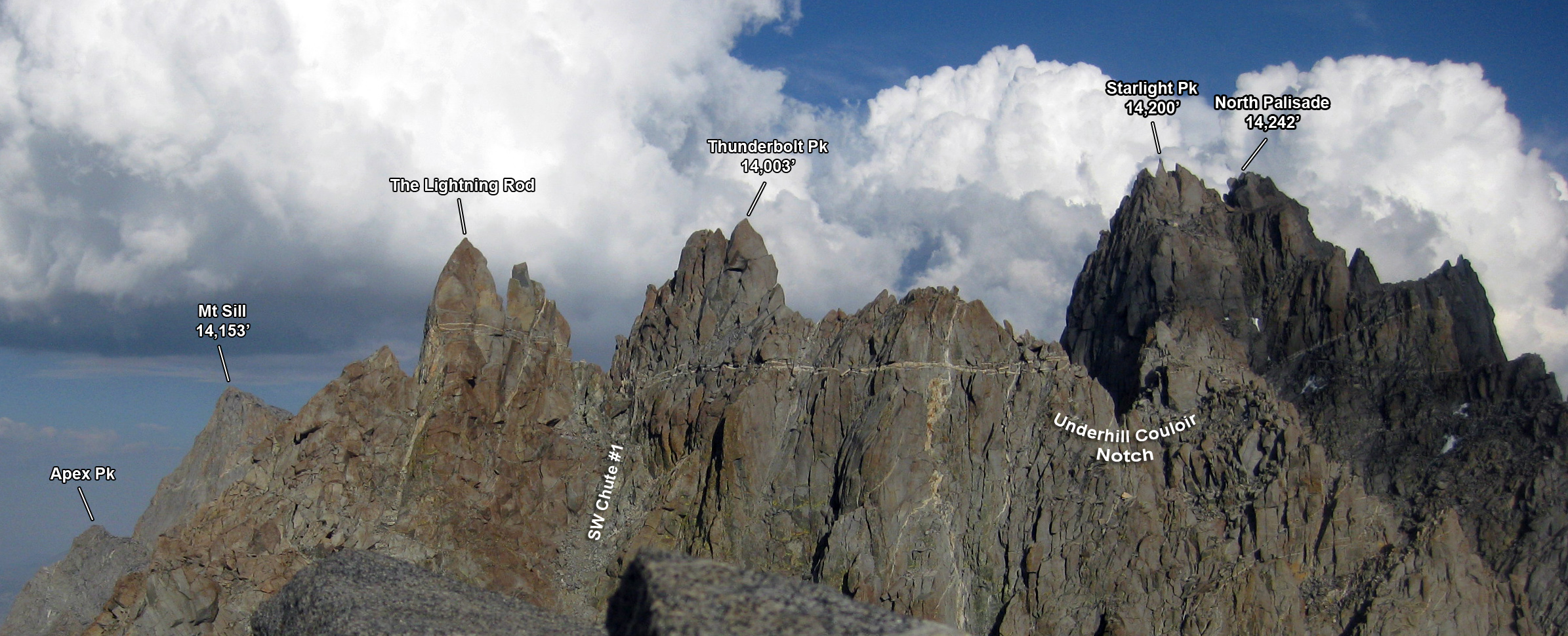 These are the most difficult peaks to climb of California fourteeners. But when you climb them, the whole Palisade Glacier will be waiting for you to ski!
Here are some useful links to find more routes info: