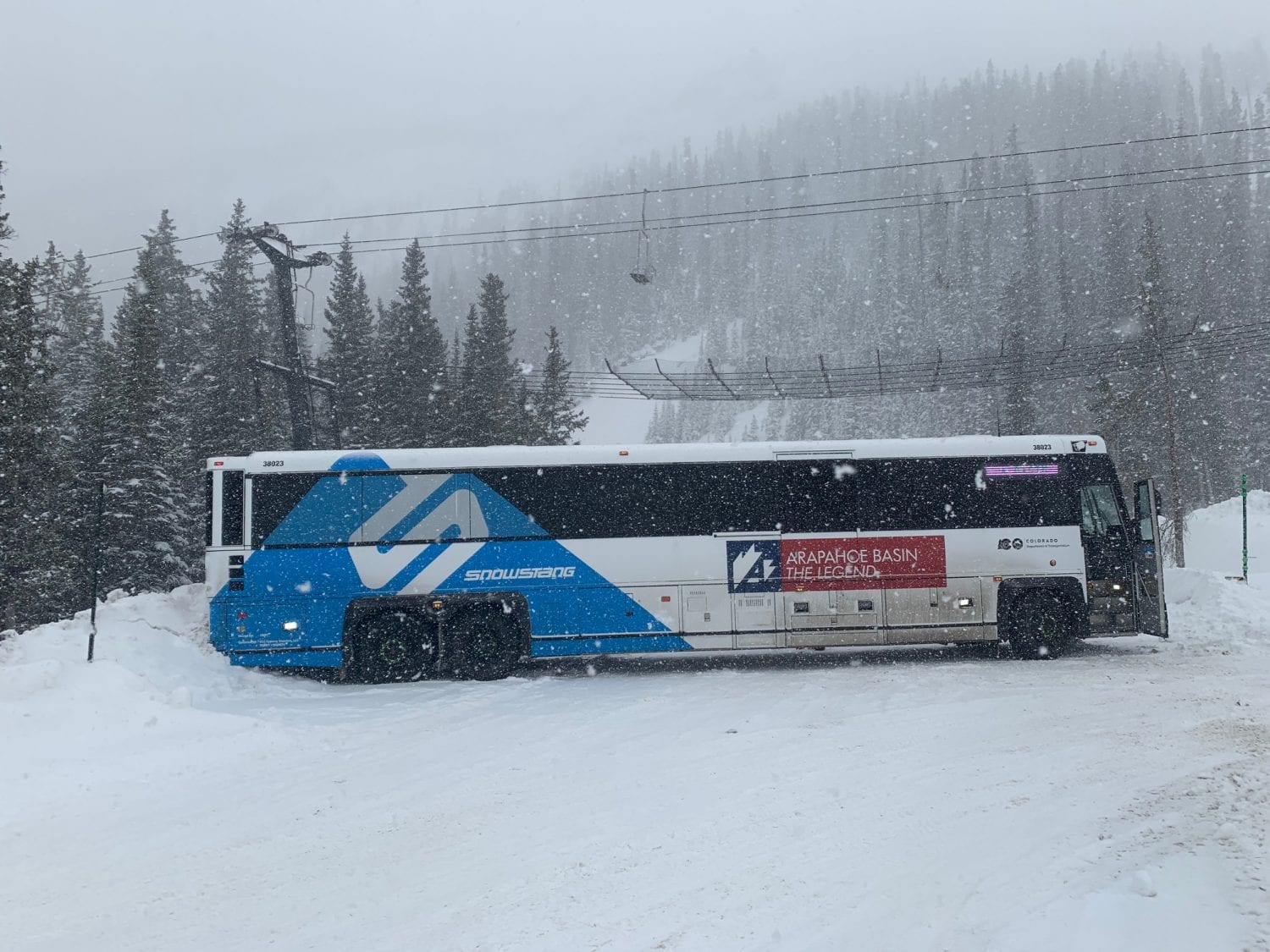 The maiden voyage of the Snowstang bus service from Denver station to ski resorts didn't go exactly to plan… the bus got stuck in snow at Loveland Ski Area!
Loveland Pass had been closed since the previous morning due to heavy snow and high avalanche danger, and when the full bus arrived at the foot of the pass on Saturday morning, the gate was still closed. While attempting to turn around, by doing a 3-point turn, the bus became stuck right across the road, reports The Denver Post.
The bus required a tow rescue from a front-end loader belonging to the ski area before the driver put chains on the bus and set off for Arapahoe Basin, arriving there over 2.5-hours late.
The rescue at Loveland Pass only took 25-minutes, the extra 2-hour delay was caused by the inevitable Saturday ski traffic on I-70, with eager powderhounds heading to resorts, many of which had reported over a foot of snow.
CDOT issued a statement Sunday regarding the incident during the A-Basin Snowstang run.
"Our contracted operator disclosed that the bus driver who departed Union Station was a last-minute replacement for the originally scheduled driver and the new driver had not participated in CDOT-led preparations and was not fully aware of the required rerouting through Dillon when adverse conditions close Loveland Pass," CDOT said. "That driver was replaced for the return trip to Denver. For future trips, additional training and retraining will be conducted with all drivers, including those who could be scheduled to operate Snowstang."
Riders were given full refunds of their round-trip fare ($25), along with gift cards worth $25 at A-Basin. In addition, CDOT said it will issue riders $15 vouchers for future trips.