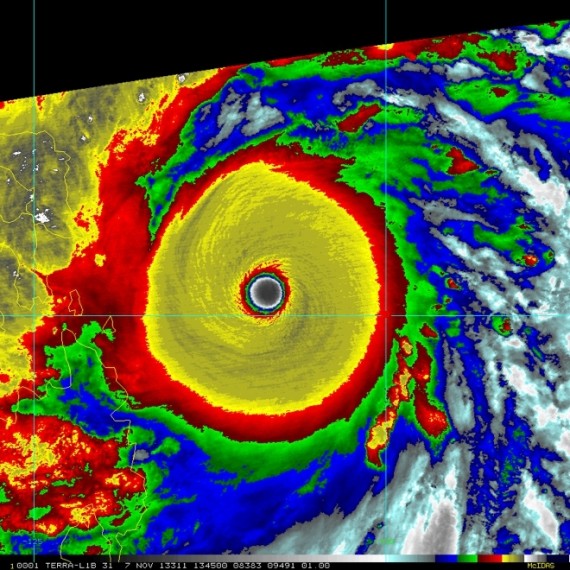 Super Typhoon Haiyan may have the highest wind speed of any storm to ever make landfall.  Winds were blowing 195mph with gusts up to 220mph when the storm first hit the Philippines today.  Wind speeds in this range are extremely rare.
Only 3 storm have ever been recorded with wind speeds near this magnitue:  Hurricane Camille in 1969, Super Typhoon Tip in 1979, and Hurricane Allen in 1980.
The Philippines are being hit by Haiyan right now and large scale damage is forecasted to occur and has already occurred.  A foot of rain is forecasted and storm surge is predicted to bring 23-foot waves to Philippine shores.  Those big waves combined with a forecasted 16.4-foot storm surge high tide today is a deadly combination.
Super Typhoon Haiyan Statistics:
– Category 5 Hurricane (highest, most destructive category)
– Hitting the Philippines right now
– 600km (372 miles) wide
– Winds are blowing between 175 and 220 mph
– A foot of rain is forecasted
– 4.5 million people evacuated