The snow-covered mountains and ski life don't typically coincide with the concrete jungle, hustle and bustle of big city life. However, a handful of large cities across the United States boast, or at least try to, calling themselves big ski cities.
This list is geared toward the 'call your boss and take a sick day' powder hounds, the 'ski as much as you can regardless of the conditions' crowd, and frankly, anybody moving to a big city with one crucial deciding factor on their mind: snow, and lots of it. To keep things simple, straight to the point, and not too far-fetched, only a few different but important factors were considered.
The population of the city, not metropolitan (according to July 2022 census)
Number of ski resorts that are within a reasonable day trip (drive, ski, drive home)
Which resort in that drive has the highest annual-snowfall
Denver, CO
One of, if not the most often referred to and sought-after place for skiing and snowboarding in the States and around the globe, Denver is known for world-class skiing and riding. Home to 713,252 people, many of which are there for skiing and snowboarding. The ruthless drive down the infamous I-70 can guide you toward 15+ ski resorts. Of these, Wolf Creek Ski Resort, just over four hours southwest of Denver, sees an incredible 430 inches of annual snow.
Salt Lake City, UT
A quickly growing destination and hub for skiers, snowboarders, and adventurers in general, Salt Lake City is home to 204,657 people. This big city is rapidly growing, largely thanks to what Utah is widely known for in the ski world: the greatest snow on Earth. 15 different resorts offer a variety of terrain with some of the most challenging advanced and expert riding around. Brighton Ski Resort averages over 500 inches annually, and neighboring Alta just saw over 900 inches of record-breaking snow this past 2022-2023 season.
Anchorage, AK
The ultimate city escape for skiers and snowboarders, stunning Anchorage is home to 287,145 people. While there are only a few major ski resorts in the area, all of the snow, terrain, and good times imaginable can still be found easily. Boasting over 500 inches annually at mid-mountain and 650+ at the summit, Alyeska Ski Resort is less than an hour's drive southwest along the Turnagain Arm from downtown Anchorage.
Reno, NV
The Biggest Little City in the World, Reno, also has a quickly growing population of 273,448, a big reason being the close proximity to the Sierra Nevada Mountains. Within just a short one to two-hour drive, a dozen ski resorts scattered around the Lake Tahoe Basin offer truly one-of-a-kind skiing and snowboarding. I-80 allows quick and easy access to Sugar Bowl Ski Resort, where 500 inches of annual snowfall pummel these beautiful mountains.
Portland, OR
Downtown Portland is known for many things, and skiing and snowboarding may not usually be at the top of that list. However, 635,067 people are not far from some incredible skiing and riding all across the Pacific Northwest. There are more than ten ski resorts to choose from, some of which include night skiing and even summer skiing into August. For the most snow in the region, Hoodoo Ski Resort sees an average of 450 inches of snowfall annually.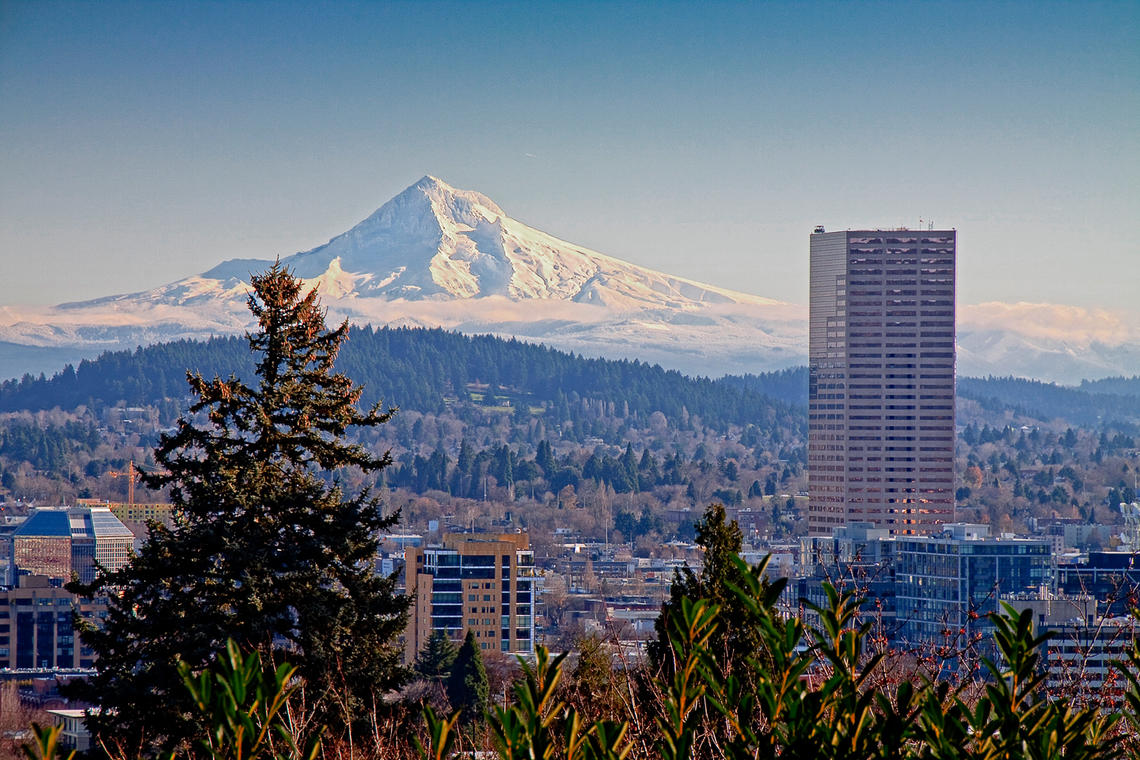 Seattle, WA
When Seattle comes to mind, some may first think of 'Rain City' and the cloudiness that comes with its coastal location in the Cascade Mountain Range. The 749,256 people that live there know that this city has much more to offer. A dozen ski resorts in the area can often see a ridiculous amount of snowfall pile up over the course of a season. Mt Baker Ski Area receives a staggering 650 inches of snow annually, just a portion of what they saw back in 1998-1999.
Boston, MA
Most of the east coast is typically not thought to be an ideal location for those with skiing and snowboarding as a top priority.  Yet, Boston and the 650,706 people in the city have quick and direct access to a ridiculous amount of ski resorts. Nearby New York accounts for 52 of those, the most in the United States. One of the "beast coast's" best, Jay Peak Ski Resort, in northern Vermont (nearly Canada), sees an amazing 350 inches of annual snowfall and is under four hours from downtown Boston.