This summer, it snowed on August 31st. While early snows certainly aren't unheard of here in Jackson, WY, this particular storm really cramped my style since I was planning on going on an alpine adventure September 1st. I discussed the snow with my adventure partners and we still decided to go for it and bag Mount Woodring.
So, at 6 a.m. on September 1st, we started hiking from the trailhead of String Lake in Grand Teton National Park to get to Mount Woodring. We picked a lesser-known peak located in Paintbrush Canyon for our objective that day in the hopes of avoiding summer crowds.  It worked, we saw no one else on the mountain all day and we saw one other party by Holly Lake at the base of the mountain.
It was super foggy that morning which made for an eerie start to the day.  Trees loomed out of the fog and visibility was limited.  We crossed over the bridge between String and Leigh Lakes and hiked through the trees for a large portion of the way.  While in the trees, we had some unexpected encounters in the form of three bull moose.  A few miles into the hike we rounded a corner and saw a big bull posted up a few feet from the trail munching his way through the greenery there.  We backed up and bushwhacked our way over to the trail after the corner. It was a cold dewy morning and we were immediately soaked through and out of breath, but we thought we had solved our moose problem.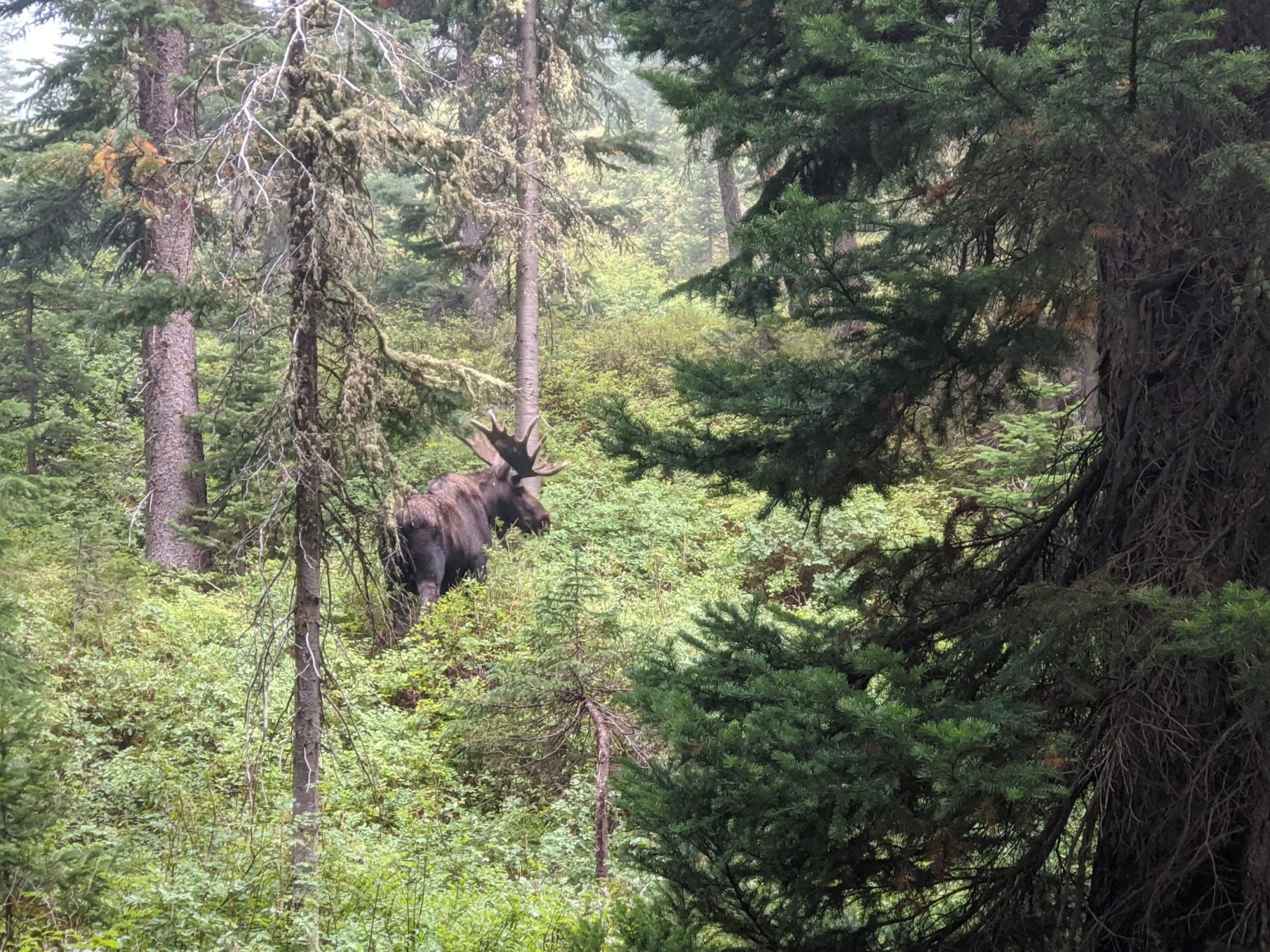 And then we rounded the corner.
There were two more bull moose standing in the middle of the trail, also quietly munching and enjoying the morning.  This posed a problem.  We were now stuck with one giant bull at our backs and two bulls in front of us with no easy way around.  We quickly conferred and decided it would be best to bushwhack uphill at an angle to avoid disturbing the two bulls on the trail and get around them.  Seemed like a good plan.  So, we started climbing uphill through chest-high bushes and became even more drenched and cold.  We had barely gone 20 feet when I managed to slip off a log and sprawl ungracefully in the bushes.
It was at this moment that the two bulls decided to come up the hill.
My two friends quietly urged me to get up and get out of the way. I was terrified.  Stuck down on the ground surrounded by bushes I couldn't see the two moose, I only heard two huge shapes crashing through the undergrowth near me and felt the ground vibrating. It was a very Jurassic Park moment.  Like that scene where the velociraptors are stalking them through the tall grass and you can hear them but not see them, like that.
I have never felt so helpless and scared as I laid frozen in the bushes hoping a moose wouldn't appear out of nowhere and trample me.  I snapped out of it pretty quickly and half-rolled half-fell down the hill back onto the trail.  My two partners joined me, and we took a beat to re-assess and decide what to do.  We waited for a little until the two bulls moved farther up the hill then booked it along the trail past them.
Once we were far enough away, we stopped, and I took a break to shake out some jitters and warm up.  We were now mostly out of the trees and officially in Paintbrush Canyon and it was gorgeous.  There were mountains on either side of us, the sun was just starting to burn off some of the fog and there were clouds swirling dizzyingly all around us.  I was freezing for most of the way until we got up to Holly lake.  From there we could see our way up Mount Woodring, and we could see the Paintbrush Divide.
At Holly Lake, we snacked and got ready for lots of vert.  Since this was not a popular mountain, there really wasn't any sort of a trail to follow.  We had read a guidebook that described several routes up Mount Woodring and picked out the route we wanted.  We ended up taking a different gully one to the right of the beta we read. The first part of the ascent was lots of steep loose rock and no trail, so we made our own switchbacks.  We took our time and ate lots of snacks.  Roughly halfway up there was a lot more solid rock to hang onto and scramble over.
What was supposed to be a class II route ended up being more of a class III, class IV scramble. Once we got up to the solid rock, we somewhat intentionally picked harder ways which required some climbing moves and scrambling. The higher we got the more snow there was on the rocks and I ended up pulling some sketchy moves on snowy rocks which may or may not have been stable.
There was a point where we reached a ridge at the top which I thought was the summit.  We then realized we needed to follow that ridge for a little while to reach the actual summit.  The top was gorgeous.  We were still socked in by clouds so we would get small glimpses of the view. On one side was the steep, loose scree slope that we came up, the north side of Woodring was an immediate drop down into Leigh Canyon.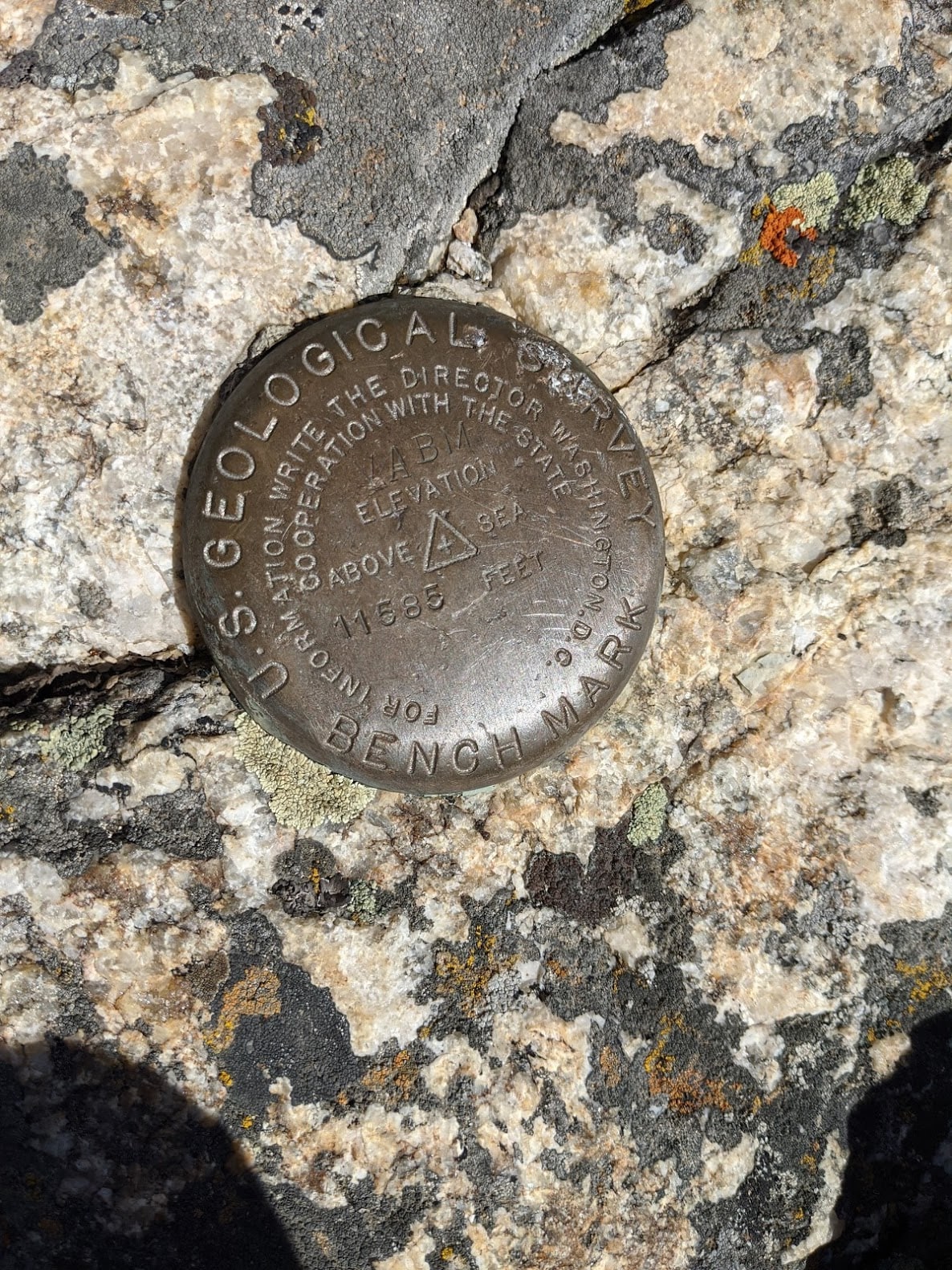 From the summit, we had an incredible view of the Grand, Mount Moran, and Jackson Lake.  The longer we sat up there the more the clouds cleared and the prettier it got.  We sat at the summit for a while and enjoyed the different views and hoped the clouds would clear enough that we could see our way back down.  We discussed different ways to get down and decided to try a route slightly over from where we came up in the hopes it would be a little easier.
There was a little bit of downclimbing but for the most part, going down was just a game of controlled sliding through the loose rock. My knees were miserable since I had just done Buck Mountain two days before and was definitely punishing my body.  The way down took a while but there were no more mishaps.  The hike out passed quickly, and we made it back to the car with no more moose encounters.
We rewarded our tired calorie-starved bodies with some well-deserved Dairy Queen, and I slept for roughly 12 hours that night.