Brought to you by The Vermont Department of Tourism and Marketing
As a native New Englander, Vermont skiing has always been something special. Growing up, my dad and I would drive hours past our local resorts and head straight for Vermont. The trails were more challenging, the snow was deeper, and the trees seemed to grow the perfect distance apart. 
With over 20 ski areas in Vermont, there's no shortage of great options. Here's a small selection of the best glades and steeps The Green Mountain State has to offer.
Mad River Glen – Paradise
If you bottled the soul of Vermont skiing and reincarnated it into a single trail, Paradise would be it. The trail opens with a mandatory drop off a frozen waterfall, followed by bumps, trees, and cliffs throughout the rest of this steep, technical line.  It's a hidden gem – take a hard right off the single chair, sidestep uphill, and glide down the "road to Paradise" (it wasn't even on the trail map until 2004.) Mad River Glen's slogan is "Ski It If You Can," and Paradise won't disappoint.
Runners up: Chute, Liftline, and so many runs not even on the map…
Stowe – The Front Four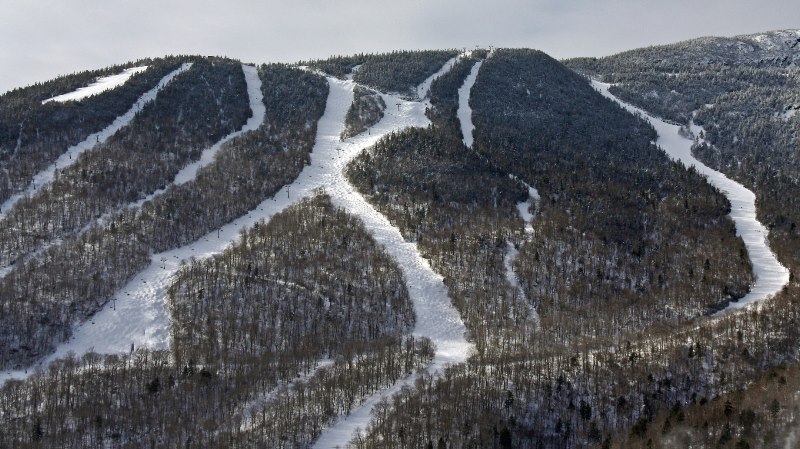 If you like steeps, zip up the Four-Runner high-speed quad and drop into Stowe's famous "Front Four" – Starr, National, Liftline, and Goat. As some of the original double-black runs on the mountain (Liftline was cut in 1940), they're pure old-school Vermont – steep and narrow with natural snow and double fall lines. Warm-up on Liftline and National, but bring your A-game for Starr and Goat. Duck into the well-spaced trees adjacent to the Front Four for fresh tracks and a little reprieve from the moguls!
Honorable mention: Nosedive (Stowe's original trail)
Jay Peak – Beaver Pond Glade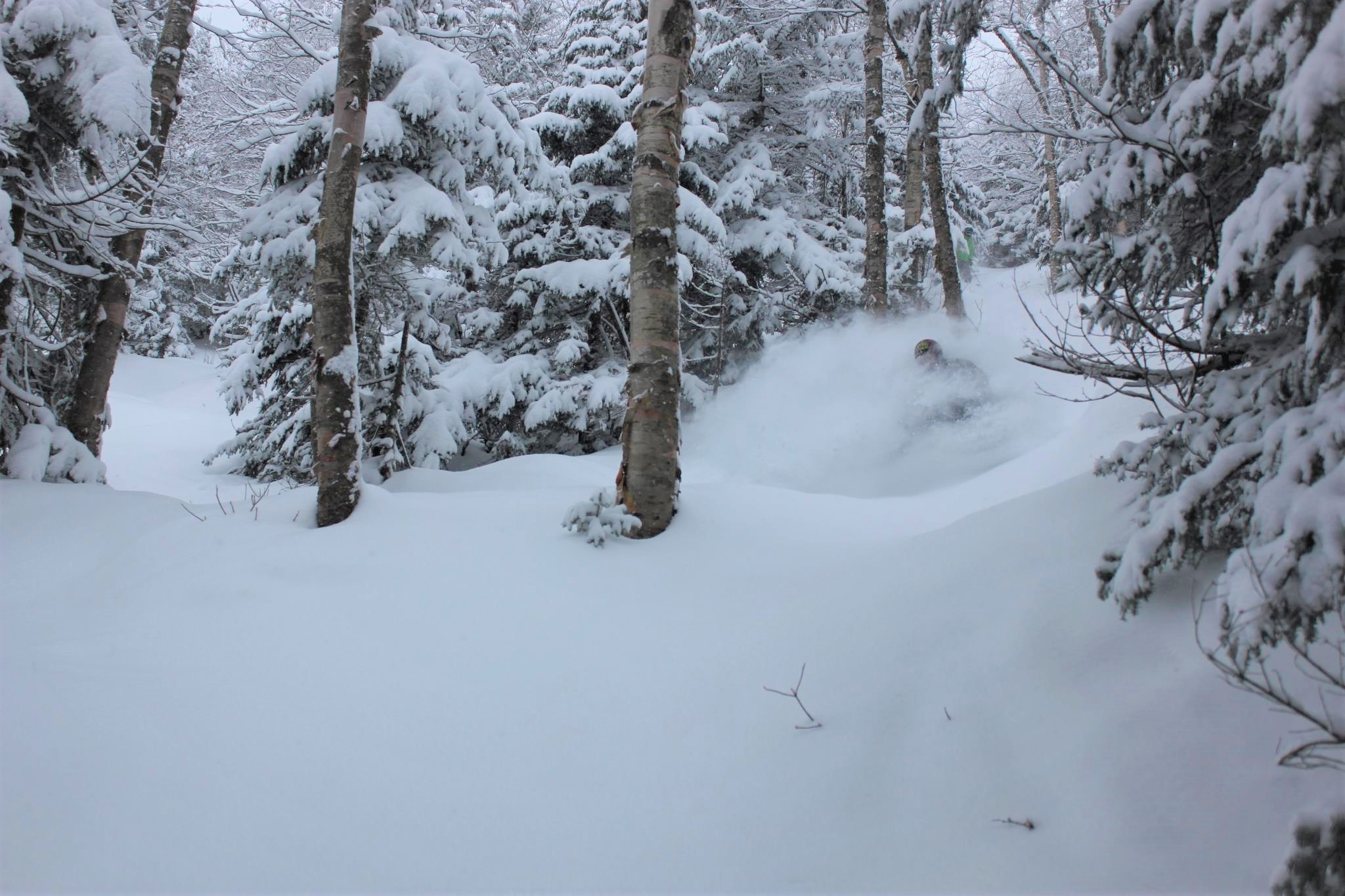 Powder day at Jay Peak? (…probably, they get 359" of snow a year.) Show up early, grab the first tram, and head straight for Beaver Pond Glade. It's not the steepest run at Jay, nor the most challenging, but the trees are beautifully spaced, and the line choices seem endless. Traverse deeper into the adjacent Andres Paradise for fresh turns late into the day. With over 100 acres of gladed terrain at Jay Peak, the mountain is a tree skier's heaven. 
Other favorites: Everglade, Green Beret, Face Chutes
Smuggler's Notch – Upper Madonna Liftline 
Smuggs' is known as a family-friendly local resort (which it is), but one lap on Upper Madonna Liftline might change your mind. Consistently ranked as one of the steepest and most challenging runs in the East, it's home to 1400+ vertical feet of moguls, unavoidable rock ledges, and the intangible pressure of skiing right under the lift. Plus, it's only about 56 feet wide. Upper Madonna Liftline has to be one of my favorite runs at any resort, anywhere – East or West Coast.
Don't miss: Black Hole (triple black diamond tree skiing!)
Killington – Outer Limits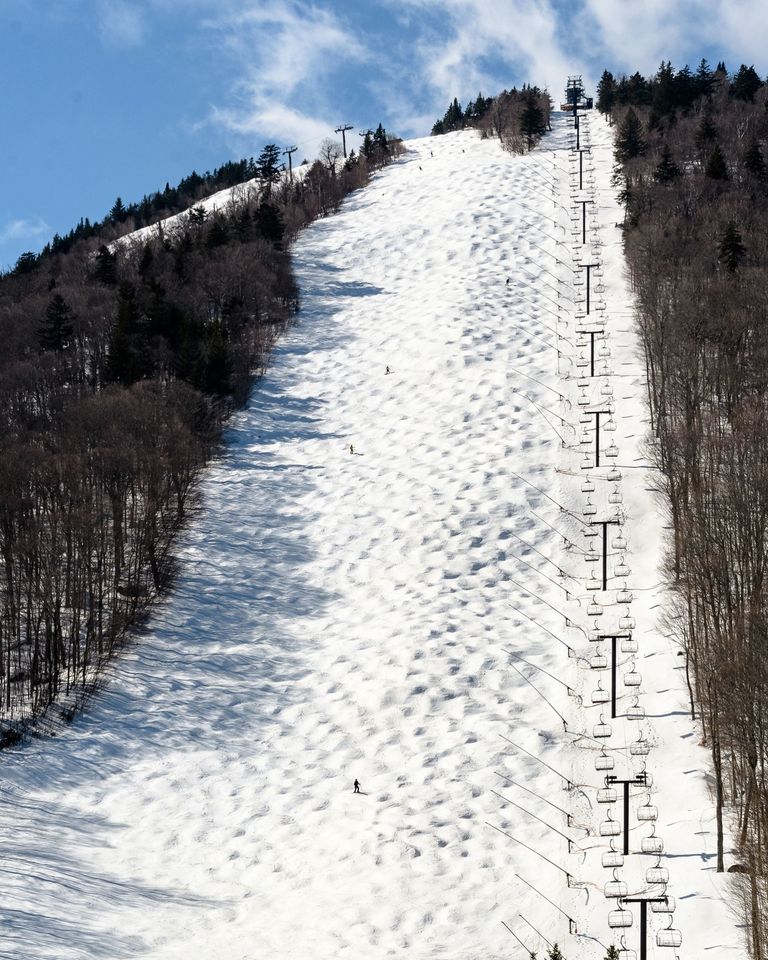 In the late 70's Killington cut a new trail on Bear Mountain called Outer Limits. With a sustained pitch of 30 degrees, it was deemed too steep for training by alpine racers. It's since become legendary among mogul skiers as the longest, steepest bump run on the East Coast. Pulling into the Bear Mountain parking lot (a good place to park to avoid crowds), Outer Limits hits you right in the face. Lap it as much as you can, but save some legs to explore the rest of the mountain. Killington truly is "The Beast of The East."
Other must ski runs: Superstar, Double Dipper, Julio, Low Rider
There's so much good skiing in Vermont, it's hard to boil it down into one article.
What are your favorites? What did I miss? Comment below!