The temperature is dropping and snow is falling. Winter is finally here and with that comes slippery roads and slower travel. We all know to take extra caution while driving during wintry conditions. However, what most people are not aware of are the dangers of bridges.
Bridges are situated at higher elevations, making them much more susceptible to cold temperatures and high winds. They are also exposed to air on all of its surfaces, whereas roads are only exposed on the surface. With cold air passing on top, underneath, and on its sides; snow and ice accumulate faster than roadways. That being said, there is an element of surprise when it comes to the dangers of bridges.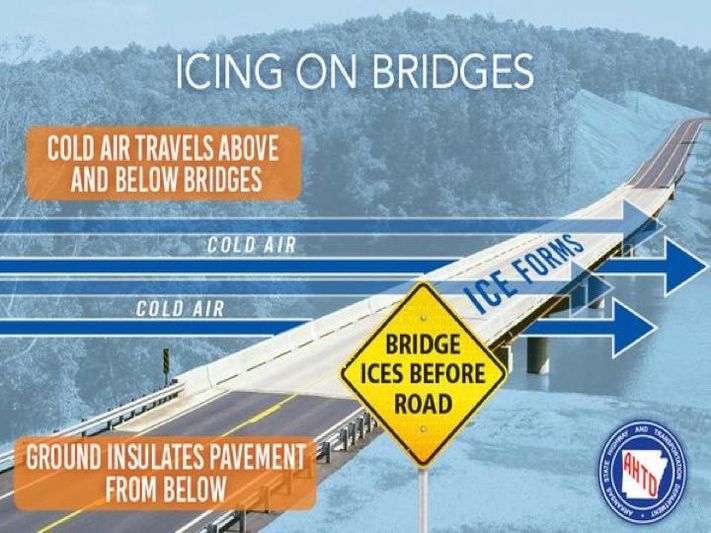 Drivers are caught off guard transitioning from dry, warm roads to ice-covered bridges. This quickly leads to a sudden loss of control and commonly results in multiple accidents. Statistics show that icy bridges cause more fatalities than tornadoes, lightning, and floods combined each year.
Another major threat is black ice. Known for its hazardous nature, black ice is a thin coat of highly transparent ice formed when the snow melts during the day and refreezes once temperatures drop. With its thin layer, it blends into the pavement making it the color of the road it forms on. Bridges are prone to black ice because pavement temperature is low due to cold air and wind surrounding the structure.
Here are a few safety tips for driving over bridges:

1. Stay aware of the weather. Always check prior to any travel.
2. Know the difference between sand and salt. If sand is used in your region, conditions will be slicker since sand does not melt ice.
3. Know the warning signs of an icy bridge. If temperatures are near or below freezing, precipitation is likely to freeze and cause ice.
4. Reduce your speed and drive with caution.
5. Avoid braking, accelerating, or changing lanes on bridges.
Hazardous driving conditions are inevitable during the winter months. Knowing where and what to look for will lessen the likelihood of accidents and ensure safer travel!