As winter rapidly approaches, Aspen Snowmass, CO is preparing for the upcoming ski season with new infrastructure, deals, expanded programming, and improvements.
Currently under construction, the new Limelight Hotel Snowmass is scheduled to be completed December 2018 with 99 hotel rooms, the tallest rock-realistic, indoor rock climbing wall in Colorado and an open-concept lounge that will offer daily après ski specials. Alongside the hotel, a new 409 square-meter Four Mountain Sports store is being constructed as well. The Limelight Hotel Snowmass and the new Four Mountain Sports store are all part of Snowmass Base Village's $600 million mountain-resort development, currently the largest under construction in North America.
For families, a new Fort Frog children's play structure will debut at Buttermilk this winter and the Ski & Snowboard Schools of Aspen Snowmass will offer a week-long adventure camp called Kids Mountain Explorers.
Other deals, programming, and perks include a $60 lift ticket in celebration of Aspen Highlands and Buttermilk turning 60, the continuation of the Friday Morning Uphill Breakfast Club at Buttermilk and the latest version of the Aspen Snowmass App that will offer new rewards and year-over-year stats and tracking.
The following details what's new at Aspen Snowmass for the coming winter 2018/19 season:
New Capital Improvements
New Limelight Hotel Snowmass
Aspen Skiing Company (ASC) is well underway with construction on the new Limelight Hotel Snowmass for a scheduled completion date of December 2018. The new hotel will feature 99 hotel rooms and 11 for-sale condominiums, plus a new restaurant, a children's game area as well as a five-story climbing wall that will be open to the public and the tallest of its kind in the state. Modeled after the company's existing properties in Aspen, Colo. and Ketchum, Idaho, the hotel will be located adjacent to Snowmass Mountain's Elk Camp Gondola providing ski-in/ski-out access. The new hotel property will remain consistent with the Limelight brand featuring amenities and extras such as an expanded continental breakfast, après ski deals in the Lounge, live music, adventure activities such as First Tracks and Inside Tracks, a ski concierge as well as pet-friendly rooms. The hotel is pursuing a LEED certification. For more information, visit www.limelighthotels.com/snowmass. Rates from $350 per room on a bed and breakfast basis.
Snowmass Base Village Development
Located at the base of Snowmass Ski Area in the heart of Snowmass Village, Colo., Snowmass Base Village (SBV) is a $600 million mountain-resort development, currently the largest under construction in North America. This approximately 10-year project will add lodging, residences, restaurants, retail, and amenities to the world-class resort. Completion of the first phase of construction is slated for November 2018, with a grand opening celebration to be held Dec. 15, and includes the Limelight Hotel, ski-in/ski-out residences, public events plaza with ice skating rink, cozy fire pits, and community building. Development is currently ongoing for the following:
The 99-room, 11-residence Limelight Hotel.
A central public events plaza that will serve as the community's gathering space with an ice-skating rink in the winter and events lawn during the summer, as well as fire pits, children's pop-up fountains and other community amenities. Scheduled completion November 2018.
Lumin, a residential condominium building adjacent to the Plaza and Elk Camp Gondola with three residences and a Four Mountain Sports store. Scheduled completion Winter 2018/19.
A new Four Mountain Sports Store in Snowmass Base Village located right next to the Elk Camp Gondola. The store will offer ski and snowboard rentals as well as retail clothing and gear. Scheduled completion Winter 2018/2019.
For more information about the Snowmass Base Village development, visit www.allinsnowmass.com.
New Fort Frog Under Construction at Buttermilk
A new wooden, frontier-style fort is under construction in the woods of Buttermilk. The kid's play structure will include lookout towers, a jail, a swinging bridge, a saloon with a candy bar, a post office, a turbo twister slide and more. The fort was named after Greg Fortin, a long-time ski instructor at Buttermilk in the 1960s, 70s, and 80s, and is a memento to his legacy. The newly constructed fort will debut this winter and is accessed by skiing or snowboarding to the fort.
Sustainability
Give a Flake
With its 2018-19 national advertising campaign—Give A Flake—Aspen Snowmass has once again departed from traditional ski resort marketing to invite visitors to join the ski resort in becoming activists on behalf of climate change and equal rights. In a quest to take action and to continue to lead the way in sustainability, Give A Flake mobilizes the outdoor sports community to lobby the US Senate to make meaningful change for the environment.
How Aspen is already leading the way in sustainability:
Capturing Coal Methane: In 2012, Aspen Skiing Company partnered with the Elk Creek coal mine, Holy Cross Energy, and Vessels Coal Gas to capture waste methane vented from a coal mine in neighboring Somerset, Colorado. The three megawatts of baseload power generated from the project has produced as much energy as Aspen Skiing Company uses annually, and by destroying methane, the project has eliminated three times the carbon pollution created by the resort each year. This project is the only one of its kind in the United States.
Other Green Power Sources: In 2008, Aspen Skiing Company installed a 147 kW solar array at Colorado Rocky Mountain School in Carbondale, Colorado. The array is currently powering the school's science building and feeds excess energy into the town of Carbondale's power grid. Annually, it will produce 200,000 kWh (enough power for 20 average American homes) and keep 400,000 lbs of carbon dioxide out of the air. In addition to this array, Aspen Skiing Company operates arrays at Thunder River Lodge, The Little Nell, and Aspen Highlands Patrol Headquarters. To further reduce its C02 emissions, Aspen Skiing Company developed a 115 kW micro-hydroelectric plant on Snowmass Mountain, which uses water from a snowmaking pond and prevents the emission of 300,000 pounds of carbon dioxide.
Composting: An initiative started almost five years ago by Aspen Skiing Company, the majority of on-mountain restaurants have made the commitment to composting food waste.
Straw Free: The Limelight Hotel Aspen, Limelight Hotel Ketchum, The Little Nell, and all Aspen Snowmass food & beverage outlets are going straw free, meaning plastic beverage straws are no longer provided.
For more information about Give A Flake, visit www.GiveAFlake.com.  
For more information about Aspen's sustainability pledge, visit: www.aspensnowmass.com/we-are-different/our-environmental-commitment
Lift Ticket Artwork
Aspen Snowmass announced Brooklyn-based artist Hank Willis Thomas as the 2018-19 winter season lift ticket artist. This will mark the 14th consecutive year that Aspen Snowmass has partnered with an acclaimed artist to design the lift ticket. The six featured lift ticket designs are derived from Thomas' series titled Fair Warning, which features text-based works from 1960-80 cigarette advertisements. By isolating these texts from the original advertisements, Thomas creates a dialogue around oftentimes gendered advertising ideals, including sexuality, style, and power.
For more information about the Lift Ticket Art Program, please visit: https://www.aspensnowmass.com/we-are-different/art-in-unexpected-places/lift-ticket-artwork
Technology
Aspen Snowmass App—New Rewards and Year-Over-Year Stats and Tracking
The Aspen Snowmass App offers a convenient way for guests to access mountain conditions, tracked skier days, interactive mapping of a guest's movement, and information about activities, lift tickets, lessons and more. New this year, the App provides rewards and enhanced functioning of year-over-year stats and tracking. Rewards include free food and beverage credits, discounts at Four Mountain Sports stores and a credit to use toward a Ski and Snowboard School lesson. Improved tracking will now include year-over-year statistics for vertical feet and Highland Bowl laps. International visitors can use the app by logging in using Wifi before beginning tracking. The app will then use GPS throughout the day, resulting in no data roaming fees. For more information, visit www.aspensnowmass.com/app.
Future Capital Improvements
Pandora's Expansion on Aspen Mountain—New Lift, Expanded Snowmaking and Terrain
Aspen Mountain is currently going through the process of approval for the proposed Pandora's Expansion that will increase snowmaking capabilities, expand terrain and add a new chairlift. The plan aims to implement snowmaking operations on top of Aspen Mountain to encompass an additional 50 acres of terrain. The resort's current snowmaking capabilities stop short of the top of the mountain, but the proposal intends to provide top-to-bottom skiing and riding on a man-made surface. In addition, the Pandora's Expansion bids for an increase of 153 acres of new terrain bringing the mountain's total acreage to 850. The new pod will include groomed runs as well as gladed tree skiing/riding on blue and single black trails. Furthermore, the plan proposes a new chairlift that will provide direct access to the increased terrain. The current plan is dependent on the Forest Service and Pitkin County granting approvals.
Winter Operations
Aspen Mountain

Opening: Nov. 22, 2018

Closing: Apr. 21, 2019

Aspen Highlands

Opening: Dec. 8, 2018

Closing: Apr. 14, 2019

Buttermilk

Opening: Dec. 8, 2018

Closing: Apr. 7, 2019

Snowmass

Opening: Nov. 22, 2018

Closing: Apr. 21, 2019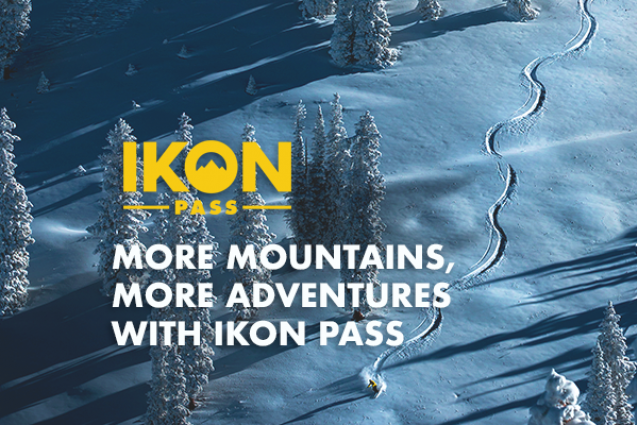 Deals
Aspen Highlands and Buttermilk Celebrate 60th Anniversary with $60 Lift Tickets
This season, Aspen Highlands and Buttermilk are celebrating 60 years of skiing and riding with $60 lift tickets. Purchasers must buy a minimum of two days to receive the discounted $60 per day lift ticket. The offer is valid across all four Aspen Snowmass mountains during the early season dates of Thursday, Nov. 22 to Friday, Dec. 21. Package must be booked with lodging through Stay Aspen Snowmass. All offers are subject to availability at time of booking. Book seven days in advance of arrival date. Call (800) 290-1326, or e-mail sasinfo@aspensnowmass.com for a customized quote sent via e-mail.
The Ikon Pass
The Ikon Pass is the new standard in season passes, connecting skiers and riders to some of the most iconic mountains across the globe with access to more than 74,632 acres of terrain at 36 premier ski and ride destinations. Aspen Snowmass is pleased to be a part of the new pass product with 7-day combined access when purchasing the Ikon Pass (no black-out dates), and 5-day combined access when purchasing the Ikon Base Pass (black-out dates included). For a detailed list of Ikon Pass resorts as well as further information, visit www.ikonpass.com.