We prematurely reported this morning that Andes Tower Hills ski area in Minnesota would be the first North American resort open this season. At the time of writing this morning that was correct, but things move quickly in the ski industry.
Wild Mountain, MN, just announced that they will be opening today at noon, pipping Andes Tower Hills by six hours.
HERE. WE. GO.
We open for skiing and riding TODAY at Noon!
Our snowmaking team hustled the last two nights, and successfully made enough snow for us to open. Yes, the 2022/23 season will kickoff at 12pm today! October 18th matches second earliest opening date in our history (we opened on October 18th in 1992). Wild's earliest opening date was October 7th in 2012.
Keep in mind that we've only had two nights of snowmaking, so our terrain will be extremely limited. We'll be opening with the Front Stage trail serviced by the Front Stage rope tow. We'll have 4-6 terrain park features available as well. We will be open today from 12pm-7pm. Then, we plan to be open tomorrow 1-7pm. We'll update our snow report and social outlets tomorrow with operating details for Thursday and beyond.
Tickets will be $25 and season passes are valid (Night Passes valid at 4pm). Of course, if you don't yet have a season pass, you should consider purchasing before rates go up on November 14.
We have early season conditions so all guests should expect bare spots, hidden obstacles, rocks, snowmaking equipment and other obstructions.
The Eagle's Nest restaurant, equipment rentals and lessons will not be available. But, interior spaces, season pass pickup, lockers and retail will be open to the public.
Our snow base is limited, so we aren't sure how long we'll be able to remain open with the current conditions… so, get in your car and get up here!
Stay tuned to our social media accounts for up-to-date operating news.
In a stunt reminiscent of Arapahoe Basin's savage last-minute opening in 2019, Wild Mountain takes the title of first to open for the second time in two years. Traditionally the first resort to open in the state, Wild Mountain shocked the big boys in Colorado two years ago by being the first resort in North America to open when it started turning a lift on October 20th, 2020.
The last couple of years has seen them open on November 15th, 2021, October 19th, 2020, October 29th, 2019, and October 21st, 2018. The earliest the resort has ever opened is October 9th.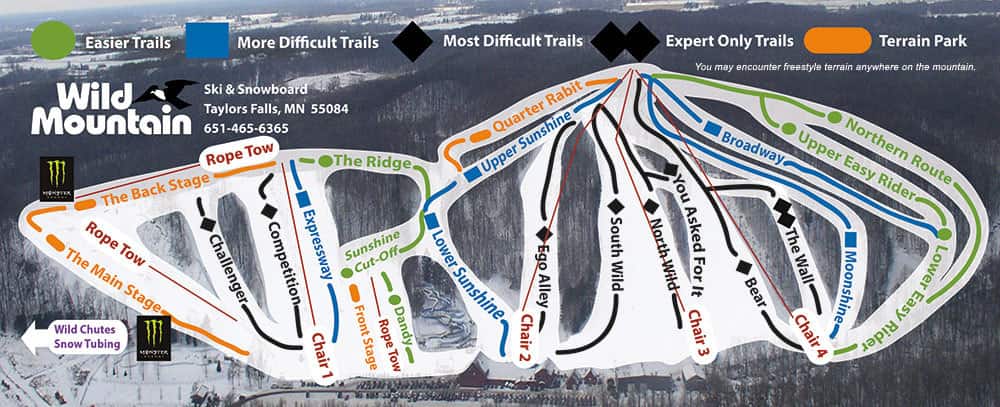 Wild Mountain is a ski and snowboard area in Amador Township, Chisago County, near Taylors Falls, Minnesota. It features 26 runs, including four terrain parks, including jumps, rails, boxes, quarter-pipes, and half-pipes, both man-made and natural. During the summer months of June, July, and August, a water park, an alpine slide, and a go-kart track become operational. The site is also the first ski and snowboard resort in the Midwest to open every year, which is usually broadcast on the local news networks.