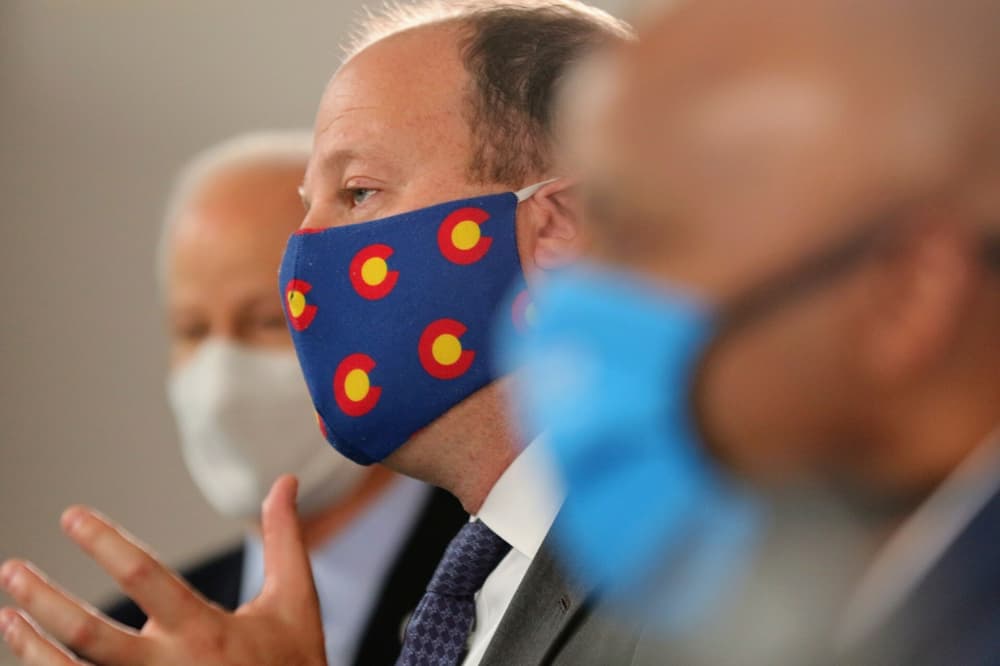 Colorado Governor Jared Polis issued an executive order on Saturday extending the state's mask mandate until October 12. The original mask mandate, already extended once, expired on Saturday. Polis extended the mandate in an effort to reduce the spread of COVID-19.
The mandate requires Coloradans to wear a mask covering their mouth and nose when indoors or when outside and six feet of distance can't be maintained.
"Our data has shown that mask-wearing has contributed to our great success thus far in reducing the spread of the virus and helping more and more of our economy re-open rapidly including our schools. Therefore we expect the mask order to stay in place and support localized efforts to continue mask-wearing and raise awareness about the importance of avoiding large groups. Masks and social distancing continue protecting the lives of Coloradans during this pandemic."

– Jared Polis told The Denver Post
The original order, issued on July 16 and initially for one month, stated that everyone 10 and older must wear a mask or other facial covering while in public indoor spaces, including retail stores. Anyone not abiding by the order may be "subject to civil or criminal penalties, including but not limited to prosecution for trespass" and businesses are being encouraged to enforce a 'no mask, no service' policy.
There are a few exemptions from the order, specifically:
those under 10-years old
those who cannot tolerate a face covering
those who are hearing impaired or who are communicating with someone who is hearing impaired
first responders
those officiating a religious service or giving a speech for broadcast to an audience
The state's R-number, the number of people an infected person infects, is currently at 0.67. Below 1 is good, meaning the spread is slowing down. When the initial mask mandate was issued on July 16th, the R-number in Colorado was 1.78, indicating the virus was spreading.
"People should know they are making a difference in slowing the spread of this virus. So please keep staying home when you're sick, and keep washing your hands, physically distancing — and, yes, wearing a mask! As mask wearing has increased, viral spread has decreased, enabling schools to open in some areas and promoting the increase of economic activity."

– Jill Hunsaker Ryan, director of the Colorado Department of Public Health and Environment
The expected extension may include some amendments, but with the current measures seemingly working, the governor may not risk and big changes. 
Colorado has seen 62,099 confirmed COVID-19 cases and 1,905 deaths due to COVID-19.
There are currently more than 30 states enforcing the mandatory wearing of masks.
Full Original Order Below: