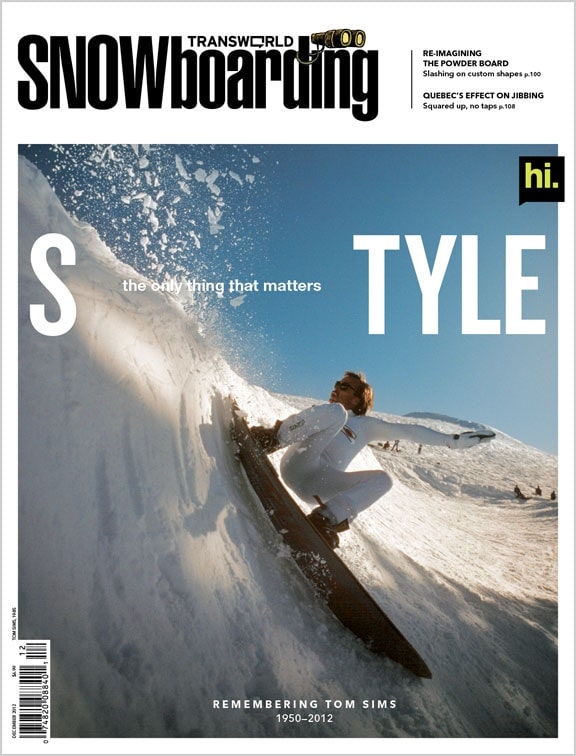 TransWorld SNOWboarding announced last week that they are calling it a day after 32 years of the most epic stoke. Owners Adventure Sports Network notified advertisers that it will be consolidating snowboard brands and as a result, the Transworld Snowboarding brand will exist no more.
"Effective immediately, Snowboarder will be the sole snowboarding brand of the new Adventure Sports Network Group, part of American Media's Active Lifestyle Group. This is a truly exciting time for Snowboarder as it heads into its thirty-second year with the most diversified and exciting content offering in its history."
Snowboarder will now be the only snowboarding brand for the new Adventure Sports Network group. Snowboarder will maintain a magazine, in addition to its websites, social media channels, films and events. Other print products that will remain include Surfer, Powder and Bike, which offer subscription and newsstand editions.
TransWorld SNOWboarding has been published since 1987 and was distributed internationally. Kevin Kinnear was the founding editor and Guy Motil was the first photo editor. From the launch of the magazine, the Transworld owners and editorial staff were instrumental in petitioning ski resorts to allow snowboarding. At its peak, it was the most widely subscribed snowboard magazine in the world with over 1.3 million copies sold annually compared to Snowboarder Magazine at 800,000 annually, which will replace it.
The closures (Transworld Skate, Transworld Moto, and RideBMX have also closed since the acquisition) are financially motivated and are designed to help streamline operations so more money can be invested in growth areas of the business.
TWS 3/7/19 – "For over three decades, TransWorld SNOWboarding maintained a steadfast commitment to curating of the sport's culture. From evangelizing the legitimacy of shredding in the outlaw 80s, to broadcasting snowboarding's place within the angsty counterculture of the 90s, to providing an authentic portrayal of the riding life even as the sport gained Olympic heights, we've been right there in print, online, and across social media. No matter the channel, we evolved to inform, inspire, and spread the stoke to millions.
All good things, unfortunately, must come to an end, and effective March 6, 2019, TransWorld SNOWboarding has closed; the 32nd volume of magazines will be our last, and Kamikazu will be our final film. Over the coming weeks on our site and social channels we'll publish tributes and reflections from the photographers, editors, filmers, and riders who defined the title over the years, so please check back regularly. Ultimately, the entire site will be archived online, available via search for the next generation to reference.
From everyone here at the magazine, past and present, we want to thank you, the readers and viewers who supported us since 1987. Take some turns for us; better yet, keep an eye out and take some turns with us. We'll see you on the hill."