Report from May 23, 2023
The sweet smell of sagebrush, following a deer track for a mile, vertical mountains that felt like they could fall down on me, raging rivers, pungent ponderosa odor, firm snow, corn snow, isothermic snow, cactus, mule deer, marmots, grasshoppers, and sore knees.
In 2019, we skied the chute adjacent to this chute, "Zebra Couloir" on June 1.
We came back for the "North Couloir" on Emerson on June 5, 2019 but icefall kept us out.
I've been waiting for another big season to get the "North Couloir" and this season was it.
13,118′ Mt. Emerson – "North Couloir"
Summit (actually a notch in the ridge):  13,000′
Car:  8,300′
Vertical From Car:  4,800′
Vertical skied:  1,500′ (in the chute)
Max Pitch:  45º 
Avg Pitch: 40º
Aspect:  North
Distance:  11-miles round trip 
Time From Car to Top:  7 hours & 30 mins
Car to Car Time: 10 hours & 20 mins
Recommended Equipment:  Crampons, Ice Axe, Skins
**Note:  I approached from Bishop Park Campground yesterday. In 2019 we approached from the Buttermilk Road and that approach is much better in my opinion
I woke up at 4am yesterday morning.
On the road by 4:45am.
Hiking by 5:45am through the Bishop Park Campground.
I wasn't exactly sure where to go, but a long patch of snow drew me in like a moth to flame.
I hiked up next to it and could see old tracks on it.
I felt I was in the right place.
Feeling sure I was gonna make great time, I checked my clock and saw that it had taken me 1 hour and 15 minutes just to get up the first hill out of the campground.
I took a deep breath, switched from shoes to boots and skins, and mentally digested how big a day it was about to be.
Across Hill and Dale.
Up and down and all around.
It took me 2.5 hours just to get into the Emerson Canyon.
Once in the canyon, travel got easier and more straightforward.
I made it to the bottom of the "North Couloir" and it was still in the shade.
I was sure it was firm up there so I took a 40-minute rest break and let the sun creep in.
I only had 1 ice axe and I didn't need a scary firm climb.
But that's exactly what I got.
It wasn't too bad, but it was pretty damn firm and I was pretty gripped for quite a while.
You can't fall.
You're not gonna fall.
But you can't fall.
The final pitch before the top of the chute got damn near vertical.
Luckily the snow was soft enough to kick steps and plunge my axe.
On top, I was tired.
Thunderclouds were forming all around me.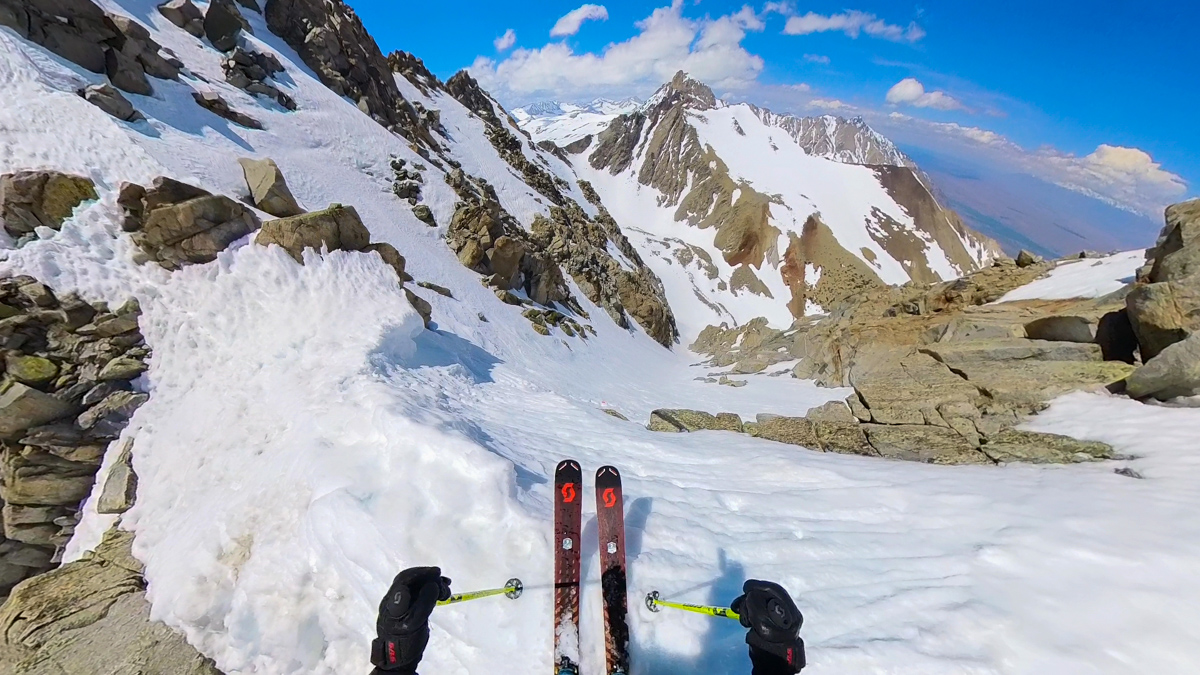 It had taken me 7 hours and 30 minutes to get to the top.
I was worked.
I organized my mind, body, and gear and dropped in.
The top section was ridiculous.
I side-steeped down it very slowly.
After that initial dose of forced fear, I was happy to be on mildly less steep ground.
Jump-turns.
After my first, I had positively identified very firm snow.
I tip-toe jump-turned down the upper section sensing the snow get slightly softer as I descended.
In the bottom half of the chute the snow got soft enough to gain some confidence and link more turns.
How did I feel blasting out the bottom of the chute?
Honestly, I felt relief.
Working in that chute was an intense 2 hours.
From there I was able to keep my skis on all the way back to the Bishop Park Campground.
One big, long traverse.
With the requisite ski rock walking, a little bush skiing, and a dirt skitter or three.
The last little patch of snow that I skied right into the Bishop Park Campground was the best snow of the day!
Delicious, steep, textured corn in the sunshine.
A great way to end the day.
From there it was a short walk in back in my shoes back to the car.
The drive home was dreamy.
Mt. Tom, Basin Mountain, Mt. Humprys, and more shining diamonds in the sky.
Music sounded especially good after this adventure.
We investigated the Lazy River after dinner and the sunset was resplendent.
We saw Mammatus clouds for the first time in our lives.
Thanks, California!
SPRING 2023 REPORTS
PHOTOS IN CHRONOLOGICAL ORDER