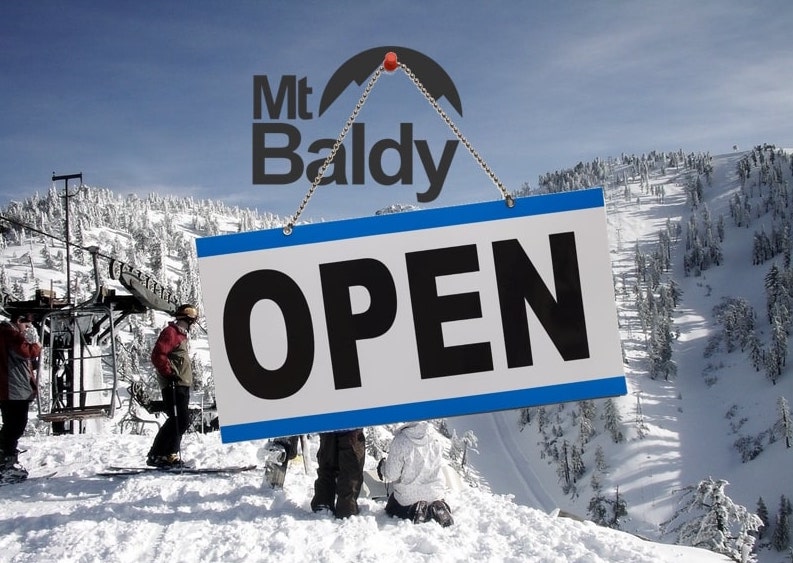 An update to Mount Baldy's website confirms that the ski resort in California will be reopening today, the first in North America to do so during the coronavirus pandemic that shuttered the industry. Mt. Baldy closed on March 20th, remaining open longer than most ski areas until quarantine measures were implemented by the state of California.
Yesterday's mountain report says that as golf courses are reopening in southern California, the resort has decided to follow suit. With 800-acres the ski area is more than 4x the size of an average golf course and will be reducing occupancy by more than 90%. Both Riverside County and Orange County announced yesterday they would be reopening their golf courses. While golf courses weren't specifically included in lists of nonessential businesses during the pandemic, about 90% of them had curtailed operations in accordance with Gov. Gavin Newsom's stay-at-home order, officials said.
Conditions and coverage are "as good as it gets for April".
The forecast calls for clear skies with warm temps through the forecast period. A moderate wind advisory is in place thru Thursday morning with varying north winds in the 10 to 25 mph range. With coverage on the mountain about as good as it gets for April and golf courses reopening around Southern California we have decided to follow suit and open for 'Ski & Ride Times' beginning tomorrow morning.

Rentals & Tubing are closed for the rest of the 2019/20 season. Expect smooth soft spring corn conditions Wednesday. There will be no grooming tonight, expect off piste untracked cream corn conditions. EXPERIENCED ADVANCED & ABOVE SKIERS AND RIDERS ONLY. Now is not the time to come learn to ski or ride.

It's on.

– Mt. Baldy Website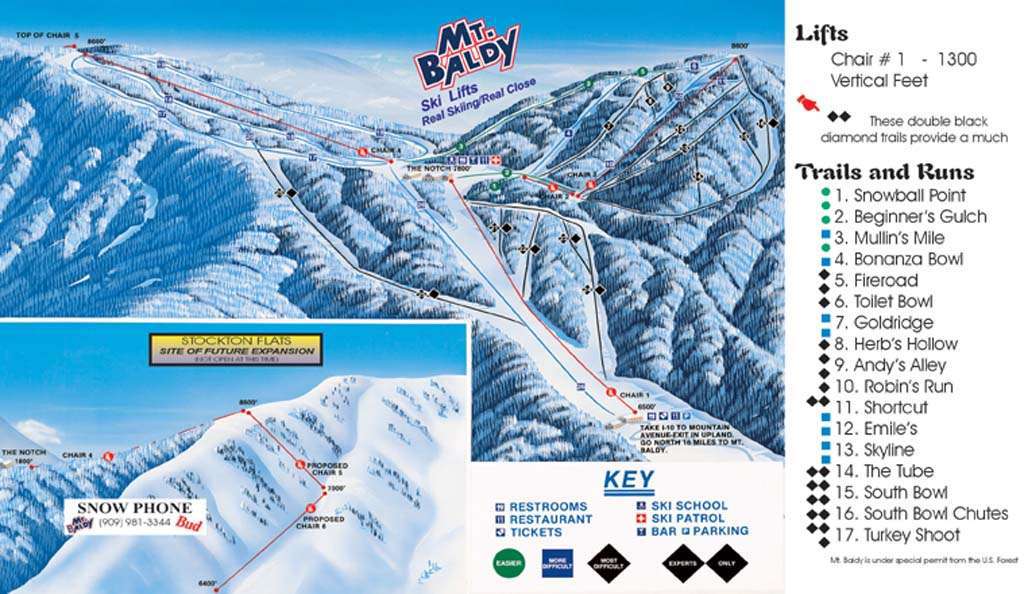 The resort is eager to point out the social distancing measures that will be implemented, which means some of their lifts will not be open and recommend that only experienced and advanced skiers turn up.
We are taking the COVID-19 crisis very seriously. Mt Baldy Resort is a unique all season mountain resort and is well designed to accommodate social distancing guidelines. In addition, we are implementing several policy changes that will help to ensure the safety and health of our guests and staff. Similar to how a golf course operates Mt Baldy will check-in a maximum of 4 individuals at 10 minute intervals. 1 Day Alpine Ticketed guests will have access to Lift #2 and #3 from that time until closing. In stark contrast to a golf course (150 acres), Mt Baldy Resort (800 acres) has more than 4x the area and will be operating at less than 10% of occupancy under this plan.

Mask or face covering consistent with Order of the Health Officer of the County of San Bernardino County for the Control of COVID-19 must be worn at all times.

– Mt. Baldy Website
Below is their full social distancing operations plan:
TICKETING & GUEST SERVICES

Only guests with reservations for 1 Day Alpine Lift Ticket and Mt Baldy Season Pass Holders will be granted access within the resort boundaries. Guest Services is NOT available at the resort. Do not come to the resort with promotional tickets, vouchers, expired purchases, applications, partner resort passes or any other inquiries. All these matters must be addressed online or by telephone. Please be patient with our very limited guest services team while we facilitate your requests.

UPON ARRIVAL

All visitors to Mt Baldy Resort will be at greeted at their vehicle upon arrival to parking lot. 1 Day Alpine Lift Ticket reservations will be checked in no earlier than their reservation time. Early visitors please queue up in your vehicles and sit tight until your reservation time. With proper identification Season Pass Holders, Scheduled Staff or Certified Government Agency Personnel will be permitted on to the property. All others will be turned away.

PARKING

To eliminate congregating all vehicles must be parked at a minimum of 3 vehicle width apart. Any vehicle not parked at least 20′ away from any other vehicle is subject to tow. Mt Baldy Resort staff will be on hand to identify vehicles not in compliance to direct tow trucks accordingly.

RESTROOMS

To avoid unnecessary contact we ask that you take care of your restroom breaks before you get to the mountain. Restrooms will be available for use at the base of Chair #1 and in the Top of the Notch Restaurant. Bathrooms are maintained and sanitized according to a vigorous schedule.

RIDING THE LIFT

All lifts at Mt Baldy Resort are fixed grip double seat carriers. We suggest that you ride by yourself unless you decide to ride with someone you are in quarantine with. Mt Baldy Resort is not the 'Quarantine Police' and does not intend to be. We ask that you treat this matter with the respect that it deserves and only ride with individuals you are quarantined with. Individuals will be loaded with skis or snowboard and one small carry along bag only.

FOOD & BEVERAGE

Pack a lunch. The Counterweight Cafe & Top of the Notch Restaurant will be closed until further notice. Sporadically refreshments may be available at the bottom of Lift #3 (Thunder Mountain) as we continue to improve operations under these scrutinous circumstances.

SKIING & RIDING

Experienced advanced and above skiers and snowboarders only. Rentals will not be available. Guests must bring their own gear. Ski & ride with caution and do not take unnecessary risks. Injuring yourself puts you and everyone involved in helping you at risk. At all times and especially when standing in line maintain a healthy distance of at least 10 feet.
Our ability to operate under these circumstances rely heavily on cooperation from everyone. If you are not feeling 100% or have any intention of not treating this situation with the respect that it deserves, stay home. Mt Baldy Resort would not be going through the difficult process of opening during these difficult times if we did not love operating this special mountain and YOU our stakeholders. Unfortunately with the limited amount of access our modified operating plan permits, we have limitations to what we can accommodate: Partner resort passes, promotional tickets sold at pre-season snow shows or any other pre-purchased online tickets will be addressed on a case by case basis prior to arrival.

Thanks for the support,

The Crew @ Mt Baldy
The scheduled opening times and lifts available are:
Chair #1 – CLOSED (breaking closures during social distancing protocol will result in criminal prosecution consistent with CA State Trespass Laws)
Chair #2 – 8:30 to 4
Chair #3 – 8:30 to 4
Chair #4 – CLOSED
One day ski or board tickets are available for $99 but are limited and currently being sold in designated time slots for up to four guests. The time you book your reservation is the time you will arrive at the ticket office to pick-up your ticket(s). Tickets cannot be redeemed/picked up prior to your designated reservation time. Walk-up tickets are not available and all tickets must be purchased in advance online.
Located 45 miles or just about an hour northeast of Los Angeles, CA, in the San Gabriel Mountains on Mount San Antonio, Mt. Baldy Ski Lifts is part of the Angeles National Forest. Baldy is approximately 40 miles northwest of the San Bernardino International Airport, but the closest airport is Ontario International Airport (ONT), about 30 minutes south of the ski resort. Mt. Baldy has a summit elevation of 8,600-feet and boasts 2,100-feet of vertical with 26 trails serviced by 4 ski lifts.