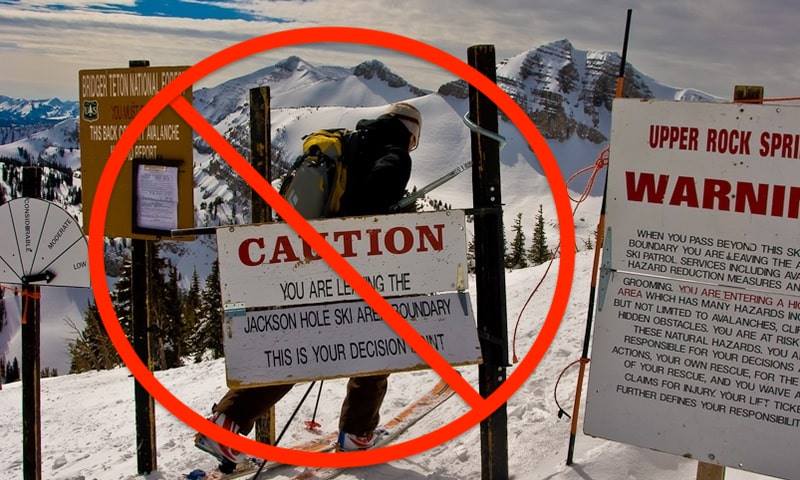 In an unprecedented move at the end of February, Jackson Hole Mountain Resort, WY closed backcountry access from the resort for three consecutive days. Officials from the resort, Teton County Search and Rescue, Grand Teton National Park and the Bridger-Teton National Forest decided to close the gates amid a storm cycle that had already dumped four feet of snow in the Tetons and raised the avalanche danger rating to "high" at all elevations.
However, as you may remember, on 28th February, a group of skiers ignored the backcountry closures, ducked ropes, and left the resort heading into the backcountry. Two of them became separated from the group, and when they failed to return, were reported lost to JHMR ski patrol.
Last month, the group was cited for violating an emergency boundary closure and disorderly conduct with creation of a hazardous condition. Each citation requires a mandatory federal court appearance and carries a maximum penalty of a $5,000 fine and six months in jail.
Three of the group have decided to fight the charges, however Jackson local Andrew Richards, 24 pled guilty. He also wrote an open letter, published on Tuesday in Buckrail as both an explanation and an apology for his actions. Richards was also ordered to pay $1,500 to the community service fund and $1,500 in fines.
The letter is below in full:
At approximately 3:45 pm on February the 28th, 2019 I made an incredibly impulsive and thoughtless mistake. This lapse in judgment, though only a few seconds in duration, cost hours of time, thousands of dollars, and most importantly put the lives of multiple people in grievous danger.

I chose to duck a boundary and ski next to the rope line that borders Jackson Hole Mountain Resort and Grand Teton National Park.

Absolutely never, was it my intention to lead anyone under the rope, let alone Granite Canyon. I was under the impression that my riding companions were taking the Craig's run to where we would meet at the lower entrance of Saratoga Bowl, as we had discussed before departing from the top of the Teton Chairlift.

Regardless of my intention, the following incident occurred and I take complete and solemn responsibility for the consequences of my action.

After making a handful of turns on the other side of the rope, I re-entered the resort onto Craigs. I looked back up the trail expecting to see my three companions making their way down the slope. As I had never skied with Ruth or Natalie and was not aware of their abilities, I paused to make sure they were doing ok.

Moments later, I watched as Ruth rode towards me, adjacent to the rope, and re-enter onto Craigs as I had done. It was at this moment that I realized Ruth had followed me under the rope and Joe and Natalie had potentially followed as well. After waiting for 2-3 minutes with no sign of the other two, I knew something had gone terribly wrong. Ruth and I made our way to the bottom, briefly stopping at the lower entrance of Saratoga Bowl, hoping that Joe and Natalie had skied ahead of us or taken a different trail to our rendezvous point.
Upon reaching the base I was able to make voice contact with Natalie from my cell phone. I asked if she knew where she was, to which she replied, "No, I think we are lost".

Understanding both the severity of the avalanche danger & the terrain in which they must have entered, I immediately told Natalie not to move and for her to direct Joe to do the same. I then asked Natalie to send me her GPS coordinates, how much battery life remained on her phone, and to describe the steepness of their surroundings (relative to an in-bounds run). I then reiterated for them not to move and that I was going to Ski Patrol with the information they had given me.

I went directly to the Ski Patrol Station at the base of the Cody House where I turned myself in and provided as much information as I possibly could to aid the rescue effort. The rest of the narrative you will know from the official reports.

I was aware that having broken the law, I could face legal punishment, lose my job, and my employee housing as a result. However, I was determined to expeditiously rectify my poor decision with a series of decisive actions and absolute transparency, the result of which I prayed would save my companions.

It is unlikely I can ever fully express both my gratitude and sincere remorse towards every person involved with the incident. I feel completely blessed that my friends are alive and no rescue personnel were harmed during the arduous and courageous rescue. I would like to apologize to the Park Service and Ski Patrol of JHMR for wasting their valuable time and resources. I would like to apologize to Ruth, Natalie, Joe and their families, to whom I have caused undue stress and broken trust. I would like to apologize to the community of Jackson, where I know avalanche fatalities hit close to home every year. Most importantly, I apologize to the Grand Teton National Park Rangers who risked their lives for the sake of others on behalf of my stupidity.

I will never forget the moment, two weeks following the incident, when I saw Ranger Schuster enjoying a concert in the town square with his family. Amidst recalling the wonderful experiences I shared with my own father, it became profoundly apparent that the ripple effect of my action could have taken away a lifetime of these moments from another.

I have been advised by many to seek legal counsel and fight these charges in court as the others accused have chosen to do. However, it seems to me this would only waste further time and valuable public resources, of which I have spent enough already. I feel that it would be in the best interest of the community to take responsibility for my actions and live with knowledge I did everything in my power to right my wrong.

For these reasons I plead guilty to both Violation of Emergency Boundary Closure 36 CFR 1.5 (f) & Disorderly Conduct – Creation of a Hazardous Condition 36 CFR 2.34 (a)(4). It is my hope that this experience and whatever penalty I may face serves as a warning to others going forward. —Andrew Richards.