It might be mid-May with temperatures heating up, snow rapidly melting, and only a handful of resorts still open, but that doesn't mean you don't want to read about snow. Our top five most-read stories from last week all have one thing in common—snow, winter, and skiing.
If you want to receive our top three posts in your inbox every Thursday, sign-up here: SnowBrains Weekly Top 3 Posts Email Sign-Up
In order of most popular, these were our best posts of the last seven days:
At the beginning of the ski season, it is a race to see what resort will open first. Pent-up demand from not skiing during the summer and fall drives skiers to clamor for their first tracks of the season. Sometimes this is only on one lift and a measly 12-inch base, most of which might be man-made snow. Then, at the end of the season, when the resorts could fully operate their terrain with plenty of snow, they suddenly shut down. 
All good things must come to an end, but why do the resorts close when their snowpack is the greatest it's been all season?
To read the full article: Why Do Ski Resorts Close When Their Snowpack is Still So Deep?
A daily lift ticket exceeded $200 at ten ski areas during peak season last year, with one resort charging $249. Two hundred and forty-nine bucks! Last season, only the top three exceeded $200. A psychological barrier has been passed.
Skiing isn't a cheap sport, but it is something we all love to do—and most of the readers on this website aren't the kind of people who walk up and blindly pay the window price when they want to go skiing. But some people do exactly that. Otherwise, resorts wouldn't get away with charging those high prices. Call it an 'ignorance tax.'
See below for the nine most expensive lift tickets last season—aka nine reasons you should get your hands on an Ikon Pass or Indy Pass this year.
To read the full article: The 9 Most Expensive Daily Lift Tickets in the USA Last Season
When you are first learning to ski, part of the initial instruction typically includes "french fry to go, pizza to slow." Those pizzas progress into slow turns, then soon you are linking parallel turns. Functionally you realize that turning is used to steer your direction and control your speed. Then, as you advance further, you become enlightened that the rhythm and pressure created from engaging your edges and flexing the length of your skis with the help of gravity is not only super fun but borderlines nirvana.
There is a neurological explanation as to why this is so enjoyable. This is explained by Dr. John Kitchin, a former neurologist, in his video documentary SLOMO. He explains that lateral acceleration stimulates a set of receptors within the inner ear that connects us to the center of the earth. The otolith, which is a piece of calcium, sits on the membrane of the ear. Any change in the relative position of gravity makes it roll. This gives the body a feeling that it is moving relative to the center of the Earth. This creates that feel-good state where your mind and body experience the ultimate in skiing.
To read the full article: The Science That Explains Why Skiing is So Enjoyable
What do you think? Did you really need science to tell you that?! Join the lively discussion on our Facebook page.
Powder panic is a real thing, not just liftline humor. It's a force to be reckoned with—one that can be costly. I almost paid the ultimate price for it this morning on the way to Alta when I drove my Toyota off a cliff.
To read the full article: The Dangers of Powder Panic—How I Drove My Car Off a Cliff on the Way to the Ski Area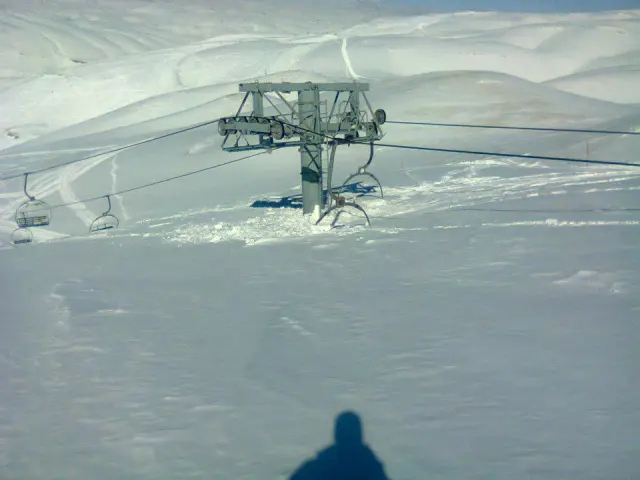 Lebanon got forty FEET of snow in five days in February 2012. 
480″.
More than 90% of US ski resorts get in a whole season.
That officially qualifies as a lot of snow in a short period.
To read the full article: 40-Feet of Snow Fell in 5-Days in Lebanon in 2012
Top Instagram Post of the Week
Over on Instagram, this was our most popular post of the week. By far! It's all about the snow…
View this post on Instagram
If you want to receive our top three posts in your inbox every Thursday, sign-up here: SnowBrains Weekly Top 3 Posts Email Sign-Up