Nestled between Squaw Valley and Alpine Meadows is a small, privately owned 460-acre piece of land called White Wolf. The future of the land, owned by Troy Caldwell (who also owns the top of KT-22 and about 70-acres of SVAM), has been the subject of speculation for many years. In 2015 Caldwell spoke about his plan to develop the land as a private ski area, and then in July 2019, the plans were made public. Part of his plans involved the mid-station of a gondola connecting Squaw and Alpine, a project which is currently underway.
The controversial development of land designated for National Wilderness has its detractors. One of those, Sierra Watch issued a press release yesterday voicing their concerns and objections to the development. You can read that press release in full below:
SIERRA WATCH RELEASES ASSESSMENT OF PROPOSED TAHOE DEVELOPMENT
Conservationists: White Wolf resort presents clear threat to Tahoe wilderness and mountain values
Sierra Watch yesterday issued a detailed assessment of new development proposed for the 275-acre White Wolf property between Squaw Valley and Alpine Meadows in the Tahoe Sierra, including land designated for National Wilderness.
"The findings of our assessment are clear. The iconic White Wolf property is an important part of our Tahoe landscape, and proposed development is a threat to our shared mountain values."

– Tom Mooers, Sierra Watch Executive Director
The proposed resort is the latest in a string of massive development proposals in the North Tahoe region.  Nearby, Alterra Mountain Company proposes to transform Squaw Valley with a series of highrises and an indoor waterpark.  To the east, Sierra Pacific Industries proposes new development in the forests above Martis Valley.
On the White Wolf property, gated subdivisions would spread from Alpine Meadows Road north towards Squaw Valley and west to the Granite Chief Wilderness Area.  The new development would include single-family custom home lots, new roads and parking lots, two private ski lifts, equestrian facilities, and tennis courts.
Sierra Watch engaged experts in planning, law, biological resources, and wildfire safety to research and compile the assessment, seeking to understand the values at stake and potential impacts of the project.
Their review reveals a number of significant issues and potential impacts, including:
Development in land designated for National Wilderness;
Degradation of the wilderness experience in existing Granite Chief Wilderness;
Deterioration of the popular Five Lakes Trail;
Destruction of regional scenic values;
Dangers to public safety, including the threats of both wildfire and avalanche; and
Damage to biological resources, including potential endangered species habitat.
According to the report, "the White Wolf project proposes roads, commercial enterprise, and structures" on land designated for protection as National Wilderness when then-President Ronald Reagan signed the California Wilderness Act of 1984 into law.
"Wilderness protection is a bold declaration of American values. And the White Wolf proposal is a direct threat to the national commitment to our natural heritage."

– Tom Mooers
To read the full 31-page report, visit https://www.sierrawatch.org/wp-content/uploads/2021/07/Sierra-Watch-White-Wolf-Strategic-Assessment-July-2021.pdf.
The detailed document also establishes a set of Planning Principles designed to encourage responsible land-use decision-making:
Honor and implement the national commitment to lands designated for protection as part of the Granite Chief Wilderness.
Protect the Five Lakes Trail as an important regional asset and unique outdoor experience.
Ensure that new development does not degrade or overwhelm existing infrastructure.
Acknowledge the growing danger of wildfire and protect the health and safety of new and existing residents.
Protect lives and property from avalanche danger.
Protect the biological resources of the White Wolf property and habitat value of the surrounding area.
Process any application for development with full public involvement, thorough environmental assessment, and adherence to existing law.
Landowner Troy Caldwell filed an initial application for the development in 2015, seeking entitlements and asking to rezone most of the property; all but roughly three of the property's 275 acres are currently zoned either Open Space or Forest.
Placer County is currently drafting an Environmental Impact Review, the next step in the public planning process for the proposed project.
"The goal of our assessment is to increase awareness about what's at stake and encourage public engagement. One thing we've learned as we stand up to defend our mountain values is that the more people get involved, the more likely we are to secure a conservation outcome – for ourselves and for generations to come."

– Tom Mooers
For more information, visit https://www.sierrawatch.org/wp-content/uploads/2021/07/Sierra-Watch-White-Wolf-Strategic-Assessment-July-2021.pdf.
About Sierra Watch
Sierra Watch works to protect great places in the Sierra Nevada. Founded in 2001, the Nevada City based non-profit has built a remarkable track record in land preservation in Tahoe's Martis Valley, on Donner Summit, in Squaw Valley, and for other treasured Sierra landscapes.  For more information, visit www.sierrawatch.org.
As far as we know, today is the first day that the public has had access to the proposed plans for the White Wolf ski area between Squaw Valley & Alpine Meadows in Lake Tahoe, California.
The plans have yet to go through a public review and approval process.
White Wolf hopes to be made up of 38 residential lots, 1 gondola mid-station (Placer County approved gondola that goes from Squaw to Alpine), a ski lift, a clubhouse, an ice rink, a bunkhouse, a parking structure, and more.
Proposed Development:
38 Residential Lots (33.4 acres)
1 Ski Lift
1 Clubhouse (10,000-square-foot)
1 Ice-Rink (16,000-square-foot)
1 California Express Gondola Mid-Station
Bunkhouse
Maintenance Building
Parking Structure (8,570-square-feet)
Horse Stables
Guest Warming Hut
The 38 single-family residential lots will vary in size from 0.5-1.5 acres in size with the average size being 0.9-acres.
152 parking spaces will be on this proposed development.
Five Lake Trail will remain open to the public and a new 1,000′ connector trail will be built.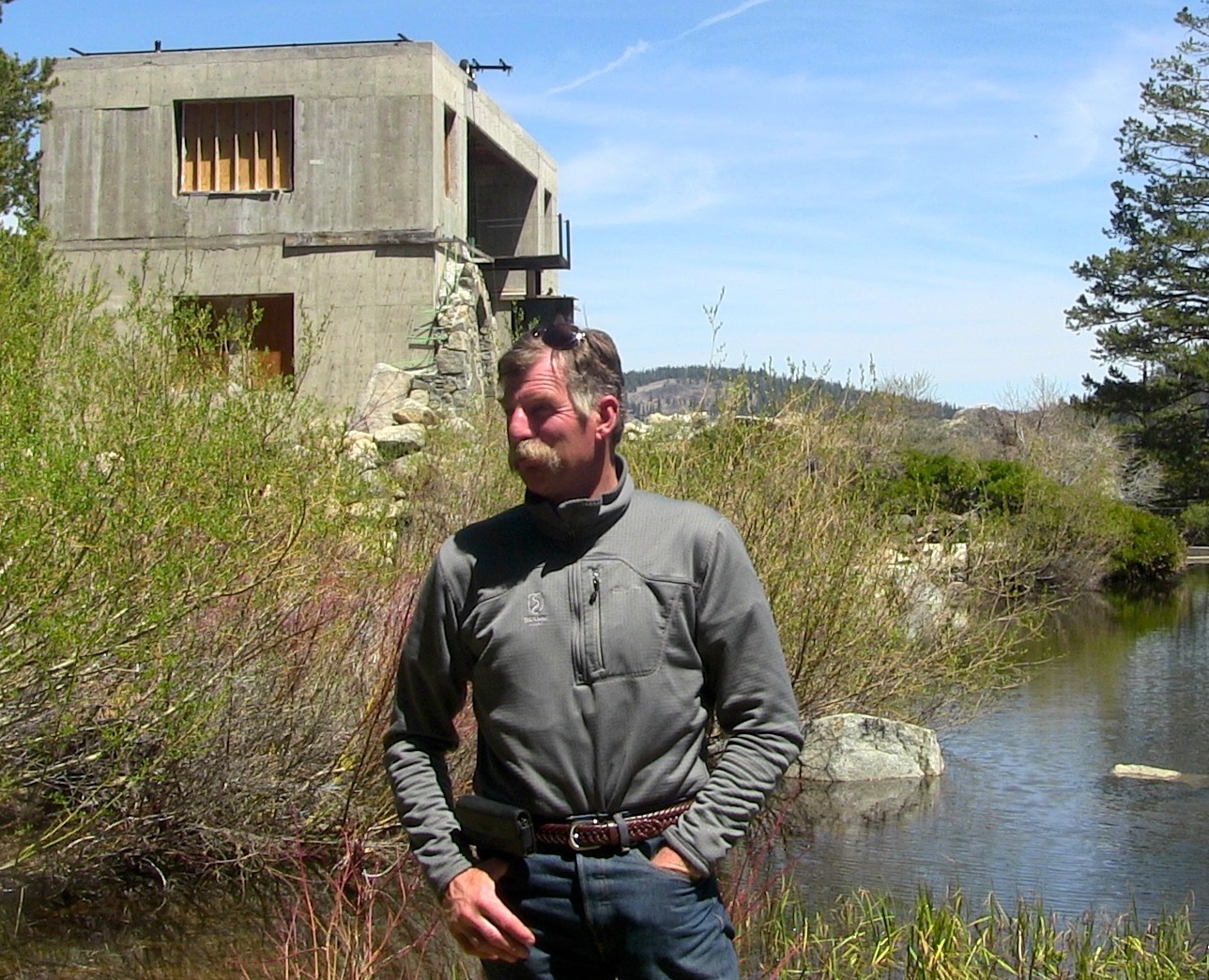 Since Squaw Valley, CA bought its next-door neighbor Alpine Meadows, CA in 2011, we've all been wondering what will happen to the small piece of land between the two ski resorts named White Wolf.
Troy Caldwell is the owner of White Wolf and when we interviewed him in 2013 & 2014 he said that he wanted a private ski resort, a public ski resort, 3 ski lifts, a gondola, a mid-mountain hotel, an ice rink,  private homes, and a village with shops, rooms, and condos. 
He knew he wouldn't get all that, but that was his dream.
The White Wolf property is 460-square-acres.
Troy already put up lift towers for his proposed lift way back in 2006 but never strung them with a haul line.
Full Details of the Proposal:
Troy Caldwell Interviews:
History of White Wolf:
Troy Caldwell bought the 460-acre White Wolf in 1989 for only $450,000.
Troy owns the top of KT-22 and about 70-acres of Squaw Valley Ski Resort.
White Wolf is currently permitted as a private ski resort that allows only 25 skiers per day via snowcat, but this never happens.
Troy installed lift towers for a ski lift in 2006 but never installed the cable nor chairs.