Yesterday, May 29th, 2020 we skied the dreadfully fun "Solstice Couloir" and "Banana Chute" off Mt. Dana & Ellery Bowl, respectively.
This legendary California link-up is extraordinarily gorgeous, offensively charming, and relatively simple.
Climb up Mt. Dana from Tioga Pass, ski down one of Dana's many northern chutes, cruise down Glacier Canyon, cross the Dana Plateau, and drop into one of the many Ellery Bowl's many northern chutes right to your 2nd car.
Solstice Couloir  – Mt. Dana, CA Details:
Summit (actually a ridge):  12,500′
Car:  10,000′
Vertical From Car:  2,500′
Vertical skied:  1,400′
Max Pitch:  45º
Avg Pitch: 40º
Aspect:  Northwest
Distance:  5.5-miles round trip (including Banana Chute – see below)
Time From Car to Summit:  2 hours and 45 minutes
Car to Car Time:  6 hours (including Banana Chute – see below)
Recommended Equipment:  skins, ski crampons (we recommend bringing boot crampons & ice axe as precautionary measures in this zone at all times)
Banana Chute  – Ellery Bowl, CA Details:
Summit (actually a ridge):  11,300′
Vertical skied:  1,700′

Max Pitch:  45º
Avg Pitch: 42º 
Aspect:  North
Solstice Couloir + Banana Chute Link-Up Details:
Car #1 at  10,000′ at Tioga Pass + Car #2 at 9,500′
Vertical Climbed  2,750′
Vertical Skied:  3,100′ 
Distance:  5.5-miles round trip
Car#1  to Car #2 Time:  6 hours
Recommended Equipment:  skins, ski crampons (we recommending bringing boot crampons & ice axe as precautionary measures in this zone at all times)
Video of Skiing Solstice Couloir:
We left our car at 9,945′ Tioga Pass 8:15am and headed east up 13,061′ Mt. Dana.
We hiked on a dirt trail until about we hit snow at 11,000′ and switched to skins.
From there it was a straight-forward climb up to the notch in Mt. Dana's high ridgeline where the "Solstice Couloir" lingers.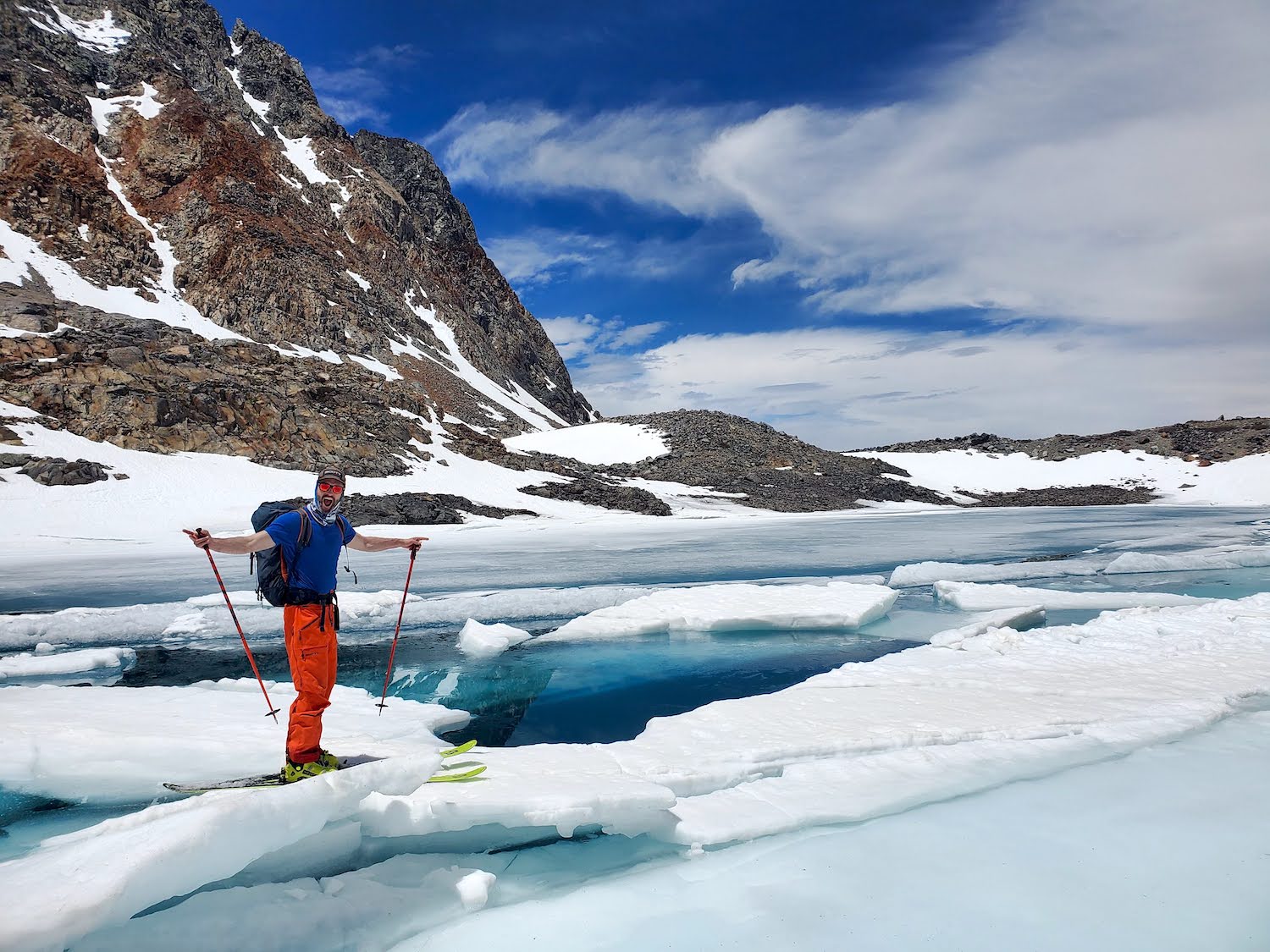 The weather was hot and sunny with an occasional high overcast.
The forecast for 11,500′ this day was a 43ºF low and a 65ºF high with sunny skies.
We'd gotten reports that "Solstice" was difficult to access recently due to its ferocious cornice and that people have been seen rappelling into it.
They weren't wrong.
Video of Skiing Banana Chute:
When we finally found a safe place to peer over the edge, we gawked at a 6×6-foot gob of 55º-steep hanging snow draped over a quadratic hunk of granite with an abrupt 20-foot drop on its downhill side that was the only gateway to skiing the "Solstice Couloir."
If you successfully executed the "turn" on the hanging snow, you then had to squeeze your skis between an 18-inch-wide gap between the granite hunk below and a rakish, rocky shark's tooth – all in a no-fall-zone.
Greggy liked it.
He likes anything steep…
I took one look over the bewildering edge, saw the nasty spit of snow and shark's tooth and said "no way, man."
I walked away determined to finish the climb up and over Mt. Dana to the easy entrance of the Dana Couloir.
He convinced me to come back and look at it from his angle.
From his angle, it looked survivable and exciting and I changed my tune.
Greggy dropped first, stuck the steep turn in the no-fall-zone, flew through shark's tooth straights, and slashed an elegant turn below the hefty, hanging cornice above and the steep, rocky choke below.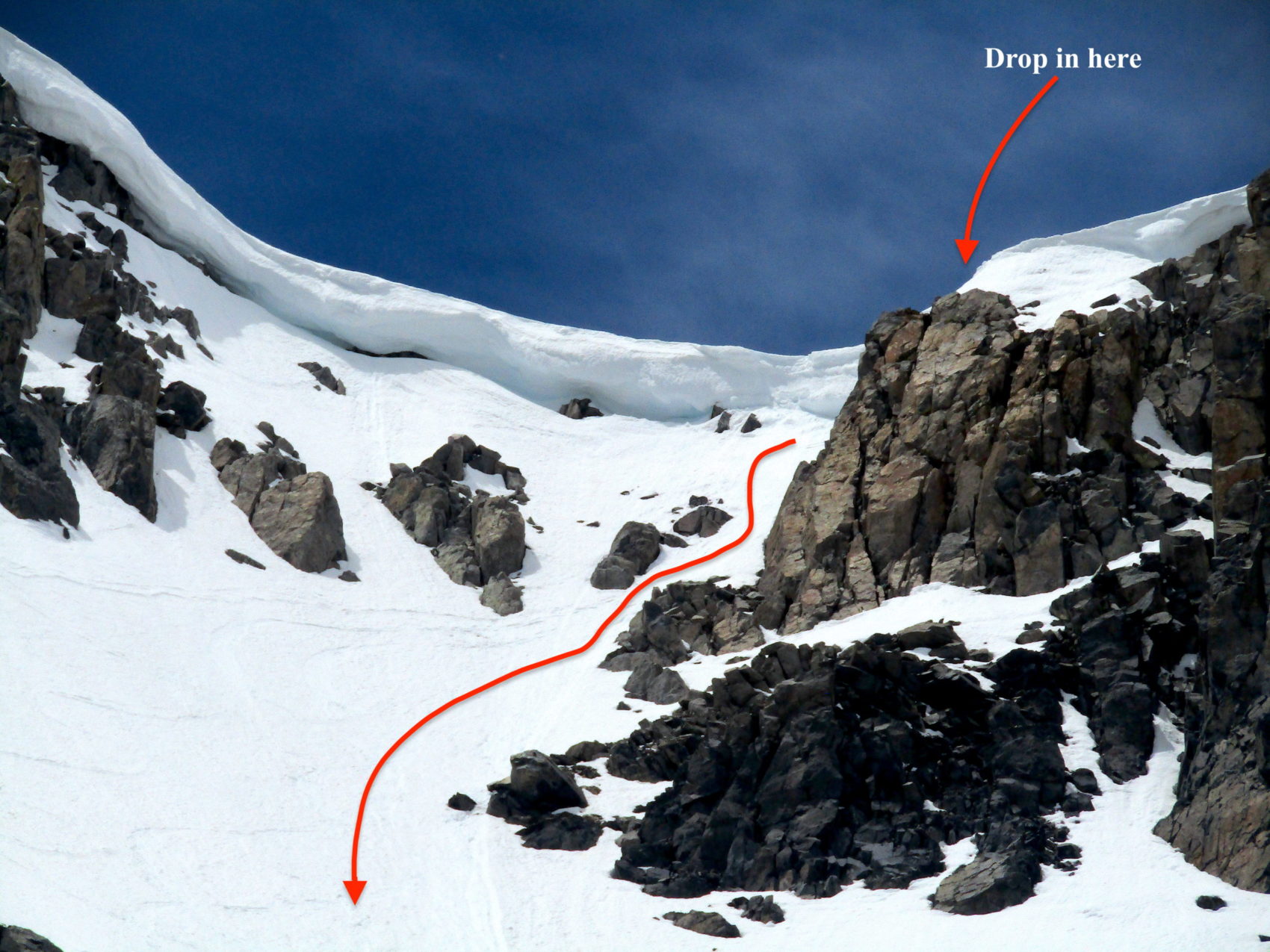 I was impressed.
Witnessing Greggy's success boosted my confidence.
I sketchily slid onto the no-fall snow, dodged the shark's tooth while picking up speed before slapping a sloppy speed-check turn above the stony narrows below me.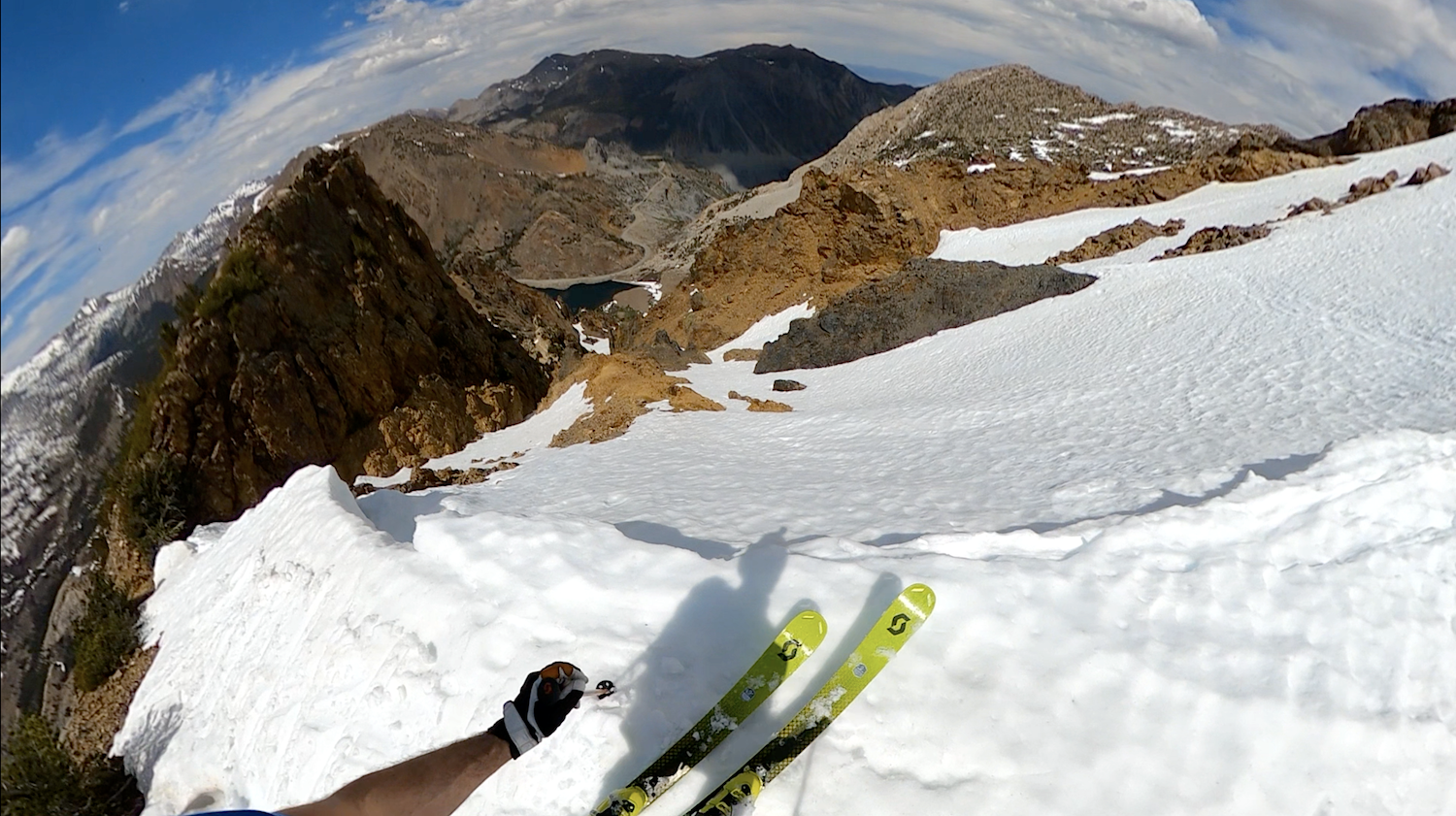 Once through the choke, it was nothing but hoots, exhilarating speed, and big turns right up until I went for a mini-air, landed directly on a rock, and tumbled twice through deep, dank snow.
Fortunately, the crash was at the very bottom of the run and was pretty fun.
Diving headfirst into slushy snow in a T-shirt was a whimsical experience.
I got myself together, finished the run, and celebrated with at the bottom Greggy.
We were euphoric.
We hadn't expected to ski anything that spicy nor had we expected the snow to be so good on such a hot day.
"Solstice Couloir" held capital corn at the top, then that balance of super slush and minor stickiness at the bottom.
When the celebration was over, we scurried down Glacier Canyon along the iceberg-bejeweled Dana Lakes and up the Dana Plateau to Ellery Bowl's "Banana Chute".
We always think of the chutes in Ellery Bowl as a simple means to an end – just way to get us to the car at Ellery Lake below.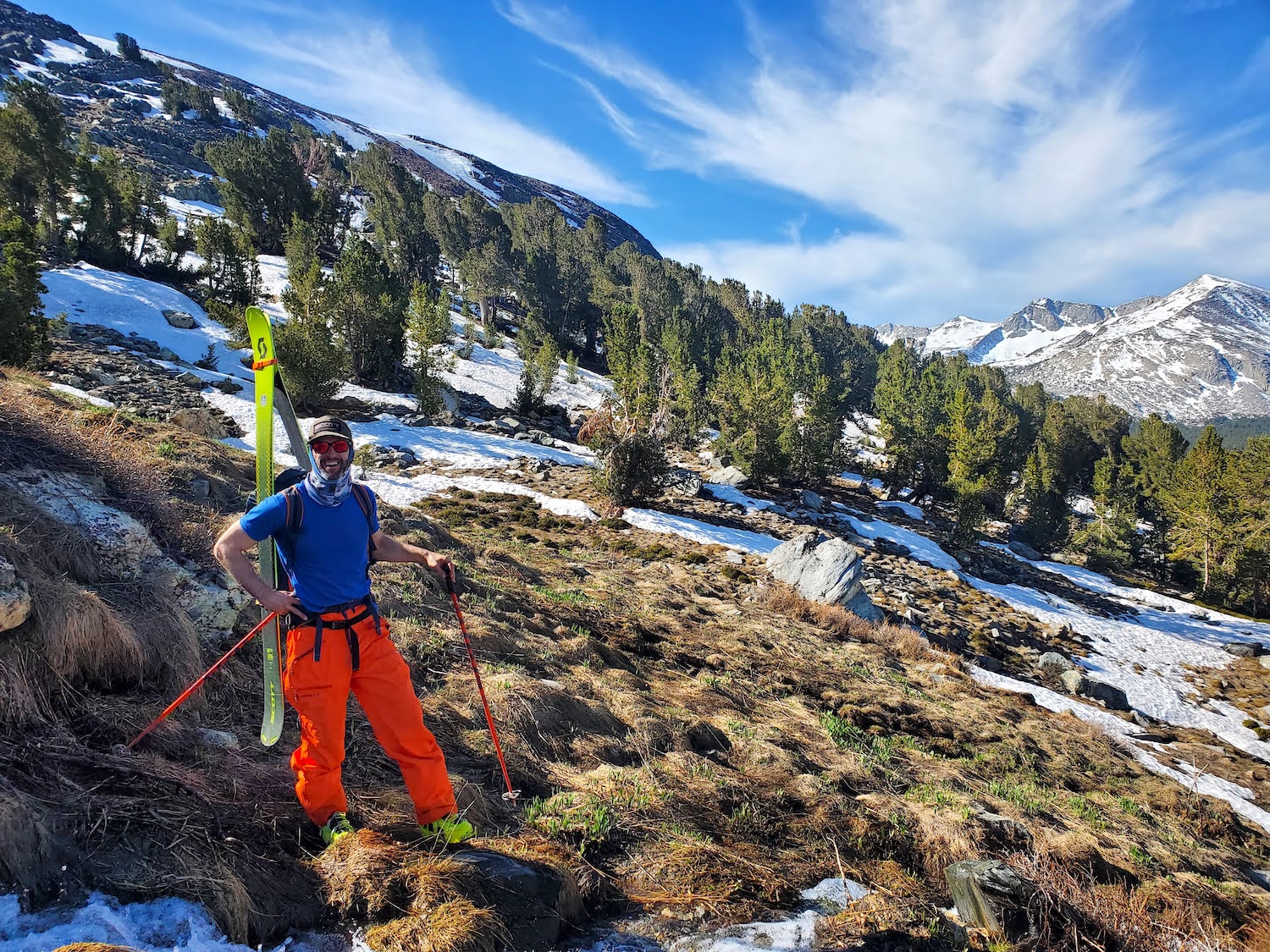 They are not simple.
These chutes are steep, long, formidable, and awesome.
We dropped into Banana chute in deep, syrupy, somewhat isothermal snow.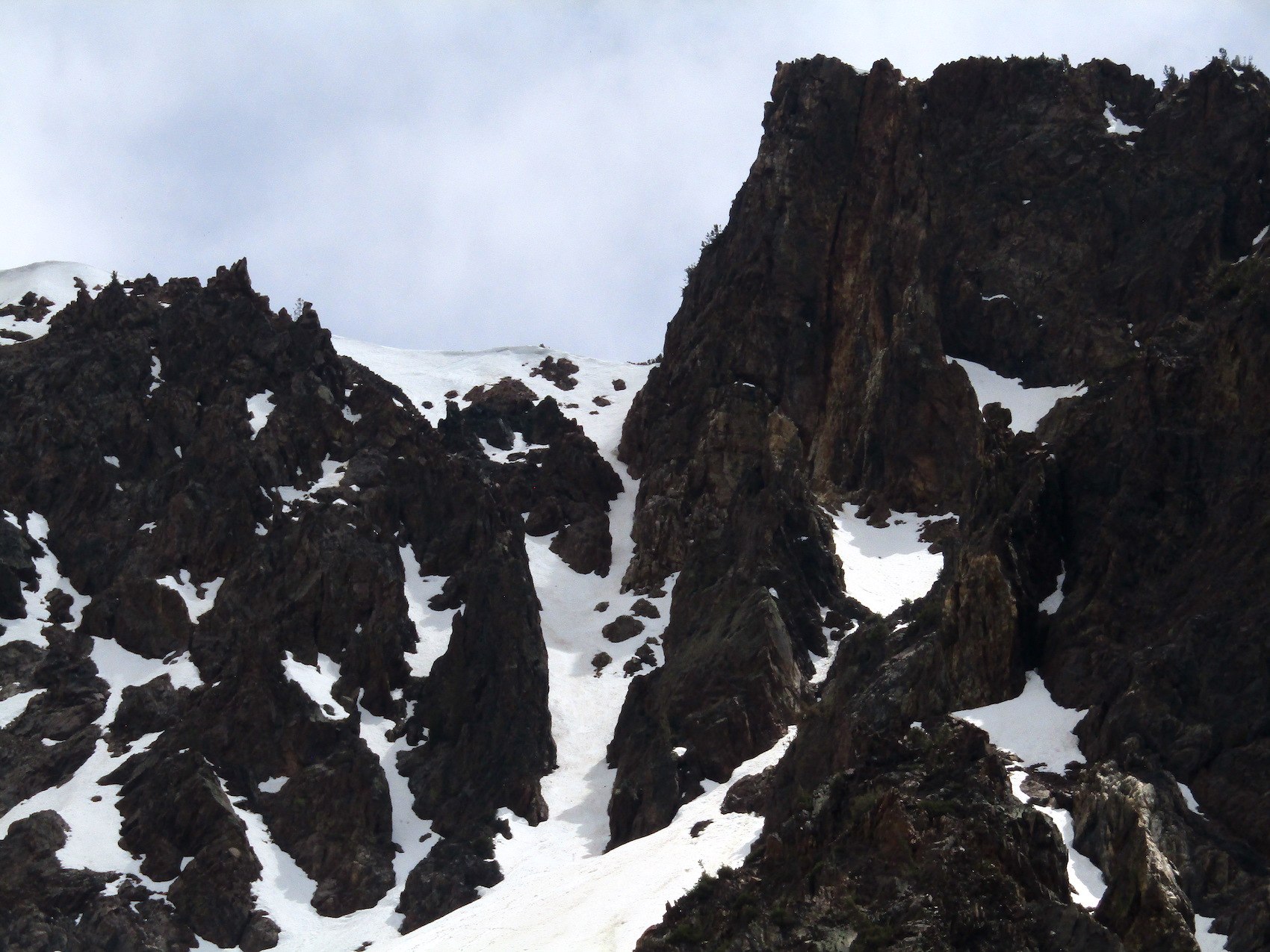 The going was a bit tough but the chute itself, the towering rock walls, and the views more than made up for the laborious snow.
Skiing this red crack in the mountain is an exceptional experience especially since it delivers you right to your car after a lengthy day.
The apron below "Banana Chute" held better snow than the chute proper and lower angles that allowed for long, arching turns in splashy corn snow.
After a few big "rest" turns, I looked over my shoulder and saw a little wet sluff grinding down the mountain behind me.
I slowed down, pulled up right next to it, and relished the hell out of hearing it scrape down the mountainside.
This run was about 1,700-vertical-feet long right to the car minus one short, 40-foot walking section down near the bottom where the snow didn't connect.
We busted out camp chairs, quaffed water, and reminisced on how the day hugely outperformed our wildest expectations.
After shuttling back up to our 2nd car on Tioga Pass, we slipped down to Mammoth Lakes, grabbed delectable carne asada burritos at Salsa's, went for a soak in the 80ºF Lazy River east of town, and continued our reverie of the outlandish day.
Almost nothing beats the Eastern Sierra in May.
This place bewitches this time of year.
May/June 2020 Trip Reports:
Photo Tour in Chronological Order: