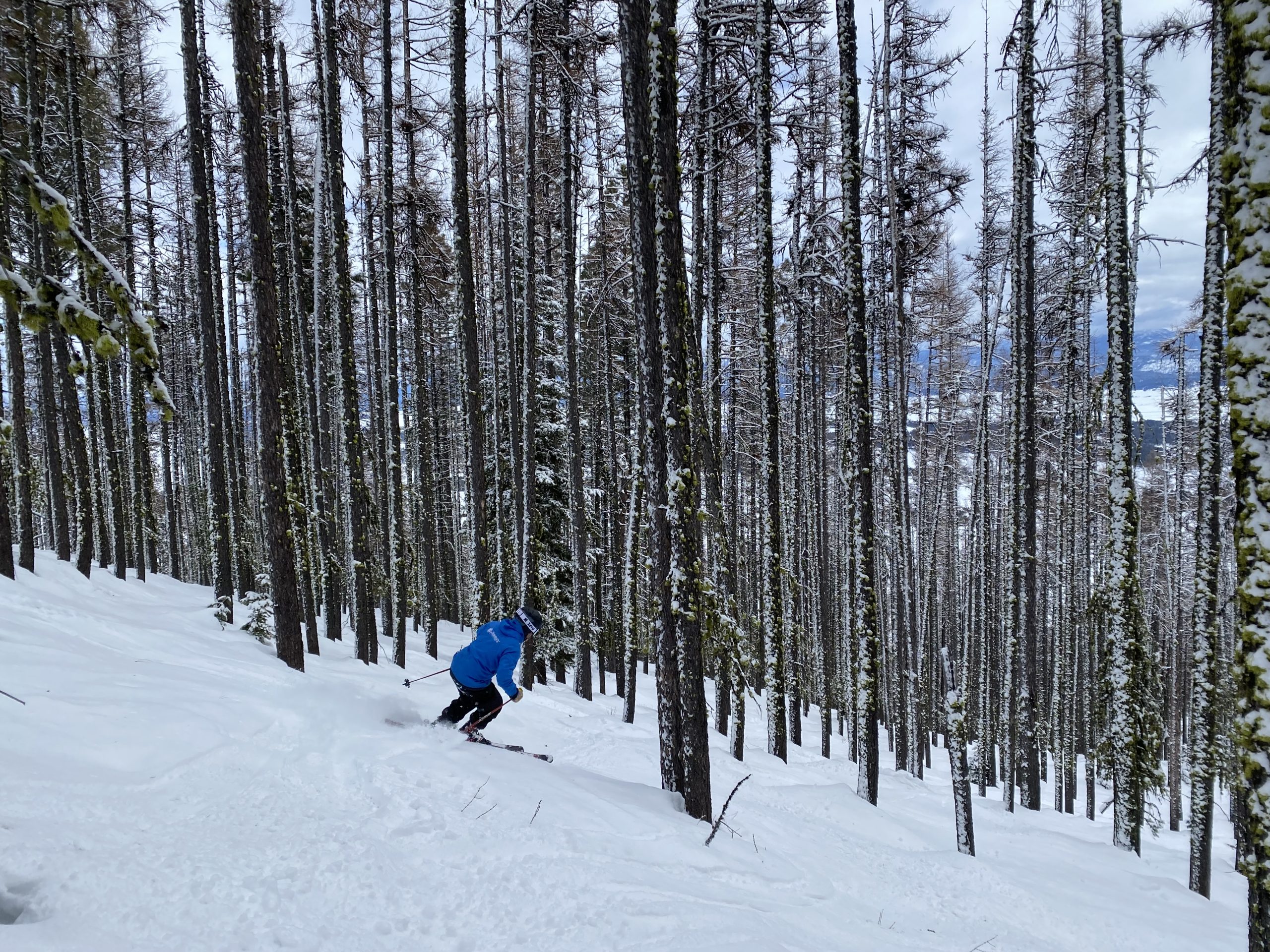 Brought to you by Ski Idaho and Visit Idaho
Driving from ski area to ski area in Idaho is easy. Screw other overly saturated ski trip routes, like Colorado's I-70 resorts and all that traffic fuss going on there. Idaho is the new ski area road-trippin' hotspot—except that it hasn't gone mainstream. Yet.
There are three regions in Idaho worth checking out for any skier or snowboarder with a car and an appetite for powder. I've done all three and can say with confidence that these are the best winter loops Idaho has to offer. Bang for your buck goes far in Idaho with scenic, empty highways and uncrowded ski areas where you'll find way-cheaper-than-most pass prices, affordable accommodations, and a rich, colorful history of the surrounding areas. So let's dive in.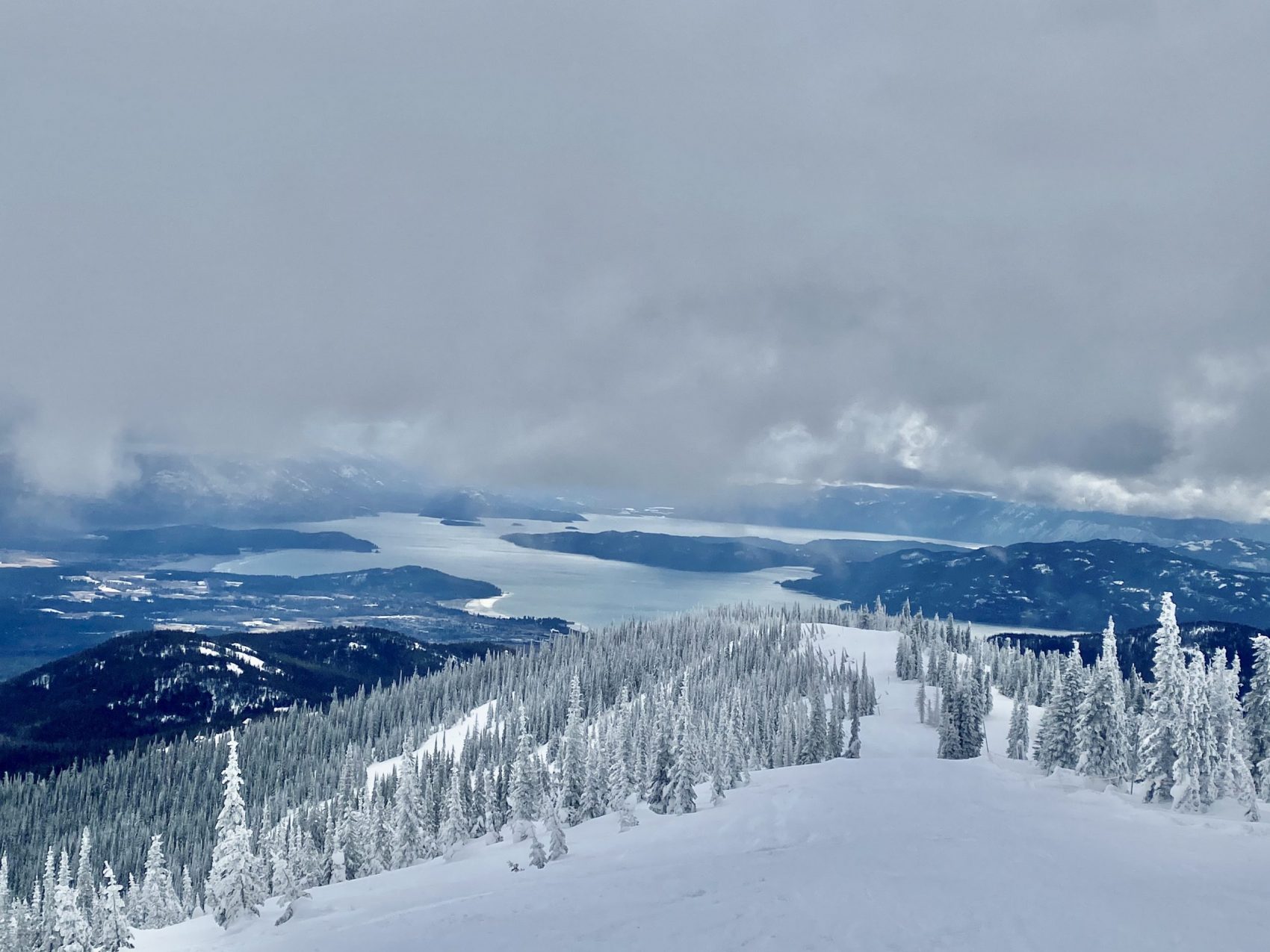 Loop 1: Northern Idaho ski areas Schweitzer, Silver Mountain, Lookout Pass, and Lost Trail 
Schweitzer
Start at Schweitzer, located near the pretty little lake town of Sandpoint. Sandpoint is only a one-hour and twenty-five-minute drive from Spokane's airport in Washington. To get there from Spokane, take I-90 East for 21 miles to the state line where you'll get on Highway 53 heading east. Once on 53, take that for 13 miles until you reach US Highway 95 North and continue on for 32 miles until you reach Sandpoint.
Sandpoint has a ton of hotel options, Air BnB's, and an excellent food and beverage scene. When I visited Schweitzer, I stayed at the Selkirk Lodge in the resort village, which has a heated swimming pool and an unbeatable location amongst fine on-mountain dining establishments. Last winter, they opened its slopeside boutique hotel Humbird and its Bavarian-inspired restaurant, Crow's Bench.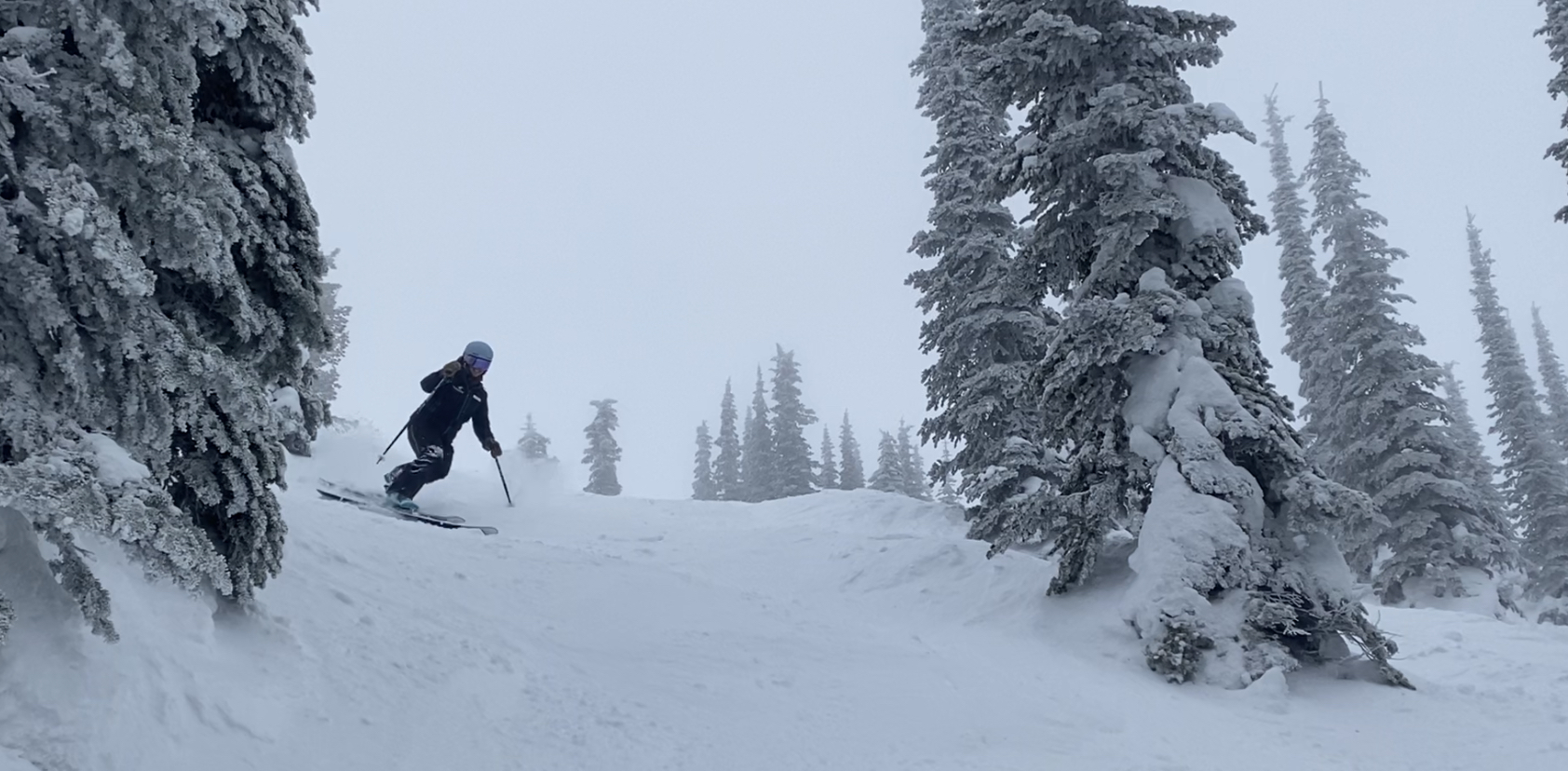 When you get off the top of the chair at independently-owned Schweitzer, you're on your own—this place feels absolutely deserted, and according to locals I skied with when I visited, it's never crowded here. I made fresh turns all day. The mountain skis like a bigger version of Grand Targhee on the Idaho/Wyoming border, except with prettier, mountain-lake scenery and thicker, wetter snow.
Snowy, old-growth forest trees and frozen snow-ghosts dot this mountainous, rainforest landscape. Be sure to venture into the huge, flowy Outback Bowl at Schweitzer and stop for some lunch at the historic 'Outback' lodge, or go for some cat skiing with Selkirk Powder, a professional cat ski outfitter that uses Schweitzer as its base area.
Places to eat
Crow's Bench
Chimney Rock Grill
Powder House Pizza
Gourmandie
Mojo Coyote
Lake Cafe
The Outback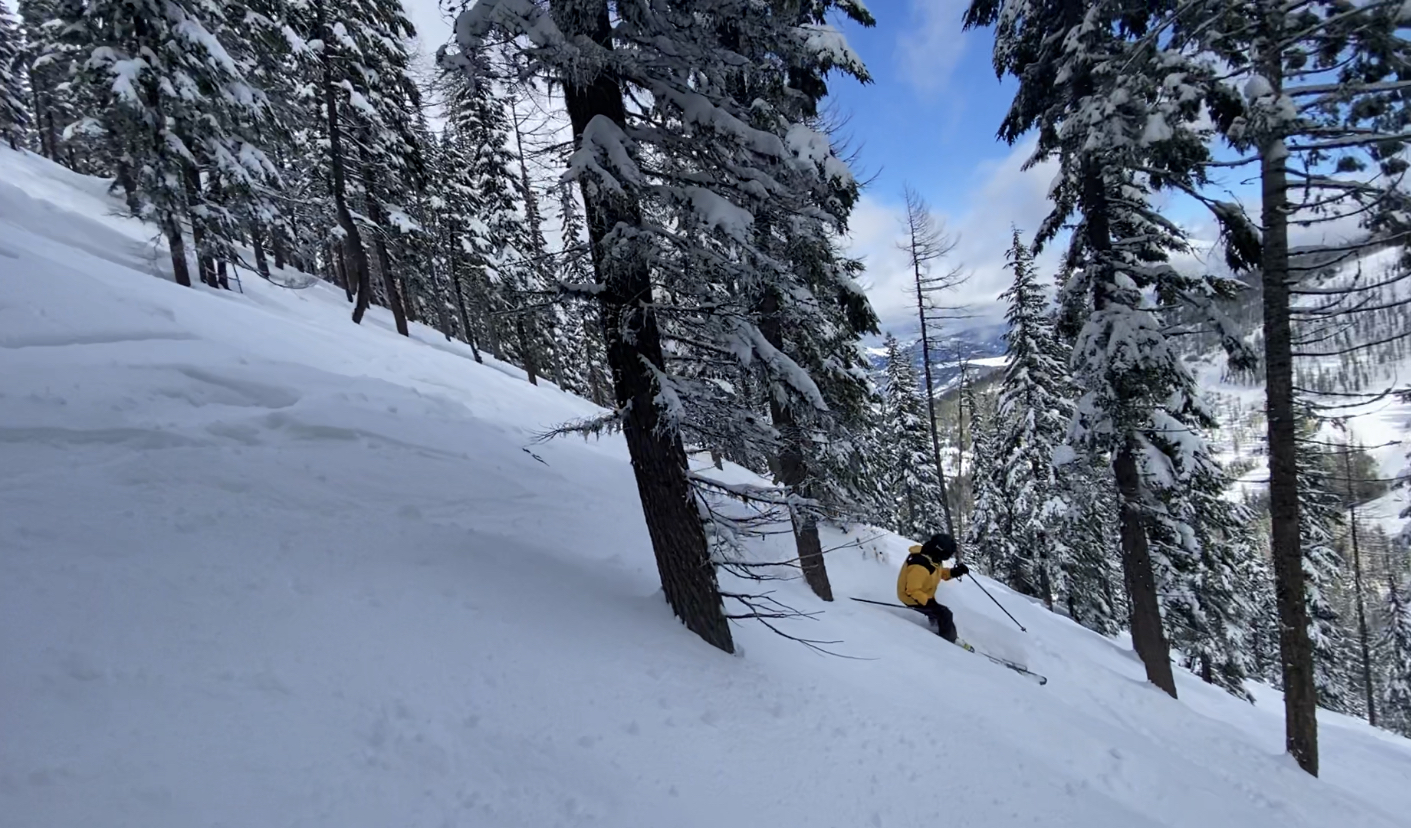 Silver Mountain
From Sandpoint, it's only an hour and a half drive south to Kellogg, home to Silver Mountain. Take US-95 South for 40 miles until you reach I-90 East, then drive east for 37 miles until your reach Kellogg and you're there.
Kellogg is a blast from the past mixed in with the new age. It was an old mining town turned ski town with modern restaurants, hotels, and a massive indoor water park. From the heart of Kellogg is Silver Mountain's gondola, the longest gondola in North America stretching over three miles of mountainous terrain direct from town. For a long time, Silver Mountain's gondola was the longest in THE world.
I stayed at the Morning Star Lodge, which has modern rooms with artistic wood finish and views of Silver Mountain and Kellogg. The hotel has an indoor water park and is positioned perfectly next to the gondola and right in the middle of Kellogg's bar and restaurant scene.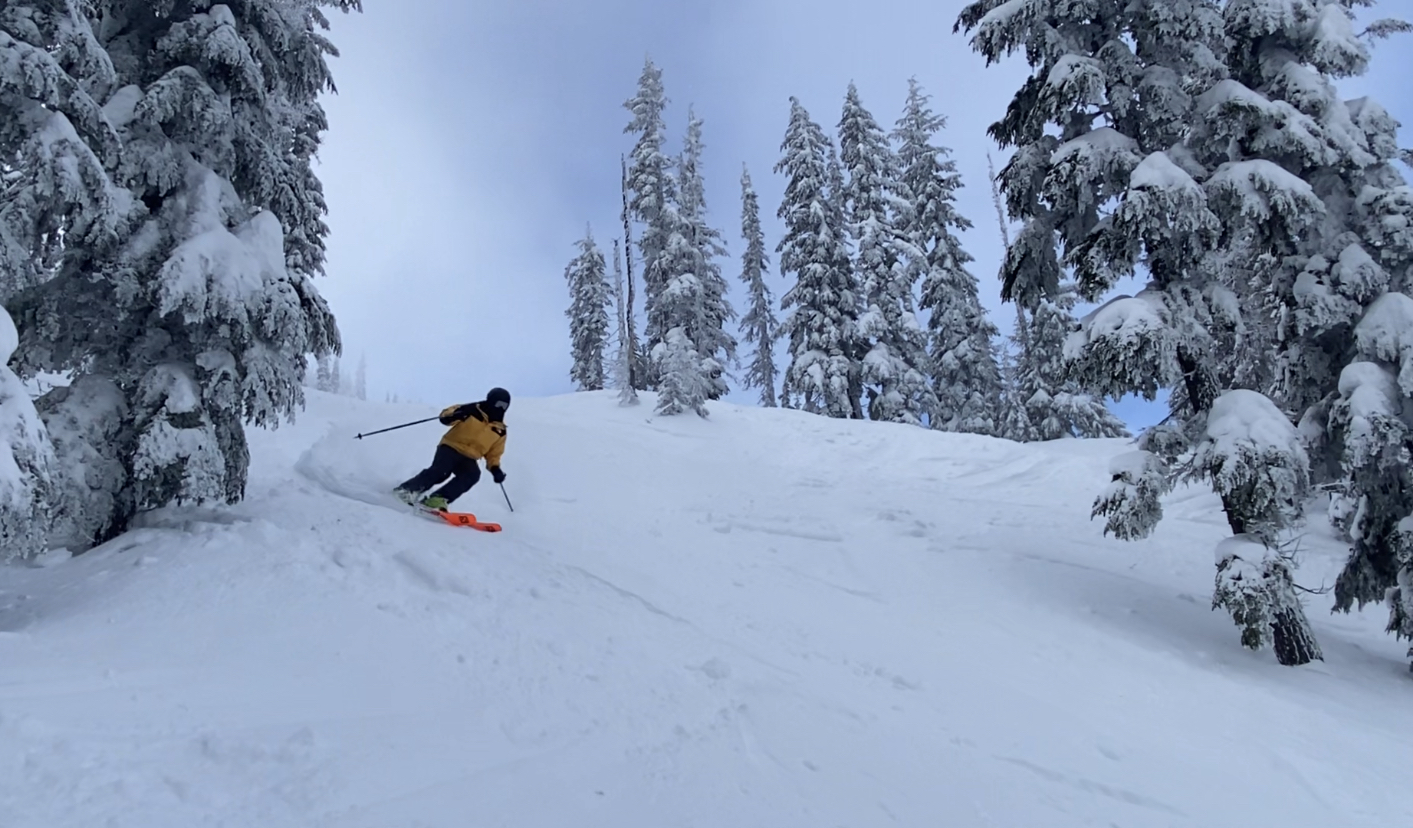 It's estimated that 30 percent of the world's existing silver supply has been extracted from the Silver Valley in this part of Idaho. Silver Mountain was started in the 1960s under the original name of Jackass Ski Bowl and was predominantly skied by local miners. It only had one chair at the time.
60 years later, Silver Mountain is one of Idaho's best ski areas with the feel of a 60s-era mom-and-pop joint but with big terrain, phenomenal tree skiing, steeps, and the utter opposite of crowds. Wardner Peak has some great hike-to terrain and often holds good snow, and Mogul's Lounge at the top of the gondola is a must-stop for drinks and pub grub.
Places to eat
Radio Brewing
Hill Street Depot
Moguls Lounge
Mountain House
Mountain Cafe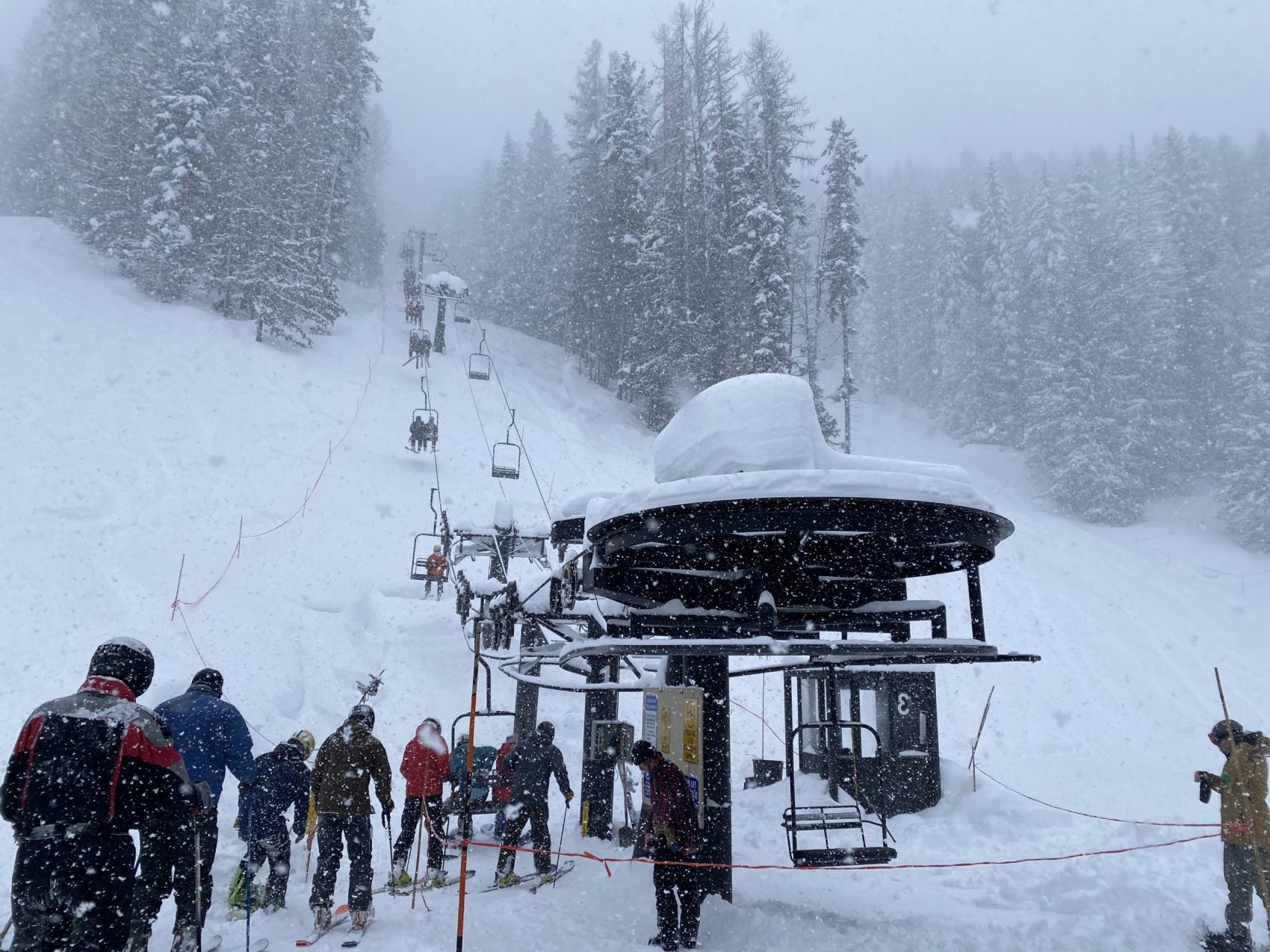 Lookout Pass
Getting to Lookout Pass from Kellogg is extremely simple: just travel east on I-90 for 24 miles and the ski area will be waiting for you directly off to the side of the interstate—literally, on the side of the interstate. I stayed in the town of Wallace at the Wallace Inn, which is 20 minutes away from Lookout Pass and right in the heart of historic Wallace. You can also stay in nearby Mullan, which is only a 10-minute drive from the ski area.
Lookout Pass gets a lot of snow. The ski area is positioned perfectly on a mountain pass in the Coeur d'Alene Mountains of the Bitterroot Range near Mullan, allowing for orographic lift, which brings snowfall totals like those in similar geographic positions such as Alta Ski Area in Little Cottonwood Canyon, Utah.
It snowed 16″ the night before I got there in late February 2021. The place spins three chairs that access absolutely epic tree skiing and pillow lines. Upon arrival, I'd recommend skiing Chair 3, and then for aprés, grabbing some delicious Bloody Marys at the Loft Pub in Lookout's base lodge. This winter Lookout Pass is opening its much-anticipated Eagle Peak Expansion, which will nearly double its skiable acres.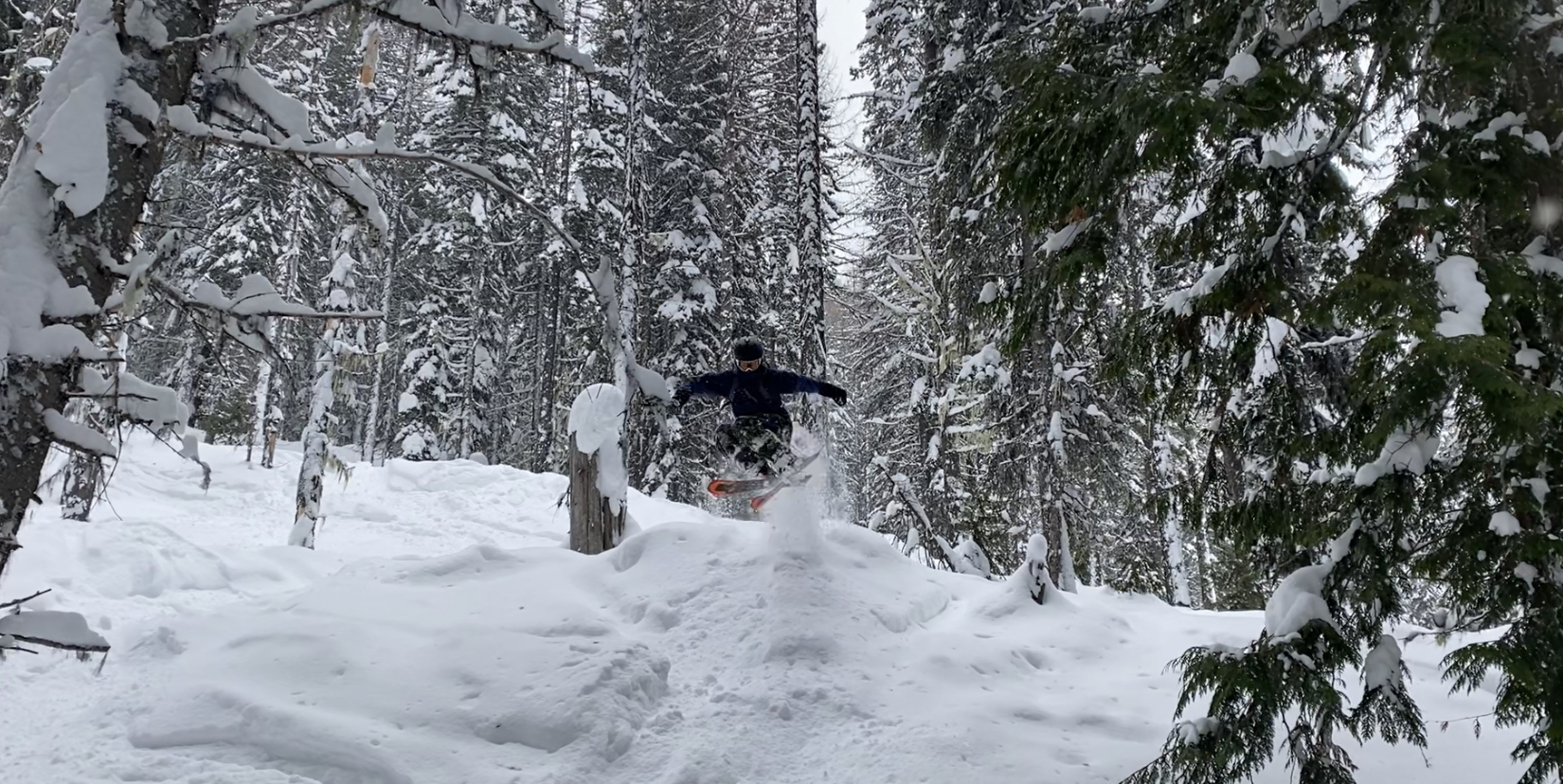 Places to eat
The Outlaw (In Mullan—mouth-watering, hand-pressed burgers)
City Limits Brew Pub
The 1313 Club
Blackboard Cafe
The Fainting Goat Wine Bar & Restaurant
Cogs Gastropub
Trailside Cafe (in the Wallace Inn; great breakfasts)
Then from Lookout Pass, all you have to do to get back to the airport in Spokane is drive west on I-90 for an hour and a half and you're ready to get back on the plane and unfortunately head back to the 'real world.'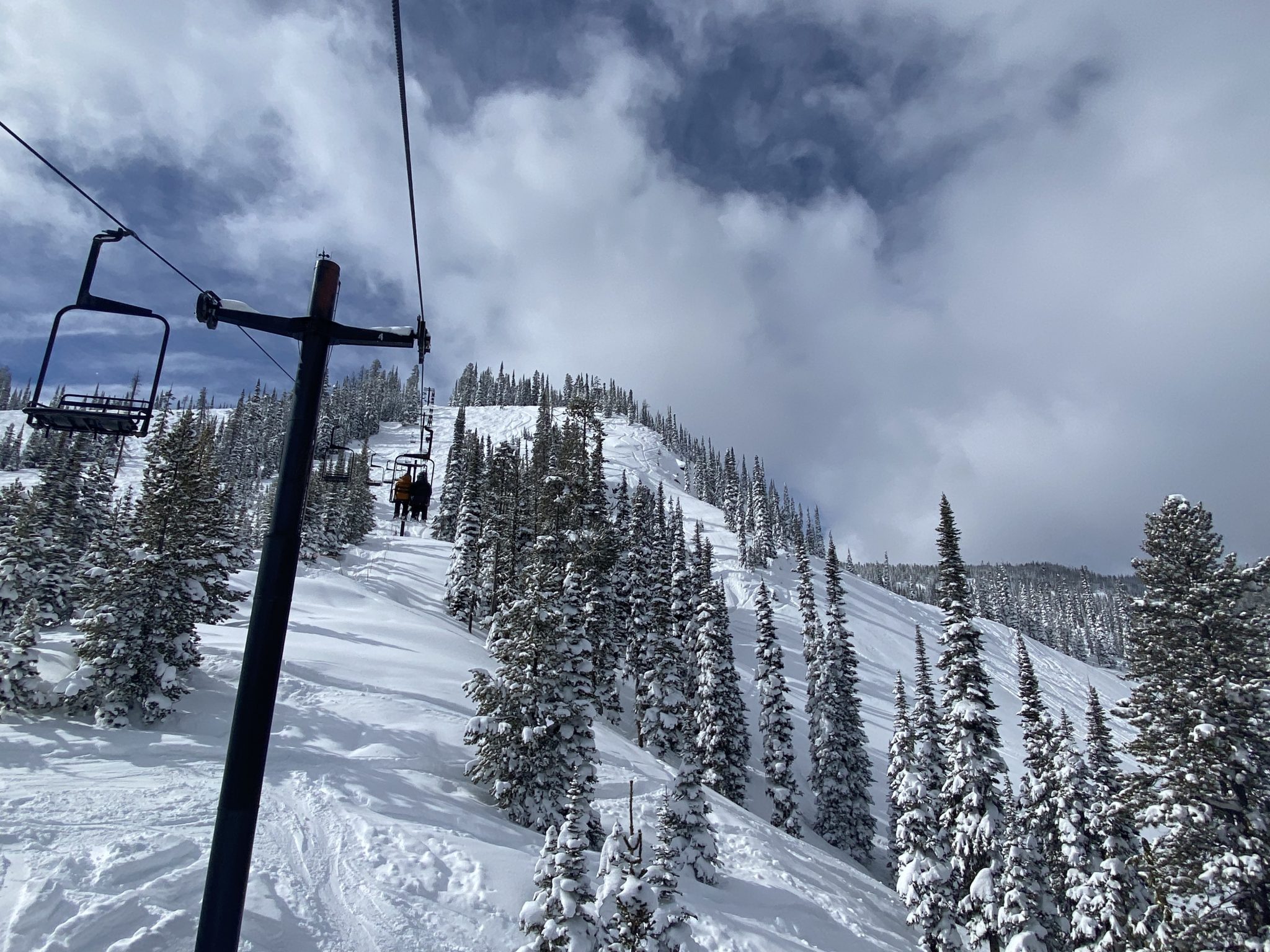 Lost Trail
A Northern Idaho ski area loop wouldn't be complete without a visit to Lost Trail Powder Mountain on the border of Montana/Idaho. From Mullan, head east on I-90 to Missoula. In Missoula, drive south on US-93 for two hours and the ski area will eventually pop up on your right. When I skied Lost Trail, I stayed on the Idaho-side of the border at the Stagecoach Inn in Salmon, which is a 50-minute drive from the mountain.
The drive to Lost Trail from Salmon follows the Salmon River and is jaw-droppingly gorgeous. The ski area has an old, eclectic feel to it with three chairs and A LOT of skiable terrain—1,800 acres to be exact. We started off the day by taking up Chair 1 on the Montana side and skiing groomers over to Chair 2, which is in Idaho. After a couple of mellow laps on Chair 1 and Chair 2 and we went over to Chair Three. The chair is a long, rustic two-seater and accesses what feels like a whole nother mountain. The snow everywhere at Lost Trail when we were there in mid-February was super soft—probably having something to do with the 34″ of new snow they got that week. There was leftover powder was to be had everywhere—especially on Chair 3.
That wraps up the Northern Idaho ski area loop. From Salmon, you can drive five hours back to Spokane or five hours to Boise, where you can road trip on our second ski area loop to Central Idaho's ski areas.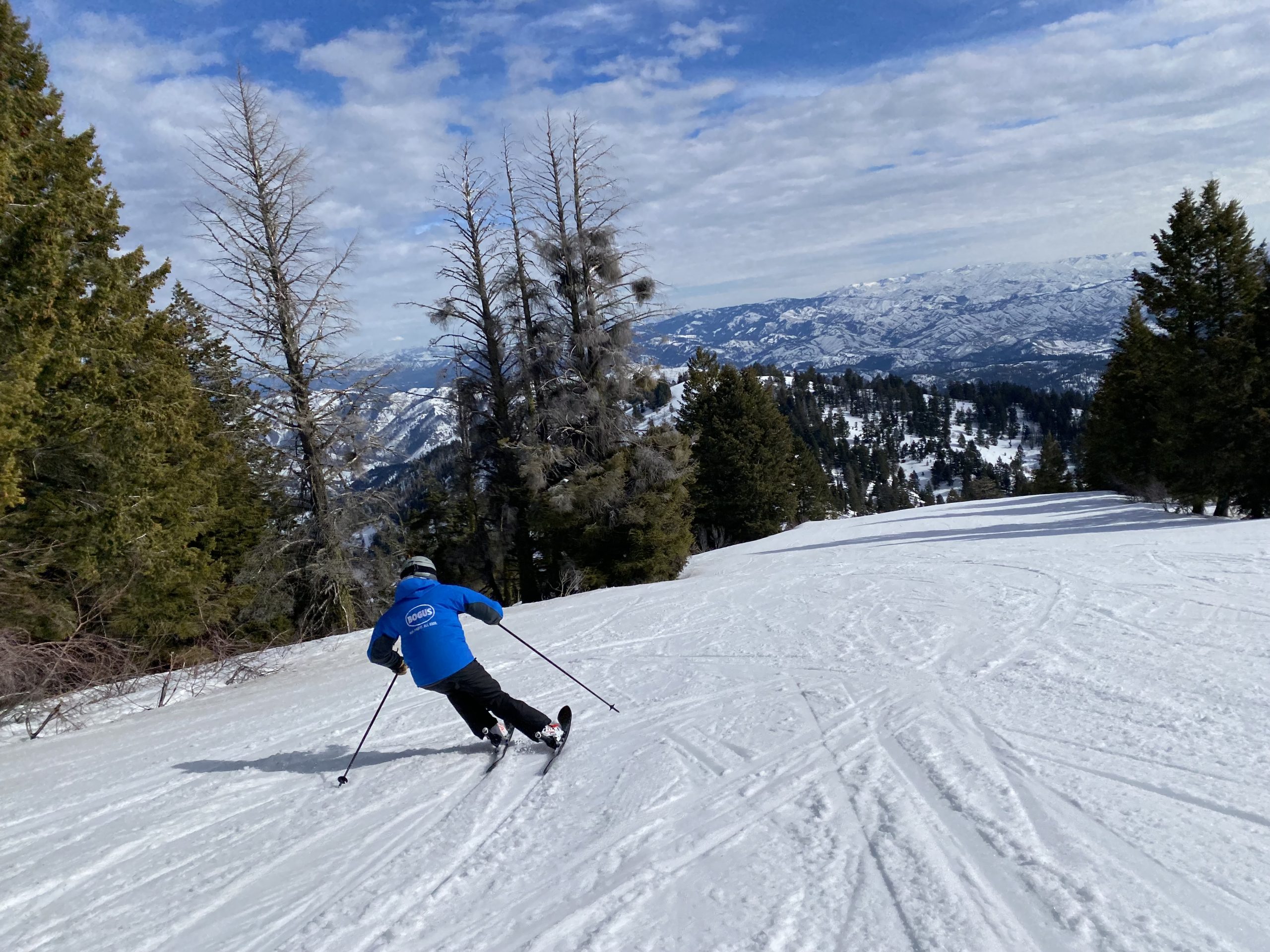 Loop 2: Bogus Basin, Tamarack, and Brundage Mountain 
Bogus Basin
Fly or drive to Boise, Idaho's bustling capital city, and from there Bogus Basin is only 40 minutes from the city center. To get to Bogus Basin, take North Bogus Basin Road from Boise for 19 miles and then you're there. When I skied Bogus last winter, I stayed at the Courtyard Marriott in Downtown Boise, which has luxurious but fairly priced rooms and an exceptional location among Boise's best bars and restaurants.
Bogus Basin is not bogus. The nonprofit ski area boasts 2,600 skiable acres and big terrain consisting of steeps, high-class tree skiing, excellent groomed trails, and the most night skiing in Idaho. The skiing here is large and the skiing here is cheap—a full season pass went for $399 last season.
Bogus Basin got its name from a fake gold epidemic in the late 19th century. Swindlers living in the mountains here used to manufacture fake gold and sell it as the real deal. Those Wild West con artists turned a profit for quite some time before getting busted as fraudsters, and it wasn't long until the area's name became known as Bogus Basin.
Fast forward to the late 1930s and Alf Engen, the founder of Utah's Alta Ski Area, decided that Bogus Basin was a lovely spot for a ski area. It was close to the state capital of Boise and had steep, playful terrain that received great, consistent snowfall. So in December 1942, Bogus opened to the public with a 500-foot (150 m) rope tow. The rest is history.
Places to eat
There are so many options in Downtown Boise. Must eats in my opinion are:
Diablo and Sons
Bardenay Restaurant and Distillery
Trillium
Fork
Bittercreek Alehouse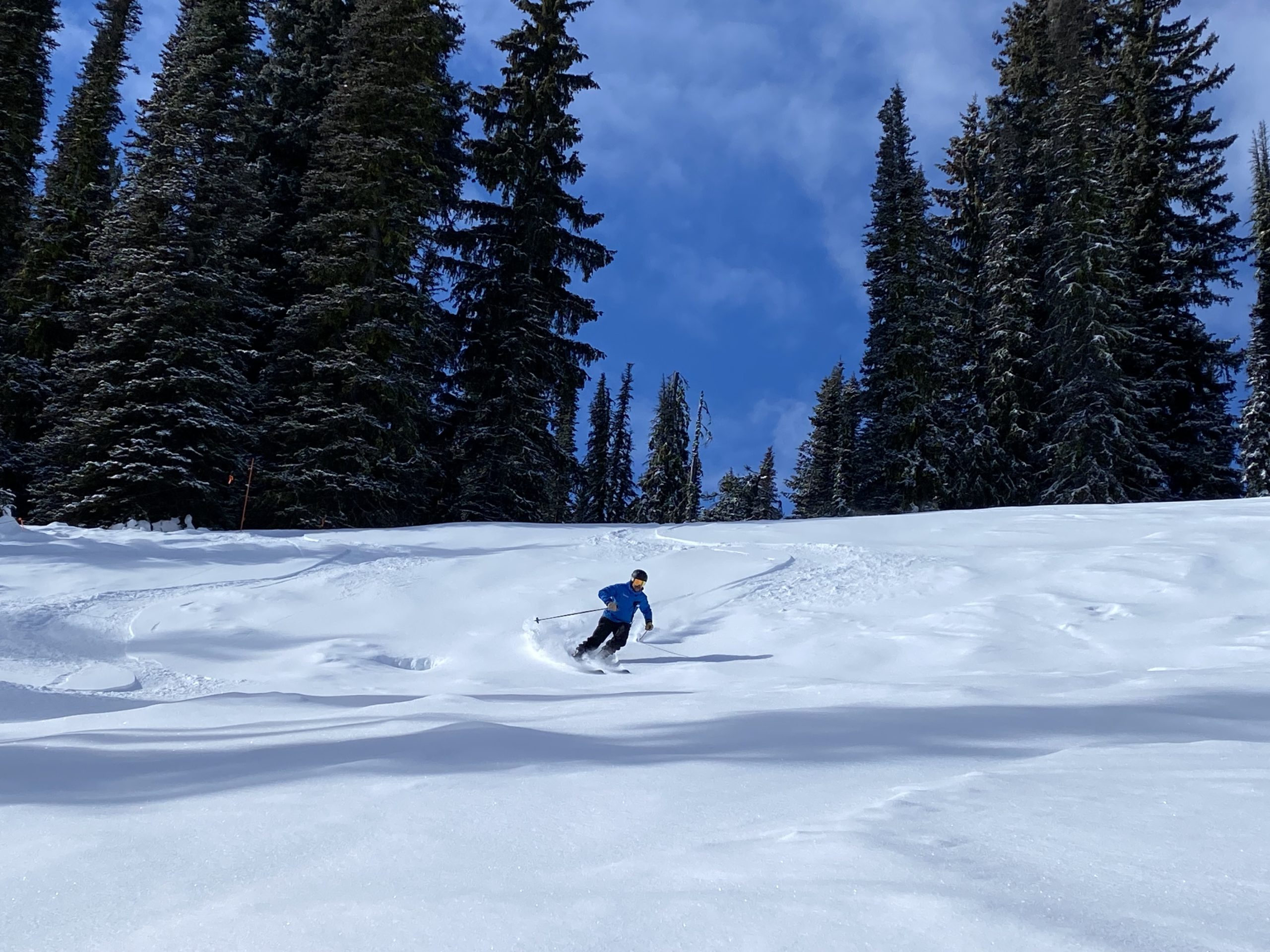 Tamarack Resort
Tamarack is approximately two hours and fifty minutes from Bogus Basin (and about two hours from Boise) and to get there you take 55 North to Donnely for 82 miles. Once in Donnely, you take a left on West Roseberry Road and continue straight on Tamarack Falls Road before coming to an intersection across a bridge where you'll make a left turn on West Mountain Road. Take West Mountain Road for a few miles and the resort will pop up on your left.
I made the drive from Boise the night before and stayed at The Lodge at Osprey Meadows. For on-mountain lodging at Tamarack, this place is hard to beat; it's a three-minute walk to the ski hill, it's right by all the base area's food, drink, and nightlife options—it has super clean and luxurious rooms. I felt cozy here.
Started in 2004, Tamarack is one of North America's newest ski areas. But with what it lacks in maturity, Tamarack makes up in pristine wooded terrain, fast, flowy groomers, challenging steeps, and some of the most exquisite tree skiing I've ever tried.
Tamarack is named after the groves of tamarack trees inside the ski area. They're tall, thin, evenly-spaced trees covered in frozen lime-green moss and they don't have branches on the first 20 feet or so off the ground. This gives them a bizarre, psychedelic appeal as you ride past them at speed. They're gorgeous. I've skied trees all over the world and these are some of the prettiest, most unique I've found. It felt like I was skiing through a Dr. Seuss book.
Oh and by the way, a massive expansion project currently in the works will nearly triple the number of skiable acres at Tamarack in the next several years, so the skiing here is only getting better.
Places to eat
The Reserve
Clearwater Coffee
Crusty's Pizza
The Village Market
Seven Devils Tap House (opening this winter)
Ragazza Di Bufalo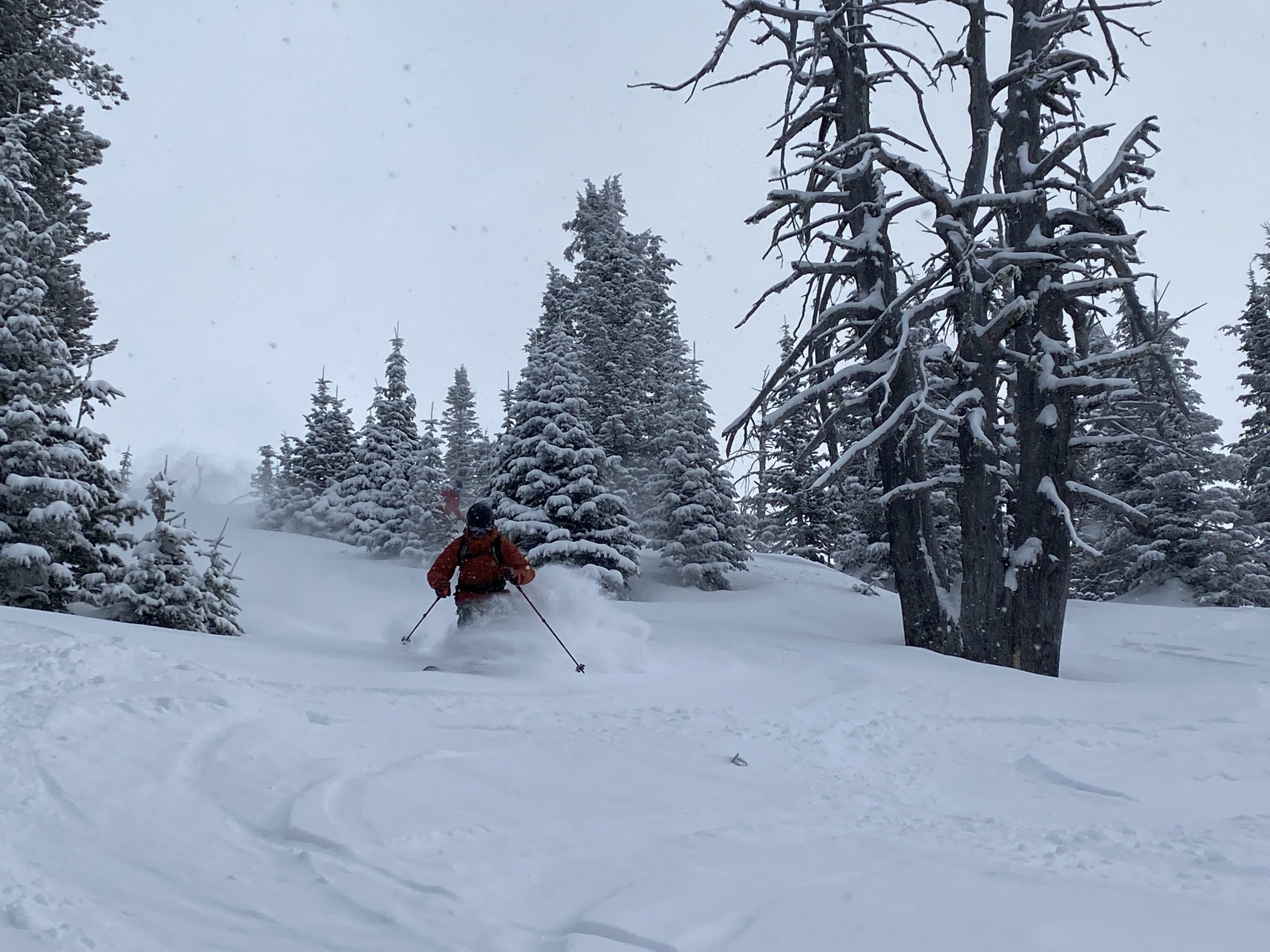 Brundage Mountain
From Tamarack, it's a short drive to McCall, the beautiful ski town closest to Brundage Mountain. To get to McCall, go back to Donnely and get on 55 North to McCall for 15 miles until you reach town. When I visited Brundage, I stayed at the Hartland Inn in New Meadows, which is 20 minutes west of McCall, off Highway 55. Built in 1911, the Hartland Inn feels antique but clean and the rooms are completely refurbished—I really enjoyed my room's fireplace and old-school vibe.
Brundage has 1,920 acres of lift-accessed terrain. The mountain is wider than it is tall and has a ton of great tree skiing, fast groomers, steep black diamond trails, a ton of side-country access, and a really cool community of friendly, down-to-earth locals. If you get a chance to ski powder runs on the backside at Brundage—do it. You won't be let down.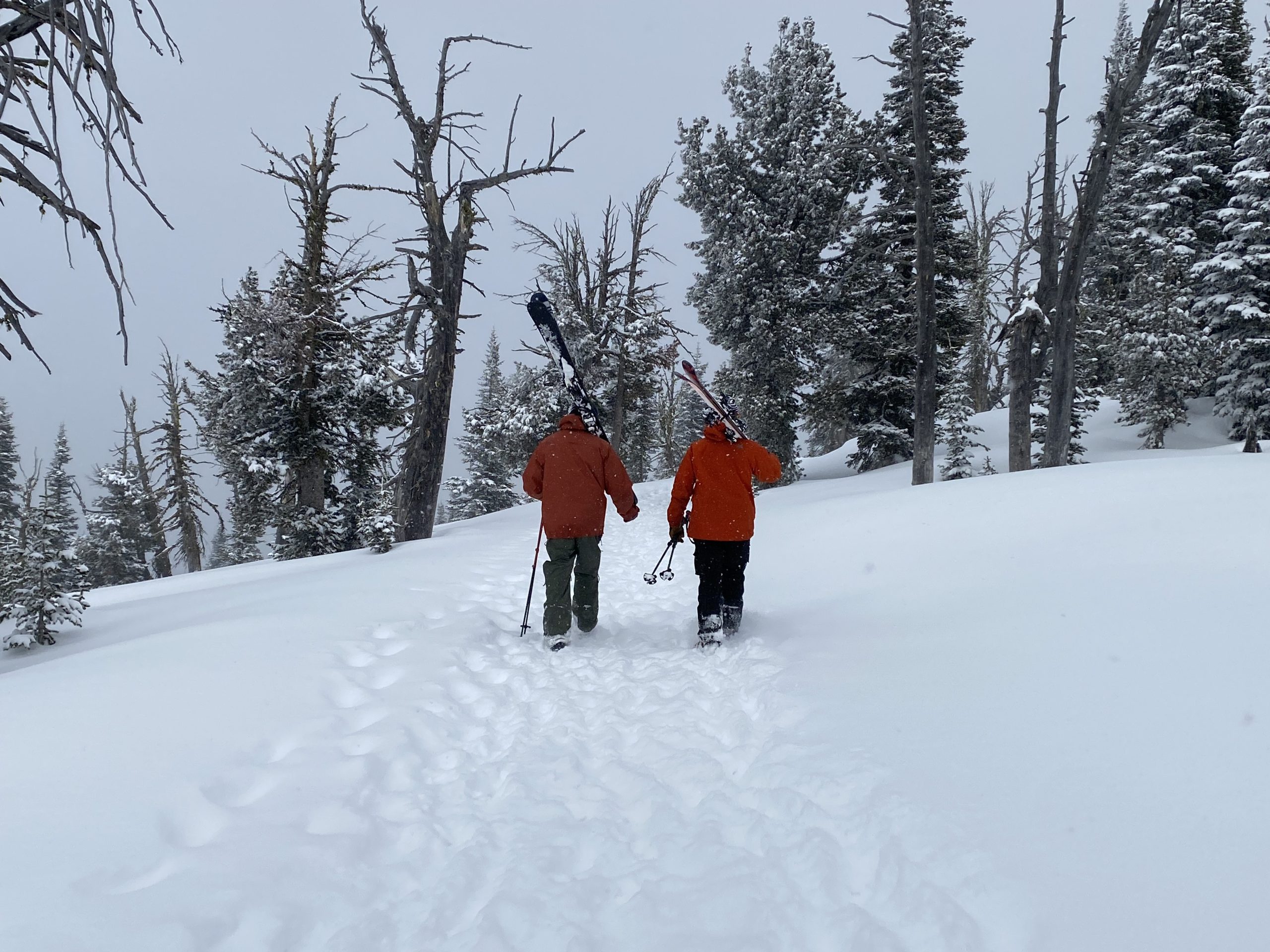 When I was there last February, l learned of Brundage's 10-Year Plan, which essentially consists of the following three upgrades:
A new modern Day Lodge.
Residential development near the base area for ski-in/ski-out accommodations.
Terrain expansion, lifts, and mountain upgrades which include proposals for lift and terrain expansion, expanded snowmaking capabilities, and new on-mountain lodge amenities.
I personally cannot wait until they build a lift on Brundage's backside—which the resort is planning to do—and I'll certainly be back when they do. But I'll probably be back before then, too, hopefully for Brundage's snowcat ski operations, which is one of the best in the lower 48 with access to 18,000 acres of backcountry terrain.
Places to eat
Smoky's Bar and Grill
The UPPER LOT Pub
Salmon River Brewery (McCall)
The Intersection BBQ (New Meadows)
After you've had your fill at central Idaho's ski areas, drive south on Highway 55 for 108 miles all the way back to Boise.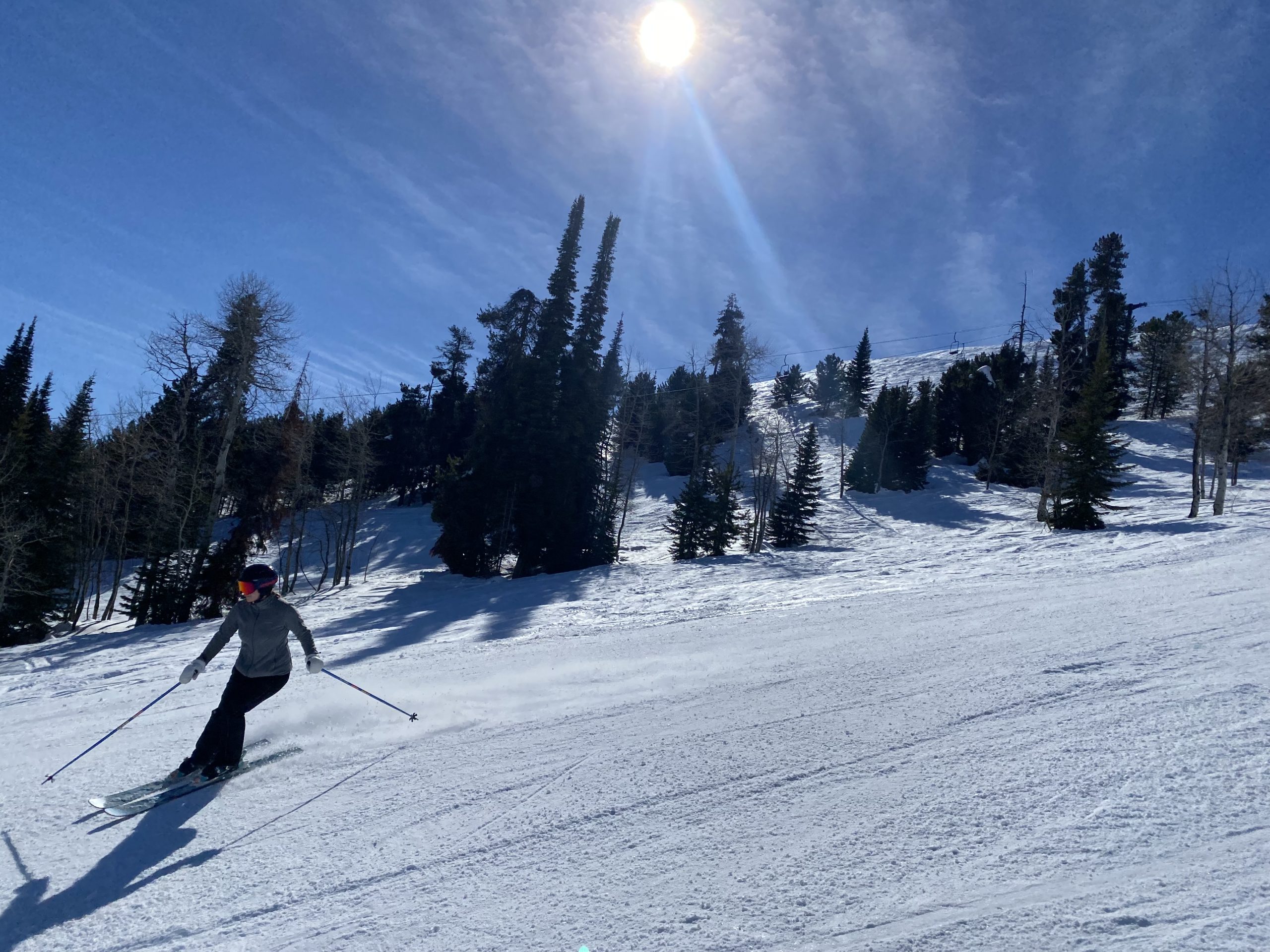 Loop 3: Magic Mountain, Pomerelle, and Soldier Mountain 
Magic Mountain
Drive or take a flight to Twin Falls. To get to Twin Falls from Boise, hop on I-84 and drive east for 184 miles. Twin Falls will be your launchpad for traveling to both Magic Mountain and Pomerelle to ski. I stayed at the Holiday Inn Express which has super clean modern rooms, a great location, and a nice continental breakfast. It's roughly one hour away from Magic Mountain.
To get to Magic from Twin Falls, take East 3900 North Road/Addison Ave East to North 3800 E/Rock Creek Road and continue for 10 miles. Continue on North 3800 E for 31 miles to the small town of Rock Creek. Once in Rock Creek, get on Rock Creek Road and follow it for 14 miles. Magic Mountain's one-building base area and ticket office will be on your left.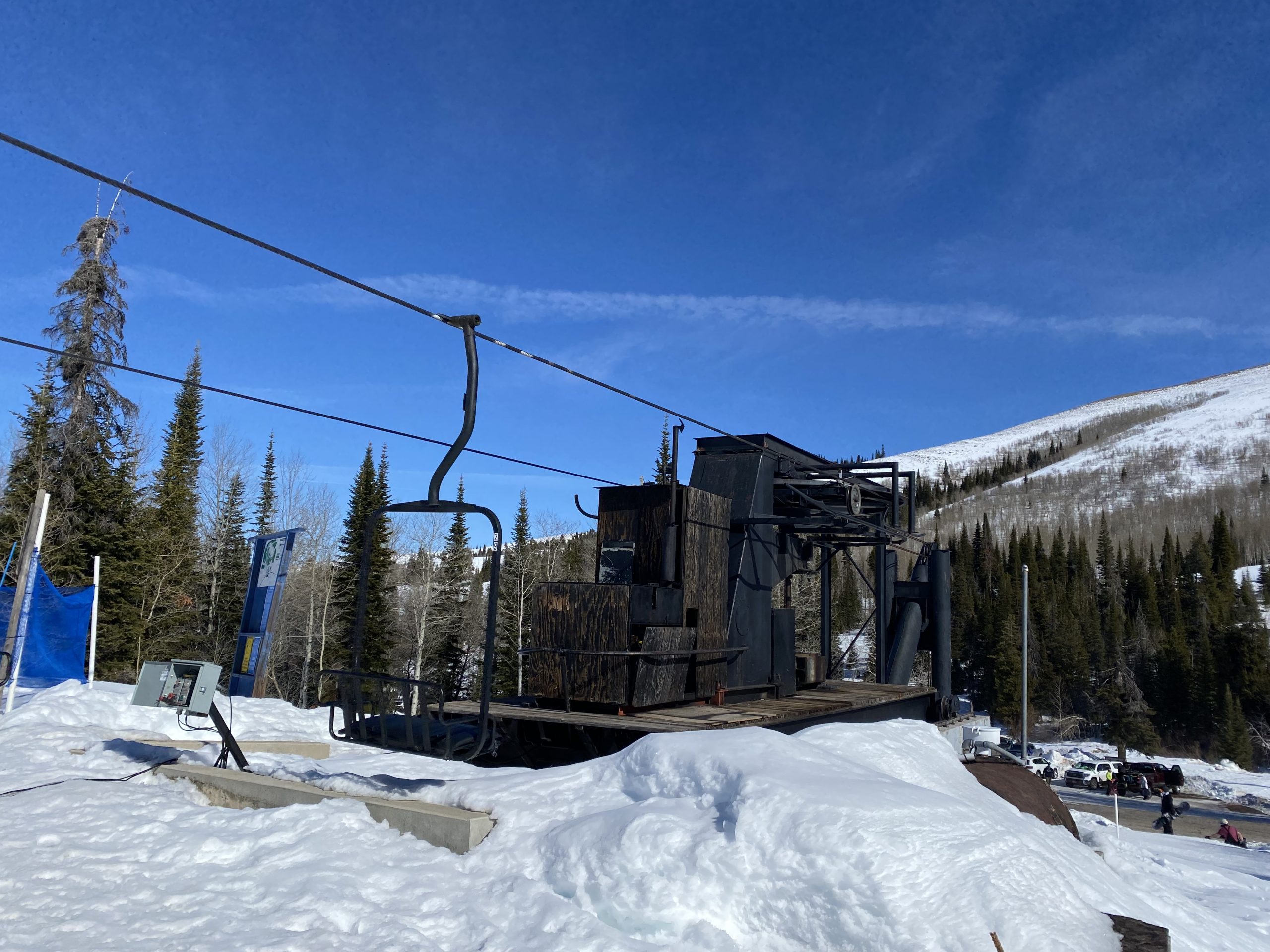 Magic Mountain has been family owned and operated since 1939. It's got one lift, a lodge, and day tickets that go for $38 a day. The Southern Idaho ski area has only one chair but that's all you need to have a good time here. The runs are short, but hold steep shots and fun tree sections. We did not get bored for a second. The people skiing at the resort were friendly and seemed to be here for really only two reasons: to ski and have fun.
Places to eat
The grill in the lodge at Magic Mountain (good chicken strips)
Elevation 486 (Twin Falls)
Scooter's Chillin'-N-Grillin'
Shari's Cafe and Pies
Yellow Brick Cafe (Twin Falls)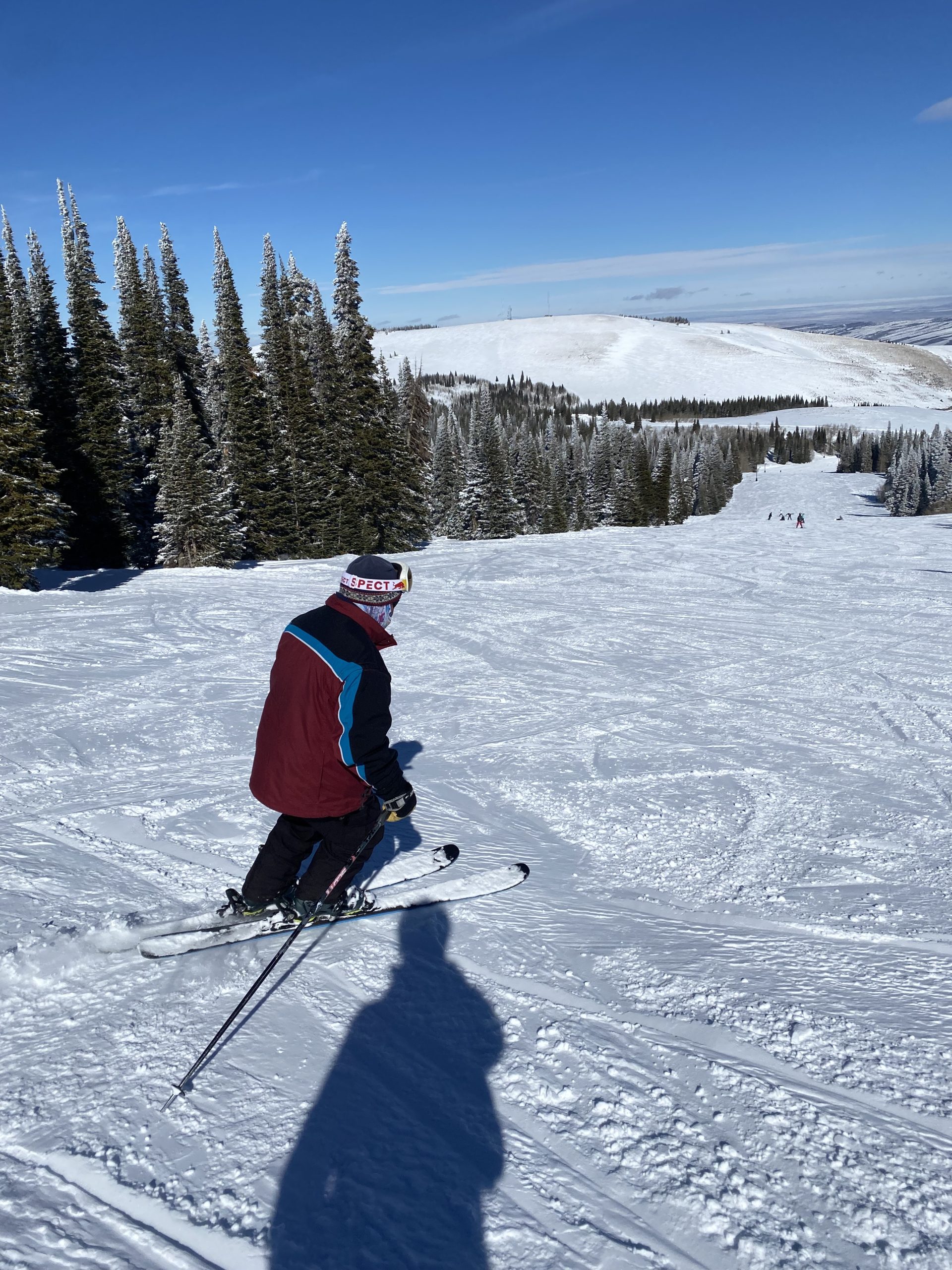 Pomerelle
Starting again from Twin Falls, Pomerelle is an hour and fifteen minutes away. To get there, hop on I-84 East and drive 34 miles to Heyburn. Take 177 South in Heyburn to Albion, then take a left on County Road 549 and follow signs for Pomerelle.
Pomerelle is a solid intermediate mountain located near Albion, Idaho. It's all low angle but has some great tree skiing and a wonderful sense of community. It's family-oriented and filled with eager young Idaho rippers. When you're there you can probably catch the mountain's director of snowsports instruction Barry Whiting, who has been skiing there since the 60s and is seemingly always skiing. Everyone at Pomerelle knows Barry.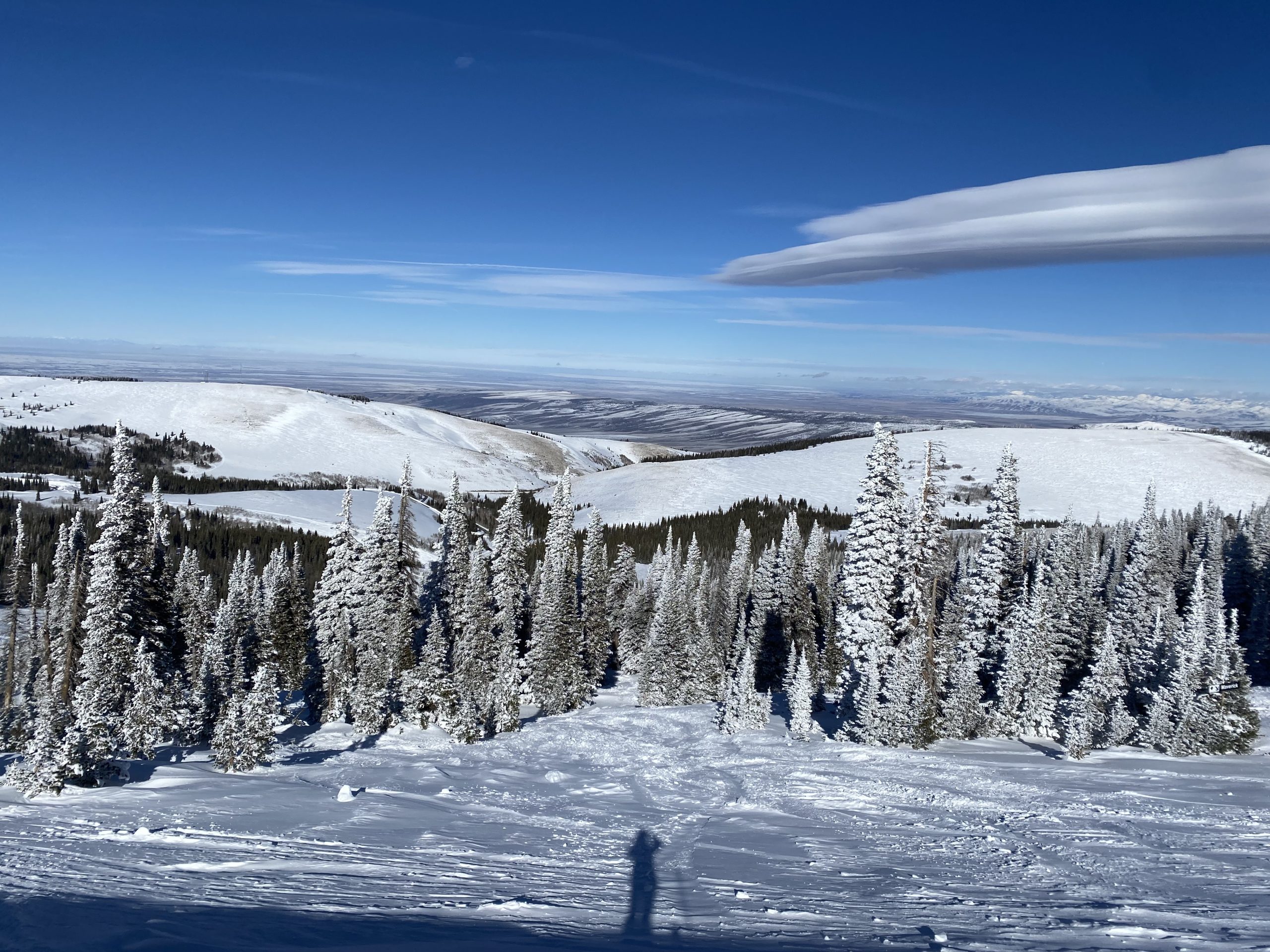 Places to eat
Pomerelle Cafeteria (go for the Barry Burger!)
Piggie Sue BBQ
Cattle Country Steakhouse
Kassiani Restaurant Brewery and Bakery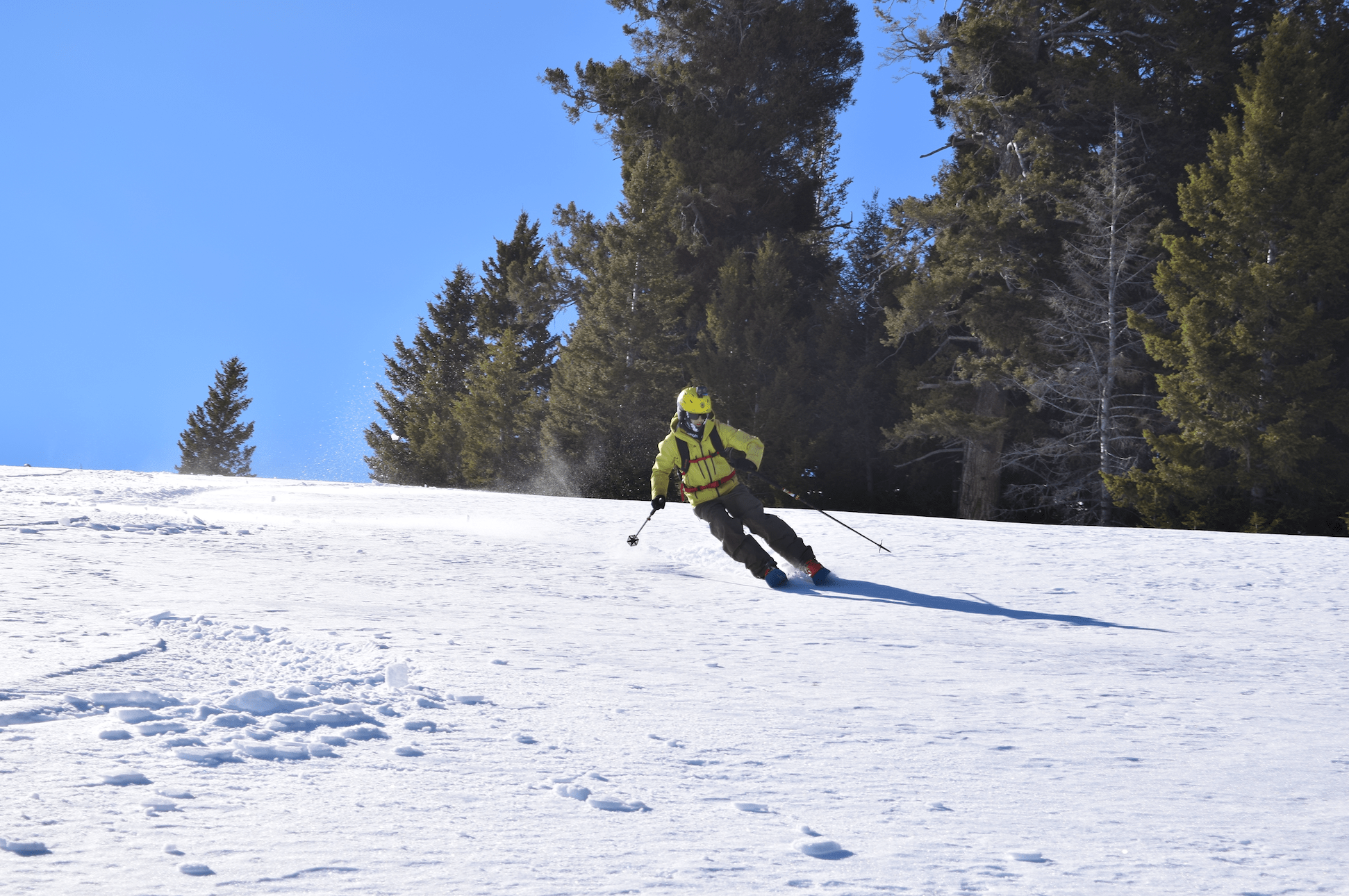 Soldier Mountain
Located near the humble little farm town of Fairfield, Soldier Mountain is approximately an hour and a half drive from Twin Falls. To get there, head west on I-84 until you hit State Highway 46, then turn right off the interstate and head north for 69 miles to Selby. Once in Selby, drive west for a few miles on State Highway 20 to Fairfield, then turn right on Soldier Creek road and drive straight for 11 miles, following signs for Soldier Mountain. The ski area will eventually pop up on your left. When I visited Soldier, I stayed the night at the Prairie Inn in Fairfield, which is a cozy, family owned and operated roadside hotel with an old-timey, rustic feel.
Soldier Mountain is an isolated ski area in a weird mountain range in an even weirder part of Idaho you would probably overlook driving past on the highway. But had you decided to stop and check it out, you wouldn't be forgetting the skiing there anytime soon—especially if you were fortunate enough to reserve a spot on its snowcat.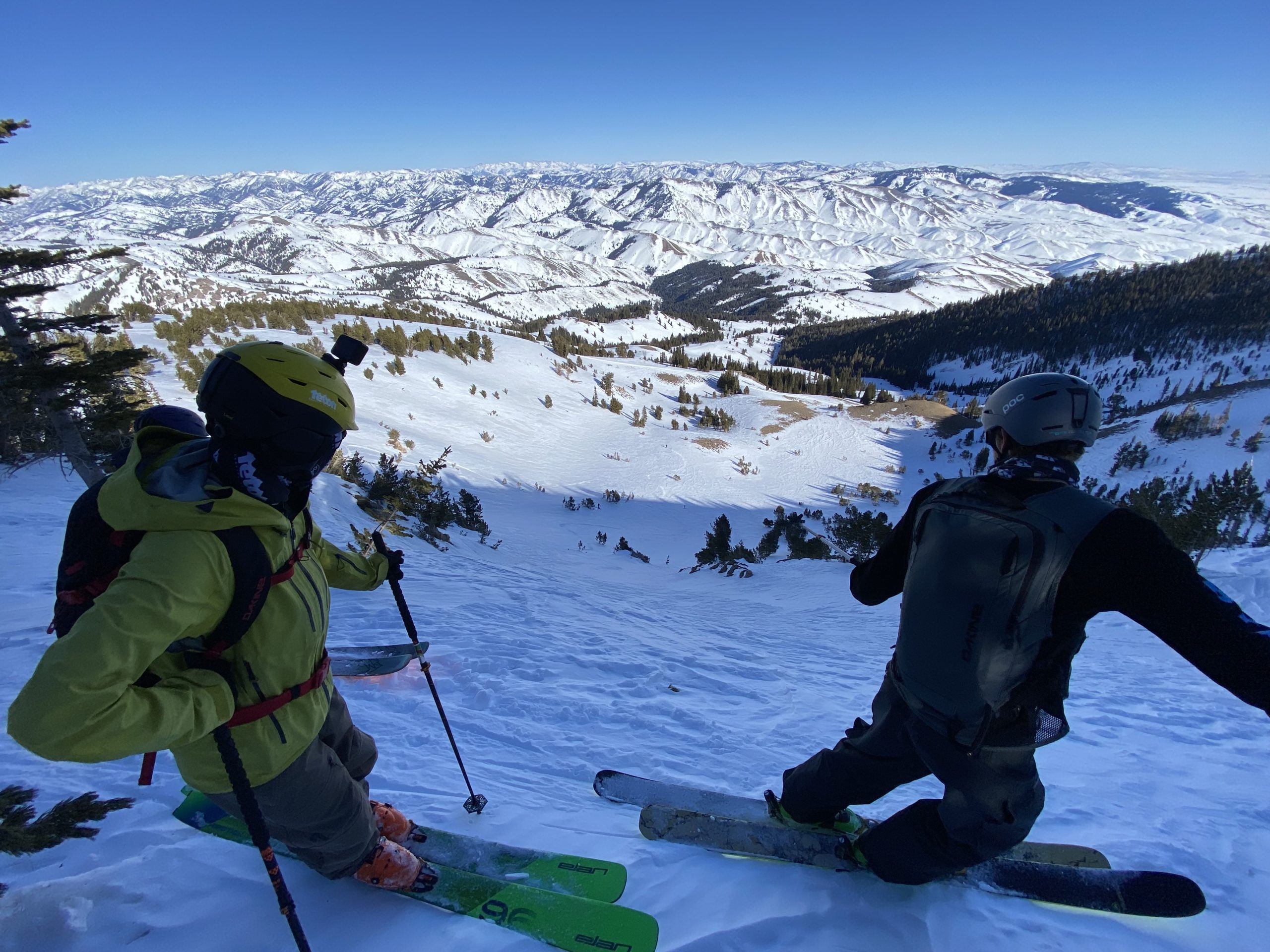 The resort was built in the post-war era circa 1947 and was even owned by actor Bruce Willis once upon a time. It's got 1,180 lift-accessible acres and a couple of thousand acres more of backcountry terrain that's accessible via its cat skiing operation.
The backcountry accessible via Soldier Mountain's snowcat behind the ski area is huge. It's got a little something for everybody; fast runs with corn snow, steep faces that'll pucker you, amazing tree runs with powder stashes that stay good forever, and wide-open bowls with soft snow skiing bliss. I only skied the cat when I visited the resort last February and it was some of the best cat skiing I've ever done anywhere. The lift-accessed terrain inside the resort looked fun, too—it felt surprisingly big for such a seemingly under-the-radar ski hill.
Places to eat
Soldier Creek Brewing Company
The Wrangler Drive-in
The Cliff Bar and Grill
From Soldier Mountain, it's only a two-hour drive back to Boise.
---
And there you have it—three different winter road trips in Idaho that would give anybody more skiing than they could ever need, and without any of the traffic, expensive lift tickets, or any other headache you might have to deal with anywhere else. Because Idaho is untapped. The traveling there is easy and the skiing is so surprisingly good. I would seriously consider the Gem State for your next powder-hungry road adventure.