Report from June 3, 2022
Yesterday, I had the most fun I've had in the mountains in a long time on 12,590′ Mt. Conness, CA.
Anxiety, mini wet avalanche sliding, fear, boot packing, no-fall-zone skiing, elation, cramponing, knife-edge ridge walking, 2 ice tool climbing, navigation, no-skin boot-scooting, satisfaction, skinning, slogging, corn skiing, getting lost, skins not sticking frustration, fresh spring slurping, mellow ski cruising, rock scrambling, dirt walking, and Lake Street Dive car-rocking bliss.
12,590′ Mt Conness, CA – Y Couloir Alternate:
Summit:  12,590′
Top of the chute: 12,200′
Vertical from car:  2,600′ (I also skied GPS which ads about 100-vertical-feet)
Vertical skied:  2,600′
Pitch at steepest point: 45º
Aspect: North
Distance: 7.75-miles round trip
Time from car to summit:  4 hours to top of couloir
Car to car time:  6 hrs 30 mins 
Recommended Equipment:  crampons, 2 ice axes, skins
Additional Notes:  We don't recommend you ski this couloir at all since it is hanging in space and is all a no-fall-zone
I started off on dirt from Saddlebag Lake at 9am in a stiff breeze and cool temperatures.
Did I feel insane?
Yes.
Yes, because I'd just tried for the Y Couloir Alternate 3-days previous and the thing was sheer ice…
The lakeshore was mostly rock to start until the lake curved left where the east shore bends north.
At the bend, I put my skis on with no skins and boot-scooted to the northern edge of the lake.
Skins on and up and over to Greenstone Lake.
Greenstone Lake to the Conness Lakes was gorgeous with waterfalls, meadow glaciers, and sheer white granite walls everywhere.
The North Peak was irritating the sky.
We just skied the North Couloir of North Peak last week and it was terrifying and not recommended…
I finished my 1 liter of water above the Conness Lakes and filled up in a mini-waterfall and quaffed heartily.
I reached the base of the Y Couloir in 2 hours and 45 minutes.
I was still skeptical about the chute's conditions…
I assumed ice.
I was wrong and that was great.
I busted out both ice axes and my crampons for the climb up just in case things became firm en route.
The entire Y Couloir Alternate hangs in space supported by exactly nothing.
A tumbling fall in the Y Couloir Alternate sends you off a bedraggled rock cliff.
With 2 tools and crampons, it felt nearly impossible to fall – and I liked that.
The snow was corny and soft and I was plunging both ice axe shafts with little effort.
The chute dazzled in sumptuous light and glaring granite.
I felt calm, the climbing was smooth, but the pitch felt steep.
I kept looking down trying to picturing myself sliding swiftly on skis.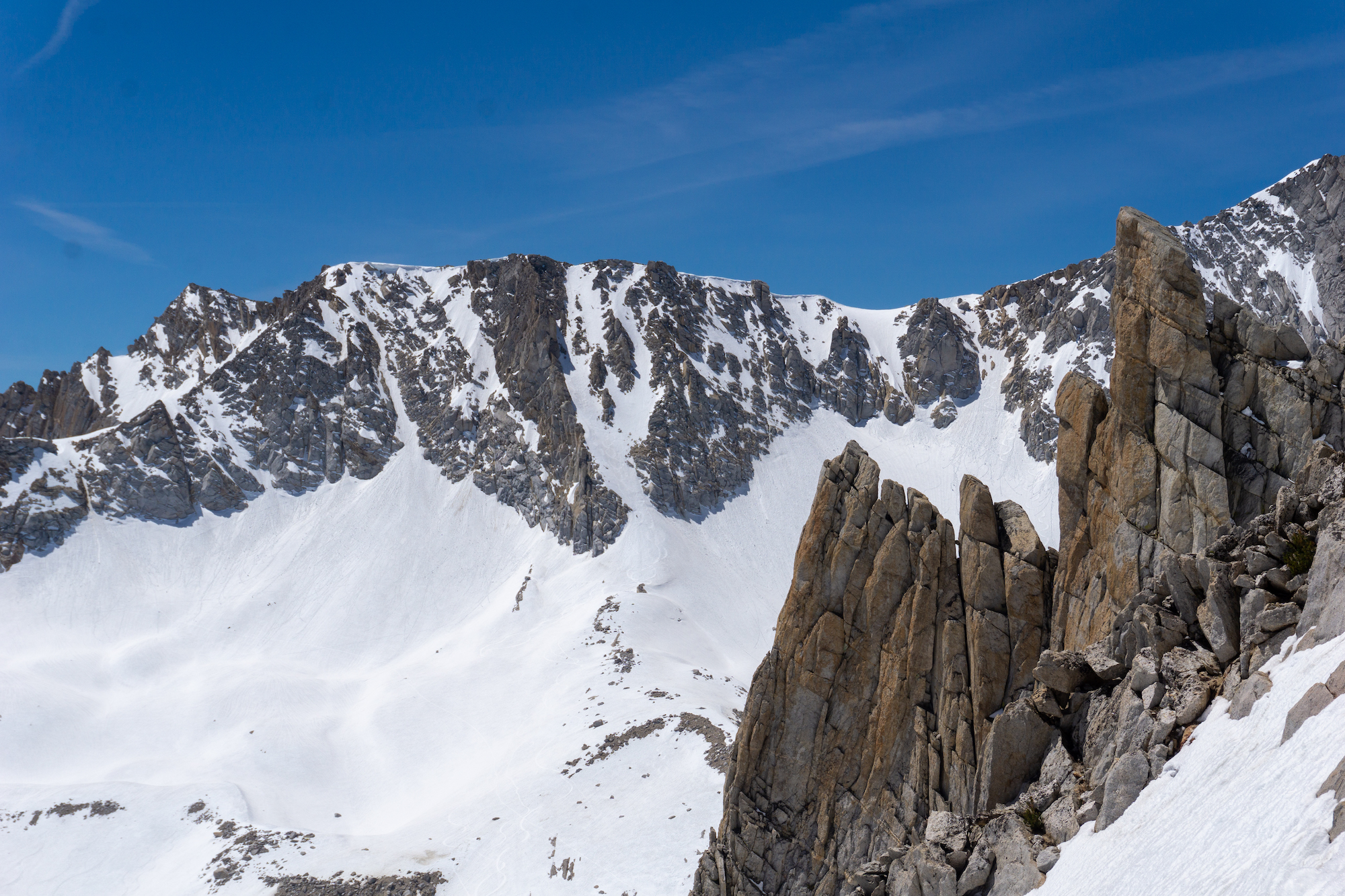 I knew damn well that once on skis everything feels less steep but it was difficult to convince myself on the steepest pitch just before the summit…
Fear moved in.
Doubt rode shotgun.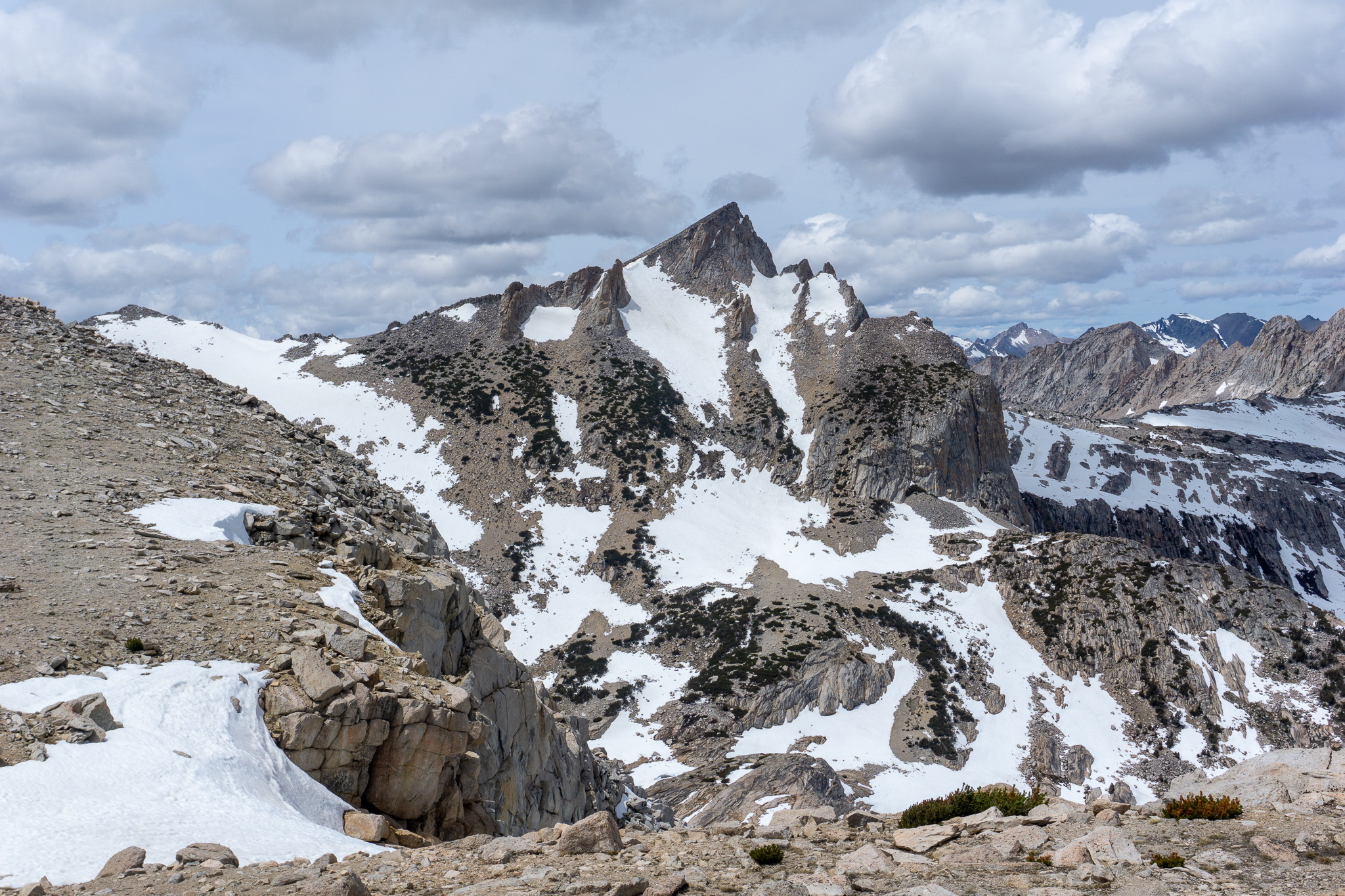 The last scramble to the top was through rotten, rock-soaked snow.
A stiff breeze slapped me in the face on top.
I smiled.
Looking back down the chute with skis on my feet felt lovely.
I languished little in that summit breeze.
Puffy clouds and high overcast started sliding in.
Quick drink.
Quick bite.
Buckle down those boots one extra notch for fear…
Drop-in.
The off-kilter summit section was strewn with rock and narrow squeak-throughs that I only celebrated with 2 turns.
Sideslips and sidesteps got me to the meat of the chute.
Once through the rock maze, it was game on.
The corn in the chute was perfectly ripe and my timing was dead-on dropping in at about 1:15 pm.
Every turn felt secure, fun, and plenty fast.
The pitch and aspect changed 3 times in the first 8-turns.
Turns 4, 5, & 6 were the steepest…
The throat of the chute was marked with my boot pack and I pleasured in watching it zip by.
At the base of the chute was the hard right turn to leave the hanging-in-space no-fall-zone of the Y Couloir Alternate and return to the fall-if-you-like Y Couloir proper.
The final turns in the chute brought a splendid feeling of safety and achievement.
I took the chutes momentum straight into a long, grinding traverse east.
I was headed for GPS chute.
I took the traverse as far as it could go then bounced up the short, 100-vertical-foot boot pack back to the ridgeline.
I traipsed like a child down the knife-edge spine of Greenstone ridge with glee.
I was having a blast.
I was high on having survived the spooky chute, experiencing the unknown, and the monstrous sun dog that was shadowing my every move.
I took the knife ridge a bit too far before noticing a gully of snow behind me that connected to the top of GPS chute.
I downclimbed and zig-zagged to the snow patch, slapped on skis, and glided right to the entrance of GPS.
GPS's anteroom was lavish with sheer granite walls, a spiny snake of old snow, and a blind rollover.
I clicked in and dropped the rollover blindly knowing it would definitely go.
I'd never seen this chute from the top before and it was instantly beautiful.
I carved corny turns on either side of the old snow spine and couldn't believe the aesthetics nor my luck.
My luck soon ran out…
After 8 turns, the snow turned rotten and started to move.
I'd expected bad, sun-cooked snow but this was worse than anticipated.
I triggered a mini wet slide that instead of avoiding, I tried to muscle through.
Mistake.
It took me for a small ride and I had to jam into the rock wall to escape.
From there, my confidence wained.
I gingerly skied the rest of the chute occasionally stopping to let rotten, cascading snow drift by.
At the base of the chute, I cut hard right aiming for Saddlebag Lake and home.
I ran across the lake as fast as I could.
My legs felt fresh for some reason.
I put on a double dose of PR lotion by Momentous this day and it paid off.
I rolled into the parking lot feeling ecstatic.
I blasted Lake Street Dive on the bouncy ride home and smiled.
One pit stop at the local spring for a hydration fill up and I was off.
Apres ski was dinner with the crew at Mammoth Brewing Co.
A Pub Salad and half a brisket burger hit the spot.
Yesterday was my last day of the season backcountry skiing in California.
May/June 2022 in the Eastern Sierra was surprisingly spectacular – especially given what a low snow year we had this season.
Thank you, California.
Recent Reports
Photos in Chronological Order